The Roughyeds Kitbag
New Oldham Rugby League Book Now Available. By Michael Turner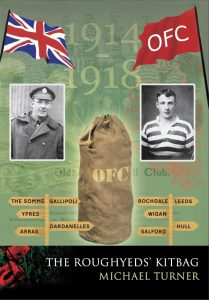 190 A4 pages – Packed with facts, figures and images, the book, hardback and in full colour, deals with the running of the club during one of the darkest periods in the history of the country.
Read how just finding 13 players to pull on the jersey became a major struggle with so many of the club's personnel away in the services. The poignant letters home from players and officials writing from the trenches – filled with hope and despair!
How the mood of the country changed as the "home before Christmas" attitude gave way to the realisation that the conflict would endure for years.
The bravery and sadness as some players were honoured and others were lost.
View the flyer here to obtain your copy please email the Trust by clicking here.
This hard backed book is priced at £20 and is available to buy directly from the Trust. Send a cheque for £20 made payable to:
The Oldham RL Heritage Trust
9 Dumfries Drive
Denshaw,
Oldham
OL3 5SG
(Delivery free to Oldham postcodes. Please add £3.50 for P&P for addresses outside the Oldham area).