100th anniversary of the Law Cup – 2021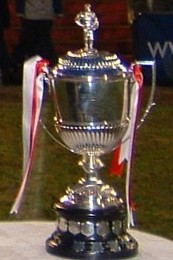 The Infirmary Cup (Law Cup) was first contested between Oldham and Rochdale Hornets in May 1921. The trophy was donated by the Rochdale MP, the Right Hon A. J. Law with the proceeds of the match being given over to the infirmaries in the two towns.
After a 0 – 0 draw at the Athletic Grounds on May 7th, Oldham became the first recipients by winning the replay 12 – 2 at Watersheddings on May 13th with Joe Ferguson the first winning captain to hold the cup aloft.
The competition would subsequently become a pre or early season event and when, as in 1954 and 1976, the match ended in a draw the cup was retained by the current holders.
Watch this space for further updates and Law Cup facts.