Frank Wilkinson
Profile
Frank Wilkinson signed for Oldham in October 1940 aged 17 at the same time as Harry Ogden (16) and Jack Taylor (16). However, unlike the other two teenagers who were both forwards, Frank was a back who played on the wing. He made 24 first team appearances for the Roughyeds, which  would have been many more but for the fact that he signed during the second World War and saw service in the Royal Navy.
Frank also played some matches on loan at Batley in the wartime period and on one occasion he travelled over to Mount Pleasant on the Oldham team coach when the Roughyeds were the opposition and had something of a quiet trip back after scoring in a narrow victory for the Yorkshire side.
A local lad from Higginshaw, Frank maintained a connection with his local club and coached them to victory over Saddleworth Rangers in  the Standard Cup final of 1960.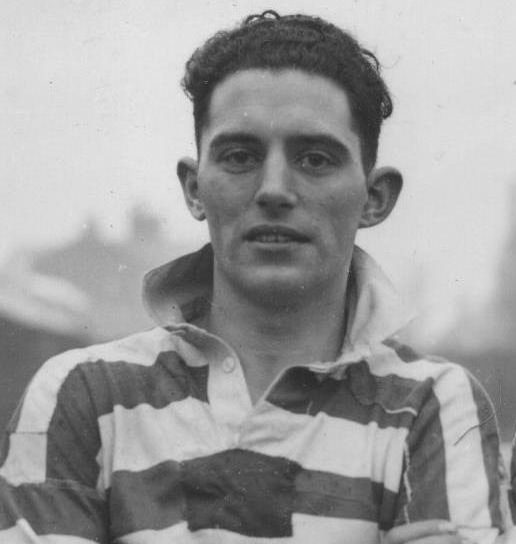 Career Games
| | | | |
| --- | --- | --- | --- |
| Oldham v Warrington | Home | October 12, 1940 | Lancashire League |
| Oldham v Broughton Rangers | Home | October 26, 1940 | Lancashire League |
| Oldham v Swinton | Home | December 25, 1940 | Lancashire League |
| Castleford v Oldham | Away | January 10, 1942 | War Emergency League |
| Huddersfield v Oldham | Away | March 28, 1942 | War Emergency League |
| Oldham v Wigan | Home | April 4, 1942 | War Emergency League |
| Leeds v Oldham | Away | April 6, 1942 | War Emergency League |
| Wigan v Oldham | Away | April 11, 1942 | War Emergency League |
| Oldham v Leeds | Home | April 18, 1942 | War Emergency League |
| Oldham v Castleford | Home | April 25, 1942 | Rugby League Challenge Cup |
| Castleford v Oldham | Away | May 2, 1942 | Rugby League Challenge Cup |
| Oldham v Hunslet | Home | May 9, 1942 | Rugby League Challenge Cup |
| Oldham v Wigan | Home | August 29, 1942 | Friendly |
| Wakefield Trinity v Oldham | Away | September 5, 1942 | War Emergency League |
| Oldham v Batley | Home | September 12, 1942 | War Emergency League |
| Oldham v Featherstone Rovers | Home | September 19, 1942 | War Emergency League |
| Oldham v Bradford Northern | Home | September 26, 1942 | War Emergency League |
| Wigan v Oldham | Away | October 3, 1942 | War Emergency League |
| Halifax v Oldham | Away | October 10, 1942 | War Emergency League |
| Halifax v Oldham | Away | October 17, 1942 | Yorkshire Cup |
| Oldham v Halifax | Home | October 24, 1942 | Yorkshire Cup |
| Oldham v Leeds | Home | October 31, 1942 | War Emergency League |
| Huddersfield v Oldham | Away | September 4, 1943 | War Emergency League |
| Barrow v Oldham | Away | October 16, 1943 | Yorkshire Cup |
| Oldham v Barrow | Home | October 23, 1943 | Yorkshire Cup |
| Hull Kingston Rovers v Oldham | Away | February 7, 1948 | Rugby League Challenge Cup |
| Oldham v Oldham Athletic Afc | Home | May 9, 1949 | Charity Match |