Tom Wainman
Profile
Thomas Wainman joined Oldham from the Heyside club in November 1914. No doubt the Watersheddings' officials remembered him having played well for a team made up from the pick of the local amateur league against Oldham 'A' on September 5th of that year.
A forward with a fair turn of speed, he got into the senior team for the start of the 1915-16 season and played in 22 first team matches for the Roughyeds before joining the forces.
He was killed in action on November 18th 1916 serving with the Manchester Regiment, aged 28. The action he was engaged in was on the last day of The Battle of the Somme.
Tom is remembered on the Thiepval War Memorial and The Oldham War Memorial.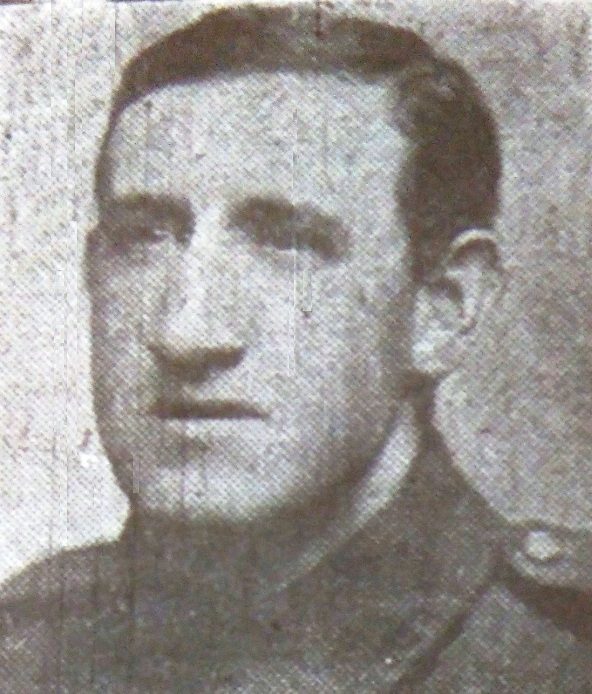 Career Games
| | | | |
| --- | --- | --- | --- |
| Oldham v Salford | Home | September 11, 1915 | Wartime Friendly |
| Wigan v Oldham | Away | September 18, 1915 | Wartime Friendly |
| Oldham v Huddersfield | Home | September 25, 1915 | Wartime Friendly |
| Oldham v St Helens | Home | October 16, 1915 | Wartime Friendly |
| Broughton Rangers v Oldham | Away | October 23, 1915 | Wartime Friendly |
| Oldham v Bradford Northern | Home | October 30, 1915 | Wartime Friendly |
| Leigh v Oldham | Away | November 6, 1915 | Wartime Friendly |
| Oldham v Rochdale Hornets | Home | November 13, 1915 | Wartime Friendly |
| Oldham v Wigan | Home | December 4, 1915 | Wartime Friendly |
| Salford v Oldham | Away | December 11, 1915 | Wartime Friendly |
| Oldham v Halifax | Home | December 18, 1915 | Wartime Friendly |
| Oldham v Swinton | Home | December 25, 1915 | Wartime Friendly |
| Huddersfield v Oldham | Away | December 27, 1915 | Wartime Friendly |
| Hull FC v Oldham | Away | January 1, 1916 | Wartime Friendly |
| Rochdale Hornets v Oldham | Away | January 8, 1916 | Wartime Friendly |
| Oldham v Broughton Rangers | Home | January 22, 1916 | Wartime Friendly |
| Swinton v Oldham | Away | January 29, 1916 | Wartime Friendly |
| Batley v Oldham | Away | February 12, 1916 | Wartime Friendly |
| Oldham v Rochdale Hornets | Home | February 19, 1916 | Wartime Friendly |
| Oldham v Dewsbury | Home | March 4, 1916 | Wartime Friendly |
| Dewsbury v Oldham | Away | March 11, 1916 | Wartime Friendly |
| Oldham v Wigan | Home | March 18, 1916 | Wartime Friendly |