George David Parker RIP
The Heritage Trust is sad to report the death in Hertfordshire of former Oldham loose-forward David Parker, who was club captain in the mid-1960s.
Born in Barrow, G D (George David) Parker made 198 appearances for Roughyeds, scoring 34 tries, during his time at Watersheddings which spanned the seven years from 1960 to 1967.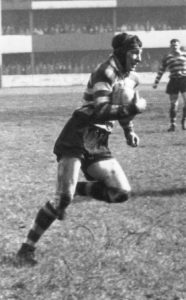 He came to the Manchester area from Barrow to study at Manchester University and it was while he was excelling for Manchester RU Club, and earning a place in the Lancashire County XV, that he came to the notice of Oldham RLFC.
He turned pro and signed for Oldham in August, 1960, making himself a reputation as a stylish loose-forward with pace, handling skills and a superb defensive game.
He captained Roughyeds, gained county honours and represented Great Britain in two Tests against France in 1964.
Outside rugby, he was in the senior management team at Platt Brothers, who in those days were one of the biggest employers in the town.
In his book, 'Oldham RLFC, 1876 to 1997' Mike Turner wrote of Parker:
"A recurrence of a knee injury in the first match of the 1967-68 season against Liverpool City ended the career of one of the most stylish forwards ever to play for the club. He was an excellent defender and also posessed a good turn of speed with superb handling skills."

Mike Turner
The sincere condolences of the Oldham Rugby League community are extended to the Parker family.