Kevin Taylor RIP
March 2020
The Heritage Trust was sad to learn of the death of ex player Kevin Taylor. A member of the club's 'Hall of Fame' with over 400 appearances for the Roughyeds.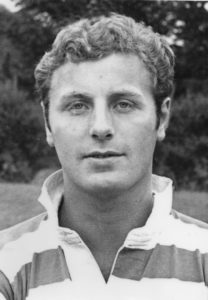 Indeed, Kevin was one of only seven Oldham players in over 125 years of Rugby League in Oldham to top the 400 games mark with 429 senior games for the Roughyeds.
Born and brought up in the St Mary's district of the town — an area that has produced numerous rugby league players of repute over the years — Kevin signed for Oldham shortly after his 16th birthday from the then Werneth club.
Originally understudy to Len McIntyre, he made his senior debut at Castleford in the harsh winter season of 1962-63. The next couple of years were spent mostly in the "A" team, but once Kevin got an extended run in the senior side, he would hold down the Oldham hooking position for the next decade. He was also a good player in the loose especially his support play, which twice led to him being top try scorer in 1966-67 & 67-68. In all he scored 60 tries for Oldham and kicked five goals.
Kevin was selected for the England Under 24 team against France in the match that was the first played under the new Watersheddings floodlights in October 1965 and went on to play for Lancashire and England. The full Great Britain international call up eluded him, yet week in and week out Kevin would rake out the ball on the Oldham side of the scrum against all his so-called peers. A model of consistency, Kevin played his last game at Salford on January 2nd, 1977 before moving on to Leigh. A great servant of the club and definitely one of the best hookers never to play for Great Britain!
The condolences of everyone at the Oldham Rugby League Heritage Trust go to all of Kevin's family and friends.