IAN HOLLAND RIP
May 9th 2020
We are saddened to report the death of former Oldham winger Ian Holland, aged 74.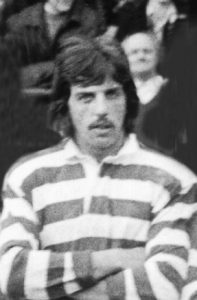 Ian signed for Oldham from Salford in January 1974 making his debut in the 6 – 5 defeat at home to Hull KR on January 6th with Oldham's points coming from a try by David Treasure and a goal from Phil Larder. Tony Wainwright was his centre that day and amongst his team-mates were "Hall-of-Famers" Martin Murphy, Kevin Taylor and Mike Elliott. In all he made 28 appearances for the Roughyeds spread over the second half of the 1973-4 season and the first half of the following campaign.
Known as an aggressive, hard tackling wingman, Ian scored seven tries and 22 goals in 28 appearances for Oldham. He went on to subsequently play for Swinton, Barrow and Rochdale where he ended his career having captained the Hornets for a spell.
The condolences of everyone at the Oldham Rugby League Heritage Trust go to the Ian's family and friends.