Brian Lord RIP
20th February 2021
It is with great regret that the Heritage Trust have learned of the death of former Roughyed, Brian Lord.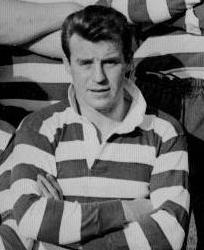 A noted local swimmer and swim instructor, Brian signed from local amateur rugby in 1959 and made his senior debut at Widnes on January 30th 1960 where the Roughyeds recorded a ten nil victory against the 'Chemics'. That day Brian played at left centre and his 88 matches for Oldham were split almost equally between the centre and wing positions. A robust player with a good turn of pace he scored 40 tries for Oldham before moving on to the newly reformed Bradford Northern club at the end of the 1963-64 season along with team-mate, John Rae.
The sincere condolences of the Oldham Rugby League Heritage Trust are offered to all of Brian's family and friends.