Mick Coates RIP
27th May 2021
It is with great sadness that the Heritage Trust heard the news that one of our former coaches, Mick Coates, has died suddenly at the age of 61 after being taken ill while out riding his bike in Mossley.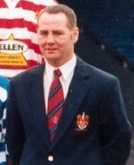 He was assistant coach to Paddy Kirwan for the Roughyeds in 1998 and became head coach the following season and as such was heavily involved in the early days of the reformed club.
A massive loss to the whole of the Oldham Rugby League community it will of course be felt mostly at Saddleworth Rangers where Mick played and coached with distinction and served loyally for many years. Mick devoted much of his life to Rangers and his passing will be felt deeply at Shaw Hall Bank Road.
The sincere condolences of the Oldham Rugby League Heritage Trust are sent to all of Mick's family and friends.