Brian Walker RIP
September 21st 2021
It is with sorrow and regret that the news has been received that our friend and colleague Brian Walker has died after a long illness aged 75. A true Roughyed through and through, his presence in and around all things connected with Oldham RLFC will be sadly missed.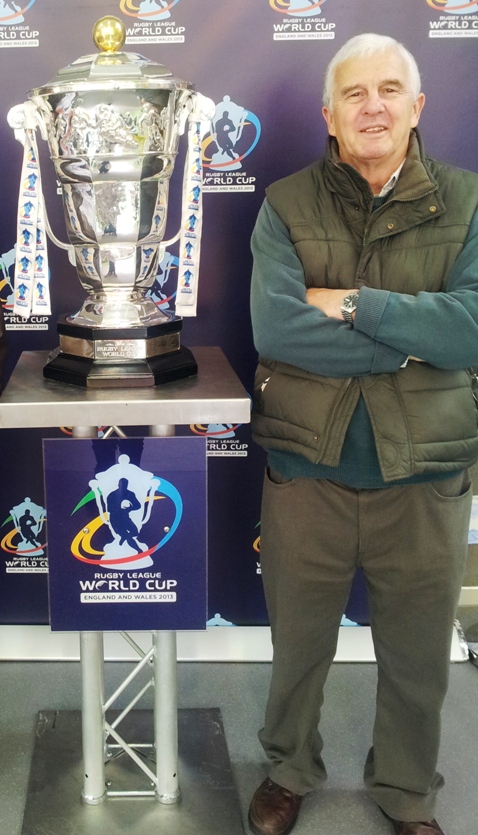 Brian was a founder member and trustee of the Oldham Rugby League Heritage Trust and a true 'tour de force' in his aspirations and accomplishments to help the ORLHT become a leader in the world of sporting heritage organisations. Of course most of this concerned his beloved Oldham RLFC and his enthusiasm and passion to help protect and preserve the collection was boundless and second to none. He would, at the drop of a hat, journey right across the country, north to south and east to west to acquire a cap, shirt, medal or anything else that would add to trust's impressive collection.
When it was time to bring out one of the Heritage Trust books, it was Brian who would charm, cajole and quite often pursue the sponsors until we had sufficient funds to make them happen. Without his input on this front it is unlikely that many of the publications would have seen the light of day and none of these were better received than Brian's own "Roughyeds – The Story" which quickly sold out after it was published in 2004.
He was a prime mover in setting up the Heritage Trust Trophy which is presented to the Oldham 'Player of the Match' in the Law cup fixture against Rochdale Hornets and indeed Brian presented the trophy to the first recipient Ian Watson, again in 2004.
At the weekend he would, more often than not, be seen at Saddleworth Rangers on Saturday and where ever the Roughyeds were playing on Sunday, almost always accompanied by his wife Anne until she passed away a few years ago.
When it came to Oldham Rugby League, Brian was there. A meeting with the Heritage Trust or Rugby Oldham, or the Oldham council, Brian was there. He was there at the championship victory against Hull at Odsal in 1957 and the heartbreaking challenge cup semi-final defeat to Hull KR in 1964. Pre-season friendlies at Barrow and Whitehaven, World Club Challenge matches in Adelaide and Townsville, Brian was there. From Headingley to Hemel and from Paris to Parkside. Brian was there. Freezing nights at Watersheddings, scorching afternoons at Whitebank. St Helens, Leeds, Wigan, Warrington. Brian was there. Keighley, Rochdale, Workington, Batley. Brian was there. Carlisle, Oxford, London Skolars, North Wales. Brian was there.
May I return to the beginning, a true Roughyed – through and through!