First meeting for Oldham RL 'Partners Group'
A meeting was held at the OEC centre at Boundary Park on Tuesday December 7th as part of the initiative by the new vice- chairman of Oldham RLFC, John Roddy to bring all parts of the local Rugby League community together.
The view is that, as a collective, Oldham RLFC, Rugby Oldham (Supporters Trust), YEDS (the new Roughyeds Supporters Group), the (Past) Players Assn, the Oldham Rugby League Heritage Trust, the Oldham Amateur League and Oldham Metropolitan Borough Council would potentially achieve much more by working together and providing a united front.
All the different groups supported that basic principle, including Oldham Council, whose top official, chief executive Harry Catherall, was present at the meeting. The unanimous opinion was that this initial meeting was a positive development for Rugby League in the town.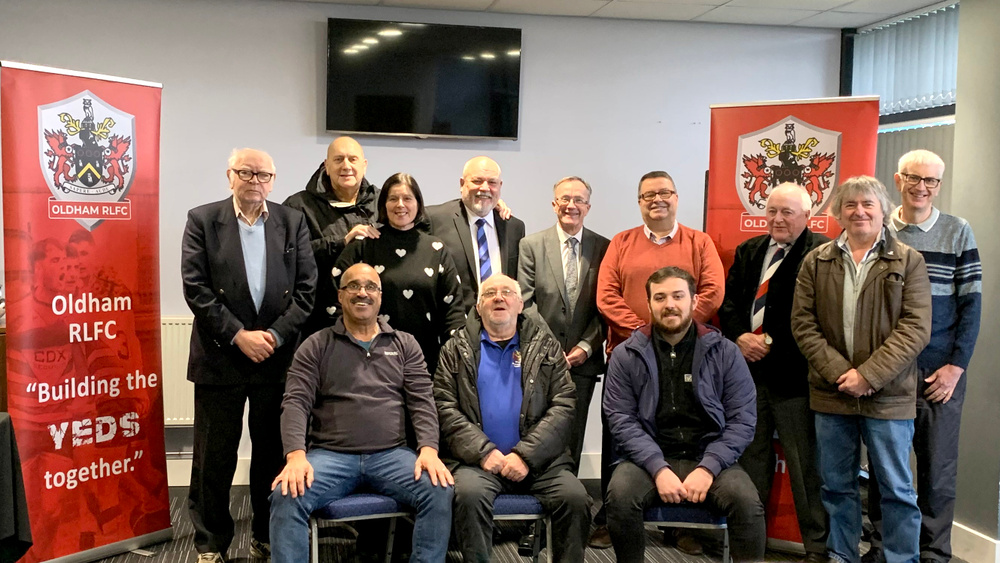 Standing (left to right): Roger Halstead, Adrian Alexander, Ginny Alexander, John Roddy, Harry Catherall (chief executive, Oldham Council), Chris Hamilton, Ian Wilson, Mike Turner, Mike Kivlin. Seated: Joe Warburton, Phil Bradbury, Jamie Hollingworth.
Roughyeds were represented by chairman Chris Hamilton and vice-chairman John Roddy, who said Roughyeds now had a "unique" opportunity to bring the local rugby league community together for mutual benefit. Also present were Mike Kivlin (chairman) and Ian Wilson (secretary) of Rugby Oldham; Phil Bradbury of the Oldham Amateur League; Mike Turner of the Oldham RL Heritage Trust, Jamie Hollingworth of YEDS, the new supporters' group, Joe Warburton of the (Past) Players' Assn, former player Adrian Alexander (a club ambassador), his wife Ginny (former Mayor of Oldham and current Oldham Councillor) and Roger Halstead, the Roughyeds media manager and a writer and reporter on rugby league at all levels in Oldham for 57 years
Chris Hamilton said he was thrilled by the appearance of the Council's chief executive which, in itself, was an indication of the local authority's interest in playing an active role in the future of the sport in Oldham. We were delighted to host the first meeting of the 'Partners' Group. The common denominator is we all want to see Oldham Rugby prosper.
It was decided to meet on a regular basis in working together for the benefit of Rugby League at all levels in Oldham, the general view being that here was an opportunity to show pride in the sport, pride in the town and pride in the town's rugby league heritage and history.