Geoff Sims RIP
25th December 2021
It is with deep sorrow and regret that we pass on the sad news that Oldham's former wing or full-back, Geoff Sims died on Christmas Day.
The record book shows that Geoff Sims, a neat and tidy utility back, arrived at Watersheddings from Leigh Colts making his debut on the left wing at Wakefield on August 23rd 1958. Lots of the big-name stars of that famous fifties side were still at the club, but despite the level of competition Geoff made a first-team spot his own, appearing in 204 senior games between 1958 and 1966, mainly at full-back or on the wing but occasionally at centre too.
Also an accomplished goal-kicker Geoff kicked 211 goals for Oldham, including 119 in the 1961-62 season, to go with his 59 tries.
He is well remembered for a touchdown in that never-to-be-forgotten Challenge Cup semi-final of 1964 against Hull KR, which went to three games. Playing on the wing outside John Donovan, he scored a late try in the first replay at Station Road which, with Frank Dyson's conversion and a last minute penalty, put the Roughyeds level at 14-14 before extra-time was abandoned by referee Dennis Davies due to bad light with Oldham 17-14 ahead.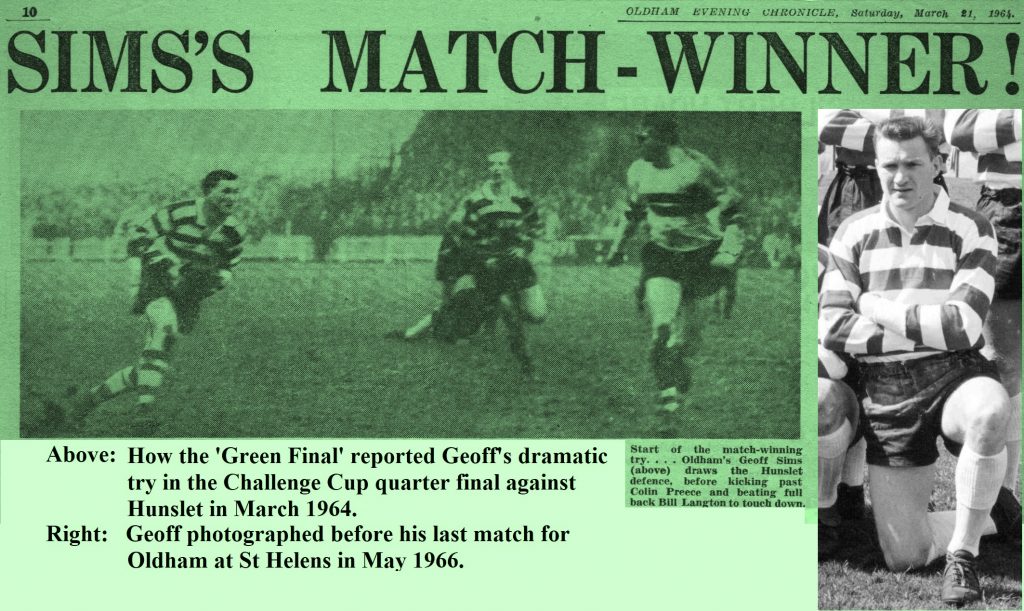 However, in the quarter final at Hunslet in the previous round it was Geoff who secured Oldham's place in the last four. On an absolute quagmire of a pitch at Parkside, Geoff demonstrated a superb piece of skill in kicking ahead and winning the race to touchdown. It was the turning point of the match that Oldham went on to win 7 – 5 and a brave thing to do in those days of unlimited possession (no tackle count).
Geoff continued to feature regularly in the first team before leaving to join Salford at the conclusion of the 1965-66 season.
The sincere condolences of the Heritage Trust and all at the club are extended to Geoff's, family and friends.