Norman Francis RIP
30 September 2022
The Heritage Trust was sad to learn of the death of ex Roughyed, Norman Francis. (Heritage Number 962).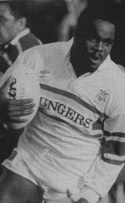 Norman, whom Oldham signed from Leeds, made 16 appearances in season 1990-91, scoring four tries along the way.
He began his professional career at Hunslet in the 1982-83 season before moving to Headingley where he made 44 first-team appearances in a five-year stay, scoring 11 tries. He was a wow in 'A' team rugby at Leeds where he is fondly remembered by a generation of Headingley regulars for his barn-stoming performances for the Leeds reserves.
After one year at Oldham, he returned to the City of Leeds to join Bramley, thus becoming a member of that elite band who have played for all three professional clubs in the city.
He scored 38 tries in 72 appearances for Bramley over a five-year period before hanging up his boots.
The ORL Heritage Trust send their deepest condolences to Norman's family and friends at this sad time