Ben Heaton RIP
22nd June 2023
It is with great sadness and sincere condolences that the Oldham Rugby League Heritage Trust has learned of the death of the former Oldham player Ben Heaton at the age of 33.
A hugely-talented full-back, centre or wing, family man Ben spent most of his career as a rugby league player with Halifax, but he had two spells at Oldham where his career started as a 20-year-old and finished in 2021 as a 31-year-old. Having played as an amateur for Rochdale Mayfield, Ben made his Oldham debut at Dewsbury on July 26th 2009.
Ben scored 23 tries in 54 games in total for Oldham where, in 2011, he scored 13 tries in 19 appearances and earned the interest of several clubs in the Championship, including Halifax.
His ultimate departure for The Shay was much lamented by Oldham fans who would never forget the try he scored at York in September, 2009 when he was named at right-centre in an injury-hit Oldham side and took only five minutes to score a sensational try in a massive Final Eliminator (play-off) win which set up Roughyeds for a Grand Final appearance.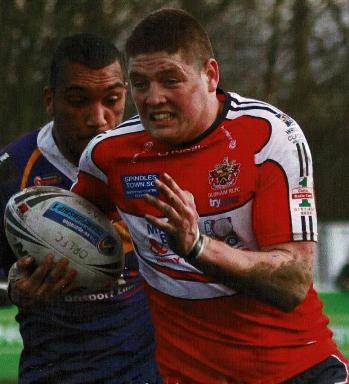 In seven seasons at Halifax he scored 53 tries in 135 games, mainly in the Championship, and became a firm favourite of the Fax faithful, as he always was in his Oldham days. There was a loan spell at Batley and a relatively brief time at Hunslet and then it was back to Oldham to finish a career that had started here all those years earlier.
In recent times Ben had been coaching the under 11s at Orrell St James'. Despite playing for other clubs and being heavily involved at Halifax from 2012 to 2018, Ben always had a soft spot for Oldham whom he served with distinction on his way up the Rugby League ladder.
The most sincere condolences are sent out to all of Ben's family and friends at this very difficult time from everyone in the Oldham RL fraternity.