Bob Lindner
Profile
Bob Lindner was brought to Oldham for the 1993-94 season in an effort to consolidate a place in the first division after several years of promotion being followed by immediate relegation. He came with a fantastic reputation, having been recently voted the "Best Rugby League Forward in the World".
This was indeed a daunting tag to live up to and the big Queenslander took a little time to settle in, but eventually the class was there for all to see. You don't become a veteran of the test and "state of origin" arena by chance and "Big Bob" delivered the goods for the "Roughyeds". A classic modern day forward bristling with power, pace and tempered aggression.
His best period came after he had been given the extra responsibility as team coach after the departure of Peter Tunks. At this point the team looked doomed once more to relegation, but under Lindner's leadership Oldham put together a run of unexpected victories to maintain their first division status. During this time Bob put in some BIG performances, especially in the away wins at Salford and St Helens.
The Oldham job was there for him, full time, if he wanted it. However, the lure of a position back home proved too much, but in his brief spell with Oldham Bob Lindner definitely made his presence felt and succeeded in pulling the club back from near certain relegation. In 1997 Bob returned as "director of football" after the club parted company with Andy Goodway.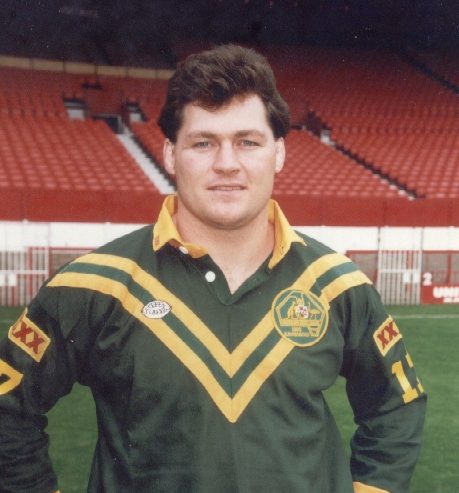 Career Games
| | | | |
| --- | --- | --- | --- |
| Hull Kingston Rovers v Oldham | Away | September 12, 1993 | Division 1 |
| Oldham v Warrington | Home | September 19, 1993 | Division 1 |
| Oldham v Sheffield Eagles | Home | September 26, 1993 | Division 1 |
| Widnes v Oldham | Away | October 3, 1993 | Division 1 |
| Oldham v Leeds | Home | October 10, 1993 | Division 1 |
| Hull FC v Oldham | Away | October 24, 1993 | Division 1 |
| Wakefield Trinity v Oldham | Away | October 31, 1993 | Division 1 |
| Featherstone Rovers v Oldham | Away | November 7, 1993 | Division 1 |
| Oldham v St Helens | Home | November 21, 1993 | Division 1 |
| Wigan v Oldham | Away | November 28, 1993 | Division 1 |
| Oldham v Leigh | Home | December 5, 1993 | Division 1 |
| Oldham v Wigan | Home | December 12, 1993 | Regal Trophy |
| Oldham v Halifax | Home | December 19, 1993 | Division 1 |
| Oldham v Salford | Home | December 26, 1993 | Division 1 |
| Bradford Northern v Oldham | Away | January 9, 1994 | Division 1 |
| Castleford v Oldham | Away | January 12, 1994 | Division 1 |
| Oldham v Hull Kingston Rovers | Home | January 16, 1994 | Division 1 |
| Warrington v Oldham | Away | January 23, 1994 | Division 1 |
| Sheffield Eagles v Oldham | Away | February 6, 1994 | Division 1 |
| Doncaster v Oldham | Away | February 13, 1994 | Rugby League Challenge Cup |
| Oldham v Widnes | Home | February 20, 1994 | Division 1 |
| Leeds v Oldham | Away | March 6, 1994 | Division 1 |
| Oldham v Hull FC | Home | March 13, 1994 | Division 1 |
| Oldham v Wakefield Trinity | Home | March 20, 1994 | Division 1 |
| Oldham v Featherstone Rovers | Home | March 27, 1994 | Division 1 |
| Salford v Oldham | Away | April 1, 1994 | Division 1 |
| Oldham v Castleford | Home | April 4, 1994 | Division 1 |
| Leigh v Oldham | Away | April 10, 1994 | Division 1 |
| St Helens v Oldham | Away | April 17, 1994 | Division 1 |
| Oldham v Wigan | Home | April 24, 1994 | Division 1 |