Martin Crompton
Profile
A product of the famous Wigan St Patricks club, Martin first came to the attention of the Oldham fans, when as an eleventh hour Warrington replacement for Paul Bishop, in the 1990 Challenge Cup semi final, he scored the equalising try (from a blatant forward pass) that signalled the beginning of the end for the "Roughyed's" Wembley ambitions.
He later joined Wigan and came to Oldham in the 1993-94 season, as the club recruited quality players in order to survive in the top flight. Survive they did and, with the help of some inspired performances by this talented scrum half, are now established in "Super League". Martin's contribution to this situation can not be underestimated. Since becoming captain of the team from 1994-95, he has turned in some exceptional displays, with his eye for an opening and well timed distribution providing the springboard for the modest but vital Oldham success of recent seasons.
He was selected (through parentage) for Ireland in the "Emerging Nations" World Cup of 1995, but, I imagine, took more satisfaction from his inclusion in the British "nines" squad for the international tournament in Australia early in 1997.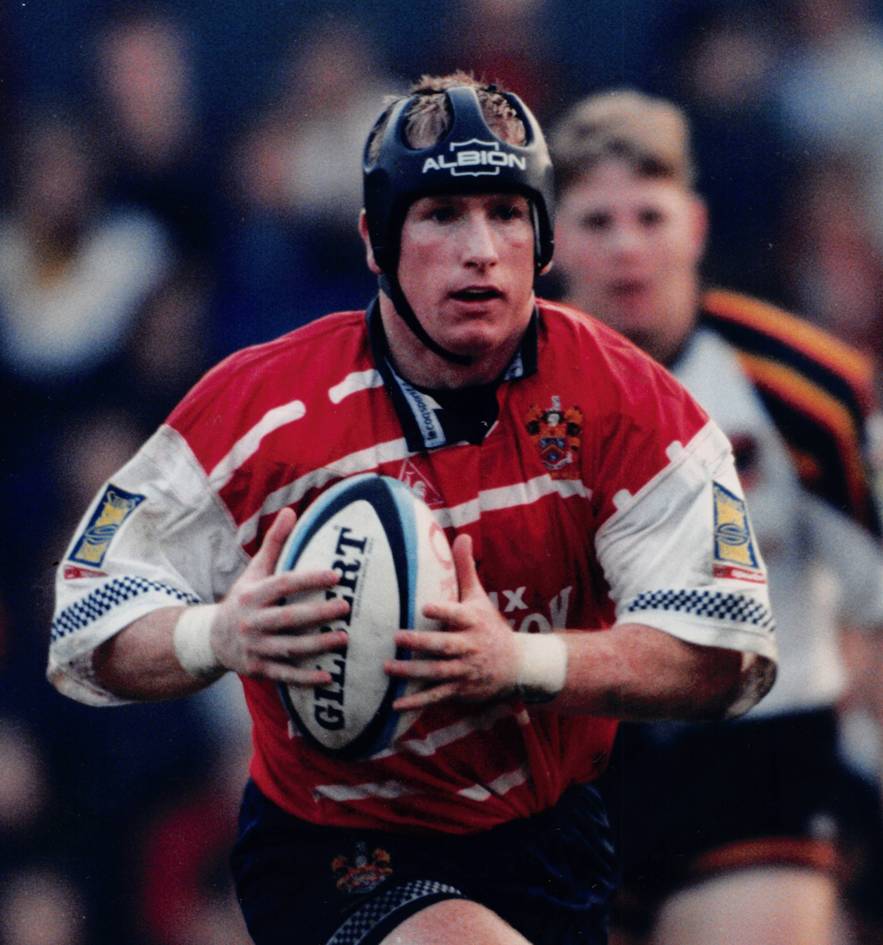 Career Games
| | | | |
| --- | --- | --- | --- |
| Hull Kingston Rovers v Oldham | Away | September 12, 1993 | Division 1 |
| Oldham v Warrington | Home | September 19, 1993 | Division 1 |
| Oldham v Sheffield Eagles | Home | September 26, 1993 | Division 1 |
| Wigan v Oldham | Away | November 28, 1993 | Division 1 |
| Oldham v Leigh | Home | December 5, 1993 | Division 1 |
| Oldham v Wigan | Home | December 12, 1993 | Regal Trophy |
| Oldham v Halifax | Home | December 19, 1993 | Division 1 |
| Oldham v Salford | Home | December 26, 1993 | Division 1 |
| Bradford Northern v Oldham | Away | January 9, 1994 | Division 1 |
| Castleford v Oldham | Away | January 12, 1994 | Division 1 |
| Oldham v Hull Kingston Rovers | Home | January 16, 1994 | Division 1 |
| Doncaster v Oldham | Away | February 13, 1994 | Rugby League Challenge Cup |
| Oldham v Widnes | Home | February 20, 1994 | Division 1 |
| Leeds v Oldham | Away | March 6, 1994 | Division 1 |
| Oldham v Hull FC | Home | March 13, 1994 | Division 1 |
| Oldham v Wakefield Trinity | Home | March 20, 1994 | Division 1 |
| Oldham v Featherstone Rovers | Home | March 27, 1994 | Division 1 |
| Salford v Oldham | Away | April 1, 1994 | Division 1 |
| Oldham v Castleford | Home | April 4, 1994 | Division 1 |
| Leigh v Oldham | Away | April 10, 1994 | Division 1 |
| Oldham v Wigan | Home | April 24, 1994 | Division 1 |
| Rochdale Hornets v Oldham | Away | August 14, 1994 | Law Cup |
| Oldham v Halifax | Home | August 21, 1994 | Division 1 |
| Bradford Northern v Oldham | Away | August 28, 1994 | Division 1 |
| Oldham v Wigan | Home | September 4, 1994 | Division 1 |
| Warrington v Oldham | Away | September 11, 1994 | Division 1 |
| Oldham v Doncaster | Home | September 18, 1994 | Division 1 |
| Hull FC v Oldham | Away | September 25, 1994 | Division 1 |
| Oldham v St Helens | Home | October 2, 1994 | Division 1 |
| Wakefield Trinity v Oldham | Away | October 9, 1994 | Division 1 |
| Oldham v Widnes | Home | October 14, 1994 | Division 1 |
| Oldham v Featherstone Rovers | Home | October 30, 1994 | Division 1 |
| Halifax v Oldham | Away | November 6, 1994 | Division 1 |
| Oldham v Bradford Northern | Home | November 22, 1994 | Division 1 |
| Wigan v Oldham | Away | November 27, 1994 | Division 1 |
| Oldham v Hull Kingston Rovers | Home | December 4, 1994 | Regal Trophy |
| Oldham v Warrington | Home | December 11, 1994 | Division 1 |
| Widnes v Oldham | Away | December 18, 1994 | Regal Trophy |
| Salford v Oldham | Away | December 26, 1994 | Division 1 |
| Oldham v Workington Town | Home | January 1, 1995 | Division 1 |
| Oldham v Leeds | Home | January 11, 1995 | Division 1 |
| Oldham v Sheffield Eagles | Home | January 22, 1995 | Division 1 |
| Oldham v Hull FC | Home | February 5, 1995 | Division 1 |
| St Helens v Oldham | Away | February 19, 1995 | Division 1 |
| Warrington v Oldham | Away | February 25, 1995 | Rugby League Challenge Cup |
| Oldham v Wakefield Trinity | Home | March 5, 1995 | Division 1 |
| Oldham v Huddersfield | Home | March 12, 1995 | Rugby League Challenge Cup |
| Castleford v Oldham | Away | March 15, 1995 | Division 1 |
| Widnes v Oldham | Away | March 19, 1995 | Division 1 |
| Wigan v Oldham | Neutral | March 25, 1995 | Rugby League Challenge Cup |
| Leeds v Oldham | Away | April 4, 1995 | Division 1 |
| Sheffield Eagles v Oldham | Away | April 9, 1995 | Division 1 |
| Oldham v Salford | Home | April 14, 1995 | Division 1 |
| Workington Town v Oldham | Away | April 17, 1995 | Division 1 |
| Featherstone Rovers v Oldham | Away | April 23, 1995 | Division 1 |
| Oldham v Dewsbury | Home | August 4, 1995 | Benefit Match |
| Castleford v Oldham | Away | August 20, 1995 | Division 1 Centenary Championship |
| Oldham v St Helens | Home | August 23, 1995 | Division 1 Centenary Championship |
| Oldham v Halifax | Home | September 1, 1995 | Division 1 Centenary Championship |
| Oldham v Bradford Bulls | Home | September 10, 1995 | Division 1 Centenary Championship |
| Oldham v London Broncos | Home | September 20, 1995 | Division 1 Centenary Championship |
| Wigan v Oldham | Away | September 24, 1995 | Division 1 Centenary Championship |
| Oldham v Leeds | Home | October 1, 1995 | Division 1 Centenary Championship |
| London Broncos v Oldham | Away | October 27, 1995 | Division 1 Centenary Championship |
| Oldham v Workington Town | Home | November 1, 1995 | Division 1 Centenary Championship |
| Sheffield Eagles v Oldham | Away | November 5, 1995 | Division 1 Centenary Championship |
| Widnes v Oldham | Away | November 12, 1995 | Regal Trophy |
| Oldham v Castleford | Home | November 19, 1995 | Division 1 Centenary Championship |
| Bradford Bulls v Oldham | Away | December 1, 1995 | Division 1 Centenary Championship |
| Oldham v Wigan | Home | December 17, 1995 | Division 1 Centenary Championship |
| Halifax v Oldham | Away | January 4, 1996 | Division 1 Centenary Championship |
| Leeds v Oldham | Away | January 10, 1996 | Division 1 Centenary Championship |
| Workington Town v Oldham | Away | January 14, 1996 | Division 1 Centenary Championship |
| Oldham v Warrington | Home | January 17, 1996 | Division 1 Centenary Championship |
| Oldham v Sheffield Eagles | Home | January 21, 1996 | Division 1 Centenary Championship |
| Oldham Bears v Warrington | Home | February 4, 1996 | Rugby League Challenge Cup |
| Oldham Bears v Hunslet | Home | March 22, 1996 | Friendly |
| Oldham Bears v Wigan | Home | March 30, 1996 | Super League |
| Oldham Bears v Halifax | Home | April 5, 1996 | Super League |
| Paris St Germain v Oldham Bears | Away | April 8, 1996 | Super League |
| Oldham Bears v Leeds Rhinos | Home | April 13, 1996 | Super League |
| Castleford v Oldham Bears | Away | April 20, 1996 | Super League |
| Sheffield Eagles v Oldham Bears | Away | May 19, 1996 | Super League |
| Oldham Bears v Workington Town | Home | May 26, 1996 | Super League |
| London Broncos v Oldham Bears | Away | June 2, 1996 | Super League |
| Oldham Bears v Warrington | Home | June 9, 1996 | Super League |
| Wigan v Oldham Bears | Away | June 16, 1996 | Super League |
| Halifax v Oldham Bears | Away | June 23, 1996 | Super League |
| Oldham Bears v Paris St Germain | Home | June 28, 1996 | Super League |
| Leeds Rhinos v Oldham Bears | Away | July 7, 1996 | Super League |
| Oldham Bears v Castleford | Home | July 14, 1996 | Super League |
| Oldham Bears v St Helens | Home | July 19, 1996 | Super League |
| Workington Town v Oldham Bears | Away | August 4, 1996 | Super League |
| Oldham Bears v London Broncos | Home | August 11, 1996 | Super League |
| Warrington v Oldham Bears | Away | August 16, 1996 | Super League |
| Oldham Bears v Sheffield Eagles | Home | August 25, 1996 | Super League |
| Oldham Bears v Swinton | Home | January 19, 1997 | Friendly |
| Oldham Bears v Rochdale Hornets | Home | February 9, 1997 | Rugby League Challenge Cup |
| Wakefield Trinity v Oldham Bears | Away | February 23, 1997 | Rugby League Challenge Cup |
| Oldham Bears v Bradford Bulls | Home | March 9, 1997 | Rugby League Challenge Cup |
| Leeds Rhinos v Oldham Bears | Away | March 16, 1997 | Super League |
| Oldham Bears v Bradford Bulls | Home | March 21, 1997 | Super League |
| Salford Reds v Oldham Bears | Away | March 28, 1997 | Super League |
| Oldham Bears v London Broncos | Home | April 1, 1997 | Super League |
| Warrington Wolves v Oldham Bears | Away | April 6, 1997 | Super League |
| Oldham Bears v Paris St Germain | Home | April 13, 1997 | Super League |
| Wigan Warriors v Oldham Bears | Away | April 20, 1997 | Super League |
| Oldham Bears v Halifax Bue Sox | Home | April 27, 1997 | Super League |
| Sheffield Eagles v Oldham Bears | Away | May 11, 1997 | Super League |
| Oldham Bears v Leeds Rhinos | Home | May 18, 1997 | Super League |
| Bradford Bulls v Oldham Bears | Away | May 23, 1997 | Super League |
| Oldham Bears v Salford Reds | Home | May 26, 1997 | Super League |
| Oldham Bears v Castleford Tigers | Home | May 30, 1997 | Super League |
| North Queensland Cowboys v Oldham Bears | Away | June 14, 1997 | World Club Championship |
| Adelaide Rams v Oldham Bears | Away | June 20, 1997 | World Club Championship |
| Oldham Bears v St Helens | Home | June 30, 1997 | Super League |
| Oldham Bears v Sheffield Eagles | Home | July 6, 1997 | Super League |
| Castleford Tigers v Oldham Bears | Away | July 11, 1997 | Super League |
| Oldham Bears v North Queensland Cowboys | Home | July 18, 1997 | World Club Championship |
| Oldham Bears v Adelaide Rams | Home | July 25, 1997 | World Club Championship |
| London Broncos v Oldham Bears | Away | August 5, 1997 | Super League |
| St Helens v Oldham Bears | Away | August 10, 1997 | Super League |