Sean Quinlan
Profile
A product of the well-known Blackrock College in Dublin, Sean Quinlan was a big-name signing for the Roughyeds. He had played four times for Ireland in Rugby Union and was generally thought to be one of that code's best and fastest wingers. Top Rugby League clubs tracked him, but Oldham got their man.
He was restricted to 11 first-team games by a run of knee injuries in an Oldham career that spanned three seasons. He made his debut on November 22, 1958 in a 13-12 League Championship win against Leeds at Watersheddings and then played in two more games over Christmas, scoring the first of his four tries for the club in a 14-14 draw at Hunslet.
A serious knee injury at Parkside, in only his third first-team game, kept him out until the following season whereupon he scored his second try in the first game, a 27-12 home win against Leeds. A recurrence of the injury kept him out for another three weeks, but he returned to action in a 43-9 win against Hunslet at Watersheddings and promptly scored two more tries.
In his next game against Warrington he suffered damage to his other knee – an injury that sidelined him again until the start of the 60-61 season. After corrective surgery, he played in the first five games of that season against top teams such as St Helens, Warrington, Leeds, Wigan and Leigh, but then one of his knees failed again. Despite his cruel luck with injuries, the young Irishman was a popular member of the squad.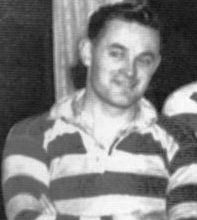 Career Games
| | | | |
| --- | --- | --- | --- |
| Oldham v Leeds | Home | November 22, 1958 | League Championship |
| Oldham v Swinton | Home | December 25, 1958 | League Championship |
| Hunslet v Oldham | Away | December 26, 1958 | League Championship |
| Oldham v Leeds | Home | August 15, 1959 | League Championship |
| Oldham v Hunslet | Home | September 12, 1959 | League Championship |
| Oldham v Workington Town | Home | October 17, 1959 | League Championship |
| Rochdale Hornets v Oldham | Away | August 6, 1960 | Law Cup |
| Oldham v St Helens | Home | August 13, 1960 | League Championship |
| Warrington v Oldham | Away | August 17, 1960 | League Championship |
| Leeds v Oldham | Away | August 20, 1960 | League Championship |
| Wigan v Oldham | Away | August 27, 1960 | Lancashire Cup |
| Oldham v Leigh | Home | August 30, 1960 | League Championship |