Charley Bradbury
Profile
Charley Bradbury had the singular honour of scoring the try that registered Oldham's first ever points in the Northern Union.
A recent acquisition by the club, Bradbury came from Glossop where he had been club captain and only played in the game when full back Harry Eagland withdrew to take part in an important cricket match. The back division was re-shuffled allowing Charley to play on the wing and make his historic touchdown.
If anyone has a better image of Charley the ORL Heritage Trust would be glad of a copy for our records.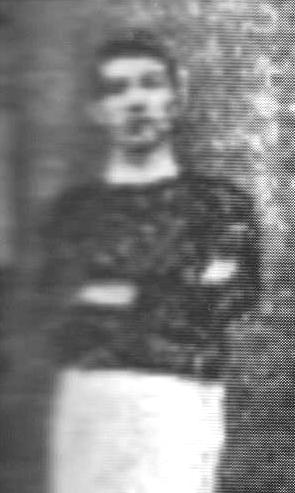 Career Games
| | | | |
| --- | --- | --- | --- |
| Hunslet v Oldham | Away | September 14, 1895 | Northern Union |
| Widnes v Oldham | Away | October 26, 1895 | Northern Union |
| Oldham v Manningham | Home | November 2, 1895 | Northern Union |
| Leigh v Oldham | Away | November 9, 1895 | Northern Union |
| Oldham v Rochdale Hornets | Home | November 30, 1895 | Northern Union |
| Oldham v St Helens | Home | December 14, 1895 | Northern Union |
| Oldham v Wigan | Home | December 21, 1895 | Northern Union |
| Leeds v Oldham | Away | December 26, 1895 | Northern Union |
| Oldham v Warrington | Home | December 28, 1895 | Northern Union |
| Brighouse Rangers v Oldham | Away | January 1, 1896 | Northern Union |
| Broughton Rangers v Oldham | Away | April 25, 1896 | Northern Union |
| Runcorn v Oldham | Neutral | April 29, 1896 | Northern Union |
| Oldham v Salford | Home | December 19, 1896 | Lancashire Senior Competition |
| Oldham v Stockport | Home | December 25, 1896 | Lancashire Senior Competition |
| Oldham v Broughton Rangers | Home | December 26, 1896 | Lancashire Senior Competition |