Douglas Phillips
Profile
D.V. (Douglas Versailles) Phillips played for Swansea R.U. and joined Oldham during the Second World War, making his debut in the 16 – 0 victory over Batley on February 17th, 1945 at Watersheddings.
A tall and immensely powerful second row forward, he was often selected to play in representative games for the forces and had a very limited time with Oldham before being transferred to Belle Vue Rangers. He was nevertheless an Oldham player when selected for the 1946 tour to Australia and New Zealand, after having played only seven games for the club. He played in all three of the tests in Australia, helping the Lions to secure the "Ashes" with two wins and a draw.
Doug toured again in 1950, while he was with the Rangers and won caps for the Welsh Rugby League Xlll. In his short spell with Oldham he definitely made an impression…. As a young boy I can remember my late father telling me about…."the best second row forward they ever had up there ! Mind you, they only had 'im for ten minutes"
That player, so emphatically praised, was Doug Phillips.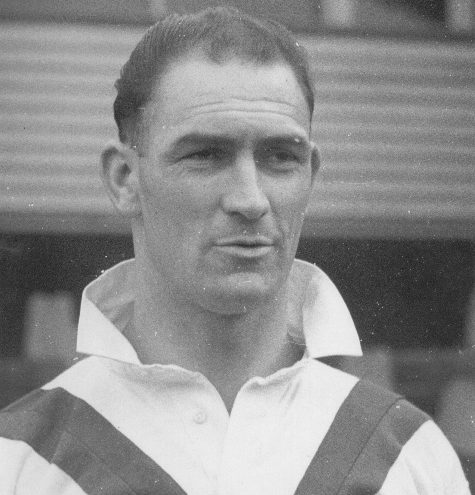 Career Games
| | | | |
| --- | --- | --- | --- |
| Oldham v Batley | Home | February 17, 1945 | War Emergency League |
| Oldham v St Helens | Home | September 8, 1945 | League Championship |
| Oldham v Wigan | Home | September 22, 1945 | Lancashire Cup |
| Wigan v Oldham | Away | September 29, 1945 | Lancashire Cup |
| Oldham v Rochdale Hornets | Home | November 3, 1945 | League Championship |
| Salford v Oldham | Away | February 9, 1946 | Rugby League Challenge Cup |
| Oldham v Salford | Home | February 16, 1946 | Rugby League Challenge Cup |
| Oldham v Hull FC | Home | March 9, 1946 | League Championship |
| Leigh v Oldham | Away | October 2, 1946 | Lancashire Cup |
| Castleford v Oldham | Away | October 5, 1946 | League Championship |
| Oldham v Wigan | Home | October 15, 1946 | Lancashire Cup |
| Oldham v Dewsbury | Home | October 19, 1946 | League Championship |
| Oldham v St Helens | Home | November 2, 1946 | League Championship |
| Leigh v Oldham | Away | November 9, 1946 | League Championship |
| Workington Town v Oldham | Away | November 23, 1946 | League Championship |
| Oldham v Widnes | Home | November 30, 1946 | League Championship |
| Wigan v Oldham | Away | December 21, 1946 | League Championship |
| Oldham v Featherstone Rovers | Home | December 28, 1946 | League Championship |