Hugh Waddell
Profile
Hugh Waddell first came to the notice of Oldham supporters when he starred in the Blackpool Borough team that caused a major Upset by knocking Oldham out of the Lancashire Cup in the first round at Watersheddings in 1984. Hugh capped a superb performance by plunging over for the winning try in the very last minute of the match.
A tough straight running prop forward, he had previously played with Burton Rugby Union club and came to Oldham via Borough Park in January 1987. He soon showed his mettle to the Oldham public in the first round Challenge C up win over Wigan, when he had a storming game. The following season he played 36 out of a possible 38 games to help the club take the second division Championship and Premiership titles, the latter after that famous encounter with Featherstone Rovers at Old Trafford.
Consistent form throughout the season had won him a Great Britain call up, but there were a few raised eyebrows when he was selected for the 1988 tour. "Hughie" went on to prove all the doubters wrong, especially when he turned in another stunning performance in the last test victory, the first against the Aussies for ten years.
Always popular with the Oldham fans, he joined Leeds in September 1988 and later went on to Sheffield where he helped the Eagles to defeat his former team in the 1990 Divisional Premiership final.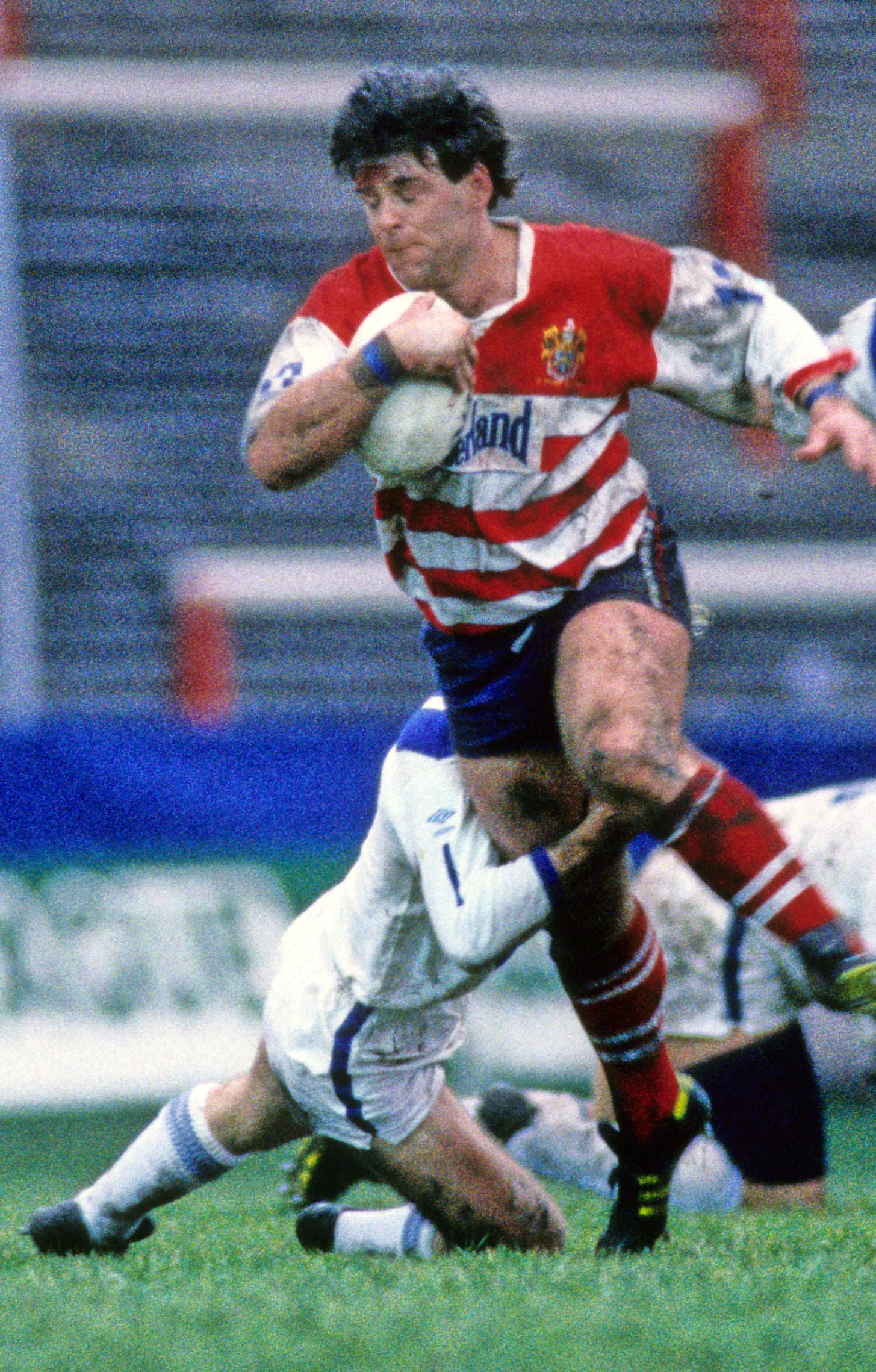 Career Games
| | | | |
| --- | --- | --- | --- |
| Oldham v Featherstone Rovers | Home | January 18, 1987 | Division 1 |
| Widnes v Oldham | Away | January 21, 1987 | Division 1 |
| Oldham v Wigan | Home | February 4, 1987 | Rugby League Challenge Cup |
| Oldham v St Helens | Home | February 14, 1987 | Rugby League Challenge Cup |
| Oldham v Hull FC | Home | February 22, 1987 | Division 1 |
| Castleford v Oldham | Away | March 1, 1987 | Division 1 |
| Featherstone Rovers v Oldham | Away | March 8, 1987 | Division 1 |
| Oldham v Warrington | Home | March 11, 1987 | Division 1 |
| Oldham v Bradford Northern | Home | March 15, 1987 | Division 1 |
| Oldham v Wakefield Trinity | Home | March 25, 1987 | Division 1 |
| Oldham v Castleford | Home | March 29, 1987 | Division 1 |
| Barrow v Oldham | Away | April 5, 1987 | Division 1 |
| Wigan v Oldham | Away | April 8, 1987 | Division 1 |
| Oldham v Leigh | Home | April 12, 1987 | Division 1 |
| Salford v Oldham | Away | April 17, 1987 | Division 1 |
| Oldham v Wigan | Home | April 20, 1987 | Division 1 |
| Whitehaven v Oldham | Away | August 30, 1987 | Division 2 |
| Oldham v Keighley | Home | September 2, 1987 | Division 2 |
| Oldham v Bramley | Home | September 6, 1987 | Division 2 |
| Warrington v Oldham | Away | September 13, 1987 | Lancashire Cup |
| Oldham v Springfield Borough | Home | September 20, 1987 | Division 2 |
| Doncaster v Oldham | Away | September 27, 1987 | Division 2 |
| Huddersfield v Oldham | Away | October 4, 1987 | Division 2 |
| Oldham v Sheffield Eagles | Home | October 11, 1987 | Division 2 |
| Oldham v Barrow | Home | October 25, 1987 | Division 2 |
| Keighley v Oldham | Away | November 1, 1987 | Division 2 |
| Oldham v Fulham | Home | November 8, 1987 | John Player Cup |
| Oldham v Bradford Northern | Home | November 15, 1987 | John Player Cup |
| Batley v Oldham | Away | November 22, 1987 | John Player Cup |
| Warrington v Oldham | Away | November 28, 1987 | John Player Cup |
| Barrow v Oldham | Away | December 13, 1987 | Division 2 |
| St Helens v Oldham | Neutral | December 19, 1987 | John Player Cup |
| Oldham v Rochdale Hornets | Home | December 27, 1987 | Division 2 |
| Springfield Borough v Oldham | Away | January 3, 1988 | Division 2 |
| Oldham v Whitehaven | Home | January 10, 1988 | Division 2 |
| Runcorn Highfield v Oldham | Away | January 17, 1988 | Division 2 |
| Warrington v Oldham | Away | January 31, 1988 | Rugby League Challenge Cup |
| Workington Town v Oldham | Away | February 7, 1988 | Division 2 |
| Oldham v Carlisle | Home | February 14, 1988 | Division 2 |
| Featherstone Rovers v Oldham | Away | February 21, 1988 | Division 2 |
| Oldham v Featherstone Rovers | Home | February 28, 1988 | Division 2 |
| Oldham v Workington Town | Home | March 6, 1988 | Division 2 |
| Bramley v Oldham | Away | March 13, 1988 | Division 2 |
| Oldham v Huddersfield | Home | March 20, 1988 | Division 2 |
| Sheffield Eagles v Oldham | Away | March 27, 1988 | Division 2 |
| Rochdale Hornets v Oldham | Away | April 1, 1988 | Division 2 |
| Oldham v Runcorn Highfield | Home | April 4, 1988 | Division 2 |
| Wakefield Trinity v Oldham | Away | April 10, 1988 | Division 2 |
| Carlisle v Oldham | Away | April 17, 1988 | Division 2 |
| Oldham v Keighley | Home | April 24, 1988 | 2nd Division Premiership |
| Oldham v Springfield Borough | Home | May 8, 1988 | 2nd Division Premiership |
| Featherstone Rovers v Oldham | Neutral | May 15, 1988 | 2nd Division Premiership |
| Oldham v Salford | Home | August 14, 1988 | Benefit Match |
| Wigan v Oldham | Away | August 28, 1988 | Division 1 |
| Oldham v Leeds | Home | September 4, 1988 | Division 1 |