Ike Southward
Profile
When Ike Southward came to Oldham in March 1959 from Workington Town it was for a record transfer fee of £10,650, the first five figure outlay in the history of the sport. It later emerged that the Southward deal was a life saver for the debt ridden Cumbrian outfit with a promise being made that they would endeavour to buy him back if fortunes improved.
Ike made a try scoring debut for Oldham on March 21st, 1959 against Barrow and it soon became apparent that his reputation as a dynamic winger was well warranted. Whether he was keen or not for a change of surroundings in no way affected his form. He scored ten tries in what remained of the 1958-59 season, following this up with 31 in 1959-60 to finish top try scorer for the club.
Fast and strong, he was a real handful, scoring six tries in the second round Challenge Cup tie against Barrow amateurs, Walney Central. He had been on the 1958 tour and continued to represent his country and county while at Watersheddings. Also a superb goal kicker, his career at Oldham coincided with the Ganley era, so the Watersheddings fans never saw that facet of his talents.
Ike never really settled in Lancashire and Workington, true to their word, signed him back for £11,002, 10s. The extra £2 and ten shillings being the price of a bottle of whisky which made the fee in excess of the eleven thousand pounds St Helens had paid Wigan for Mick Sullivan, thus making Ike the subject of a record transfer once more. So Ike returned to Cumberland, his time at Oldham best summed up by his tries to appearances ratio.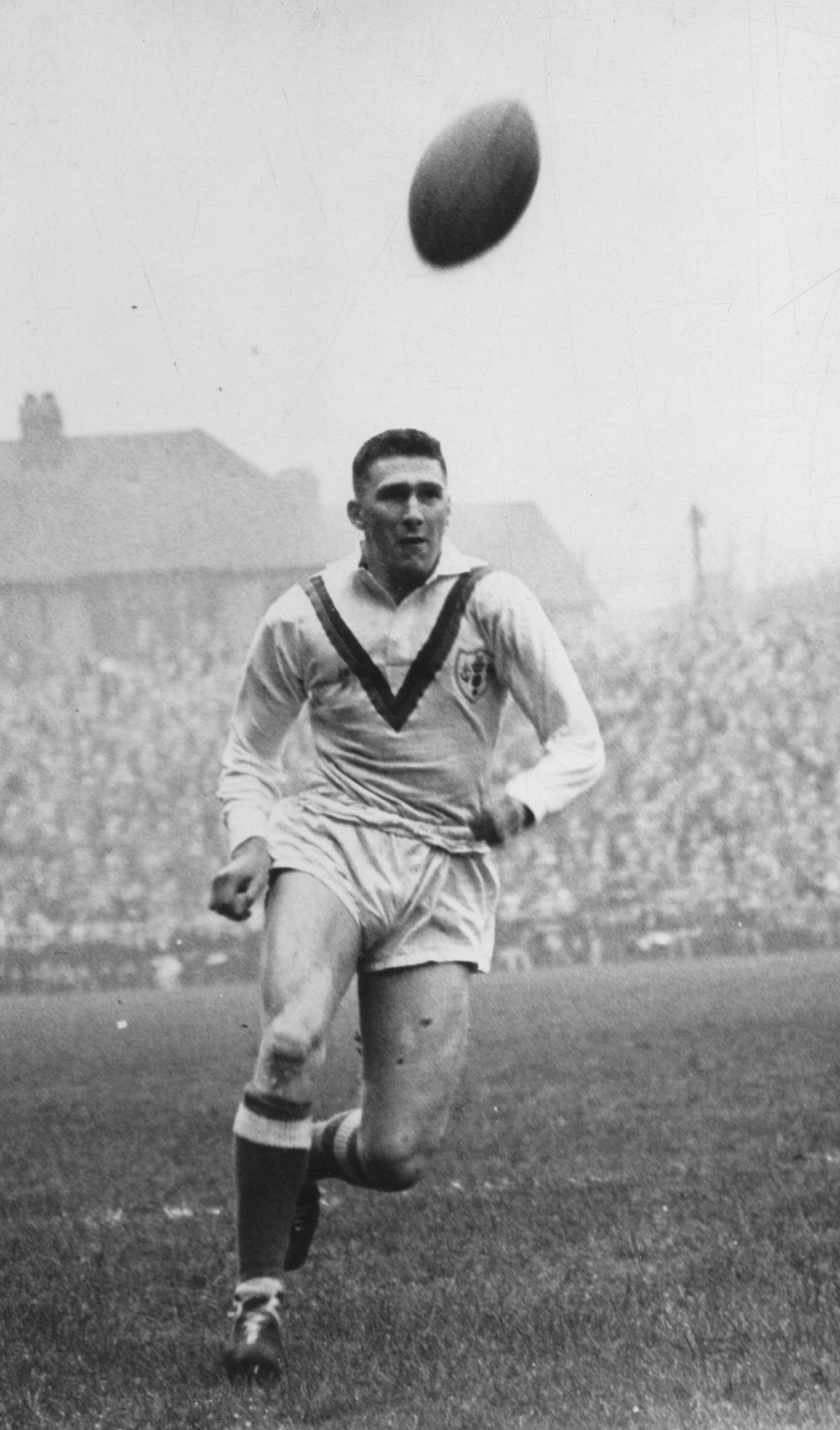 Career Games
| | | | |
| --- | --- | --- | --- |
| Oldham v Barrow | Home | March 21, 1959 | League Championship |
| Swinton v Oldham | Away | March 27, 1959 | League Championship |
| Oldham v Hull FC | Home | March 30, 1959 | League Championship |
| Oldham v Salford | Home | April 7, 1959 | League Championship |
| Widnes v Oldham | Away | April 11, 1959 | League Championship |
| Oldham v Hunslet | Home | April 14, 1959 | League Championship |
| Oldham v Whitehaven | Home | April 18, 1959 | League Championship |
| Barrow v Oldham | Away | April 20, 1959 | League Championship |
| Oldham v St Helens | Home | April 27, 1959 | League Championship |
| Oldham v Rochdale Hornets | Home | August 8, 1959 | Law Cup |
| Dewsbury v Oldham | Away | August 18, 1959 | League Championship |
| Oldham v Widnes | Home | September 19, 1959 | League Championship |
| Blackpool Borough v Oldham | Away | September 26, 1959 | League Championship |
| Oldham v Barrow | Home | October 31, 1959 | League Championship |
| Rochdale Hornets v Oldham | Away | November 7, 1959 | League Championship |
| Oldham v Blackpool Borough | Home | November 14, 1959 | League Championship |
| Oldham v Rochdale Hornets | Home | November 28, 1959 | League Championship |
| Wigan v Oldham | Away | December 5, 1959 | League Championship |
| Oldham v Dewsbury | Home | December 19, 1959 | League Championship |
| Oldham v Swinton | Home | December 25, 1959 | League Championship |
| Oldham v Hull FC | Home | December 28, 1959 | League Championship |
| Liverpool City v Oldham | Away | January 2, 1960 | League Championship |
| Oldham v Wakefield Trinity | Home | January 9, 1960 | League Championship |
| Oldham v Leigh | Home | January 16, 1960 | League Championship |
| St Helens v Oldham | Away | January 23, 1960 | League Championship |
| Widnes v Oldham | Away | January 30, 1960 | League Championship |
| Oldham v Salford | Home | February 6, 1960 | League Championship |
| Oldham v Huddersfield | Home | February 13, 1960 | Rugby League Challenge Cup |
| Oldham v Walney Central | Home | February 27, 1960 | Rugby League Challenge Cup |
| Oldham v Wigan | Home | March 12, 1960 | League Championship |
| Oldham v Bramley | Home | March 19, 1960 | Rugby League Challenge Cup |
| Oldham v Liverpool City | Home | April 2, 1960 | League Championship |
| Hull FC v Oldham | Neutral | April 9, 1960 | Rugby League Challenge Cup |
| Swinton v Oldham | Away | April 15, 1960 | League Championship |
| Workington Town v Oldham | Away | April 16, 1960 | League Championship |
| Rochdale Hornets v Oldham | Away | August 6, 1960 | Law Cup |
| Oldham v St Helens | Home | August 13, 1960 | League Championship |
| Warrington v Oldham | Away | August 17, 1960 | League Championship |
| Leeds v Oldham | Away | August 20, 1960 | League Championship |
| Wigan v Oldham | Away | August 27, 1960 | Lancashire Cup |
| Oldham v Leigh | Home | August 30, 1960 | League Championship |
| Featherstone Rovers v Oldham | Away | September 3, 1960 | League Championship |
| Oldham v Halifax | Home | September 10, 1960 | League Championship |
| Oldham v Featherstone Rovers | Home | September 20, 1960 | League Championship |
| Blackpool Borough v Oldham | Away | September 27, 1960 | League Championship |
| Hull Kingston Rovers v Oldham | Away | October 15, 1960 | League Championship |
| Oldham v Widnes | Home | October 22, 1960 | League Championship |
| Rochdale Hornets v Oldham | Away | October 29, 1960 | League Championship |
| Oldham v Liverpool City | Home | November 5, 1960 | League Championship |
| Keighley v Oldham | Away | November 12, 1960 | League Championship |
| Oldham v Salford | Home | November 19, 1960 | League Championship |
| Whitehaven v Oldham | Away | November 26, 1960 | League Championship |
| Oldham v Leeds | Home | December 3, 1960 | League Championship |
| Oldham v Blackpool Borough | Home | December 17, 1960 | League Championship |