Tom Holliday
Profile
Thomas (Tosh) Holliday came to Oldham from the Aspatria Rugby Union club in Cumberland. In the fifteen-a-side code he was regarded as one of the most reliable threequarters or full backs in the game, winning Cumberland county honours and two full England caps, both in the full back position.
His Oldham debut was against Leeds in the opening match of the 1926-27 campaign. In this match he played at centre and would remain there, with an odd appearance at full back and on the wing, for the first half of the season. By the time of the Challenge Cup matches he was appearing more regularly on the flank and managed to retain his place for the final against Swinton and with it secure himself a place in the R.L. history books. Tom established lasting fame by scoring a hat trick of tries in the 26 – 7 defeat of the Lions. It aws an achievement that would not occur again until Robbie Paul's superb effort for Bradford Bulls 69 years later. The second of Tom's touchdowns came after a fabulous touchline dash from inside his own half of the field.
Tom played just two more seasons for Oldham but left with his name indelibly written in the history of the club.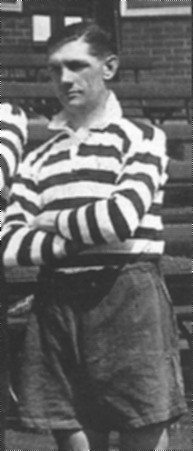 Career Games
| | | | |
| --- | --- | --- | --- |
| Oldham v Leeds | Home | August 28, 1926 | League Championship |
| Pontypridd v Oldham | Away | September 4, 1926 | League Championship |
| Oldham v Wakefield Trinity | Home | September 6, 1926 | League Championship |
| Broughton Rangers v Oldham | Away | September 11, 1926 | League Championship |
| Oldham v Widnes | Home | September 18, 1926 | League Championship |
| Oldham v Huddersfield | Home | September 20, 1926 | League Championship |
| St Helens Recs v Oldham | Away | September 25, 1926 | League Championship |
| Oldham v Barrow | Home | October 2, 1926 | League Championship |
| Oldham v Salford | Home | October 9, 1926 | Lancashire Cup |
| Rochdale Hornets v Oldham | Away | October 16, 1926 | League Championship |
| Oldham v New Zealand | Home | October 23, 1926 | Tour Match |
| Oldham v York | Home | November 6, 1926 | League Championship |
| Barrow v Oldham | Away | November 13, 1926 | League Championship |
| Oldham v Batley | Home | December 18, 1926 | League Championship |
| Hull FC v Oldham | Away | December 27, 1926 | League Championship |
| Oldham v Wigan Highfield | Home | January 1, 1927 | League Championship |
| Oldham v Hull FC | Home | January 3, 1927 | League Championship |
| Salford v Oldham | Away | January 15, 1927 | League Championship |
| Wigan Highfield v Oldham | Away | January 29, 1927 | League Championship |
| Hunslet v Oldham | Away | February 26, 1927 | Rugby League Challenge Cup |
| Oldham v Broughton Rangers | Home | March 5, 1927 | League Championship |
| Leeds v Oldham | Away | March 12, 1927 | Rugby League Challenge Cup |
| Oldham v Wigan | Home | March 19, 1927 | League Championship |
| Oldham v Salford | Home | March 21, 1927 | League Championship |
| Batley v Oldham | Away | March 26, 1927 | League Championship |
| Wakefield Trinity v Oldham | Neutral | April 2, 1927 | Rugby League Challenge Cup |
| Wigan v Oldham | Away | April 9, 1927 | League Championship |
| Oldham v St Helens Recs | Home | April 11, 1927 | League Championship |
| Huddersfield v Oldham | Away | April 18, 1927 | League Championship |
| Oldham v Leigh | Home | April 19, 1927 | League Championship |
| Widnes v Oldham | Away | April 23, 1927 | League Championship |
| Oldham v Pontypridd | Home | April 25, 1927 | League Championship |
| Swinton v Oldham | Neutral | May 7, 1927 | Rugby League Challenge Cup |
| Salford v Oldham | Away | August 27, 1927 | League Championship |
| Huddersfield v Oldham | Away | August 31, 1927 | League Championship |
| Oldham v Wakefield Trinity | Home | September 3, 1927 | League Championship |
| Rochdale Hornets v Oldham | Away | September 6, 1927 | Infirmary Cup |
| York v Oldham | Away | September 10, 1927 | League Championship |
| Oldham v Huddersfield | Home | September 12, 1927 | League Championship |
| Oldham v Leigh | Home | September 17, 1927 | League Championship |
| Wigan Highfield v Oldham | Away | September 28, 1927 | League Championship |
| Oldham v York | Home | October 1, 1927 | League Championship |
| Oldham v Wigan Highfield | Home | October 8, 1927 | Lancashire Cup |
| Swinton v Oldham | Away | October 19, 1927 | Lancashire Cup |
| Pontypridd v Oldham | Away | October 22, 1927 | League Championship |
| Oldham v Salford | Home | October 29, 1927 | League Championship |
| St Helens Recs v Oldham | Away | November 5, 1927 | League Championship |
| Oldham v Halifax | Home | November 12, 1927 | League Championship |
| Warrington v Oldham | Away | November 19, 1927 | League Championship |
| Oldham v St Helens | Home | November 26, 1927 | League Championship |
| Wakefield Trinity v Oldham | Away | December 3, 1927 | League Championship |
| Oldham v Swinton | Home | December 10, 1927 | League Championship |
| Barrow v Oldham | Away | December 24, 1927 | League Championship |
| Oldham v Barrow | Home | December 31, 1927 | League Championship |
| Oldham v Hull FC | Home | January 2, 1928 | League Championship |
| Halifax v Oldham | Away | January 7, 1928 | League Championship |
| Oldham v Warrington | Home | January 14, 1928 | League Championship |
| St Helens v Oldham | Away | February 18, 1928 | League Championship |
| Barrow v Oldham | Away | February 25, 1928 | Rugby League Challenge Cup |
| Oldham v Rochdale Hornets | Home | March 3, 1928 | League Championship |
| Leeds v Oldham | Away | March 10, 1928 | Rugby League Challenge Cup |
| Wigan Highfield v Oldham | Away | September 1, 1928 | League Championship |
| Halifax v Oldham | Away | September 3, 1928 | League Championship |
| Oldham v Halifax | Home | September 8, 1928 | League Championship |
| Hull FC v Oldham | Away | September 15, 1928 | League Championship |
| Oldham v Warrington | Home | September 22, 1928 | League Championship |
| Oldham v Featherstone Rovers | Home | September 29, 1928 | League Championship |
| Hunslet v Oldham | Away | October 6, 1928 | League Championship |
| Oldham v Rochdale Hornets | Home | October 13, 1928 | Infirmary Cup |
| Oldham v Salford | Home | October 24, 1928 | Lancashire Cup |
| Oldham v Leigh | Home | October 27, 1928 | League Championship |
| Barrow v Oldham | Away | November 3, 1928 | League Championship |
| Oldham v Wigan | Home | November 5, 1928 | Lancashire Cup |
| Wigan v Oldham | Away | November 7, 1928 | Lancashire Cup |
| Oldham v Wigan | Home | November 10, 1928 | League Championship |
| Oldham v Hunslet | Home | November 24, 1928 | League Championship |
| St Helens v Oldham | Away | December 1, 1928 | League Championship |
| Oldham v St Helens | Home | December 8, 1928 | League Championship |
| Wigan v Oldham | Away | December 15, 1928 | League Championship |
| Broughton Rangers v Oldham | Away | December 22, 1928 | League Championship |
| Oldham v Swinton | Home | December 25, 1928 | League Championship |
| Oldham v Widnes | Home | December 29, 1928 | League Championship |
| Leigh v Oldham | Away | January 1, 1929 | League Championship |
| Warrington v Oldham | Away | January 12, 1929 | League Championship |
| Widnes v Oldham | Away | January 19, 1929 | League Championship |