Bill Patterson
Profile
Billy played 72 senior games for Oldham between 1960 and 1965, mostly on the wing but occasionally at full-back.
Oldham-born, Billy was a brave-hearted player who never let his lack of weight stop him from giving 100% effort in the Roughyeds' cause.
He scored 29 tries and kicked 12 goals for a total of 111 points.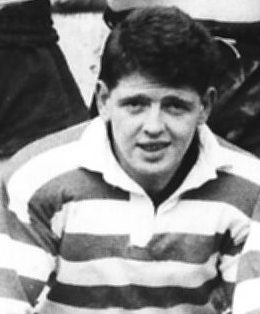 Career Games
| | | | |
| --- | --- | --- | --- |
| Oldham v St Helens | Home | April 26, 1960 | League Championship |
| Leigh v Oldham | Away | April 30, 1960 | League Championship |
| St Helens v Oldham | Away | September 17, 1960 | League Championship |
| Oldham v Featherstone Rovers | Home | September 20, 1960 | League Championship |
| Blackpool Borough v Oldham | Away | September 27, 1960 | League Championship |
| Hull Kingston Rovers v Oldham | Away | October 15, 1960 | League Championship |
| Oldham v Widnes | Home | October 22, 1960 | League Championship |
| Rochdale Hornets v Oldham | Away | October 29, 1960 | League Championship |
| Oldham v Liverpool City | Home | November 5, 1960 | League Championship |
| Keighley v Oldham | Away | November 12, 1960 | League Championship |
| Oldham v Salford | Home | November 19, 1960 | League Championship |
| Oldham v Blackpool Borough | Home | December 17, 1960 | League Championship |
| Leigh v Oldham | Away | December 24, 1960 | League Championship |
| Oldham v Swinton | Home | December 26, 1960 | League Championship |
| Barrow v Oldham | Away | December 31, 1960 | League Championship |
| Workington Town v Oldham | Away | January 2, 1961 | League Championship |
| Liverpool City v Oldham | Away | January 21, 1961 | League Championship |
| Oldham v Wigan | Home | January 28, 1961 | League Championship |
| Oldham v Barrow | Home | February 4, 1961 | League Championship |
| Hull FC v Oldham | Away | February 11, 1961 | Rugby League Challenge Cup |
| Oldham v Hull Kingston Rovers | Home | February 18, 1961 | League Championship |
| Salford v Oldham | Away | March 4, 1961 | League Championship |
| Oldham v Workington Town | Home | March 18, 1961 | League Championship |
| Wigan v Oldham | Away | March 25, 1961 | League Championship |
| Halifax v Oldham | Away | April 26, 1961 | League Championship |
| Oldham v Keighley | Home | April 29, 1961 | League Championship |
| Oldham v Rochdale Hornets | Home | August 12, 1961 | Law Cup |
| Oldham v Halifax | Home | August 19, 1961 | League Championship |
| Barrow v Oldham | Away | August 21, 1961 | League Championship |
| Blackpool Borough v Oldham | Away | August 26, 1961 | League Championship |
| Oldham v York | Home | August 28, 1961 | League Championship |
| Barrow v Oldham | Away | September 2, 1961 | Lancashire Cup |
| Halifax v Oldham | Away | September 9, 1961 | League Championship |
| Oldham v Warrington | Home | October 21, 1961 | League Championship |
| Huddersfield v Oldham | Away | October 28, 1961 | League Championship |
| Whitehaven v Oldham | Away | November 4, 1961 | League Championship |
| Oldham v Hull FC | Home | November 18, 1961 | League Championship |
| Salford v Oldham | Away | November 25, 1961 | League Championship |
| Oldham v Whitehaven | Home | December 2, 1961 | League Championship |
| Workington Town v Oldham | Away | December 9, 1961 | League Championship |
| St Helens v Oldham | Away | December 16, 1961 | League Championship |
| Warrington v Oldham | Away | January 6, 1962 | League Championship |
| Wigan v Oldham | Away | January 13, 1962 | League Championship |
| Rochdale Hornets v Oldham | Away | January 27, 1962 | League Championship |
| Oldham v Workington Town | Home | March 3, 1962 | Rugby League Challenge Cup |
| Oldham v Whitehaven | Home | August 31, 1962 | Western Division |
| Whitehaven v Oldham | Away | September 7, 1962 | Lancashire Cup |
| Barrow v Oldham | Away | September 15, 1962 | Western Division |
| Oldham v Rochdale Hornets | Home | September 18, 1962 | Lancashire Cup |
| Oldham v Rochdale Hornets | Home | September 22, 1962 | Western Division |
| Leigh v Oldham | Away | September 29, 1962 | Western Division |
| Oldham v St Helens | Home | October 2, 1962 | Lancashire Cup |
| Workington Town v Oldham | Away | October 6, 1962 | Division 1 |
| Oldham v Huddersfield | Home | October 13, 1962 | Division 1 |
| Leeds v Oldham | Away | October 20, 1962 | Division 1 |
| Wakefield Trinity v Oldham | Away | December 1, 1962 | Division 1 |
| Oldham v Wigan | Home | December 8, 1962 | Division 1 |
| Oldham v Castleford | Home | December 15, 1962 | Division 1 |
| Halifax v Oldham | Away | December 22, 1962 | Division 1 |
| Oldham v Widnes | Home | March 30, 1963 | Division 1 |
| Bramley v Oldham | Away | December 7, 1963 | Division 2 |
| Oldham v Dewsbury | Home | December 28, 1963 | Division 2 |
| Oldham v Blackpool Borough | Home | January 4, 1964 | Western Division |
| Rochdale Hornets v Oldham | Away | April 24, 1964 | Western Division |
| Leigh v Oldham | Away | April 27, 1964 | Division 2 |
| St Helens v Oldham | Away | May 1, 1964 | Western Division |
| Rochdale Hornets v Oldham | Away | August 15, 1964 | Law Cup |
| Dewsbury v Oldham | Away | August 22, 1964 | League Championship |
| Oldham v Widnes | Home | August 25, 1964 | League Championship |
| Oldham v Swinton | Home | August 29, 1964 | League Championship |
| Blackpool Borough v Oldham | Away | September 14, 1964 | League Championship |
| Widnes v Oldham | Away | September 19, 1964 | League Championship |
| Warrington v Oldham | Away | September 21, 1964 | Lancashire Cup |
| Oldham v Whitehaven | Home | September 26, 1964 | League Championship |
| Leigh v Oldham | Away | October 3, 1964 | League Championship |
| Oldham v Rochdale Hornets | Home | October 10, 1964 | League Championship |
| Workington Town v Oldham | Away | October 17, 1964 | League Championship |
| Oldham v Warrington | Home | October 24, 1964 | League Championship |
| St Helens v Oldham | Away | October 31, 1964 | League Championship |
| Hunslet v Oldham | Away | February 6, 1965 | Rugby League Challenge Cup |
| Oldham v Keighley | Home | February 13, 1965 | League Championship |
| Oldham v Dewsbury | Home | April 19, 1965 | League Championship |
| Oldham v Workington Town | Home | April 23, 1966 | League Championship |
| Rochdale Hornets v Oldham | Away | August 13, 1966 | Law Cup |