Terry Clawson
Profile
When Terry Clawson arrived at Oldham for the start of the 1973-74 season, he was one of the most experienced prop forwards in the game, having won his first international cap as long before as 1962 while playing for Featherstone Rovers.
Signed to fill the gap created by the retirement of Frank Foster, it was playing for his country rather than his club, that was the highlight of his stay at Watersheddings. In the little over twelve months that Terry was an Oldham player, he played in no less than nine internationals, including all three against the 1973 "Kangaroos", putting in a powerful performance in the first test victory at Wembley, where he also kicked four vital goals. His overall performance in the series earned him selection for the 1974 tour to Australia and New Zealand. The only Oldham player to make the trip.
Terry returned to play just three games for Oldham in 1974-75. However his son Neil, also a prop, played over 80 games for the club in the late 1980's.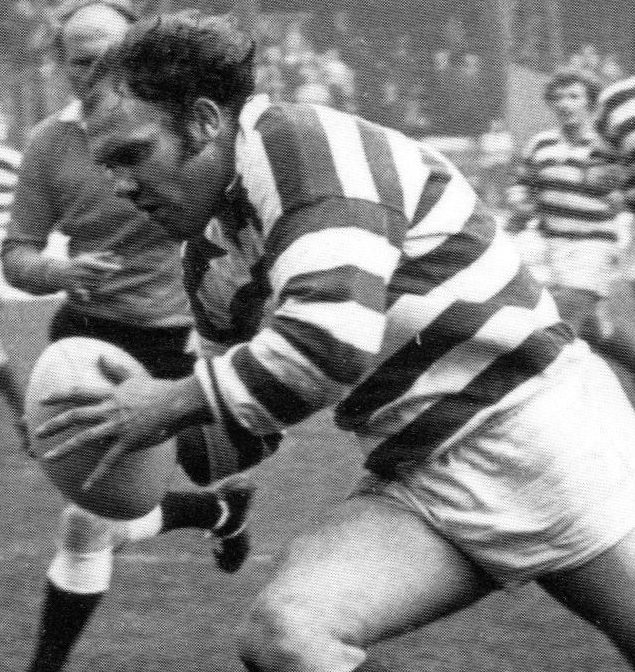 Career Games
| | | | |
| --- | --- | --- | --- |
| Rochdale Hornets v Oldham | Away | August 12, 1973 | Law Cup |
| Oldham v Wigan | Home | September 1, 1973 | Lancashire Cup |
| Oldham v Bramley | Home | September 8, 1973 | Division 1 |
| Oldham v Wigan | Home | September 11, 1973 | BBC |
| Warrington v Oldham | Away | September 16, 1973 | Players No.6 Cup |
| Oldham v Whitehaven | Home | October 6, 1973 | Division 1 |
| Oldham v Rochdale Hornets | Home | October 10, 1973 | BBC |
| Dewsbury v Oldham | Away | October 14, 1973 | Division 1 |
| Oldham v Australia | Home | October 19, 1973 | Tour Match |
| Oldham v Castleford | Home | October 24, 1973 | Division 1 |
| Oldham v Featherstone Rovers | Home | November 7, 1973 | Division 1 |
| Oldham v Widnes | Home | November 11, 1973 | Division 1 |
| Oldham v Wigan | Home | November 25, 1973 | Division 1 |
| Whitehaven v Oldham | Away | December 30, 1973 | Division 1 |
| Oldham v Hull Kingston Rovers | Home | January 6, 1974 | Division 1 |
| Leigh v Oldham | Away | January 13, 1974 | Division 1 |
| Salford v Oldham | Away | February 3, 1974 | Rugby League Challenge Cup |
| Bramley v Oldham | Away | February 10, 1974 | Division 1 |
| Widnes v Oldham | Away | March 17, 1974 | Division 1 |
| Hull Kingston Rovers v Oldham | Away | March 24, 1974 | Division 1 |
| Blackpool Borough v Oldham | Away | September 8, 1974 | Division 2 |
| Oldham v Hull Kingston Rovers | Home | September 10, 1974 | BBC |
| Oldham v Huddersfield | Home | September 14, 1974 | Division 2 |