Brian Curry
Profile
The Roughyeds acquired Brian from Huddersfeld, his home-town club, for which he signed in 1957 at just seventeen years of age. Initially as understudy to Frank Dyson, he spent his best years at Fartown where he also ended his career having made 212 appearances scoring 1,003 points.
Oldham paid Huddersfield £5,000 for Brian who made his debut on September 2nd 1966 in a Lancashire Cup victory over Swinton at Watersheddings. The Roughyeds won 16 – 13 with five goals from Brian the telling factor.
In all he would make 53 appearances for Oldham scoring three tries and 145 goals. He later joined Blackpool Borough before returning to Huddersfield where he went on to join the coaching staff.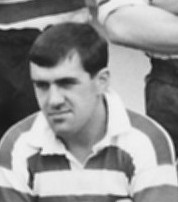 Career Games
| | | | |
| --- | --- | --- | --- |
| Oldham v Swinton | Home | September 2, 1966 | Lancashire Cup |
| Salford v Oldham | Away | September 9, 1966 | League Championship |
| Blackpool Borough v Oldham | Away | September 12, 1966 | League Championship |
| Salford v Oldham | Away | September 15, 1966 | Lancashire Cup |
| Oldham v Whitehaven | Home | September 17, 1966 | League Championship |
| Halifax v Oldham | Away | September 24, 1966 | League Championship |
| Blackpool Borough v Oldham | Away | September 27, 1966 | Lancashire Cup |
| Oldham v Wigan | Home | September 30, 1966 | League Championship |
| Oldham v Barrow | Home | October 4, 1966 | BBC |
| Whitehaven v Oldham | Away | October 22, 1966 | League Championship |
| Leeds v Oldham | Away | November 5, 1966 | League Championship |
| Oldham v Liverpool City | Home | November 11, 1966 | League Championship |
| Warrington v Oldham | Away | November 18, 1966 | League Championship |
| Widnes v Oldham | Away | November 22, 1966 | BBC |
| Oldham v Leeds | Home | November 25, 1966 | League Championship |
| Oldham v Barrow | Home | December 10, 1966 | League Championship |
| Huddersfield v Oldham | Away | December 24, 1966 | League Championship |
| Rochdale Hornets v Oldham | Away | December 27, 1966 | League Championship |
| Oldham v Warrington | Home | December 31, 1966 | League Championship |
| Barrow v Oldham | Away | January 14, 1967 | League Championship |
| Oldham v Salford | Home | January 21, 1967 | League Championship |
| St Helens v Oldham | Away | January 27, 1967 | League Championship |
| Huddersfield v Oldham | Away | February 4, 1967 | Rugby League Challenge Cup |
| Oldham v Workington Town | Home | February 11, 1967 | League Championship |
| Oldham v St Helens | Home | February 17, 1967 | League Championship |
| Oldham v Leeds | Home | February 25, 1967 | Rugby League Challenge Cup |
| Widnes v Oldham | Away | March 3, 1967 | League Championship |
| Oldham v Huddersfield | Home | March 11, 1967 | League Championship |
| Wigan v Oldham | Away | March 18, 1967 | League Championship |
| Blackpool Borough v Oldham | Away | August 12, 1967 | Friendly |
| Oldham v Liverpool City | Home | August 15, 1967 | League Championship |
| Oldham v Leigh | Home | August 19, 1967 | Lancashire Cup |
| Bradford Northern v Oldham | Away | August 23, 1967 | League Championship |
| Hull FC v Oldham | Away | August 26, 1967 | League Championship |
| Oldham v Whitehaven | Home | September 2, 1967 | League Championship |
| Blackpool Borough v Oldham | Away | September 4, 1967 | League Championship |
| Swinton v Oldham | Away | September 7, 1967 | Lancashire Cup |
| Warrington v Oldham | Away | September 9, 1967 | League Championship |
| Oldham v Wigan | Home | September 30, 1967 | League Championship |
| Oldham v Hull Kingston Rovers | Home | October 3, 1967 | League Championship |
| Oldham v Bradford Northern | Home | October 14, 1967 | League Championship |
| Leigh v Oldham | Away | November 4, 1967 | League Championship |
| St Helens v Oldham | Away | November 7, 1967 | BBC |
| Oldham v Australia | Home | November 11, 1967 | Tour Match |
| Oldham v Salford | Home | November 13, 1967 | League Championship |
| Widnes v Oldham | Away | November 17, 1967 | League Championship |
| Barrow v Oldham | Away | January 26, 1968 | League Championship |
| Hunslet v Oldham | Away | February 3, 1968 | Rugby League Challenge Cup |
| Oldham v Batley | Home | February 14, 1968 | League Championship |
| Oldham v Widnes | Home | February 17, 1968 | League Championship |
| Bradford Northern v Oldham | Away | February 24, 1968 | Rugby League Challenge Cup |
| Oldham v Bradford Northern | Home | February 29, 1968 | Rugby League Challenge Cup |
| Rochdale Hornets v Oldham | Away | March 3, 1968 | League Championship |
| Oldham v Workington Town | Home | March 9, 1968 | League Championship |
| Oldham v Leeds | Home | March 16, 1968 | Rugby League Challenge Cup |
| Oldham v Leigh | Home | March 29, 1968 | League Championship |
| Oldham v Warrington | Home | April 8, 1968 | League Championship |
| Oldham v Swinton | Home | April 12, 1968 | League Championship |
| Oldham v Blackpool Borough | Home | August 10, 1968 | Friendly |
| Huddersfield v Oldham | Away | August 17, 1968 | League Championship |
| Oldham v Blackpool Borough | Home | August 19, 1968 | League Championship |
| Oldham v Featherstone Rovers | Home | August 24, 1968 | League Championship |