David Parker
Profile
Born in Barrow-in Furness, G.D. (George David) Parker, signed for Oldham in August 1960, from Manchester Rugby Union club, where his displays were so impressive as to land him the captaincy of the Lancashire County XV. Once with the "Roughyeds", he soon established himself as the first team loose forward.
A clever footballer, Dave was a sound ball handler with a good eye for an opening from which his long striding runs would make many tries for his team mates. In the match at Widnes on September 19th, 1964, the ever alert Parker caught the ball from an Oldham re-start kick off and scythed right through the "Chemics" defence to score a remarkable try. On defence he was tremendous. It didn't matter if it was a forward charging head on, or a wing man speeding up the touchline, he would hit them hard and low and fair. When tackled by Dave Parker, you stayed tackled !
He went on to captain Oldham, gained county honours and two full Great Britain caps. His two internationals were against the French in 1964, Dave scoring a try in the second of these games, when Britain won easily 39 – 0 at Leigh, on March 18th.
A recurrence of a knee injury in the first match of the 1967-68 season against Liverpool City brought an end to the career of one of the most stylish forwards ever to play for the club.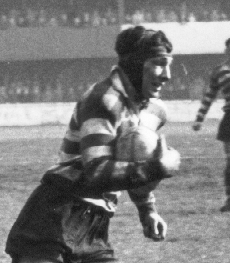 Career Games
| | | | |
| --- | --- | --- | --- |
| Oldham v Widnes | Home | October 22, 1960 | League Championship |
| Rochdale Hornets v Oldham | Away | October 29, 1960 | League Championship |
| Oldham v Liverpool City | Home | November 5, 1960 | League Championship |
| Keighley v Oldham | Away | November 12, 1960 | League Championship |
| Oldham v Salford | Home | November 19, 1960 | League Championship |
| Whitehaven v Oldham | Away | November 26, 1960 | League Championship |
| Oldham v Leeds | Home | December 3, 1960 | League Championship |
| Oldham v Blackpool Borough | Home | December 17, 1960 | League Championship |
| Leigh v Oldham | Away | December 24, 1960 | League Championship |
| Oldham v Swinton | Home | December 26, 1960 | League Championship |
| Barrow v Oldham | Away | December 31, 1960 | League Championship |
| Workington Town v Oldham | Away | January 2, 1961 | League Championship |
| Oldham v Wigan | Home | January 28, 1961 | League Championship |
| Hull FC v Oldham | Away | February 11, 1961 | Rugby League Challenge Cup |
| Oldham v Hull Kingston Rovers | Home | February 18, 1961 | League Championship |
| Widnes v Oldham | Away | March 11, 1961 | League Championship |
| Oldham v Workington Town | Home | March 18, 1961 | League Championship |
| Swinton v Oldham | Away | March 31, 1961 | League Championship |
| Oldham v Whitehaven | Home | April 1, 1961 | League Championship |
| Oldham v Rochdale Hornets | Home | April 3, 1961 | League Championship |
| Oldham v Blackpool Borough | Home | April 11, 1961 | League Championship |
| Halifax v Oldham | Away | April 26, 1961 | League Championship |
| Oldham v Keighley | Home | April 29, 1961 | League Championship |
| Oldham v Rochdale Hornets | Home | August 12, 1961 | Law Cup |
| Oldham v Halifax | Home | August 19, 1961 | League Championship |
| Barrow v Oldham | Away | August 21, 1961 | League Championship |
| Blackpool Borough v Oldham | Away | August 26, 1961 | League Championship |
| Oldham v York | Home | August 28, 1961 | League Championship |
| Barrow v Oldham | Away | September 2, 1961 | Lancashire Cup |
| Halifax v Oldham | Away | September 9, 1961 | League Championship |
| Oldham v Rochdale Hornets | Home | September 16, 1961 | League Championship |
| Hunslet v Oldham | Away | September 23, 1961 | League Championship |
| Oldham v Barrow | Home | September 30, 1961 | League Championship |
| St Helens v Oldham | Away | October 2, 1961 | Lancashire Cup |
| York v Oldham | Away | October 14, 1961 | League Championship |
| Oldham v Warrington | Home | October 21, 1961 | League Championship |
| Huddersfield v Oldham | Away | October 28, 1961 | League Championship |
| Whitehaven v Oldham | Away | November 4, 1961 | League Championship |
| Oldham v Hull FC | Home | November 18, 1961 | League Championship |
| Salford v Oldham | Away | November 25, 1961 | League Championship |
| Oldham v Whitehaven | Home | December 2, 1961 | League Championship |
| Workington Town v Oldham | Away | December 9, 1961 | League Championship |
| St Helens v Oldham | Away | December 16, 1961 | League Championship |
| Warrington v Oldham | Away | January 6, 1962 | League Championship |
| Wigan v Oldham | Away | January 13, 1962 | League Championship |
| Oldham v Wigan | Home | January 20, 1962 | League Championship |
| Rochdale Hornets v Oldham | Away | January 27, 1962 | League Championship |
| Oldham v Hull FC | Home | February 10, 1962 | Rugby League Challenge Cup |
| Oldham v Leigh | Home | February 17, 1962 | League Championship |
| Widnes v Oldham | Away | February 24, 1962 | League Championship |
| Oldham v Workington Town | Home | March 3, 1962 | Rugby League Challenge Cup |
| Oldham v St Helens | Home | March 17, 1962 | League Championship |
| Hull FC v Oldham | Away | March 24, 1962 | League Championship |
| Oldham v Liverpool City | Home | March 31, 1962 | League Championship |
| Oldham v Hunslet | Home | April 7, 1962 | League Championship |
| Oldham v Widnes | Home | April 14, 1962 | League Championship |
| Swinton v Oldham | Away | April 20, 1962 | League Championship |
| Oldham v Blackpool Borough | Home | April 21, 1962 | League Championship |
| Oldham v Huddersfield | Home | April 23, 1962 | League Championship |
| Oldham v Swinton | Home | April 28, 1962 | League Championship |
| Rochdale Hornets v Oldham | Away | August 11, 1962 | Law Cup |
| Whitehaven v Oldham | Away | August 18, 1962 | Western Division |
| Oldham v Barrow | Home | August 21, 1962 | Western Division |
| Oldham v Leigh | Home | August 25, 1962 | Western Division |
| Rochdale Hornets v Oldham | Away | August 28, 1962 | Western Division |
| Oldham v Whitehaven | Home | August 31, 1962 | Western Division |
| Whitehaven v Oldham | Away | September 7, 1962 | Lancashire Cup |
| Barrow v Oldham | Away | September 15, 1962 | Western Division |
| Leigh v Oldham | Away | September 29, 1962 | Western Division |
| Widnes v Oldham | Away | February 2, 1963 | Division 1 |
| Leigh v Oldham | Away | March 2, 1963 | Rugby League Challenge Cup |
| Oldham v Featherstone Rovers | Home | March 9, 1963 | Division 1 |
| Workington Town v Oldham | Away | March 16, 1963 | Rugby League Challenge Cup |
| Oldham v Wigan | Home | April 6, 1963 | Rugby League Challenge Cup |
| Oldham v Workington Town | Home | April 9, 1963 | Division 1 |
| Swinton v Oldham | Away | April 12, 1963 | Division 1 |
| Oldham v Hull FC | Home | April 15, 1963 | Division 1 |
| Bramley v Oldham | Away | April 19, 1963 | Division 1 |
| Oldham v Swinton | Home | April 23, 1963 | Division 1 |
| Castleford v Oldham | Away | April 27, 1963 | Division 1 |
| Oldham v Warrington | Home | May 4, 1963 | Division 1 |
| Warrington v Oldham | Away | May 9, 1963 | Division 1 |
| Featherstone Rovers v Oldham | Away | May 15, 1963 | Division 1 |
| Oldham v Halifax | Home | May 18, 1963 | Division 1 |
| Oldham v Hull Kingston Rovers | Home | May 21, 1963 | Division 1 |
| Oldham v Bramley | Home | June 1, 1963 | Division 1 |
| Oldham v Rochdale Hornets | Home | August 17, 1963 | Law Cup |
| Rochdale Hornets v Oldham | Away | August 24, 1963 | Division 2 |
| Oldham v Batley | Home | August 31, 1963 | Division 2 |
| Liverpool City v Oldham | Away | September 2, 1963 | Division 2 |
| Oldham v Widnes | Home | September 7, 1963 | Lancashire Cup |
| York v Oldham | Away | September 14, 1963 | Division 2 |
| Blackpool Borough v Oldham | Away | September 16, 1963 | Western Division |
| Oldham v Whitehaven | Home | September 18, 1963 | Lancashire Cup |
| Oldham v Barrow | Home | September 21, 1963 | Division 2 |
| Blackpool Borough v Oldham | Away | September 28, 1963 | Division 2 |
| Leigh v Oldham | Away | September 30, 1963 | Lancashire Cup |
| Oldham v Australia | Home | October 5, 1963 | Tour Match |
| Oldham v Doncaster | Home | October 12, 1963 | Division 2 |
| Barrow v Oldham | Away | October 19, 1963 | Division 2 |
| Oldham v Rochdale Hornets | Home | October 26, 1963 | Western Division |
| Doncaster v Oldham | Away | November 2, 1963 | Division 2 |
| Oldham v York | Home | November 9, 1963 | Division 2 |
| Whitehaven v Oldham | Away | November 16, 1963 | Division 2 |
| Oldham v Rochdale Hornets | Home | November 23, 1963 | Division 2 |
| Barrow v Oldham | Away | November 30, 1963 | Western Division |
| Bramley v Oldham | Away | December 7, 1963 | Division 2 |
| Oldham v Dewsbury | Home | December 28, 1963 | Division 2 |
| Oldham v Blackpool Borough | Home | January 4, 1964 | Western Division |
| Oldham v Salford | Home | January 25, 1964 | Division 2 |
| Dewsbury v Oldham | Away | February 1, 1964 | Division 2 |
| Keighley v Oldham | Away | February 8, 1964 | Rugby League Challenge Cup |
| Leigh v Oldham | Away | February 15, 1964 | Western Division |
| Oldham v Featherstone Rovers | Home | February 29, 1964 | Rugby League Challenge Cup |
| Hunslet v Oldham | Away | March 14, 1964 | Rugby League Challenge Cup |
| Oldham v Barrow | Home | March 21, 1964 | Western Division |
| Oldham v Liverpool City | Home | March 27, 1964 | Division 2 |
| Oldham v Leigh | Home | March 28, 1964 | Western Division |
| Salford v Oldham | Away | March 30, 1964 | Division 2 |
| Hull Kingston Rovers v Oldham | Neutral | April 11, 1964 | Rugby League Challenge Cup |
| Rochdale Hornets v Oldham | Away | August 15, 1964 | Law Cup |
| Dewsbury v Oldham | Away | August 22, 1964 | League Championship |
| Oldham v Widnes | Home | August 25, 1964 | League Championship |
| Oldham v Swinton | Home | August 29, 1964 | League Championship |
| Whitehaven v Oldham | Away | September 4, 1964 | Lancashire Cup |
| Oldham v Liverpool City | Home | September 12, 1964 | League Championship |
| Blackpool Borough v Oldham | Away | September 14, 1964 | League Championship |
| Widnes v Oldham | Away | September 19, 1964 | League Championship |
| Warrington v Oldham | Away | September 21, 1964 | Lancashire Cup |
| Oldham v Whitehaven | Home | September 26, 1964 | League Championship |
| Leigh v Oldham | Away | October 3, 1964 | League Championship |
| Oldham v Rochdale Hornets | Home | October 10, 1964 | League Championship |
| Workington Town v Oldham | Away | October 17, 1964 | League Championship |
| Oldham v Warrington | Home | October 24, 1964 | League Championship |
| St Helens v Oldham | Away | October 31, 1964 | League Championship |
| Oldham v Barrow | Home | November 7, 1964 | League Championship |
| Warrington v Oldham | Away | January 30, 1965 | League Championship |
| Hunslet v Oldham | Away | February 6, 1965 | Rugby League Challenge Cup |
| Liverpool City v Oldham | Away | February 27, 1965 | League Championship |
| Oldham v Leigh | Home | March 6, 1965 | League Championship |
| Oldham v St Helens | Home | March 13, 1965 | League Championship |
| Keighley v Oldham | Away | March 20, 1965 | League Championship |
| Oldham v Huddersfield | Home | March 27, 1965 | League Championship |
| Oldham v Blackpool Borough | Home | April 3, 1965 | League Championship |
| Oldham v Workington Town | Home | April 5, 1965 | League Championship |
| Rochdale Hornets v Oldham | Away | April 9, 1965 | League Championship |
| Oldham v Salford | Home | April 13, 1965 | League Championship |
| Swinton v Oldham | Away | April 16, 1965 | League Championship |
| Hull Kingston Rovers v Oldham | Away | April 24, 1965 | League Championship |
| Oldham v Oldham Past | Home | May 29, 1965 | Benefit Match |
| Oldham v Rochdale Hornets | Home | August 14, 1965 | Law Cup |
| Oldham v Warrington | Home | August 21, 1965 | League Championship |
| Wigan v Oldham | Away | August 28, 1965 | League Championship |
| Oldham v New Zealand | Home | August 31, 1965 | Tour Match |
| Oldham v Blackpool Borough | Home | September 4, 1965 | League Championship |
| Oldham v Rochdale Hornets | Home | September 6, 1965 | League Championship |
| Oldham v Barrow | Home | September 11, 1965 | Lancashire Cup |
| Blackpool Borough v Oldham | Away | September 13, 1965 | League Championship |
| Workington Town v Oldham | Away | September 18, 1965 | League Championship |
| Oldham v Salford | Home | September 25, 1965 | League Championship |
| St Helens v Oldham | Away | October 1, 1965 | League Championship |
| Warrington v Oldham | Away | October 6, 1965 | Lancashire Cup |
| Oldham v Huddersfield | Home | October 9, 1965 | League Championship |
| Swinton v Oldham | Away | October 19, 1965 | BBC |
| Widnes v Oldham | Away | October 28, 1965 | League Championship |
| Oldham v Liverpool City | Home | November 6, 1965 | League Championship |
| Salford v Oldham | Away | November 13, 1965 | League Championship |
| Oldham v Leeds | Home | November 20, 1965 | League Championship |
| Oldham v Castleford | Home | November 23, 1965 | BBC |
| Leeds v Oldham | Away | December 11, 1965 | League Championship |
| Oldham v Widnes | Home | December 18, 1965 | League Championship |
| Hunslet v Oldham | Away | January 1, 1966 | League Championship |
| Oldham v St Helens | Home | January 8, 1966 | League Championship |
| Oldham v Hunslet | Home | February 1, 1966 | League Championship |
| Oldham v Halifax | Home | February 5, 1966 | League Championship |
| Warrington v Oldham | Away | February 9, 1966 | League Championship |
| Halifax v Oldham | Away | February 19, 1966 | League Championship |
| Swinton v Oldham | Away | February 26, 1966 | Rugby League Challenge Cup |
| Oldham v Leigh | Home | March 4, 1966 | League Championship |
| Oldham v Swinton | Home | March 22, 1966 | League Championship |
| Oldham v Whitehaven | Home | March 26, 1966 | League Championship |
| Swinton v Oldham | Away | April 8, 1966 | League Championship |
| Oldham v Barrow | Home | April 16, 1966 | League Championship |
| Leigh v Oldham | Away | April 22, 1966 | League Championship |
| Oldham v Workington Town | Home | April 23, 1966 | League Championship |
| Workington Town v Oldham | Away | April 30, 1966 | Top 16 |
| St Helens v Oldham | Away | May 7, 1966 | Top 16 |
| Hull FC v Oldham | Away | August 20, 1966 | League Championship |
| Oldham v Blackpool Borough | Home | August 23, 1966 | League Championship |
| Oldham v Hull FC | Home | August 27, 1966 | League Championship |
| Oldham v Barrow | Home | December 10, 1966 | League Championship |
| Leigh v Oldham | Away | December 14, 1966 | League Championship |
| Oldham v Leigh | Home | December 17, 1966 | League Championship |
| Huddersfield v Oldham | Away | December 24, 1966 | League Championship |
| Rochdale Hornets v Oldham | Away | December 27, 1966 | League Championship |
| Oldham v Warrington | Home | December 31, 1966 | League Championship |
| Barrow v Oldham | Away | January 14, 1967 | League Championship |
| Oldham v Salford | Home | January 21, 1967 | League Championship |
| St Helens v Oldham | Away | January 27, 1967 | League Championship |
| Huddersfield v Oldham | Away | February 4, 1967 | Rugby League Challenge Cup |
| Oldham v Workington Town | Home | February 11, 1967 | League Championship |
| Oldham v St Helens | Home | February 17, 1967 | League Championship |
| Oldham v Leeds | Home | February 25, 1967 | Rugby League Challenge Cup |
| Widnes v Oldham | Away | March 3, 1967 | League Championship |
| Oldham v Halifax | Home | March 27, 1967 | League Championship |
| Oldham v Liverpool City | Home | August 15, 1967 | League Championship |