Les Thomas
Profile
Les Thomas came to Oldham from Llanelli in August 1946. He had represented Wales at Rugby Union in the "Victory" internationals that followed the Second World War. Unfortunately for Les his move North came before he was rewarded with what must have been an inevitable, full Welsh cap.
Tall and strong, his first season with the club saw him alternate between the second row and loose forward positions, with an occasional appearance in the threequarters. Les had an unlucky start being injured in his opening match at Liverpool and it would be Christmas before he would have a prolonged run in the first team. Once settled in, he showed good form finishing the 1946-47 campaign with 12 tries and 12 goals.
The following season it was decided that his best position was in the second row and here he continued to impress which won him a call up for the Great Britain team to play New Zealand in the first test against the 1947 Kiwis. Britain won the match at Headingley 11 – 10, but this was to be his only international appearance.
At the start of the 1948 season Les left to join Leeds in a deal which brought Bob Batten and Les Tate to Watersheddings.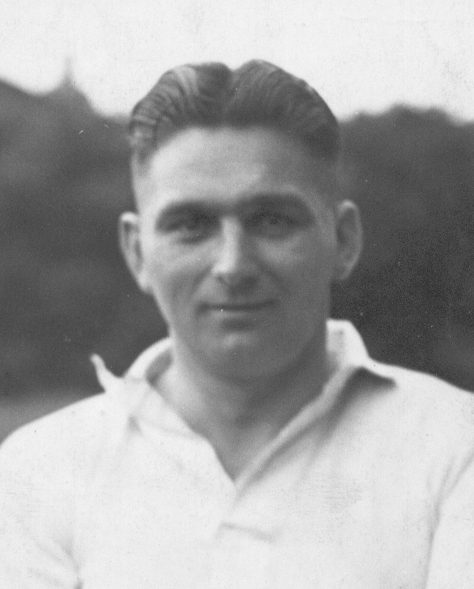 Career Games
| | | | |
| --- | --- | --- | --- |
| Rochdale Hornets v Oldham | Away | August 24, 1946 | Infirmary Cup |
| Liverpool Stanley v Oldham | Away | August 31, 1946 | League Championship |
| Oldham v Wigan | Home | October 12, 1946 | League Championship |
| Oldham v Swinton | Home | December 25, 1946 | League Championship |
| Salford v Oldham | Away | December 26, 1946 | League Championship |
| Oldham v Featherstone Rovers | Home | December 28, 1946 | League Championship |
| Oldham v Rochdale Hornets | Home | January 1, 1947 | League Championship |
| Halifax v Oldham | Away | January 4, 1947 | League Championship |
| Widnes v Oldham | Away | January 11, 1947 | League Championship |
| Oldham v Workington Town | Home | January 18, 1947 | League Championship |
| Barrow v Oldham | Away | January 25, 1947 | League Championship |
| Oldham v Belle Vue Rangers | Home | February 22, 1947 | Rugby League Challenge Cup |
| Belle Vue Rangers v Oldham | Away | March 8, 1947 | Rugby League Challenge Cup |
| Warrington v Oldham | Away | March 15, 1947 | League Championship |
| Oldham v Salford | Home | March 22, 1947 | League Championship |
| Oldham v Hull FC | Home | March 29, 1947 | League Championship |
| Swinton v Oldham | Away | April 4, 1947 | League Championship |
| Keighley v Oldham | Away | April 5, 1947 | League Championship |
| Oldham v Barrow | Home | April 7, 1947 | League Championship |
| Featherstone Rovers v Oldham | Away | April 19, 1947 | League Championship |
| Oldham v Jim Sullivans Team | Home | April 22, 1947 | Benefit Match |
| Oldham v Halifax | Home | April 26, 1947 | League Championship |
| Rochdale Hornets v Oldham | Away | May 10, 1947 | League Championship |
| Oldham v Leigh | Home | May 17, 1947 | League Championship |
| Belle Vue Rangers v Oldham | Away | May 24, 1947 | League Championship |
| Oldham v Belle Vue Rangers | Home | May 30, 1947 | League Championship |
| Oldham v Liverpool Stanley | Home | June 3, 1947 | League Championship |
| Oldham v Oldham Athletic Afc | Home | June 5, 1947 | Friendly |
| Oldham v Rochdale Hornets | Home | August 16, 1947 | Infirmary Cup |
| Oldham v Warrington | Home | August 23, 1947 | League Championship |
| Liverpool Stanley v Oldham | Away | August 30, 1947 | Lancashire Cup |
| Oldham v Liverpool Stanley | Home | September 2, 1947 | Lancashire Cup |
| Hunslet v Oldham | Away | September 6, 1947 | League Championship |
| St Helens v Oldham | Away | September 13, 1947 | League Championship |
| Oldham v Salford | Home | September 15, 1947 | League Championship |
| Oldham v Workington Town | Home | September 23, 1947 | Lancashire Cup |
| Oldham v Halifax | Home | September 27, 1947 | League Championship |
| Oldham v Barrow | Home | October 11, 1947 | League Championship |
| Oldham v New Zealand | Home | October 25, 1947 | Tour Match |
| Oldham v Liverpool Stanley | Home | November 1, 1947 | League Championship |
| Oldham v Hull FC | Home | December 13, 1947 | League Championship |
| Salford v Oldham | Away | December 26, 1947 | League Championship |
| Belle Vue Rangers v Oldham | Away | December 27, 1947 | League Championship |
| Oldham v Rochdale Hornets | Home | January 1, 1948 | League Championship |
| Liverpool Stanley v Oldham | Away | January 3, 1948 | League Championship |
| Oldham v Wigan | Home | January 10, 1948 | League Championship |
| Barrow v Oldham | Away | January 17, 1948 | League Championship |
| Leeds v Oldham | Away | January 24, 1948 | League Championship |
| Oldham v Hull Kingston Rovers | Home | February 14, 1948 | Rugby League Challenge Cup |
| Oldham v St Helens | Home | February 28, 1948 | Rugby League Challenge Cup |
| Oldham v Leigh | Home | March 6, 1948 | League Championship |
| Bradford Northern v Oldham | Away | March 13, 1948 | Rugby League Challenge Cup |
| Oldham v St Helens | Home | March 20, 1948 | League Championship |
| Swinton v Oldham | Away | March 26, 1948 | League Championship |
| Rochdale Hornets v Oldham | Away | March 27, 1948 | League Championship |
| Oldham v Hunslet | Home | March 29, 1948 | League Championship |
| Oldham v Belle Vue Rangers | Home | April 3, 1948 | League Championship |
| Leigh v Oldham | Away | April 7, 1948 | League Championship |
| Hull FC v Oldham | Away | April 10, 1948 | League Championship |
| Oldham v Leeds | Home | April 13, 1948 | League Championship |
| Warrington v Oldham | Away | April 17, 1948 | League Championship |
| Halifax v Oldham | Away | April 19, 1948 | League Championship |
| Oldham v Empire XIII | Home | April 27, 1948 | Benefit Match |
| Rochdale Hornets v Oldham | Away | August 14, 1948 | Infirmary Cup |
| Keighley v Oldham | Away | August 21, 1948 | League Championship |