Arthur West
Profile
Arthur Douglas West was one of many players Oldham recruited from the West Country in the early 1900s. A member of the famous Bath RUFC, in November 1912 he fell foul of the Rugby Union's non-professional stance with respect of an expenses payment and was banned from playing for any club within the Rugby Union.
He subsequently joined Oldham in January 1913. Still only 19 years old, he was a forward who made steady progress and most likely was granted a Lancashire Cup winners medal after the victory over Wigan in October 1913. He didn't play in the final but featured in earlier rounds.
In the 1914-15 season he was a first team regular. He amassed a total of 45 senior appearances, scoring 5 tries and 1 goal.
Arthur originally joined up with the Manchester Regiment, like many of his team-mates, but was serving with the King's Liverpool Regiment with the rank of sergeant when he was killed in action on November 15th 1916 on the Somme at Beaumont Hamel.
He is buried in the British Cemetery at Tilloy-Les-Mofflianes, near Arras and remembered on the Bath War Memorial.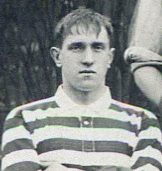 Career Games
| | | | |
| --- | --- | --- | --- |
| Oldham v Leigh | Home | February 22, 1913 | League Championship |
| Oldham v Halifax | Home | September 27, 1913 | League Championship |
| Huddersfield v Oldham | Away | October 4, 1913 | League Championship |
| Oldham v Warrington | Home | October 11, 1913 | League Championship |
| Broughton Rangers v Oldham | Away | October 18, 1913 | Lancashire Cup |
| Oldham v Rochdale Hornets | Home | November 8, 1913 | League Championship |
| Oldham v Salford | Home | December 20, 1913 | League Championship |
| Oldham v Swinton | Home | December 25, 1913 | League Championship |
| Oldham v Broughton Rangers | Home | January 17, 1914 | League Championship |
| Rochdale Hornets v Oldham | Away | January 24, 1914 | League Championship |
| Oldham v Runcorn | Home | January 31, 1914 | League Championship |
| Oldham v Huddersfield | Home | February 7, 1914 | League Championship |
| Wakefield Trinity v Oldham | Away | September 5, 1914 | League Championship |
| Oldham v Leigh | Home | September 12, 1914 | League Championship |
| St Helens v Oldham | Away | September 19, 1914 | League Championship |
| Oldham v Warrington | Home | September 26, 1914 | League Championship |
| Widnes v Oldham | Away | October 3, 1914 | League Championship |
| Oldham v Batley | Home | October 5, 1914 | League Championship |
| Oldham v Broughton Rangers | Home | October 10, 1914 | League Championship |
| Wigan v Oldham | Away | October 17, 1914 | Lancashire Cup |
| Oldham v Leeds | Home | October 24, 1914 | League Championship |
| Barrow v Oldham | Away | October 31, 1914 | League Championship |
| Oldham v Hull FC | Home | November 7, 1914 | League Championship |
| Runcorn v Oldham | Away | November 14, 1914 | League Championship |
| Oldham v Wigan | Home | November 21, 1914 | League Championship |
| Rochdale Hornets v Oldham | Away | November 28, 1914 | League Championship |
| Salford v Oldham | Away | December 19, 1914 | League Championship |
| Oldham v Swinton | Home | December 25, 1914 | League Championship |
| Broughton Rangers v Oldham | Away | December 26, 1914 | League Championship |
| Batley v Oldham | Away | January 1, 1915 | League Championship |
| Oldham v Runcorn | Home | January 2, 1915 | League Championship |
| Huddersfield v Oldham | Away | January 9, 1915 | League Championship |
| Halifax v Oldham | Away | January 16, 1915 | League Championship |
| Oldham v Widnes | Home | January 23, 1915 | League Championship |
| Warrington v Oldham | Away | January 30, 1915 | League Championship |
| Oldham v Wakefield Trinity | Home | February 6, 1915 | League Championship |
| Oldham v Rochdale Hornets | Home | February 13, 1915 | League Championship |
| Wigan v Oldham | Away | February 20, 1915 | League Championship |
| Oldham v Wigan | Home | February 27, 1915 | Rugby League Challenge Cup |
| Oldham v Huddersfield | Home | March 20, 1915 | League Championship |
| Swinton v Oldham | Away | April 2, 1915 | League Championship |
| Leeds v Oldham | Away | April 3, 1915 | League Championship |
| Oldham v Salford | Home | April 5, 1915 | League Championship |
| Oldham v Barrow | Home | April 10, 1915 | League Championship |
| Hull FC v Oldham | Away | April 24, 1915 | League Championship |
| Rochdale Hornets v Oldham | Away | January 8, 1916 | Wartime Friendly |