Tommy Jones
Profile
Thomas Owen Jones was a native of Treorchy in South Wales. He signed for Oldham from the Neath club in December 1913 along with George Evans.
He quickly established himself in the first team playing on the wing and became a firm favourite with the Watersheddings fans.
In all Tommy played in 46 senior first team matches for the club scoring 19 tries and kicking 1 goal, this being a drop goal against Wakefield on February 6th 1915. He was known for his speed on the football field and was also a noted sprinter.
Tommy, was killed in action serving with the 9th Battalion of the Welsh Regiment on September 20th 1917 near Passchendaele aged 29.
He is remembered on the Tyne Cot War Memorial and on the Bethlehem Chapel Memorial in Treorchy.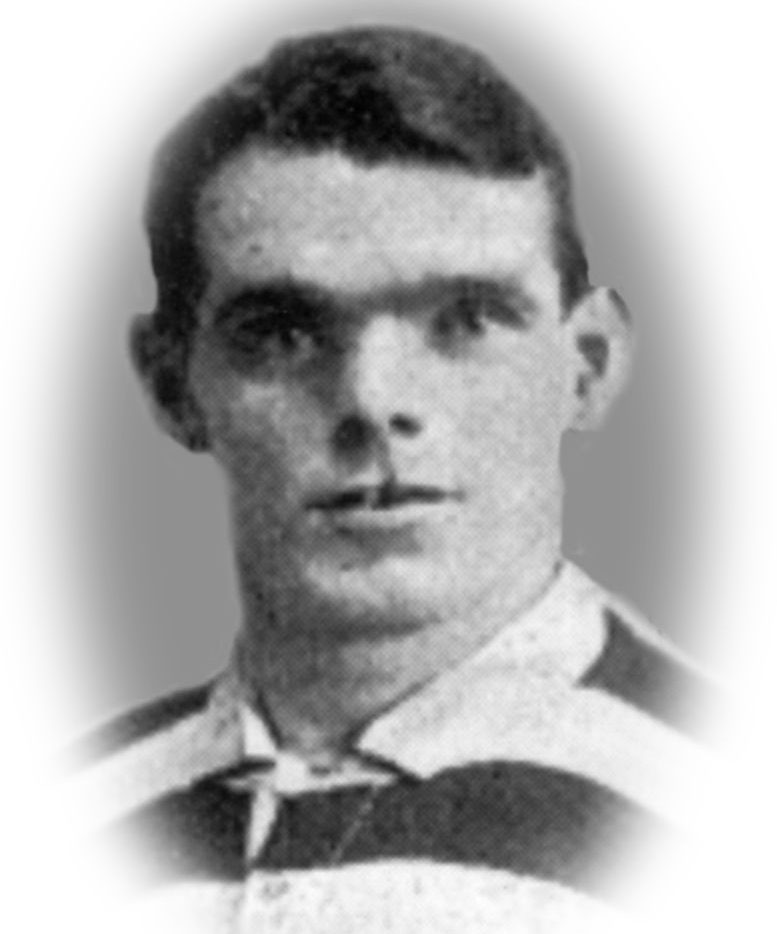 Career Games
| | | | |
| --- | --- | --- | --- |
| Oldham v Leeds | Home | December 15, 1913 | League Championship |
| Oldham v Swinton | Home | December 25, 1913 | League Championship |
| Warrington v Oldham | Away | December 26, 1913 | League Championship |
| Leeds v Oldham | Away | December 27, 1913 | League Championship |
| Oldham v Wigan | Home | January 3, 1914 | League Championship |
| Salford v Oldham | Away | January 10, 1914 | League Championship |
| Oldham v Broughton Rangers | Home | January 17, 1914 | League Championship |
| Rochdale Hornets v Oldham | Away | January 24, 1914 | League Championship |
| Oldham v Runcorn | Home | January 31, 1914 | League Championship |
| Oldham v Huddersfield | Home | February 7, 1914 | League Championship |
| Hull FC v Oldham | Away | February 14, 1914 | League Championship |
| Runcorn v Oldham | Away | February 21, 1914 | League Championship |
| Leigh v Oldham | Away | February 28, 1914 | Rugby League Challenge Cup |
| Oldham v Leigh | Home | March 7, 1914 | League Championship |
| Widnes v Oldham | Away | March 14, 1914 | Rugby League Challenge Cup |
| Wakefield Trinity v Oldham | Away | March 23, 1914 | League Championship |
| Oldham v Barrow | Home | March 28, 1914 | League Championship |
| Halifax v Oldham | Away | March 30, 1914 | League Championship |
| Oldham v St Helens | Home | April 4, 1914 | League Championship |
| Swinton v Oldham | Away | April 10, 1914 | League Championship |
| Oldham v Wakefield Trinity | Home | April 11, 1914 | League Championship |
| Barrow v Oldham | Away | April 13, 1914 | League Championship |
| St Helens v Oldham | Away | September 19, 1914 | League Championship |
| Oldham v Warrington | Home | September 26, 1914 | League Championship |
| Widnes v Oldham | Away | October 3, 1914 | League Championship |
| Oldham v Batley | Home | October 5, 1914 | League Championship |
| Oldham v Broughton Rangers | Home | October 10, 1914 | League Championship |
| Wigan v Oldham | Away | October 17, 1914 | Lancashire Cup |
| Barrow v Oldham | Away | October 31, 1914 | League Championship |
| Oldham v Hull FC | Home | November 7, 1914 | League Championship |
| Rochdale Hornets v Oldham | Away | November 28, 1914 | League Championship |
| Leigh v Oldham | Away | December 5, 1914 | League Championship |
| Oldham v St Helens | Home | December 12, 1914 | League Championship |
| Batley v Oldham | Away | January 1, 1915 | League Championship |
| Oldham v Runcorn | Home | January 2, 1915 | League Championship |
| Huddersfield v Oldham | Away | January 9, 1915 | League Championship |
| Oldham v Widnes | Home | January 23, 1915 | League Championship |
| Warrington v Oldham | Away | January 30, 1915 | League Championship |
| Oldham v Wakefield Trinity | Home | February 6, 1915 | League Championship |
| Oldham v Rochdale Hornets | Home | February 13, 1915 | League Championship |
| Wigan v Oldham | Away | February 20, 1915 | League Championship |
| Oldham v Wigan | Home | February 27, 1915 | Rugby League Challenge Cup |
| Oldham v Halifax | Home | March 6, 1915 | League Championship |
| Oldham v Rochdale Hornets | Home | March 16, 1915 | League Championship |
| Oldham v Huddersfield | Home | March 20, 1915 | League Championship |
| Hull FC v Oldham | Away | April 24, 1915 | League Championship |