David Holland
Profile
Dave Holland joined Oldham in September 1913 from the Plymouth Devonport club, after enjoying a successful career in Rugby Union.. He was captain of Gloucestershire county, won full England honours and was also capped by Devon county.
A forward of great strength and determination, his first season with Oldham was so impressive that he was selected for the 1914 tour to Australia and New Zealand. He played 37 consecutive matches after his debut on September 6th, 1913 against Dewsbury (the team for this match is featured on the cover of the centenary brochure, that was issued in 1976), before being rested for the last three games, prior to going on the tour. The trip was a huge success for Dave who scored a try on his international debut in the first test against the "Kangaroos". He played in all three matches against the Aussies and the lone Kiwi test in Auckland. This of course included the famous third test, "Rorke's Drift", victory in Sydney.
Like all the players of this era, his number of appearances for the club was restricted by The Great War, but he would return to senior action on the resumption of competitive Rugby in 1919. He played his last match for the club against Leeds at Headingley, on April 23rd, 1921.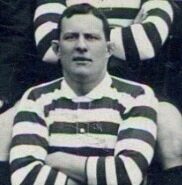 Career Games
| | | | |
| --- | --- | --- | --- |
| Oldham v Dewsbury | Home | September 6, 1913 | League Championship |
| St Helens v Oldham | Away | September 13, 1913 | League Championship |
| Wigan v Oldham | Away | September 20, 1913 | League Championship |
| Oldham v Halifax | Home | September 27, 1913 | League Championship |
| Huddersfield v Oldham | Away | October 4, 1913 | League Championship |
| Oldham v Warrington | Home | October 11, 1913 | League Championship |
| Broughton Rangers v Oldham | Away | October 18, 1913 | Lancashire Cup |
| Oldham v Widnes | Home | October 25, 1913 | League Championship |
| Oldham v Widnes | Home | November 1, 1913 | Lancashire Cup |
| Oldham v Rochdale Hornets | Home | November 8, 1913 | League Championship |
| Oldham v St Helens | Home | November 15, 1913 | Lancashire Cup |
| Oldham v Hull FC | Home | November 22, 1913 | League Championship |
| Widnes v Oldham | Away | November 25, 1913 | League Championship |
| Broughton Rangers v Oldham | Away | November 29, 1913 | League Championship |
| Wigan v Oldham | Neutral | December 6, 1913 | Lancashire Cup |
| Leigh v Oldham | Away | December 13, 1913 | League Championship |
| Oldham v Leeds | Home | December 15, 1913 | League Championship |
| Oldham v Salford | Home | December 20, 1913 | League Championship |
| Oldham v Swinton | Home | December 25, 1913 | League Championship |
| Warrington v Oldham | Away | December 26, 1913 | League Championship |
| Leeds v Oldham | Away | December 27, 1913 | League Championship |
| Dewsbury v Oldham | Away | January 1, 1914 | League Championship |
| Oldham v Wigan | Home | January 3, 1914 | League Championship |
| Salford v Oldham | Away | January 10, 1914 | League Championship |
| Oldham v Broughton Rangers | Home | January 17, 1914 | League Championship |
| Rochdale Hornets v Oldham | Away | January 24, 1914 | League Championship |
| Oldham v Runcorn | Home | January 31, 1914 | League Championship |
| Oldham v Huddersfield | Home | February 7, 1914 | League Championship |
| Hull FC v Oldham | Away | February 14, 1914 | League Championship |
| Runcorn v Oldham | Away | February 21, 1914 | League Championship |
| Leigh v Oldham | Away | February 28, 1914 | Rugby League Challenge Cup |
| Oldham v Leigh | Home | March 7, 1914 | League Championship |
| Widnes v Oldham | Away | March 14, 1914 | Rugby League Challenge Cup |
| Wakefield Trinity v Oldham | Away | March 23, 1914 | League Championship |
| Oldham v Barrow | Home | March 28, 1914 | League Championship |
| Halifax v Oldham | Away | March 30, 1914 | League Championship |
| Oldham v St Helens | Home | April 4, 1914 | League Championship |
| Widnes v Oldham | Away | October 3, 1914 | League Championship |
| Oldham v Batley | Home | October 5, 1914 | League Championship |
| Oldham v Broughton Rangers | Home | October 10, 1914 | League Championship |
| Wigan v Oldham | Away | October 17, 1914 | Lancashire Cup |
| Leigh v Oldham | Away | December 5, 1914 | League Championship |
| Oldham v St Helens | Home | December 12, 1914 | League Championship |
| Salford v Oldham | Away | December 19, 1914 | League Championship |
| Oldham v Swinton | Home | December 25, 1914 | League Championship |
| Broughton Rangers v Oldham | Away | December 26, 1914 | League Championship |
| Batley v Oldham | Away | January 1, 1915 | League Championship |
| Oldham v Runcorn | Home | January 2, 1915 | League Championship |
| Huddersfield v Oldham | Away | January 9, 1915 | League Championship |
| Oldham v Wakefield Trinity | Home | February 6, 1915 | League Championship |
| Oldham v Rochdale Hornets | Home | February 13, 1915 | League Championship |
| Wigan v Oldham | Away | February 20, 1915 | League Championship |
| Oldham v Wigan | Home | February 27, 1915 | Rugby League Challenge Cup |
| Oldham v Halifax | Home | March 6, 1915 | League Championship |
| Oldham v Rochdale Hornets | Home | March 16, 1915 | League Championship |
| Oldham v Huddersfield | Home | March 20, 1915 | League Championship |
| Swinton v Oldham | Away | April 2, 1915 | League Championship |
| Leeds v Oldham | Away | April 3, 1915 | League Championship |
| Oldham v Salford | Home | April 5, 1915 | League Championship |
| Oldham v Barrow | Home | April 10, 1915 | League Championship |
| Hull FC v Oldham | Away | April 24, 1915 | League Championship |
| Oldham v Salford | Home | September 11, 1915 | Wartime Friendly |
| Wigan v Oldham | Away | September 18, 1915 | Wartime Friendly |
| Oldham v Huddersfield | Home | September 25, 1915 | Wartime Friendly |
| Oldham v Leigh | Home | October 2, 1915 | Wartime Friendly |
| Oldham v St Helens | Home | October 16, 1915 | Wartime Friendly |
| Broughton Rangers v Oldham | Away | October 23, 1915 | Wartime Friendly |
| Oldham v Bradford Northern | Home | October 30, 1915 | Wartime Friendly |
| Oldham v Rochdale Hornets | Home | November 13, 1915 | Wartime Friendly |
| Oldham v Wigan | Home | December 4, 1915 | Wartime Friendly |
| Oldham v Halifax | Home | December 18, 1915 | Wartime Friendly |
| Oldham v Swinton | Home | December 25, 1915 | Wartime Friendly |
| Huddersfield v Oldham | Away | December 27, 1915 | Wartime Friendly |
| Oldham v Oldham Present | Home | January 3, 1916 | Special Friendly |
| Rochdale Hornets v Oldham | Away | January 8, 1916 | Wartime Friendly |
| Wigan v Oldham | Away | January 15, 1916 | Wartime Friendly |
| Oldham v Broughton Rangers | Home | January 22, 1916 | Wartime Friendly |
| Swinton v Oldham | Away | January 29, 1916 | Wartime Friendly |
| Oldham v Leeds | Home | February 5, 1916 | Wartime Friendly |
| Oldham v Leeds | Home | September 30, 1916 | Wartime Friendly |
| Oldham v Halifax | Home | October 7, 1916 | Wartime Friendly |
| Oldham v St Helens Recs | Home | October 28, 1916 | Wartime Friendly |
| Rochdale Hornets v Oldham | Away | November 4, 1916 | Wartime Friendly |
| Warrington v Oldham | Away | November 18, 1916 | Wartime Friendly |
| Oldham v Rochdale Hornets | Home | November 25, 1916 | Wartime Friendly |
| Leeds v Oldham | Away | December 9, 1916 | Wartime Friendly |
| Oldham v Wigan | Home | December 23, 1916 | Wartime Friendly |
| Oldham v 2nd/10th Manchester Regiment | Home | December 30, 1916 | Wartime Friendly |
| Oldham v Broughton Rangers | Home | January 1, 1917 | Wartime Friendly |
| Oldham v Warrington | Home | January 6, 1917 | Wartime Friendly |
| Broughton Rangers v Oldham | Away | January 13, 1917 | Wartime Friendly |
| Oldham v Huddersfield | Home | January 20, 1917 | Wartime Friendly |
| Rochdale Hornets v Oldham | Away | February 24, 1917 | Wartime Friendly |
| Oldham v Rochdale Hornets | Home | March 17, 1917 | Wartime Friendly |
| Oldham v Broughton Rangers | Home | March 24, 1917 | Wartime Friendly |
| Halifax v Oldham | Away | March 31, 1917 | Wartime Friendly |
| Swinton v Oldham | Away | April 6, 1917 | Wartime Friendly |
| Wigan v Oldham | Away | April 7, 1917 | Wartime Friendly |
| Salford v Oldham | Away | April 14, 1917 | Wartime Friendly |
| Oldham v Salford | Home | April 21, 1917 | Wartime Friendly |
| Leeds v Oldham | Away | April 28, 1917 | Wartime Friendly |
| Oldham v Rochdale Hornets | Home | January 18, 1919 | Lancashire League |
| Oldham v Barrow | Home | March 1, 1919 | Lancashire League |
| Barrow v Oldham | Away | March 8, 1919 | Lancashire League |
| Oldham v St Helens Recs | Home | March 15, 1919 | Lancashire League |
| Rochdale Hornets v Oldham | Away | March 22, 1919 | Lancashire League |
| Wigan v Oldham | Away | March 29, 1919 | Lancashire League |
| Oldham v Warrington | Home | May 17, 1919 | Lancashire League |
| Warrington v Oldham | Away | August 23, 1919 | League Championship |
| Oldham v Rochdale Hornets | Home | August 30, 1919 | League Championship |
| St Helens v Oldham | Away | September 6, 1919 | League Championship |
| Oldham v Huddersfield | Home | September 13, 1919 | League Championship |
| Wakefield Trinity v Oldham | Away | September 20, 1919 | League Championship |
| Oldham v St Helens Recs | Home | September 27, 1919 | League Championship |
| Batley v Oldham | Away | October 2, 1920 | League Championship |
| Oldham v Dewsbury | Home | October 9, 1920 | League Championship |
| Hull FC v Oldham | Away | October 11, 1920 | League Championship |
| Oldham v Widnes | Home | November 27, 1920 | League Championship |
| Dewsbury v Oldham | Away | November 30, 1920 | League Championship |
| Leigh v Oldham | Away | March 23, 1921 | League Championship |
| Wigan v Oldham | Away | April 2, 1921 | Friendly |
| Oldham v Leeds | Home | April 11, 1921 | League Championship |
| Leeds v Oldham | Away | April 23, 1921 | League Championship |