Harry Varley
Profile
Harry Varley was the captain of the Oldham team in the first season of the Northern Union, after the breakaway of 1895. He was a stand off half who won an England cap at Rugby Union, when playing for the Liversedge club. He was also capped by Yorkshire county and added similar Lancashire honours after crossing the Pennines. The rules of the time allowed a player to represent the county of his club.
After two seasons under the new code, Harry retired to become the club trainer and under his watchful eye the club became the first Lancashire team to win the Challenge Cup when defeating Hunslet in the 1899 final at Fallowfield. As a mark of appreciation the players all "chipped in" to have a special medal struck for Harry, which bore the Oldham coat of arms, with an inscription relevant to the Cup success.
In August 1899, Harry left Watersheddings under amicable circumstances to take up a position with the Leeds club, for whom he was persuaded to come out of retirement as a player.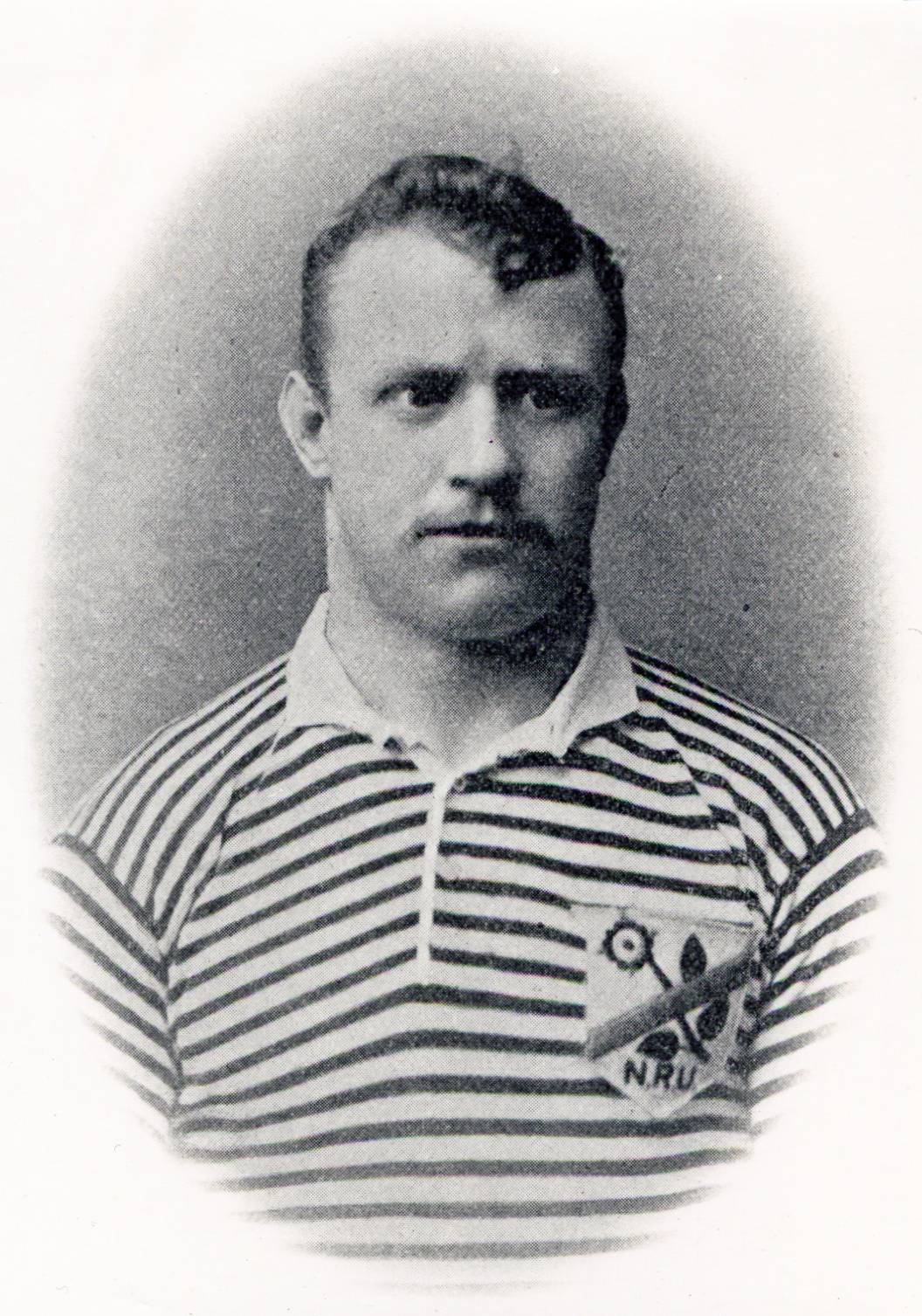 Career Games
| | | | |
| --- | --- | --- | --- |
| Hunslet v Oldham | Away | September 14, 1895 | Northern Union |
| Oldham v Tyldesley | Home | September 21, 1895 | Northern Union |
| Halifax v Oldham | Away | September 28, 1895 | Northern Union |
| Oldham v Batley | Home | October 5, 1895 | Northern Union |
| Oldham v Wakefield Trinity | Home | October 7, 1895 | Northern Union |
| Hull FC v Oldham | Away | October 12, 1895 | Northern Union |
| Oldham v Bradford | Home | October 19, 1895 | Northern Union |
| Widnes v Oldham | Away | October 26, 1895 | Northern Union |
| Oldham v Manningham | Home | November 2, 1895 | Northern Union |
| Leigh v Oldham | Away | November 9, 1895 | Northern Union |
| Oldham v Stockport | Home | November 16, 1895 | Northern Union |
| Warrington v Oldham | Away | November 23, 1895 | Northern Union |
| Oldham v Rochdale Hornets | Home | November 30, 1895 | Northern Union |
| Liversedge v Oldham | Away | December 10, 1895 | Northern Union |
| Oldham v St Helens | Home | December 14, 1895 | Northern Union |
| Oldham v Wigan | Home | December 21, 1895 | Northern Union |
| Oldham v Broughton Rangers | Home | December 25, 1895 | Northern Union |
| Leeds v Oldham | Away | December 26, 1895 | Northern Union |
| Oldham v Warrington | Home | December 28, 1895 | Northern Union |
| Brighouse Rangers v Oldham | Away | January 1, 1896 | Northern Union |
| Runcorn v Oldham | Away | January 4, 1896 | Northern Union |
| Oldham v Huddersfield | Home | January 11, 1896 | Northern Union |
| Oldham v Hunslet | Home | January 18, 1896 | Northern Union |
| Tyldesley v Oldham | Away | January 25, 1896 | Northern Union |
| Oldham v Halifax | Home | February 1, 1896 | Northern Union |
| Oldham v Widnes | Home | February 15, 1896 | Northern Union |
| Bradford v Oldham | Away | February 18, 1896 | Northern Union |
| Oldham v Hull FC | Home | February 22, 1896 | Northern Union |
| Manningham v Oldham | Away | March 7, 1896 | Northern Union |
| Stockport v Oldham | Away | March 14, 1896 | Northern Union |
| Oldham v Rochdale Hornets | Home | March 21, 1896 | Northern Union |
| Oldham v Leeds | Home | March 28, 1896 | Northern Union |
| Oldham v Runcorn | Home | April 11, 1896 | Northern Union |
| Oldham v Leigh | Home | April 13, 1896 | Northern Union |
| St Helens v Oldham | Away | April 18, 1896 | Northern Union |
| Wakefield Trinity v Oldham | Away | April 22, 1896 | Northern Union |
| Broughton Rangers v Oldham | Away | April 25, 1896 | Northern Union |
| Runcorn v Oldham | Neutral | April 29, 1896 | Northern Union |
| Werneth v Oldham | Away | April 30, 1896 | Friendly |
| Manningham v Oldham | Away | September 5, 1896 | Friendly |
| Salford v Oldham | Away | September 12, 1896 | Lancashire Senior Competition |
| Oldham v St Helens | Home | October 3, 1896 | Lancashire Senior Competition |
| Oldham v Widnes | Home | October 10, 1896 | Lancashire Senior Competition |
| Wigan v Oldham | Away | October 24, 1896 | Lancashire Senior Competition |
| Oldham v Leigh | Home | October 31, 1896 | Lancashire Senior Competition |
| Morecambe v Oldham | Away | November 7, 1896 | Lancashire Senior Competition |
| Rochdale Hornets v Oldham | Away | November 14, 1896 | Lancashire Senior Competition |
| Oldham v Runcorn | Home | November 28, 1896 | Lancashire Senior Competition |
| Leigh v Oldham | Away | December 12, 1896 | Lancashire Senior Competition |
| Oldham v Salford | Home | December 19, 1896 | Lancashire Senior Competition |
| Oldham v Stockport | Home | December 25, 1896 | Lancashire Senior Competition |
| Oldham v Broughton Rangers | Home | December 26, 1896 | Lancashire Senior Competition |
| Broughton Rangers v Oldham | Away | January 2, 1897 | Lancashire Senior Competition |
| Oldham v Swinton | Home | January 9, 1897 | Friendly |
| Oldham v Morecambe | Home | January 16, 1897 | Lancashire Senior Competition |
| Oldham v Rochdale Hornets | Home | January 23, 1897 | Lancashire Senior Competition |
| Widnes v Oldham | Away | February 6, 1897 | Lancashire Senior Competition |
| Oldham v Wigan | Home | February 13, 1897 | Lancashire Senior Competition |
| Oldham v Warrington | Home | February 20, 1897 | Lancashire Senior Competition |
| Runcorn v Oldham | Away | February 27, 1897 | Lancashire Senior Competition |
| Oldham v Swinton | Home | March 2, 1897 | Lancashire Senior Competition |
| Tyldesley v Oldham | Away | March 13, 1897 | Lancashire Senior Competition |
| Bradford v Oldham | Away | March 20, 1897 | Rugby League Challenge Cup |
| Oldham v Broughton Rangers | Home | March 27, 1897 | Friendly |
| Bradford v Oldham | Away | March 12, 1898 | Friendly |
| Oldham v Seaton | Home | November 5, 1898 | Friendly |