David Hobbs
Profile
David Hobbs joined Oldham late on in the 1984-85 season, no doubt as cover for the soon to depart Andy Goodway. He came from Featherstone Rovers for whom he had picked up a Challenge Cup winner's medal and the Lance Todd Trophy in their 1983 Wembley triumph over Hull.
Originally a second row forward, his time with Oldham was split between the front row and second row positions. He was also a good goal kicker and topped the Oldham list in 1985-86 and 1986/87.
One of the highlights of his brief career at Watersheddings was when he crashed through a packed defence to score the winning try against Widnes in the Lancashire Cup semi final of 1986 and thus secure for Oldham a place in the final for the first time in eighteen years.
Selected for the 1984 tour while still with Featherstone, he added two more Great Britain caps to his total while with Oldham before his eventual transfer to Bradford Northern in 1987, where he became club captain, and later player/coach.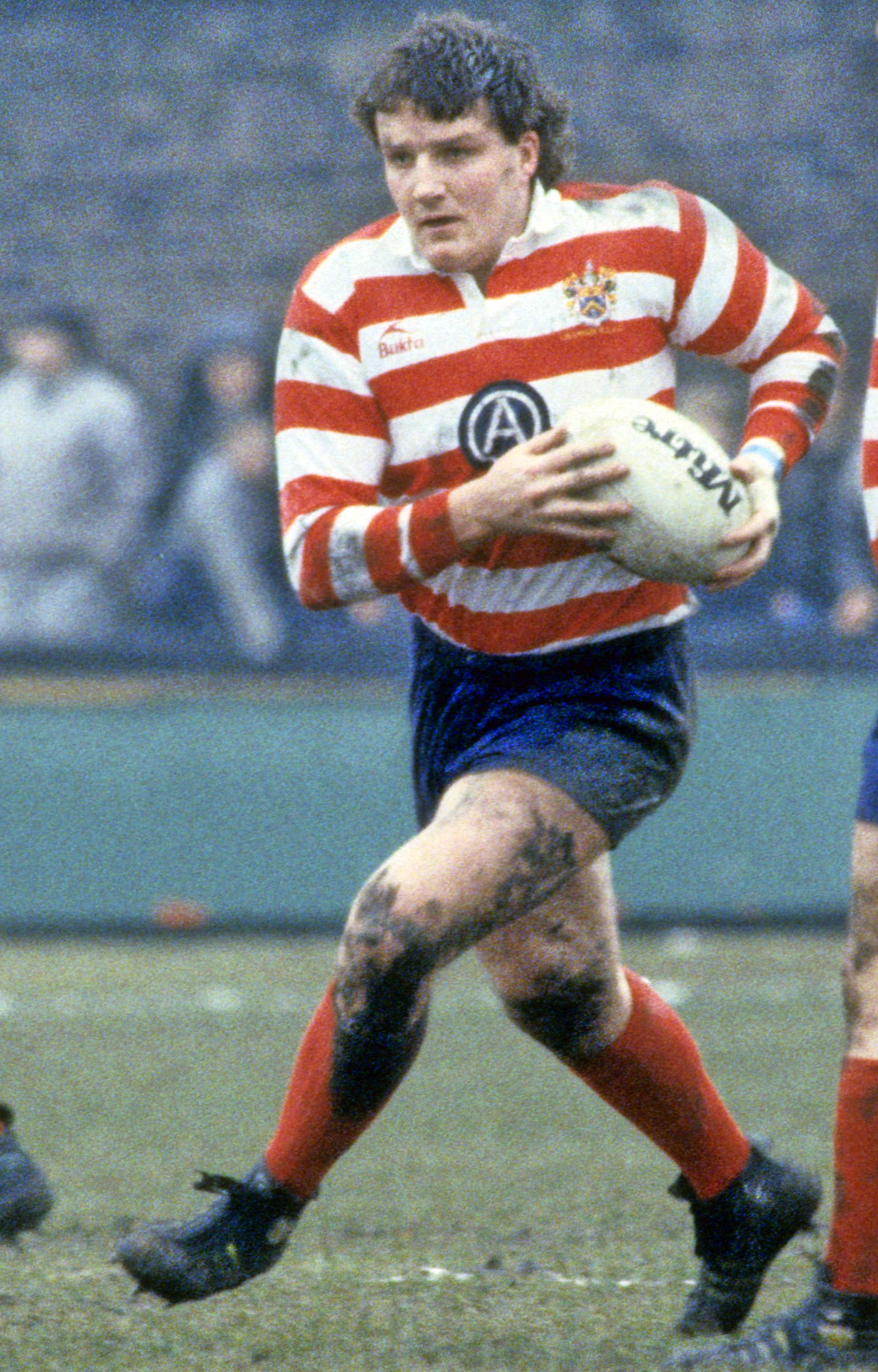 Career Games
| | | | |
| --- | --- | --- | --- |
| Oldham v Workington Town | Home | March 31, 1985 | Division 1 |
| Halifax v Oldham | Away | April 5, 1985 | Division 1 |
| Oldham v Great Britain | Home | August 21, 1985 | Benefit Match |
| Oldham v St Helens | Home | August 25, 1985 | Friendly |
| Halifax v Oldham | Away | September 1, 1985 | Division 1 |
| Oldham v Swinton | Home | September 4, 1985 | Division 1 |
| Oldham v Leeds | Home | September 8, 1985 | Division 1 |
| Leigh v Oldham | Away | September 15, 1985 | Lancashire Cup |
| Oldham v Warrington | Home | September 29, 1985 | Division 1 |
| Featherstone Rovers v Oldham | Away | October 6, 1985 | Division 1 |
| Salford v Oldham | Away | October 13, 1985 | Division 1 |
| Oldham v Castleford | Home | October 20, 1985 | Division 1 |
| Widnes v Oldham | Away | October 27, 1985 | Division 1 |
| Bradford Northern v Oldham | Away | November 3, 1985 | Division 1 |
| York v Oldham | Away | November 10, 1985 | Division 1 |
| Dewsbury v Oldham | Away | November 17, 1985 | Division 1 |
| Bramley v Oldham | Away | November 24, 1985 | John Player Cup |
| Hull Kingston Rovers v Oldham | Away | December 1, 1985 | John Player Cup |
| Oldham v Salford | Home | December 8, 1985 | Division 1 |
| Oldham v Dewsbury | Home | December 15, 1985 | Division 1 |
| Oldham v Widnes | Home | December 26, 1985 | Division 1 |
| Oldham v York | Home | January 12, 1986 | Division 1 |
| Castleford v Oldham | Away | January 19, 1986 | Division 1 |
| Warrington v Oldham | Away | February 2, 1986 | Division 1 |
| Oldham v Carlisle | Home | February 9, 1986 | Rugby League Challenge Cup |
| Oldham v Halifax | Home | February 16, 1986 | Division 1 |
| Oldham v Hull Kingston Rovers | Home | March 2, 1986 | Division 1 |
| Oldham v Warrington | Home | March 9, 1986 | Rugby League Challenge Cup |
| Oldham v Bradford Northern | Home | March 16, 1986 | Rugby League Challenge Cup |
| Castleford v Oldham | Neutral | March 22, 1986 | Rugby League Challenge Cup |
| Swinton v Oldham | Away | March 28, 1986 | Division 1 |
| Wigan v Oldham | Away | March 31, 1986 | Division 1 |
| Oldham v Bradford Northern | Home | April 6, 1986 | Division 1 |
| Oldham v Featherstone Rovers | Home | April 9, 1986 | Division 1 |
| Oldham v Oldham Amateur Select | Home | August 24, 1986 | Benefit Match |
| Oldham v Leeds | Home | August 31, 1986 | Division 1 |
| Halifax v Oldham | Away | September 3, 1986 | Division 1 |
| Warrington v Oldham | Away | September 7, 1986 | Division 1 |
| Oldham v Leigh | Home | September 14, 1986 | Lancashire Cup |
| Oldham v Hull Kingston Rovers | Home | September 21, 1986 | Division 1 |
| Oldham v Workington Town | Home | September 24, 1986 | Lancashire Cup |
| Leigh v Oldham | Away | September 28, 1986 | Division 1 |
| Oldham v Widnes | Home | October 1, 1986 | Lancashire Cup |
| Oldham v Widnes | Home | October 5, 1986 | Division 1 |
| Wigan v Oldham | Neutral | October 19, 1986 | Lancashire Cup |
| Wakefield Trinity v Oldham | Away | October 26, 1986 | Division 1 |
| Oldham v Barrow | Home | November 2, 1986 | Division 1 |
| Oldham v Australia | Home | November 4, 1986 | Tour Match |
| Oldham v Halifax | Home | December 14, 1986 | Division 1 |
| St Helens v Oldham | Away | December 21, 1986 | Division 1 |
| Oldham v Salford | Home | December 26, 1986 | Division 1 |
| Leeds v Oldham | Away | January 1, 1987 | Division 1 |
| Hull FC v Oldham | Away | January 4, 1987 | Division 1 |
| Oldham v Featherstone Rovers | Home | January 18, 1987 | Division 1 |
| Oldham v Wigan | Home | February 4, 1987 | Rugby League Challenge Cup |
| Oldham v St Helens | Home | February 14, 1987 | Rugby League Challenge Cup |
| Oldham v Hull FC | Home | February 22, 1987 | Division 1 |
| Castleford v Oldham | Away | March 1, 1987 | Division 1 |
| Featherstone Rovers v Oldham | Away | March 8, 1987 | Division 1 |
| Oldham v Warrington | Home | March 11, 1987 | Division 1 |
| Oldham v Bradford Northern | Home | March 15, 1987 | Division 1 |
| Oldham v Wakefield Trinity | Home | March 25, 1987 | Division 1 |
| Oldham v Castleford | Home | March 29, 1987 | Division 1 |