Trevor Simms
Profile
Trevor Simms, "the scrum capped winger", joined Oldham from Rochdale Hornets for the start of the 1962-63 season, but his first appearance for the club came as part of the combined team of Oldham & Rochdale players that beat the 1961 Kiwis, 10 – 8 at Watersheddings.
Although it is not so uncommon now, the sight of a back wearing protective headgear in the 1960's was indeed a rare occurrence and this provided Trevor with a sort of trademark. He topped the Oldham try list in 62-3 and 63-4, the latter being the season of second division Championship success and the Hull K.R. semi finals, when he scored 24 touchdowns.
Lightning fast off the mark, his impressive form brought him Lancashire honours, but a most promising career was badly disrupted in his first game of the 1964-65 season when he broke his leg after crashing into the wall while diving over for a try at Leigh. I remember being at the match and although being stood well away from the incident it was soon clear that something was badly wrong.
He missed the rest of that season and although he returned the following year the speed was never quite the same again. On the odd occasion, Trevor was still capable of scoring some fabulous tries and an eighty yard effort against Leeds in November 1966, which clinched a 16 – 13 victory, immediately springs to mind.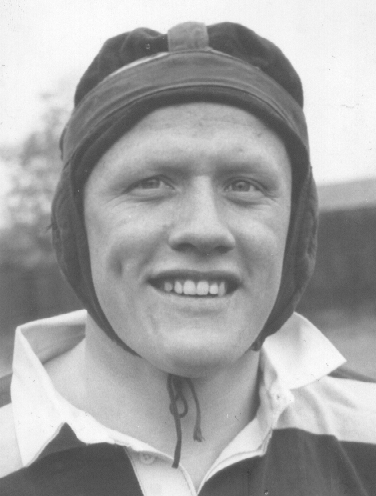 Career Games
| | | | |
| --- | --- | --- | --- |
| Oldham & Rochdale v New Zealand | Home | September 4, 1961 | Tour Match |
| Rochdale Hornets v Oldham | Away | August 11, 1962 | Law Cup |
| Whitehaven v Oldham | Away | August 18, 1962 | Western Division |
| Oldham v Barrow | Home | August 21, 1962 | Western Division |
| Oldham v Leigh | Home | August 25, 1962 | Western Division |
| Rochdale Hornets v Oldham | Away | August 28, 1962 | Western Division |
| Oldham v Whitehaven | Home | August 31, 1962 | Western Division |
| Whitehaven v Oldham | Away | September 7, 1962 | Lancashire Cup |
| Barrow v Oldham | Away | September 15, 1962 | Western Division |
| Oldham v Rochdale Hornets | Home | September 18, 1962 | Lancashire Cup |
| Oldham v Rochdale Hornets | Home | September 22, 1962 | Western Division |
| Leigh v Oldham | Away | September 29, 1962 | Western Division |
| Oldham v St Helens | Home | October 2, 1962 | Lancashire Cup |
| Workington Town v Oldham | Away | October 6, 1962 | Division 1 |
| Oldham v Huddersfield | Home | October 13, 1962 | Division 1 |
| Leeds v Oldham | Away | October 20, 1962 | Division 1 |
| Oldham v Wakefield Trinity | Home | October 27, 1962 | Division 1 |
| Wigan v Oldham | Away | November 3, 1962 | Division 1 |
| Huddersfield v Oldham | Away | November 17, 1962 | Division 1 |
| Oldham v Leeds | Home | November 24, 1962 | Division 1 |
| Wakefield Trinity v Oldham | Away | December 1, 1962 | Division 1 |
| Oldham v Wigan | Home | December 8, 1962 | Division 1 |
| Halifax v Oldham | Away | December 22, 1962 | Division 1 |
| Widnes v Oldham | Away | February 2, 1963 | Division 1 |
| Leigh v Oldham | Away | March 2, 1963 | Rugby League Challenge Cup |
| Oldham v Featherstone Rovers | Home | March 9, 1963 | Division 1 |
| Workington Town v Oldham | Away | March 16, 1963 | Rugby League Challenge Cup |
| Hull Kingston Rovers v Oldham | Away | March 23, 1963 | Division 1 |
| Oldham v Wigan | Home | April 6, 1963 | Rugby League Challenge Cup |
| Bramley v Oldham | Away | April 19, 1963 | Division 1 |
| Oldham v Swinton | Home | April 23, 1963 | Division 1 |
| Castleford v Oldham | Away | April 27, 1963 | Division 1 |
| Oldham v Batley | Home | August 31, 1963 | Division 2 |
| Liverpool City v Oldham | Away | September 2, 1963 | Division 2 |
| Oldham v Widnes | Home | September 7, 1963 | Lancashire Cup |
| York v Oldham | Away | September 14, 1963 | Division 2 |
| Blackpool Borough v Oldham | Away | September 16, 1963 | Western Division |
| Oldham v Whitehaven | Home | September 18, 1963 | Lancashire Cup |
| Oldham v Barrow | Home | September 21, 1963 | Division 2 |
| Blackpool Borough v Oldham | Away | September 28, 1963 | Division 2 |
| Leigh v Oldham | Away | September 30, 1963 | Lancashire Cup |
| Oldham v Australia | Home | October 5, 1963 | Tour Match |
| Oldham v Doncaster | Home | October 12, 1963 | Division 2 |
| Barrow v Oldham | Away | October 19, 1963 | Division 2 |
| Oldham v Rochdale Hornets | Home | October 26, 1963 | Western Division |
| Doncaster v Oldham | Away | November 2, 1963 | Division 2 |
| Oldham v York | Home | November 9, 1963 | Division 2 |
| Whitehaven v Oldham | Away | November 16, 1963 | Division 2 |
| Oldham v Rochdale Hornets | Home | November 23, 1963 | Division 2 |
| Oldham v Salford | Home | January 25, 1964 | Division 2 |
| Dewsbury v Oldham | Away | February 1, 1964 | Division 2 |
| Keighley v Oldham | Away | February 8, 1964 | Rugby League Challenge Cup |
| Leigh v Oldham | Away | February 15, 1964 | Western Division |
| Oldham v Blackpool Borough | Home | February 22, 1964 | Division 2 |
| Oldham v Featherstone Rovers | Home | February 29, 1964 | Rugby League Challenge Cup |
| Batley v Oldham | Away | March 7, 1964 | Division 2 |
| Hunslet v Oldham | Away | March 14, 1964 | Rugby League Challenge Cup |
| Oldham v Barrow | Home | March 21, 1964 | Western Division |
| Oldham v Liverpool City | Home | March 27, 1964 | Division 2 |
| Oldham v Leigh | Home | March 28, 1964 | Western Division |
| Salford v Oldham | Away | March 30, 1964 | Division 2 |
| Hull Kingston Rovers v Oldham | Neutral | April 11, 1964 | Rugby League Challenge Cup |
| Hull Kingston Rovers v Oldham | Neutral | April 15, 1964 | Rugby League Challenge Cup |
| Hull Kingston Rovers v Oldham | Neutral | April 20, 1964 | Rugby League Challenge Cup |
| Leigh v Oldham | Away | April 27, 1964 | Division 2 |
| Oldham v Whitehaven | Home | May 2, 1964 | Division 2 |
| Whitehaven v Oldham | Away | September 4, 1964 | Lancashire Cup |
| Oldham v Liverpool City | Home | September 12, 1964 | League Championship |
| Leigh v Oldham | Away | October 3, 1964 | League Championship |
| Whitehaven v Oldham | Away | August 25, 1965 | League Championship |
| Wigan v Oldham | Away | August 28, 1965 | League Championship |
| Oldham v New Zealand | Home | August 31, 1965 | Tour Match |
| Oldham v Blackpool Borough | Home | September 4, 1965 | League Championship |
| Oldham v Rochdale Hornets | Home | September 6, 1965 | League Championship |
| Oldham v Barrow | Home | September 11, 1965 | Lancashire Cup |
| Blackpool Borough v Oldham | Away | September 13, 1965 | League Championship |
| Workington Town v Oldham | Away | September 18, 1965 | League Championship |
| St Helens v Oldham | Away | October 1, 1965 | League Championship |
| Swinton v Oldham | Away | October 19, 1965 | BBC |
| Widnes v Oldham | Away | October 28, 1965 | League Championship |
| Oldham v Liverpool City | Home | November 6, 1965 | League Championship |
| Salford v Oldham | Away | November 13, 1965 | League Championship |
| Oldham v Leeds | Home | November 20, 1965 | League Championship |
| Oldham v Castleford | Home | November 23, 1965 | BBC |
| Huddersfield v Oldham | Away | November 27, 1965 | League Championship |
| Leeds v Oldham | Away | December 11, 1965 | League Championship |
| Oldham v Widnes | Home | December 18, 1965 | League Championship |
| Hunslet v Oldham | Away | January 1, 1966 | League Championship |
| Oldham v St Helens | Home | January 8, 1966 | League Championship |
| Oldham v Hunslet | Home | February 1, 1966 | League Championship |
| Oldham v Halifax | Home | February 5, 1966 | League Championship |
| Warrington v Oldham | Away | February 9, 1966 | League Championship |
| Swinton v Oldham | Away | February 26, 1966 | Rugby League Challenge Cup |
| Oldham v Leigh | Home | March 4, 1966 | League Championship |
| Liverpool City v Oldham | Away | March 12, 1966 | League Championship |
| Oldham v Swinton | Home | March 22, 1966 | League Championship |
| Oldham v Whitehaven | Home | March 26, 1966 | League Championship |
| Barrow v Oldham | Away | March 31, 1966 | League Championship |
| Hull FC v Oldham | Away | August 20, 1966 | League Championship |
| Oldham v Blackpool Borough | Home | August 23, 1966 | League Championship |
| Oldham v Hull FC | Home | August 27, 1966 | League Championship |
| Oldham v Swinton | Home | September 2, 1966 | Lancashire Cup |
| Salford v Oldham | Away | September 9, 1966 | League Championship |
| Blackpool Borough v Oldham | Away | September 12, 1966 | League Championship |
| Salford v Oldham | Away | September 15, 1966 | Lancashire Cup |
| Oldham v Whitehaven | Home | September 17, 1966 | League Championship |
| Halifax v Oldham | Away | September 24, 1966 | League Championship |
| Blackpool Borough v Oldham | Away | September 27, 1966 | Lancashire Cup |
| Oldham v Wigan | Home | September 30, 1966 | League Championship |
| Oldham v Barrow | Home | October 4, 1966 | BBC |
| Liverpool City v Oldham | Away | October 8, 1966 | League Championship |
| Oldham v Rochdale Hornets | Home | October 14, 1966 | League Championship |
| Wigan v Oldham | Neutral | October 29, 1966 | Lancashire Cup |
| Leeds v Oldham | Away | November 5, 1966 | League Championship |
| Oldham v Liverpool City | Home | November 11, 1966 | League Championship |
| Warrington v Oldham | Away | November 18, 1966 | League Championship |
| Widnes v Oldham | Away | November 22, 1966 | BBC |
| Oldham v Leeds | Home | November 25, 1966 | League Championship |
| Oldham v Featherstone Rovers | Home | August 24, 1968 | League Championship |
| Rochdale Hornets v Oldham | Away | August 28, 1968 | League Championship |