Wilf Briggs
Profile
Wilf joined Oldham from Leigh in a transfer deal which took Tommy Warburton to Hilton Park in time to beat the deadline for the 1968 Challenge Cup. Oldham also picked up a £5,000 fee. From a positional point of view the exchange was a straight swap with both players being stand-offs.
Wilf soon made himself a favourite with the Oldham fans when, in the cup second round, he dropped a goal and scored a try under the posts at Odsal, as Oldham held Bradford to a draw before winning the replay at Watersheddings before more than 18,000 spectators. "Northern" were very much the team of the moment in Rugby League and the Oldham victory was the shock of the competition.
In the following 1968-69 season he topped the Oldham try chart with 26 touchdowns and added to his points tally with nine goals. These were mostly drop goals and a typical effort won a tight Lancashire Cup tie against Workington (7 – 5), as Oldham progressed to the final. The following season he continued where he had left off in the previous campaign and scored 13 tries in just nine appearances, including three "hat tricks", before an ill fated trip to Barrow led to a dispute between the club and three players (including Briggs) that effectively saw him miss most of the rest of the season.
Wilf left to join Warrington in 1971, after injuries had severely restricted his Oldham appearances. Now, I imagine Wilf would probably be the first to admit that defence was not one of his playing strengths, but as a ball following, try poaching, stand off, it is unlikely the club has ever had any better. A support player of the highest calibre.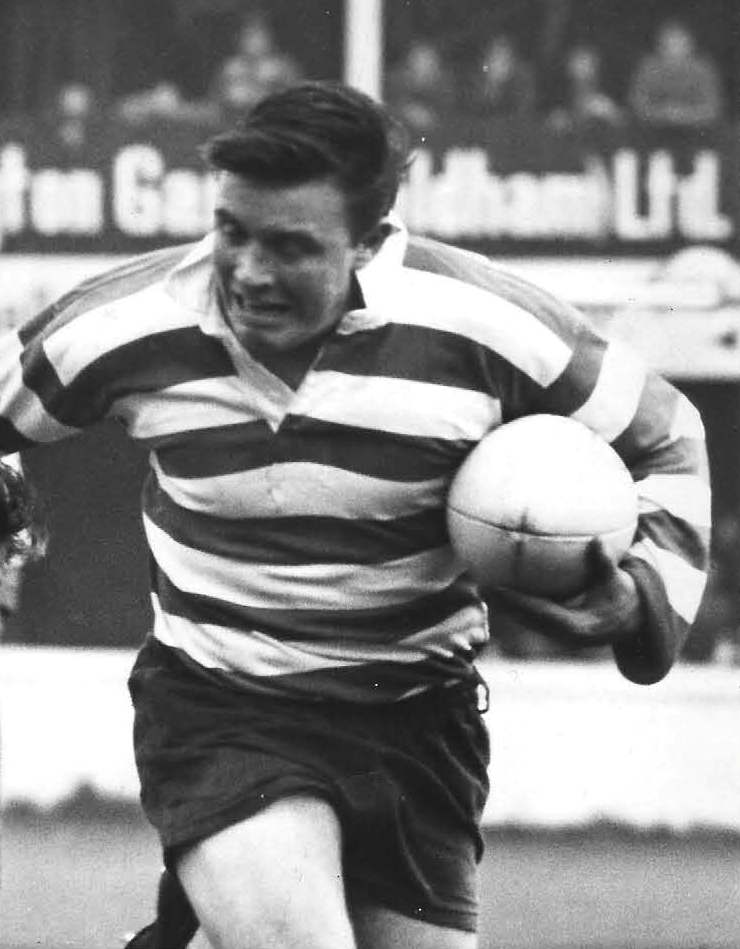 Career Games
| | | | |
| --- | --- | --- | --- |
| Hunslet v Oldham | Away | February 3, 1968 | Rugby League Challenge Cup |
| Oldham v Batley | Home | February 14, 1968 | League Championship |
| Oldham v Widnes | Home | February 17, 1968 | League Championship |
| Bradford Northern v Oldham | Away | February 24, 1968 | Rugby League Challenge Cup |
| Oldham v Bradford Northern | Home | February 29, 1968 | Rugby League Challenge Cup |
| Rochdale Hornets v Oldham | Away | March 3, 1968 | League Championship |
| Oldham v Workington Town | Home | March 9, 1968 | League Championship |
| Oldham v Leeds | Home | March 16, 1968 | Rugby League Challenge Cup |
| Oldham v Leigh | Home | March 29, 1968 | League Championship |
| Hull Kingston Rovers v Oldham | Away | April 6, 1968 | League Championship |
| Oldham v Warrington | Home | April 8, 1968 | League Championship |
| Oldham v Swinton | Home | April 12, 1968 | League Championship |
| Oldham v Blackpool Borough | Home | August 10, 1968 | Friendly |
| Huddersfield v Oldham | Away | August 17, 1968 | League Championship |
| Oldham v Blackpool Borough | Home | August 19, 1968 | League Championship |
| Oldham v Featherstone Rovers | Home | August 24, 1968 | League Championship |
| Rochdale Hornets v Oldham | Away | August 28, 1968 | League Championship |
| Workington Town v Oldham | Away | August 31, 1968 | League Championship |
| Rochdale Hornets v Oldham | Away | September 6, 1968 | Lancashire Cup |
| Blackpool Borough v Oldham | Away | September 9, 1968 | League Championship |
| Hunslet v Oldham | Away | September 14, 1968 | League Championship |
| Oldham v Workington Town | Home | September 16, 1968 | Lancashire Cup |
| Oldham v Wigan | Home | September 21, 1968 | League Championship |
| Doncaster v Oldham | Away | September 28, 1968 | League Championship |
| Oldham v Huddersfield | Home | October 5, 1968 | League Championship |
| Salford v Oldham | Away | October 9, 1968 | Lancashire Cup |
| Featherstone Rovers v Oldham | Away | October 12, 1968 | League Championship |
| Rochdale Hornets v Oldham | Away | October 15, 1968 | BBC |
| Oldham v Widnes | Home | October 19, 1968 | League Championship |
| St Helens v Oldham | Neutral | October 25, 1968 | Lancashire Cup |
| Salford v Oldham | Away | October 30, 1968 | League Championship |
| Wigan v Oldham | Away | November 9, 1968 | League Championship |
| Oldham v Warrington | Home | November 15, 1968 | League Championship |
| Whitehaven v Oldham | Away | December 1, 1968 | League Championship |
| Oldham v Hunslet | Home | December 7, 1968 | League Championship |
| Widnes v Oldham | Away | December 20, 1968 | League Championship |
| Oldham v Whitehaven | Home | December 22, 1968 | League Championship |
| Oldham v Huyton | Home | January 4, 1969 | League Championship |
| Oldham v Salford | Home | January 18, 1969 | League Championship |
| Oldham v Hull Kingston Rovers | Home | January 25, 1969 | Rugby League Challenge Cup |
| Leigh v Oldham | Away | February 1, 1969 | League Championship |
| Oldham v St Helens | Home | February 25, 1969 | Rugby League Challenge Cup |
| Oldham v Workington Town | Home | March 1, 1969 | League Championship |
| Oldham v Leigh | Home | March 3, 1969 | League Championship |
| Oldham v Barrow | Home | March 8, 1969 | League Championship |
| Oldham v Swinton | Home | March 11, 1969 | League Championship |
| Leigh v Oldham | Away | March 18, 1969 | League Championship |
| St Helens v Oldham | Away | March 28, 1969 | League Championship |
| Swinton v Oldham | Away | April 4, 1969 | League Championship |
| Oldham v Rochdale Hornets | Home | April 7, 1969 | League Championship |
| Barrow v Oldham | Away | April 11, 1969 | League Championship |
| Oldham v St Helens | Home | April 15, 1969 | League Championship |
| Oldham v Doncaster | Home | April 17, 1969 | League Championship |
| Leeds v Oldham | Away | April 25, 1969 | League Championship |
| Halifax v Oldham | Away | August 2, 1969 | Friendly |
| Oldham v Blackpool Borough | Home | August 9, 1969 | Friendly |
| Oldham v Swinton | Home | August 16, 1969 | Lancashire Cup |
| Oldham v Salford | Home | August 19, 1969 | League Championship |
| Oldham v Warrington | Home | August 23, 1969 | League Championship |
| Oldham v Keighley | Home | September 6, 1969 | League Championship |
| Blackpool Borough v Oldham | Away | September 8, 1969 | League Championship |
| Wigan v Oldham | Away | September 13, 1969 | League Championship |
| Oldham v Huyton | Home | September 20, 1969 | League Championship |
| Oldham v Rochdale Hornets | Home | October 13, 1969 | BBC |
| Barrow v Oldham | Away | October 24, 1969 | League Championship |
| Oldham v Huddersfield | Home | January 10, 1970 | League Championship |
| Huddersfield v Oldham | Away | January 17, 1970 | League Championship |
| Oldham v Barrow | Home | January 24, 1970 | League Championship |
| Oldham v Batley | Home | January 16, 1971 | League Championship |
| Leeds v Oldham | Away | January 23, 1971 | Rugby League Challenge Cup |
| Keighley v Oldham | Away | February 6, 1971 | League Championship |
| Oldham v Huddersfield | Home | February 10, 1971 | League Championship |
| Oldham v Warrington | Home | February 13, 1971 | League Championship |
| Swinton v Oldham | Away | August 8, 1971 | Lancashire Cup |
| Oldham v Barrow | Home | August 21, 1971 | League Championship |
| Swinton v Oldham | Away | August 25, 1971 | League Championship |