Alan Kellett
Profile
Signed from the Halifax amateur club Ovenden, early in 1955, it would be another three years before Alan Kellett commanded a regular place in the first team. A lightening fast stand off half, he represented a contrast to the Oldham fans, who for the previous few years had seen the less pacey, yet equally talented Stirrup and Daley share the occupancy of the No 6 shirt, with their emphasis on guile and ball handling skills.
Alan made his Oldham debut at Belle Vue Rangers on March 13th, 1955 making infrequent appearances for the senior side until March 1958, when he got into the team and stayed there for the last 11 matches of the 1957-58 season. From then on he was the first choice stand off for the next five years. Fast and elusive, he struck up a good partnership with Frank Pitchford and won Yorkshire county honours in 1958, going on to win six caps for the "White Rose" county while at Oldham.
Alan scored a try in the Lancashire Cup Final of 1958, as St Helens were defeated 12 – 2 at Swinton.
After leaving to join his home town club of Halifax in 1963, he later went to Bradford Northern and Keighley before returning for a brief period in 1971 to play in a further nine games for Oldham.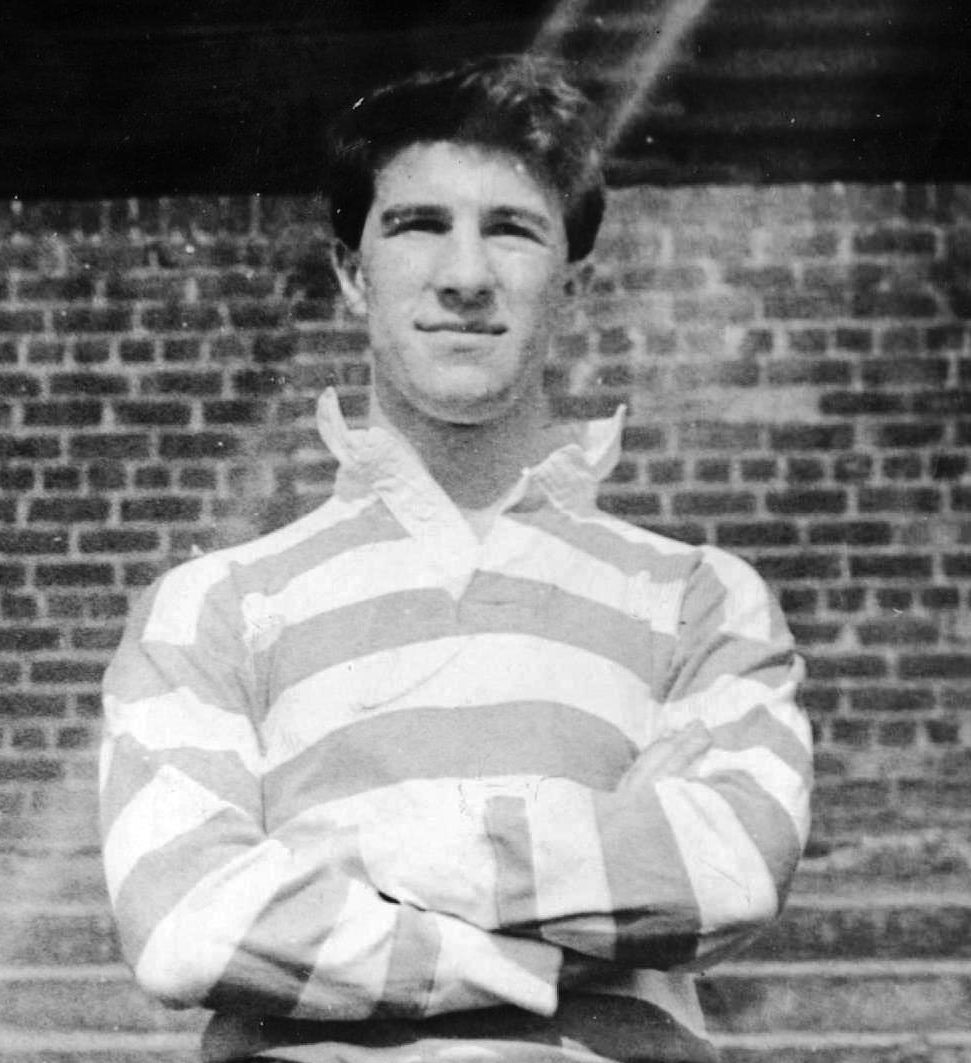 Career Games
| | | | |
| --- | --- | --- | --- |
| Belle Vue Rangers v Oldham | Away | March 12, 1955 | League Championship |
| Oldham v Widnes | Home | March 19, 1955 | League Championship |
| Oldham v Hull FC | Home | April 18, 1955 | League Championship |
| Oldham v Warrington | Home | September 17, 1955 | League Championship |
| Oldham v Featherstone Rovers | Home | October 1, 1955 | League Championship |
| Hunslet v Oldham | Away | October 8, 1955 | League Championship |
| Oldham v New Zealand | Home | October 29, 1955 | Tour Match |
| Featherstone Rovers v Oldham | Neutral | November 2, 1955 | Independent Television Floodlit Trophy |
| Liverpool City v Oldham | Away | December 3, 1955 | League Championship |
| Whitehaven v Oldham | Away | January 7, 1956 | League Championship |
| Widnes v Oldham | Away | January 21, 1956 | League Championship |
| Oldham v Blackpool Borough | Home | November 24, 1956 | League Championship |
| Oldham v Liverpool City | Home | November 16, 1957 | League Championship |
| Oldham v Whitehaven | Home | December 21, 1957 | League Championship |
| Oldham v Swinton | Home | December 25, 1957 | League Championship |
| Whitehaven v Oldham | Away | March 15, 1958 | League Championship |
| Oldham v Rochdale Hornets | Home | March 22, 1958 | League Championship |
| Oldham v Widnes | Home | March 25, 1958 | League Championship |
| Swinton v Oldham | Away | April 4, 1958 | League Championship |
| Oldham v Wigan | Home | April 5, 1958 | League Championship |
| Oldham v Huddersfield | Home | April 7, 1958 | League Championship |
| Oldham v Hunslet | Home | April 12, 1958 | League Championship |
| Oldham v Hull FC | Home | April 16, 1958 | League Championship |
| Leeds v Oldham | Away | April 19, 1958 | League Championship |
| Oldham v Workington Town | Home | April 26, 1958 | League Championship |
| Oldham v Hull FC | Home | May 3, 1958 | League Championship |
| Rochdale Hornets v Oldham | Away | August 9, 1958 | Law Cup |
| Oldham v Halifax | Home | August 16, 1958 | League Championship |
| Blackpool Borough v Oldham | Away | August 19, 1958 | League Championship |
| Wakefield Trinity v Oldham | Away | August 23, 1958 | League Championship |
| Oldham v Whitehaven | Home | August 30, 1958 | Lancashire Cup |
| Oldham v Workington Town | Home | September 2, 1958 | League Championship |
| Halifax v Oldham | Away | September 6, 1958 | League Championship |
| Oldham v Wakefield Trinity | Home | September 13, 1958 | League Championship |
| Oldham v Wigan | Home | September 16, 1958 | Lancashire Cup |
| Rochdale Hornets v Oldham | Away | September 20, 1958 | League Championship |
| Oldham v Widnes | Home | September 30, 1958 | Lancashire Cup |
| Warrington v Oldham | Away | October 4, 1958 | League Championship |
| Oldham v Rochdale Hornets | Home | October 11, 1958 | League Championship |
| Liverpool City v Oldham | Away | October 18, 1958 | League Championship |
| St Helens v Oldham | Neutral | October 25, 1958 | Lancashire Cup |
| Featherstone Rovers v Oldham | Away | November 1, 1958 | League Championship |
| Oldham v Featherstone Rovers | Home | November 8, 1958 | League Championship |
| Salford v Oldham | Away | November 15, 1958 | League Championship |
| Oldham v Leeds | Home | November 22, 1958 | League Championship |
| Wigan v Oldham | Away | November 29, 1958 | League Championship |
| Oldham v Widnes | Home | December 6, 1958 | League Championship |
| Oldham v Wigan | Home | December 20, 1958 | League Championship |
| Oldham v Swinton | Home | December 25, 1958 | League Championship |
| St Helens v Oldham | Away | December 27, 1958 | League Championship |
| Oldham v Leigh | Home | January 3, 1959 | League Championship |
| Leeds v Oldham | Away | January 31, 1959 | League Championship |
| Oldham v Warrington | Home | February 7, 1959 | League Championship |
| Leigh v Oldham | Away | February 14, 1959 | League Championship |
| Oldham v St Helens | Home | February 21, 1959 | Rugby League Challenge Cup |
| Hull FC v Oldham | Away | March 14, 1959 | League Championship |
| Oldham v Barrow | Home | March 21, 1959 | League Championship |
| Swinton v Oldham | Away | March 27, 1959 | League Championship |
| Oldham v Hull FC | Home | March 30, 1959 | League Championship |
| Oldham v Liverpool City | Home | April 4, 1959 | League Championship |
| Oldham v Salford | Home | April 7, 1959 | League Championship |
| Widnes v Oldham | Away | April 11, 1959 | League Championship |
| Oldham v Hunslet | Home | April 14, 1959 | League Championship |
| Oldham v Whitehaven | Home | April 18, 1959 | League Championship |
| Barrow v Oldham | Away | April 20, 1959 | League Championship |
| Oldham v St Helens | Home | April 27, 1959 | League Championship |
| St Helens v Oldham | Away | May 2, 1959 | League Championship |
| Oldham v Rochdale Hornets | Home | August 8, 1959 | Law Cup |
| Oldham v Leeds | Home | August 15, 1959 | League Championship |
| Dewsbury v Oldham | Away | August 18, 1959 | League Championship |
| Salford v Oldham | Away | August 22, 1959 | League Championship |
| Oldham v Warrington | Home | August 25, 1959 | League Championship |
| Whitehaven v Oldham | Away | August 29, 1959 | Lancashire Cup |
| Halifax v Oldham | Away | September 5, 1959 | League Championship |
| Oldham v Halifax | Home | September 8, 1959 | League Championship |
| Oldham v Hunslet | Home | September 12, 1959 | League Championship |
| Oldham v Widnes | Home | September 19, 1959 | League Championship |
| Blackpool Borough v Oldham | Away | September 26, 1959 | League Championship |
| Oldham v Australia | Home | October 3, 1959 | Tour Match |
| Barrow v Oldham | Away | October 10, 1959 | League Championship |
| Oldham v Workington Town | Home | October 17, 1959 | League Championship |
| Warrington v Oldham | Away | October 24, 1959 | League Championship |
| Oldham v Barrow | Home | October 31, 1959 | League Championship |
| Rochdale Hornets v Oldham | Away | November 7, 1959 | League Championship |
| Oldham v Blackpool Borough | Home | November 14, 1959 | League Championship |
| Whitehaven v Oldham | Away | November 21, 1959 | League Championship |
| Oldham v Rochdale Hornets | Home | November 28, 1959 | League Championship |
| Wigan v Oldham | Away | December 5, 1959 | League Championship |
| Oldham v Dewsbury | Home | December 19, 1959 | League Championship |
| Oldham v Swinton | Home | December 25, 1959 | League Championship |
| Oldham v Hull FC | Home | December 28, 1959 | League Championship |
| Liverpool City v Oldham | Away | January 2, 1960 | League Championship |
| Oldham v Wakefield Trinity | Home | January 9, 1960 | League Championship |
| St Helens v Oldham | Away | January 23, 1960 | League Championship |
| Oldham v Salford | Home | February 6, 1960 | League Championship |
| Oldham v Huddersfield | Home | February 13, 1960 | Rugby League Challenge Cup |
| Wakefield Trinity v Oldham | Away | February 20, 1960 | League Championship |
| Oldham v Walney Central | Home | February 27, 1960 | Rugby League Challenge Cup |
| Leeds v Oldham | Away | March 5, 1960 | League Championship |
| Oldham v Wigan | Home | March 12, 1960 | League Championship |
| Oldham v Bramley | Home | March 19, 1960 | Rugby League Challenge Cup |
| Hunslet v Oldham | Away | March 26, 1960 | League Championship |
| Oldham v Liverpool City | Home | April 2, 1960 | League Championship |
| Hull FC v Oldham | Neutral | April 9, 1960 | Rugby League Challenge Cup |
| Swinton v Oldham | Away | April 15, 1960 | League Championship |
| Workington Town v Oldham | Away | April 16, 1960 | League Championship |
| Oldham v Whitehaven | Home | April 18, 1960 | League Championship |
| Hull FC v Oldham | Away | April 23, 1960 | League Championship |
| Oldham v St Helens | Home | April 26, 1960 | League Championship |
| Leigh v Oldham | Away | April 30, 1960 | League Championship |
| Oldham v St Helens | Home | August 13, 1960 | League Championship |
| Warrington v Oldham | Away | August 17, 1960 | League Championship |
| Leeds v Oldham | Away | August 20, 1960 | League Championship |
| Wigan v Oldham | Away | August 27, 1960 | Lancashire Cup |
| Oldham v Leigh | Home | August 30, 1960 | League Championship |
| Featherstone Rovers v Oldham | Away | September 3, 1960 | League Championship |
| Oldham v Halifax | Home | September 10, 1960 | League Championship |
| St Helens v Oldham | Away | September 17, 1960 | League Championship |
| Oldham v Featherstone Rovers | Home | September 20, 1960 | League Championship |
| Blackpool Borough v Oldham | Away | September 27, 1960 | League Championship |
| Hull Kingston Rovers v Oldham | Away | October 15, 1960 | League Championship |
| Oldham v Widnes | Home | October 22, 1960 | League Championship |
| Rochdale Hornets v Oldham | Away | October 29, 1960 | League Championship |
| Oldham v Liverpool City | Home | November 5, 1960 | League Championship |
| Keighley v Oldham | Away | November 12, 1960 | League Championship |
| Oldham v Salford | Home | November 19, 1960 | League Championship |
| Whitehaven v Oldham | Away | November 26, 1960 | League Championship |
| Oldham v Leeds | Home | December 3, 1960 | League Championship |
| Oldham v Blackpool Borough | Home | December 17, 1960 | League Championship |
| Leigh v Oldham | Away | December 24, 1960 | League Championship |
| Oldham v Swinton | Home | December 26, 1960 | League Championship |
| Barrow v Oldham | Away | December 31, 1960 | League Championship |
| Workington Town v Oldham | Away | January 2, 1961 | League Championship |
| Liverpool City v Oldham | Away | January 21, 1961 | League Championship |
| Oldham v Wigan | Home | January 28, 1961 | League Championship |
| Oldham v Barrow | Home | February 4, 1961 | League Championship |
| Hull FC v Oldham | Away | February 11, 1961 | Rugby League Challenge Cup |
| Oldham v Hull Kingston Rovers | Home | February 18, 1961 | League Championship |
| Salford v Oldham | Away | March 4, 1961 | League Championship |
| Widnes v Oldham | Away | March 11, 1961 | League Championship |
| Oldham v Workington Town | Home | March 18, 1961 | League Championship |
| Wigan v Oldham | Away | March 25, 1961 | League Championship |
| Swinton v Oldham | Away | March 31, 1961 | League Championship |
| Oldham v Whitehaven | Home | April 1, 1961 | League Championship |
| Oldham v Rochdale Hornets | Home | April 3, 1961 | League Championship |
| Oldham v Blackpool Borough | Home | April 11, 1961 | League Championship |
| Oldham v Warrington | Home | April 15, 1961 | League Championship |
| Halifax v Oldham | Away | April 26, 1961 | League Championship |
| Oldham v Keighley | Home | April 29, 1961 | League Championship |
| Oldham v Rochdale Hornets | Home | August 12, 1961 | Law Cup |
| Oldham v Halifax | Home | August 19, 1961 | League Championship |
| Barrow v Oldham | Away | August 21, 1961 | League Championship |
| Blackpool Borough v Oldham | Away | August 26, 1961 | League Championship |
| Oldham v York | Home | August 28, 1961 | League Championship |
| Barrow v Oldham | Away | September 2, 1961 | Lancashire Cup |
| Oldham & Rochdale v New Zealand | Home | September 4, 1961 | Tour Match |
| Halifax v Oldham | Away | September 9, 1961 | League Championship |
| Oldham v Rochdale Hornets | Home | September 16, 1961 | League Championship |
| Hunslet v Oldham | Away | September 23, 1961 | League Championship |
| Oldham v Barrow | Home | September 30, 1961 | League Championship |
| St Helens v Oldham | Away | October 2, 1961 | Lancashire Cup |
| Oldham v Workington Town | Home | October 7, 1961 | League Championship |
| York v Oldham | Away | October 14, 1961 | League Championship |
| Oldham v Warrington | Home | October 21, 1961 | League Championship |
| Huddersfield v Oldham | Away | October 28, 1961 | League Championship |
| Whitehaven v Oldham | Away | November 4, 1961 | League Championship |
| Oldham v Hull FC | Home | November 18, 1961 | League Championship |
| Salford v Oldham | Away | November 25, 1961 | League Championship |
| Oldham v Whitehaven | Home | December 2, 1961 | League Championship |
| Workington Town v Oldham | Away | December 9, 1961 | League Championship |
| Warrington v Oldham | Away | January 6, 1962 | League Championship |
| Wigan v Oldham | Away | January 13, 1962 | League Championship |
| Oldham v Wigan | Home | January 20, 1962 | League Championship |
| Liverpool City v Oldham | Away | February 3, 1962 | League Championship |
| Oldham v Hull FC | Home | February 10, 1962 | Rugby League Challenge Cup |
| Oldham v Leigh | Home | February 17, 1962 | League Championship |
| Widnes v Oldham | Away | February 24, 1962 | League Championship |
| Oldham v Workington Town | Home | March 3, 1962 | Rugby League Challenge Cup |
| Leigh v Oldham | Away | March 10, 1962 | League Championship |
| Oldham v St Helens | Home | March 17, 1962 | League Championship |
| Hull FC v Oldham | Away | March 24, 1962 | League Championship |
| Oldham v Liverpool City | Home | March 31, 1962 | League Championship |
| Oldham v Salford | Home | April 5, 1962 | League Championship |
| Oldham v Hunslet | Home | April 7, 1962 | League Championship |
| Oldham v Widnes | Home | April 14, 1962 | League Championship |
| Swinton v Oldham | Away | April 20, 1962 | League Championship |
| Oldham v Blackpool Borough | Home | April 21, 1962 | League Championship |
| Oldham v Huddersfield | Home | April 23, 1962 | League Championship |
| Oldham v Swinton | Home | April 28, 1962 | League Championship |
| Oldham v Leigh | Home | August 25, 1962 | Western Division |
| Rochdale Hornets v Oldham | Away | August 28, 1962 | Western Division |
| Widnes v Oldham | Away | February 2, 1963 | Division 1 |
| Leigh v Oldham | Away | March 2, 1963 | Rugby League Challenge Cup |
| Oldham v Featherstone Rovers | Home | March 9, 1963 | Division 1 |
| Workington Town v Oldham | Away | March 16, 1963 | Rugby League Challenge Cup |
| Oldham v Wigan | Home | April 6, 1963 | Rugby League Challenge Cup |
| Oldham v Workington Town | Home | April 9, 1963 | Division 1 |
| Swinton v Oldham | Away | April 12, 1963 | Division 1 |
| Bramley v Oldham | Away | April 19, 1963 | Division 1 |
| Castleford v Oldham | Away | April 27, 1963 | Division 1 |
| Oldham v Huyton | Home | September 19, 1971 | League Championship |
| Widnes v Oldham | Away | September 24, 1971 | League Championship |
| Oldham v Rochdale Hornets | Home | September 29, 1971 | BBC |
| Oldham v Featherstone Rovers | Home | October 2, 1971 | League Championship |
| Whitehaven v Oldham | Away | November 14, 1971 | Players No.6 Cup |
| York v Oldham | Away | November 21, 1971 | League Championship |
| Featherstone Rovers v Oldham | Away | January 22, 1972 | League Championship |
| Oldham v St Helens | Home | January 29, 1972 | Rugby League Challenge Cup |
| Oldham v Bramley | Home | February 5, 1972 | League Championship |