Charlie Bott
Profile
Charlie Bott joined Oldham from the Old Thornesians Rugby Union club in Yorkshire, just prior to the ill fated 1962-63 first division season. His initial appearances were in the second row.
Three games into the following season he was switched to prop forward, a move that was to be beneficial to both club and player. In combination with Ken Wilson and Len McIntyre, Oldham now had a front row that was a match for any in the league and the efforts of these lads in the "boiler room" paved the way for the successful 1963-64 season, which brought the second division title and the epic Challenge Cup semi final games with Hull K.R. Charlie's burly frame represented a formidable presence on the field where he was a tireless worker on both attack and defence, being unfortunate not to add to his one international appearance for Great Britain, against the French on March, 5th, 1966 at Wigan.
He left Oldham for a successful spell in the emerging Salford team in 1967 and played his last game in the 10 – 10 draw against Halifax on March 27th, when Charlie, who wasn't renowned for troubling the score board operators too often, chipped in with a rare try.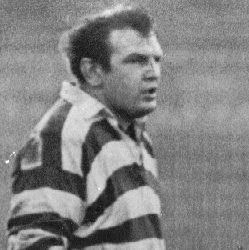 Career Games
| | | | |
| --- | --- | --- | --- |
| Rochdale Hornets v Oldham | Away | August 11, 1962 | Law Cup |
| Whitehaven v Oldham | Away | August 18, 1962 | Western Division |
| Oldham v Barrow | Home | August 21, 1962 | Western Division |
| Oldham v Leigh | Home | August 25, 1962 | Western Division |
| Rochdale Hornets v Oldham | Away | August 28, 1962 | Western Division |
| Oldham v Whitehaven | Home | August 31, 1962 | Western Division |
| Whitehaven v Oldham | Away | September 7, 1962 | Lancashire Cup |
| Barrow v Oldham | Away | September 15, 1962 | Western Division |
| Oldham v Rochdale Hornets | Home | September 18, 1962 | Lancashire Cup |
| Oldham v Rochdale Hornets | Home | September 22, 1962 | Western Division |
| Leigh v Oldham | Away | September 29, 1962 | Western Division |
| Oldham v St Helens | Home | October 2, 1962 | Lancashire Cup |
| Workington Town v Oldham | Away | October 6, 1962 | Division 1 |
| Oldham v Huddersfield | Home | October 13, 1962 | Division 1 |
| Leeds v Oldham | Away | October 20, 1962 | Division 1 |
| Oldham v Wakefield Trinity | Home | October 27, 1962 | Division 1 |
| Wigan v Oldham | Away | November 3, 1962 | Division 1 |
| Huddersfield v Oldham | Away | November 17, 1962 | Division 1 |
| Oldham v Leeds | Home | November 24, 1962 | Division 1 |
| Wakefield Trinity v Oldham | Away | December 1, 1962 | Division 1 |
| Oldham v Wigan | Home | December 8, 1962 | Division 1 |
| Halifax v Oldham | Away | December 22, 1962 | Division 1 |
| Widnes v Oldham | Away | February 2, 1963 | Division 1 |
| Hull Kingston Rovers v Oldham | Away | March 23, 1963 | Division 1 |
| Oldham v Widnes | Home | March 30, 1963 | Division 1 |
| Oldham v Wigan | Home | April 6, 1963 | Rugby League Challenge Cup |
| Oldham v Swinton | Home | April 23, 1963 | Division 1 |
| St Helens v Oldham | Away | May 6, 1963 | Division 1 |
| Warrington v Oldham | Away | May 9, 1963 | Division 1 |
| Oldham v Halifax | Home | May 18, 1963 | Division 1 |
| Hull FC v Oldham | Away | May 27, 1963 | Division 1 |
| Oldham v St Helens | Home | May 30, 1963 | Division 1 |
| Oldham v Bramley | Home | June 1, 1963 | Division 1 |
| Oldham v Rochdale Hornets | Home | August 17, 1963 | Law Cup |
| Rochdale Hornets v Oldham | Away | August 24, 1963 | Division 2 |
| Oldham v Leigh | Home | August 27, 1963 | Division 2 |
| Oldham v Batley | Home | August 31, 1963 | Division 2 |
| Liverpool City v Oldham | Away | September 2, 1963 | Division 2 |
| Oldham v Widnes | Home | September 7, 1963 | Lancashire Cup |
| York v Oldham | Away | September 14, 1963 | Division 2 |
| Blackpool Borough v Oldham | Away | September 16, 1963 | Western Division |
| Oldham v Whitehaven | Home | September 18, 1963 | Lancashire Cup |
| Oldham v Barrow | Home | September 21, 1963 | Division 2 |
| Blackpool Borough v Oldham | Away | September 28, 1963 | Division 2 |
| Leigh v Oldham | Away | September 30, 1963 | Lancashire Cup |
| Oldham v Australia | Home | October 5, 1963 | Tour Match |
| Oldham v Doncaster | Home | October 12, 1963 | Division 2 |
| Barrow v Oldham | Away | October 19, 1963 | Division 2 |
| Oldham v Rochdale Hornets | Home | October 26, 1963 | Western Division |
| Doncaster v Oldham | Away | November 2, 1963 | Division 2 |
| Oldham v York | Home | November 9, 1963 | Division 2 |
| Whitehaven v Oldham | Away | November 16, 1963 | Division 2 |
| Oldham v Rochdale Hornets | Home | November 23, 1963 | Division 2 |
| Barrow v Oldham | Away | November 30, 1963 | Western Division |
| Bramley v Oldham | Away | December 7, 1963 | Division 2 |
| Oldham v Dewsbury | Home | December 28, 1963 | Division 2 |
| Oldham v Blackpool Borough | Home | January 4, 1964 | Western Division |
| Oldham v Salford | Home | January 25, 1964 | Division 2 |
| Dewsbury v Oldham | Away | February 1, 1964 | Division 2 |
| Keighley v Oldham | Away | February 8, 1964 | Rugby League Challenge Cup |
| Leigh v Oldham | Away | February 15, 1964 | Western Division |
| Oldham v Blackpool Borough | Home | February 22, 1964 | Division 2 |
| Oldham v Featherstone Rovers | Home | February 29, 1964 | Rugby League Challenge Cup |
| Batley v Oldham | Away | March 7, 1964 | Division 2 |
| Hunslet v Oldham | Away | March 14, 1964 | Rugby League Challenge Cup |
| Oldham v Barrow | Home | March 21, 1964 | Western Division |
| Oldham v Liverpool City | Home | March 27, 1964 | Division 2 |
| Oldham v Leigh | Home | March 28, 1964 | Western Division |
| Salford v Oldham | Away | March 30, 1964 | Division 2 |
| Hull Kingston Rovers v Oldham | Neutral | April 11, 1964 | Rugby League Challenge Cup |
| Hull Kingston Rovers v Oldham | Neutral | April 15, 1964 | Rugby League Challenge Cup |
| Hull Kingston Rovers v Oldham | Neutral | April 20, 1964 | Rugby League Challenge Cup |
| Rochdale Hornets v Oldham | Away | April 24, 1964 | Western Division |
| Leigh v Oldham | Away | April 27, 1964 | Division 2 |
| St Helens v Oldham | Away | May 1, 1964 | Western Division |
| Oldham v Whitehaven | Home | May 2, 1964 | Division 2 |
| Oldham v Bramley | Home | May 6, 1964 | Division 2 |
| Dewsbury v Oldham | Away | August 22, 1964 | League Championship |
| Oldham v Widnes | Home | August 25, 1964 | League Championship |
| Oldham v Swinton | Home | August 29, 1964 | League Championship |
| Whitehaven v Oldham | Away | September 4, 1964 | Lancashire Cup |
| Oldham v Liverpool City | Home | September 12, 1964 | League Championship |
| Blackpool Borough v Oldham | Away | September 14, 1964 | League Championship |
| Widnes v Oldham | Away | September 19, 1964 | League Championship |
| Warrington v Oldham | Away | September 21, 1964 | Lancashire Cup |
| Oldham v Whitehaven | Home | September 26, 1964 | League Championship |
| Leigh v Oldham | Away | October 3, 1964 | League Championship |
| Oldham v Rochdale Hornets | Home | October 10, 1964 | League Championship |
| Workington Town v Oldham | Away | October 17, 1964 | League Championship |
| Oldham v Warrington | Home | October 24, 1964 | League Championship |
| St Helens v Oldham | Away | October 31, 1964 | League Championship |
| Oldham v Barrow | Home | November 7, 1964 | League Championship |
| Huddersfield v Oldham | Away | November 14, 1964 | League Championship |
| Salford v Oldham | Away | November 28, 1964 | League Championship |
| Hunslet v Oldham | Away | December 5, 1964 | League Championship |
| Oldham v Hunslet | Home | January 2, 1965 | League Championship |
| Barrow v Oldham | Away | January 9, 1965 | League Championship |
| Warrington v Oldham | Away | January 30, 1965 | League Championship |
| Hunslet v Oldham | Away | February 6, 1965 | Rugby League Challenge Cup |
| Oldham v Keighley | Home | February 13, 1965 | League Championship |
| Wigan v Oldham | Away | February 20, 1965 | League Championship |
| Liverpool City v Oldham | Away | February 27, 1965 | League Championship |
| Oldham v Leigh | Home | March 6, 1965 | League Championship |
| Oldham v St Helens | Home | March 13, 1965 | League Championship |
| Keighley v Oldham | Away | March 20, 1965 | League Championship |
| Oldham v Huddersfield | Home | March 27, 1965 | League Championship |
| Oldham v Blackpool Borough | Home | April 3, 1965 | League Championship |
| Oldham v Workington Town | Home | April 5, 1965 | League Championship |
| Rochdale Hornets v Oldham | Away | April 9, 1965 | League Championship |
| Oldham v Salford | Home | April 13, 1965 | League Championship |
| Swinton v Oldham | Away | April 16, 1965 | League Championship |
| Whitehaven v Oldham | Away | April 17, 1965 | League Championship |
| Oldham v Dewsbury | Home | April 19, 1965 | League Championship |
| Hull Kingston Rovers v Oldham | Away | April 24, 1965 | League Championship |
| Oldham v Oldham Past | Home | May 29, 1965 | Benefit Match |
| Oldham v Rochdale Hornets | Home | August 14, 1965 | Law Cup |
| Oldham v Warrington | Home | August 21, 1965 | League Championship |
| Whitehaven v Oldham | Away | August 25, 1965 | League Championship |
| Wigan v Oldham | Away | August 28, 1965 | League Championship |
| Oldham v New Zealand | Home | August 31, 1965 | Tour Match |
| Oldham v Blackpool Borough | Home | September 4, 1965 | League Championship |
| Oldham v Rochdale Hornets | Home | September 6, 1965 | League Championship |
| Oldham v Barrow | Home | September 11, 1965 | Lancashire Cup |
| Oldham v Wigan | Home | September 16, 1965 | Lancashire Cup |
| Workington Town v Oldham | Away | September 18, 1965 | League Championship |
| Oldham v Salford | Home | September 25, 1965 | League Championship |
| St Helens v Oldham | Away | October 1, 1965 | League Championship |
| Warrington v Oldham | Away | October 6, 1965 | Lancashire Cup |
| Oldham v Huddersfield | Home | October 9, 1965 | League Championship |
| Oldham v Liverpool City | Home | November 6, 1965 | League Championship |
| Leeds v Oldham | Away | December 11, 1965 | League Championship |
| Oldham v Widnes | Home | December 18, 1965 | League Championship |
| Hunslet v Oldham | Away | January 1, 1966 | League Championship |
| Oldham v St Helens | Home | January 8, 1966 | League Championship |
| Oldham v Halifax | Home | February 5, 1966 | League Championship |
| Halifax v Oldham | Away | February 19, 1966 | League Championship |
| Swinton v Oldham | Away | February 26, 1966 | Rugby League Challenge Cup |
| Swinton v Oldham | Away | April 8, 1966 | League Championship |
| Rochdale Hornets v Oldham | Away | April 11, 1966 | League Championship |
| Oldham v Barrow | Home | April 16, 1966 | League Championship |
| Leigh v Oldham | Away | April 22, 1966 | League Championship |
| Blackpool Borough v Oldham | Away | September 12, 1966 | League Championship |
| Salford v Oldham | Away | September 15, 1966 | Lancashire Cup |
| Oldham v Whitehaven | Home | September 17, 1966 | League Championship |
| Halifax v Oldham | Away | September 24, 1966 | League Championship |
| Blackpool Borough v Oldham | Away | September 27, 1966 | Lancashire Cup |
| Oldham v Barrow | Home | October 4, 1966 | BBC |
| Liverpool City v Oldham | Away | October 8, 1966 | League Championship |
| Leeds v Oldham | Away | November 5, 1966 | League Championship |
| Oldham v Liverpool City | Home | November 11, 1966 | League Championship |
| Warrington v Oldham | Away | November 18, 1966 | League Championship |
| Widnes v Oldham | Away | November 22, 1966 | BBC |
| Oldham v Leeds | Home | November 25, 1966 | League Championship |
| Workington Town v Oldham | Away | December 3, 1966 | League Championship |
| Oldham v Barrow | Home | December 10, 1966 | League Championship |
| Leigh v Oldham | Away | December 14, 1966 | League Championship |
| Huddersfield v Oldham | Away | December 24, 1966 | League Championship |
| Rochdale Hornets v Oldham | Away | December 27, 1966 | League Championship |
| Barrow v Oldham | Away | January 14, 1967 | League Championship |
| Oldham v Salford | Home | January 21, 1967 | League Championship |
| St Helens v Oldham | Away | January 27, 1967 | League Championship |
| Huddersfield v Oldham | Away | February 4, 1967 | Rugby League Challenge Cup |
| Oldham v Workington Town | Home | February 11, 1967 | League Championship |
| Oldham v St Helens | Home | February 17, 1967 | League Championship |
| Oldham v Leeds | Home | February 25, 1967 | Rugby League Challenge Cup |
| Widnes v Oldham | Away | March 3, 1967 | League Championship |
| Oldham v Huddersfield | Home | March 11, 1967 | League Championship |
| Wigan v Oldham | Away | March 18, 1967 | League Championship |
| Swinton v Oldham | Away | March 24, 1967 | League Championship |
| Oldham v Widnes | Home | March 25, 1967 | League Championship |
| Oldham v Halifax | Home | March 27, 1967 | League Championship |