Frank Foster
Profile
Frank Foster came to Oldham from Barrow in January 1972 and immediately transformed the playing fortunes of the club.
Already a veteran, having previously played for Workington, Hull K.R. and Bradford, he came to Oldham when the club were struggling, having won only six and drawn one of the 21 league matches played in the 1971-72 season. After Frank arrived, the club lost just one more league game out of thirteen and that was in the very last minute at Warrington.
A ball playing prop forward, who had won Cumberland county and full international honours, he had the knack of committing several defenders to the tackle and then releasing the ball from almost impossible situations. Also possessing a tremendous field kicking game, he was an awesome all- round talent who led from the front with never a backward step. Frank was that strange enigma of being as tricky and skilful as any half back, while remaining the toughest and most uncompromising of prop forwards and a good goal kicker to boot. More the pity that the club only had a year and a half of service out of Frank before he retired at the end of the 1972-73 season. In over 35 years of watching the club, I would say that no player has ever made the same immediate and positive impression on the club as did Frank Foster.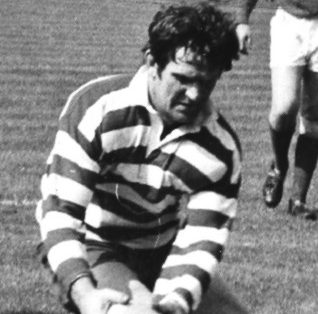 Career Games
| | | | |
| --- | --- | --- | --- |
| Whitehaven v Oldham | Away | January 15, 1972 | League Championship |
| Featherstone Rovers v Oldham | Away | January 22, 1972 | League Championship |
| Oldham v St Helens | Home | January 29, 1972 | Rugby League Challenge Cup |
| Oldham v Bramley | Home | February 5, 1972 | League Championship |
| Warrington v Oldham | Away | February 12, 1972 | League Championship |
| Blackpool Borough v Oldham | Away | February 26, 1972 | League Championship |
| Oldham v Doncaster | Home | March 4, 1972 | League Championship |
| Oldham v York | Home | March 11, 1972 | League Championship |
| Doncaster v Oldham | Away | March 18, 1972 | League Championship |
| Rochdale Hornets v Oldham | Away | March 22, 1972 | League Championship |
| Oldham v Whitehaven | Home | March 25, 1972 | League Championship |
| Oldham v Warrington | Home | April 5, 1972 | League Championship |
| Bramley v Oldham | Away | April 10, 1972 | League Championship |
| Huyton v Oldham | Away | April 13, 1972 | League Championship |
| Wigan v Oldham | Away | April 22, 1972 | League Championship |
| Oldham v Rochdale Hornets | Home | August 12, 1972 | Law Cup |
| Huddersfield v Oldham | Away | August 19, 1972 | League Championship |
| Oldham v Whitehaven | Home | August 23, 1972 | League Championship |
| Oldham v Workington Town | Home | August 26, 1972 | League Championship |
| York v Oldham | Away | August 28, 1972 | League Championship |
| Salford v Oldham | Away | September 1, 1972 | Lancashire Cup |
| Oldham v Hull FC | Home | September 10, 1972 | League Championship |
| Huyton v Oldham | Away | September 17, 1972 | League Championship |
| Hull FC v Oldham | Away | September 24, 1972 | Players No.6 Cup |
| Oldham v Great Britain | Home | October 18, 1972 | Friendly |
| Oldham v Widnes | Home | October 21, 1972 | League Championship |
| Oldham v Huddersfield | Home | November 4, 1972 | League Championship |
| Oldham v Castleford | Home | November 7, 1972 | BBC |
| Oldham v Huyton | Home | November 12, 1972 | League Championship |
| Hull FC v Oldham | Away | November 17, 1972 | League Championship |
| Oldham v Wigan | Home | November 25, 1972 | League Championship |
| St Helens v Oldham | Away | December 1, 1972 | League Championship |
| Leigh v Oldham | Away | December 5, 1972 | BBC |
| Oldham v Salford | Home | December 13, 1972 | League Championship |
| Dewsbury v Oldham | Away | December 17, 1972 | League Championship |
| Oldham v Leigh | Home | December 24, 1972 | League Championship |
| Rochdale Hornets v Oldham | Away | December 26, 1972 | League Championship |
| Oldham v Blackpool Borough | Home | February 11, 1973 | League Championship |
| Hull FC v Oldham | Away | February 17, 1973 | Rugby League Challenge Cup |
| Widnes v Oldham | Away | February 25, 1973 | League Championship |
| Castleford v Oldham | Away | March 3, 1973 | Rugby League Challenge Cup |
| Oldham v Barrow | Home | March 11, 1973 | League Championship |
| Blackpool Borough v Oldham | Away | March 18, 1973 | League Championship |
| Oldham v Warrington | Home | March 21, 1973 | League Championship |
| Oldham v Swinton | Home | April 8, 1973 | League Championship |
| Salford v Oldham | Away | April 13, 1973 | League Championship |
| Swinton v Oldham | Away | April 21, 1973 | League Championship |
| Oldham v Rochdale Hornets | Home | April 23, 1973 | League Championship |
| Dewsbury v Oldham | Away | April 29, 1973 | League Championship |