Tom Llewellyn
Profile
Welshman, Tom Llewellyn was a centre threequarter who first "came North", to play for the Leeds club from whom Oldham acquired his services for the start of the 1907-08 season. Born in the village of Whitchurch near Cardiff, he played for the local team before moving on to first Treherbert and then Cardiff.
During his brief career at Watersheddings, Tom left his mark on the history of the Northern Union. First of all by being the first captain of a Welsh team under the 13-a-side code, when leading his country to a 9 – 8 victory against the New Zealand "All Golds" on New Years Day 1908 at Aberdare. This warranted his selection for the full Great Britain team and he became the first player to score a try in a "test" rated international in the inaugural test match against those same New Zealand tourists on January 25th at Leeds.
However, it would be as a provider rather than a scorer of tries that he will be best remembered. His well timed deliveries to the wing were best demonstrated in the Championship winning campaign of 1909-10, when George Smith benefited from Llewellyn's skills to the tune of 37 touchdowns. Tom also picked up a Lancashire Cup winners medal, scoring a try in the victory over Broughton Rangers as Oldham took the trophy for the first time in 1907.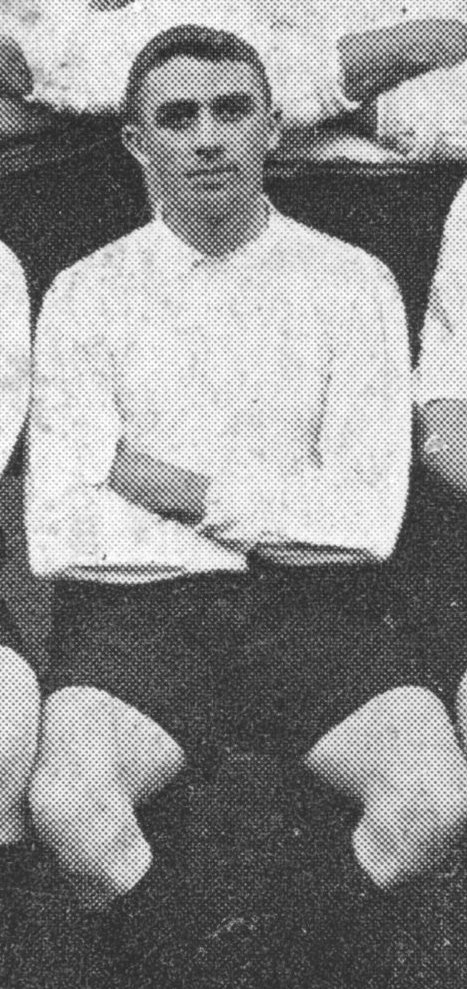 Career Games
| | | | |
| --- | --- | --- | --- |
| Merthyr Tydfil v Oldham | Away | September 7, 1907 | League Championship |
| Oldham v Wigan | Home | September 14, 1907 | League Championship |
| Oldham v Ebbw Vale | Home | September 21, 1907 | League Championship |
| Huddersfield v Oldham | Away | September 23, 1907 | League Championship |
| Rochdale Hornets v Oldham | Away | September 28, 1907 | League Championship |
| Warrington v Oldham | Away | October 5, 1907 | League Championship |
| Oldham v Barrow | Home | October 12, 1907 | Lancashire Cup |
| Oldham v Leigh | Home | October 19, 1907 | League Championship |
| Oldham v Swinton | Home | October 26, 1907 | Lancashire Cup |
| Oldham v Runcorn | Home | November 2, 1907 | League Championship |
| Oldham v St Helens | Home | November 9, 1907 | League Championship |
| Salford v Oldham | Away | November 16, 1907 | Lancashire Cup |
| Oldham v New Zealand | Home | November 23, 1907 | Tour Match |
| Broughton Rangers v Oldham | Neutral | November 30, 1907 | Lancashire Cup |
| Broughton Rangers v Oldham | Away | December 7, 1907 | League Championship |
| Halifax v Oldham | Away | December 9, 1907 | League Championship |
| Oldham v Warrington | Home | December 14, 1907 | League Championship |
| Oldham v Salford | Home | December 21, 1907 | League Championship |
| Oldham v Huddersfield | Home | December 25, 1907 | League Championship |
| Swinton v Oldham | Away | December 26, 1907 | League Championship |
| Oldham v Swinton | Home | December 28, 1907 | League Championship |
| Oldham v Halifax | Home | January 4, 1908 | League Championship |
| Oldham v Widnes | Home | January 11, 1908 | League Championship |
| Barrow v Oldham | Away | January 18, 1908 | League Championship |
| Oldham v Broughton Rangers | Home | February 1, 1908 | League Championship |
| Oldham v Rochdale Hornets | Home | February 15, 1908 | League Championship |
| Wigan v Oldham | Away | February 19, 1908 | League Championship |
| Salford v Oldham | Away | February 22, 1908 | League Championship |
| Dewsbury v Oldham | Away | February 29, 1908 | Rugby League Challenge Cup |
| Hunslet v Oldham | Away | March 14, 1908 | Rugby League Challenge Cup |
| Oldham v Barrow | Home | April 4, 1908 | League Championship |
| Widnes v Oldham | Away | April 11, 1908 | League Championship |
| Oldham v Wigan | Home | April 18, 1908 | League Championship |
| Hunslet v Oldham | Neutral | May 2, 1908 | League Championship |
| Hunslet v Oldham | Neutral | May 9, 1908 | League Championship |
| St Helens v Oldham | Away | September 5, 1908 | League Championship |
| Oldham v Salford | Home | September 12, 1908 | League Championship |
| Widnes v Oldham | Away | September 19, 1908 | League Championship |
| Oldham v Swinton | Home | September 26, 1908 | League Championship |
| Rochdale Hornets v Oldham | Away | October 3, 1908 | League Championship |
| Oldham v Leigh | Home | October 10, 1908 | League Championship |
| Hull Kingston Rovers v Oldham | Away | October 17, 1908 | League Championship |
| Oldham v Barrow | Home | October 24, 1908 | League Championship |
| Barry v Oldham | Away | October 31, 1908 | League Championship |
| Oldham v Salford | Home | November 7, 1908 | Lancashire Cup |
| Broughton Rangers v Oldham | Away | November 14, 1908 | League Championship |
| Oldham v Rochdale Hornets | Home | November 21, 1908 | Lancashire Cup |
| Warrington v Oldham | Away | November 23, 1908 | League Championship |
| Oldham v Broughton Rangers | Home | November 28, 1908 | League Championship |
| Oldham v Runcorn | Home | December 5, 1908 | Lancashire Cup |
| Leigh v Oldham | Away | December 9, 1908 | League Championship |
| Oldham v Hunslet | Home | December 12, 1908 | League Championship |
| Wigan v Oldham | Neutral | December 19, 1908 | Lancashire Cup |
| Oldham v Hull Kingston Rovers | Home | December 25, 1908 | League Championship |
| Oldham v Australia | Home | December 26, 1908 | Tour Match |
| Oldham v Barry | Home | January 1, 1909 | League Championship |
| Oldham v Leeds | Home | January 2, 1909 | League Championship |
| Swinton v Oldham | Away | January 4, 1909 | League Championship |
| Runcorn v Oldham | Away | January 9, 1909 | League Championship |
| Oldham v Halifax | Home | January 16, 1909 | League Championship |
| Oldham v Rochdale Hornets | Home | January 23, 1909 | League Championship |
| Wigan v Oldham | Away | January 30, 1909 | League Championship |
| Oldham v Widnes | Home | February 6, 1909 | League Championship |
| Halifax v Oldham | Away | February 13, 1909 | League Championship |
| Oldham v Warrington | Home | February 20, 1909 | League Championship |
| Oldham v Hull Kingston Rovers | Home | February 27, 1909 | Rugby League Challenge Cup |
| Oldham v Wigan | Home | March 20, 1909 | League Championship |
| Hunslet v Oldham | Away | March 22, 1909 | League Championship |
| Oldham v Hull FC | Home | March 27, 1909 | Rugby League Challenge Cup |
| Oldham v Runcorn | Home | April 3, 1909 | League Championship |
| Leeds v Oldham | Away | April 10, 1909 | League Championship |
| Salford v Oldham | Away | April 12, 1909 | League Championship |
| Halifax v Oldham | Away | April 17, 1909 | League Championship |
| Oldham v Halifax | Home | April 21, 1909 | League Championship |
| Wigan v Oldham | Neutral | May 1, 1909 | League Championship |
| Hull Kingston Rovers v Oldham | Away | September 4, 1909 | League Championship |
| Salford v Oldham | Away | September 11, 1909 | League Championship |
| Oldham v Halifax | Home | September 18, 1909 | League Championship |
| Oldham v Wigan | Home | September 25, 1909 | League Championship |
| Treherbert v Oldham | Away | October 2, 1909 | League Championship |
| Ebbw Vale v Oldham | Away | October 4, 1909 | League Championship |
| Oldham v Runcorn | Home | October 9, 1909 | League Championship |
| Rochdale Hornets v Oldham | Away | October 16, 1909 | Lancashire Cup |
| Oldham v Hull FC | Home | October 23, 1909 | League Championship |
| Runcorn v Oldham | Away | October 30, 1909 | Lancashire Cup |
| Oldham v Warrington | Home | November 6, 1909 | League Championship |
| Widnes v Oldham | Away | November 13, 1909 | League Championship |
| Oldham v Swinton | Home | November 20, 1909 | League Championship |
| St Helens v Oldham | Away | November 27, 1909 | League Championship |
| Oldham v Leeds | Home | December 4, 1909 | League Championship |
| Huddersfield v Oldham | Neutral | December 13, 1909 | Friendly |
| Oldham v St Helens | Home | December 18, 1909 | League Championship |
| Oldham v Hull Kingston Rovers | Home | December 25, 1909 | League Championship |
| Hull FC v Oldham | Away | January 1, 1910 | League Championship |
| Oldham v Ebbw Vale | Home | January 3, 1910 | League Championship |
| Broughton Rangers v Oldham | Away | January 4, 1910 | League Championship |
| Wigan v Oldham | Away | January 8, 1910 | League Championship |
| Runcorn v Oldham | Away | January 15, 1910 | League Championship |
| Oldham v Rochdale Hornets | Home | January 22, 1910 | League Championship |
| Oldham v Broughton Rangers | Home | February 12, 1910 | League Championship |
| Leeds v Oldham | Away | February 19, 1910 | League Championship |
| Huddersfield v Oldham | Away | February 26, 1910 | Rugby League Challenge Cup |
| Oldham v Salford | Home | March 5, 1910 | League Championship |
| Halifax v Oldham | Away | March 28, 1910 | League Championship |
| Rochdale Hornets v Oldham | Away | April 2, 1910 | League Championship |
| Warrington v Oldham | Away | April 4, 1910 | League Championship |
| Oldham v Treherbert | Home | April 9, 1910 | League Championship |
| Oldham v Wakefield Trinity | Home | April 16, 1910 | League Championship |
| Coventry v Oldham | Away | March 23, 1911 | League Championship |
| Swinton v Oldham | Away | April 1, 1911 | League Championship |
| Oldham v Leeds | Home | April 8, 1911 | League Championship |
| Broughton Rangers v Oldham | Away | April 17, 1911 | League Championship |
| Wigan v Oldham | Neutral | April 19, 1911 | League Championship |
| Leigh v Oldham | Away | September 9, 1911 | League Championship |
| Bradford Northern v Oldham | Away | September 12, 1911 | League Championship |
| Oldham v Leeds | Home | September 16, 1911 | League Championship |
| Huddersfield v Oldham | Away | September 23, 1911 | League Championship |
| Barrow v Oldham | Away | October 21, 1911 | Lancashire Cup |
| Oldham v Leigh | Home | November 4, 1911 | Lancashire Cup |
| Wigan v Oldham | Away | November 18, 1911 | Lancashire Cup |
| Oldham v Widnes | Home | November 25, 1911 | League Championship |
| Rochdale Hornets v Oldham | Neutral | December 2, 1911 | Lancashire Cup |
| St Helens v Oldham | Away | December 7, 1911 | League Championship |
| Oldham v Bradford Northern | Home | December 26, 1911 | League Championship |
| Oldham v Broughton Rangers | Home | January 1, 1917 | Wartime Friendly |