William Longworth
Profile
Billy Longworth was a local man who first played with Central Rangers and Glodwick J uniors before joining the Chadderton (formerly Werneth) club. He came to the notice of the Oldham officials and signed for the club in 1905, making his senior debut at Wigan on April 15th of that year.
A tall forward, he became a first team regular in the 1906-07 season. This was the first after the reduction of players to thirteen-a-side and suited the style of the strong, straight running, Longworth.
He was selected for Lancashire county and won a call up for the full international side to represent his country in the first ever series against the Australians in 1908-09. Along with Oldham team mates Arthur Smith and George Tyson, he helped the "Lions" to success, playing in all three tests. The "Ashes" were secured by way of two wins and a draw. Billy further punished the Aussies by scoring a try in the 11 5 defeat suffered by the first "Kangaroos" in the game against Oldham.
Billy left to join Halifax in August 1913, but returned to play along with many of his old colleagues for Oldham "Past" against the "Present" team in a special charity match on January 3rd 1916.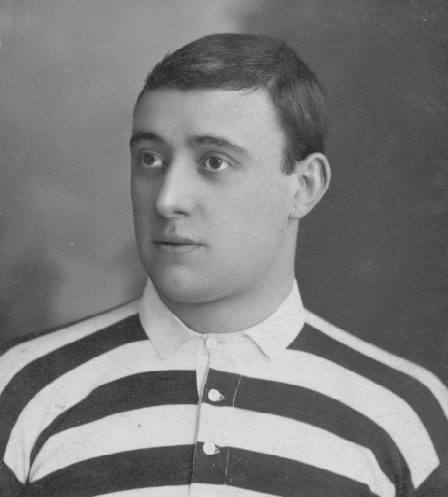 Career Games
| | | | |
| --- | --- | --- | --- |
| Wigan v Oldham | Away | April 15, 1905 | Division 1 |
| Morecambe v Oldham | Away | September 2, 1905 | RL Championship |
| Warrington v Oldham | Away | September 9, 1905 | RL Championship |
| Oldham v Wigan | Home | September 16, 1905 | RL Championship |
| Oldham v Barrow | Home | September 23, 1905 | RL Championship |
| Rochdale Hornets v Oldham | Away | September 30, 1905 | RL Championship |
| Oldham v Morecambe | Home | October 7, 1905 | RL Championship |
| Oldham v Widnes | Home | November 4, 1905 | RL Championship |
| Swinton v Oldham | Away | December 16, 1905 | RL Championship |
| Oldham v Leeds | Home | December 23, 1905 | RL Championship |
| Oldham v Rochdale Hornets | Home | December 25, 1905 | RL Championship |
| Leeds v Oldham | Away | December 30, 1905 | RL Championship |
| Oldham v Hull FC | Home | January 1, 1906 | RL Championship |
| Oldham v Runcorn | Home | January 2, 1906 | RL Championship |
| Oldham v Swinton | Home | January 6, 1906 | RL Championship |
| Oldham v Leigh | Home | January 13, 1906 | RL Championship |
| Broughton Rangers v Oldham | Away | January 20, 1906 | RL Championship |
| Oldham v St Helens | Home | January 27, 1906 | RL Championship |
| Hull Kingston Rovers v Oldham | Away | February 3, 1906 | RL Championship |
| Oldham v Runcorn | Home | September 1, 1906 | League Championship |
| Oldham v Wigan | Home | September 8, 1906 | League Championship |
| Oldham v Hull Kingston Rovers | Home | September 15, 1906 | League Championship |
| Swinton v Oldham | Away | September 22, 1906 | League Championship |
| Huddersfield v Oldham | Away | September 24, 1906 | League Championship |
| Oldham v Huddersfield | Home | October 6, 1906 | League Championship |
| Hunslet v Oldham | Away | October 20, 1906 | League Championship |
| Oldham v Leigh | Home | November 3, 1906 | League Championship |
| Oldham v Salford | Home | December 3, 1906 | League Championship |
| Oldham v Broughton Rangers | Home | December 8, 1906 | League Championship |
| Oldham v Leeds | Home | December 15, 1906 | League Championship |
| Bradford v Oldham | Away | December 18, 1906 | League Championship |
| Rochdale Hornets v Oldham | Away | December 22, 1906 | League Championship |
| Oldham v Swinton | Home | December 25, 1906 | League Championship |
| Runcorn v Oldham | Away | December 26, 1906 | League Championship |
| Oldham v Hunslet | Home | December 29, 1906 | League Championship |
| Oldham v Barrow | Home | January 1, 1907 | League Championship |
| Leeds v Oldham | Away | January 5, 1907 | League Championship |
| Salford v Oldham | Away | January 12, 1907 | League Championship |
| Oldham v Hull FC | Home | January 19, 1907 | League Championship |
| Oldham v Warrington | Home | February 4, 1907 | League Championship |
| Hull Kingston Rovers v Oldham | Away | February 9, 1907 | League Championship |
| Warrington v Oldham | Away | February 16, 1907 | League Championship |
| Oldham v Wakefield Trinity | Home | February 23, 1907 | League Championship |
| Oldham v Halifax | Home | March 9, 1907 | League Championship |
| Wakefield Trinity v Oldham | Away | March 11, 1907 | League Championship |
| Oldham v Runcorn | Home | March 16, 1907 | Rugby League Challenge Cup |
| Halifax v Oldham | Away | March 23, 1907 | Rugby League Challenge Cup |
| Leigh v Oldham | Away | March 27, 1907 | League Championship |
| Wakefield Trinity v Oldham | Away | March 30, 1907 | Rugby League Challenge Cup |
| Halifax v Oldham | Neutral | April 20, 1907 | League Championship |
| Merthyr Tydfil v Oldham | Away | September 7, 1907 | League Championship |
| Rochdale Hornets v Oldham | Away | September 28, 1907 | League Championship |
| Warrington v Oldham | Away | October 5, 1907 | League Championship |
| Oldham v Barrow | Home | October 12, 1907 | Lancashire Cup |
| Oldham v Leigh | Home | October 19, 1907 | League Championship |
| Oldham v Swinton | Home | October 26, 1907 | Lancashire Cup |
| Oldham v Runcorn | Home | November 2, 1907 | League Championship |
| Oldham v St Helens | Home | November 9, 1907 | League Championship |
| Salford v Oldham | Away | November 16, 1907 | Lancashire Cup |
| Oldham v New Zealand | Home | November 23, 1907 | Tour Match |
| Broughton Rangers v Oldham | Neutral | November 30, 1907 | Lancashire Cup |
| Broughton Rangers v Oldham | Away | December 7, 1907 | League Championship |
| Halifax v Oldham | Away | December 9, 1907 | League Championship |
| Oldham v Warrington | Home | December 14, 1907 | League Championship |
| Oldham v Salford | Home | December 21, 1907 | League Championship |
| Oldham v Huddersfield | Home | December 25, 1907 | League Championship |
| Swinton v Oldham | Away | December 26, 1907 | League Championship |
| Oldham v Swinton | Home | December 28, 1907 | League Championship |
| Leeds v Oldham | Away | January 1, 1908 | League Championship |
| Oldham v Halifax | Home | January 4, 1908 | League Championship |
| Oldham v Widnes | Home | January 11, 1908 | League Championship |
| Barrow v Oldham | Away | January 18, 1908 | League Championship |
| Oldham v Merthyr Tydfil | Home | January 25, 1908 | League Championship |
| Oldham v Broughton Rangers | Home | February 1, 1908 | League Championship |
| Leigh v Oldham | Away | February 8, 1908 | League Championship |
| Oldham v Rochdale Hornets | Home | February 15, 1908 | League Championship |
| Wigan v Oldham | Away | February 19, 1908 | League Championship |
| Salford v Oldham | Away | February 22, 1908 | League Championship |
| Dewsbury v Oldham | Away | February 29, 1908 | Rugby League Challenge Cup |
| Hunslet v Oldham | Away | March 14, 1908 | Rugby League Challenge Cup |
| St Helens v Oldham | Away | March 21, 1908 | League Championship |
| Ebbw Vale v Oldham | Away | March 25, 1908 | League Championship |
| Runcorn v Oldham | Away | March 28, 1908 | League Championship |
| Oldham v Barrow | Home | April 4, 1908 | League Championship |
| Widnes v Oldham | Away | April 11, 1908 | League Championship |
| Oldham v Wigan | Home | April 18, 1908 | League Championship |
| Oldham v Oldham Past | Home | April 20, 1908 | Friendly |
| Hunslet v Oldham | Neutral | May 2, 1908 | League Championship |
| Hunslet v Oldham | Neutral | May 9, 1908 | League Championship |
| St Helens v Oldham | Away | September 5, 1908 | League Championship |
| Oldham v Salford | Home | September 12, 1908 | League Championship |
| Widnes v Oldham | Away | September 19, 1908 | League Championship |
| Oldham v Swinton | Home | September 26, 1908 | League Championship |
| Oldham v Leigh | Home | October 10, 1908 | League Championship |
| Hull Kingston Rovers v Oldham | Away | October 17, 1908 | League Championship |
| Oldham v Barrow | Home | October 24, 1908 | League Championship |
| Oldham v Salford | Home | November 7, 1908 | Lancashire Cup |
| Broughton Rangers v Oldham | Away | November 14, 1908 | League Championship |
| Oldham v Rochdale Hornets | Home | November 21, 1908 | Lancashire Cup |
| Warrington v Oldham | Away | November 23, 1908 | League Championship |
| Oldham v Broughton Rangers | Home | November 28, 1908 | League Championship |
| Oldham v Runcorn | Home | December 5, 1908 | Lancashire Cup |
| Leigh v Oldham | Away | December 9, 1908 | League Championship |
| Wigan v Oldham | Neutral | December 19, 1908 | Lancashire Cup |
| Oldham v Australia | Home | December 26, 1908 | Tour Match |
| Swinton v Oldham | Away | January 4, 1909 | League Championship |
| Runcorn v Oldham | Away | January 9, 1909 | League Championship |
| Oldham v Halifax | Home | January 16, 1909 | League Championship |
| Wigan v Oldham | Away | January 30, 1909 | League Championship |
| Halifax v Oldham | Away | February 13, 1909 | League Championship |
| Oldham v Warrington | Home | February 20, 1909 | League Championship |
| Oldham v Hull Kingston Rovers | Home | February 27, 1909 | Rugby League Challenge Cup |
| Oldham v St Helens | Home | March 6, 1909 | League Championship |
| Swinton v Oldham | Away | March 13, 1909 | Rugby League Challenge Cup |
| Oldham v Swinton | Home | March 16, 1909 | Rugby League Challenge Cup |
| Oldham v Wigan | Home | March 20, 1909 | League Championship |
| Hunslet v Oldham | Away | March 22, 1909 | League Championship |
| Oldham v Hull FC | Home | March 27, 1909 | Rugby League Challenge Cup |
| Barrow v Oldham | Away | April 1, 1909 | League Championship |
| Oldham v Swinton | Home | November 20, 1909 | League Championship |
| Oldham v Barrow | Home | December 27, 1909 | League Championship |
| Oldham v Ebbw Vale | Home | January 3, 1910 | League Championship |
| Broughton Rangers v Oldham | Away | January 4, 1910 | League Championship |
| Wigan v Oldham | Away | January 8, 1910 | League Championship |
| Oldham v Leigh | Home | January 29, 1910 | League Championship |
| Barrow v Oldham | Away | March 12, 1910 | League Championship |
| St Helens v Oldham | Away | September 3, 1910 | League Championship |
| Coventry v Oldham | Away | March 23, 1911 | League Championship |
| Wigan v Oldham | Neutral | April 19, 1911 | League Championship |
| Oldham v Rochdale Hornets | Home | September 30, 1911 | League Championship |
| Broughton Rangers v Oldham | Away | October 7, 1911 | League Championship |
| Wigan v Oldham | Away | December 16, 1911 | League Championship |
| Coventry v Oldham | Away | April 8, 1912 | League Championship |
| Oldham v Dewsbury | Home | September 7, 1912 | League Championship |
| Hull Kingston Rovers v Oldham | Away | September 14, 1912 | League Championship |
| Leeds v Oldham | Away | September 21, 1912 | League Championship |
| Runcorn v Oldham | Away | October 19, 1912 | Lancashire Cup |
| Oldham v Wigan | Home | October 26, 1912 | League Championship |
| Wigan v Oldham | Away | November 2, 1912 | Lancashire Cup |
| Oldham v Hull Kingston Rovers | Home | December 25, 1912 | League Championship |
| Broughton Rangers v Oldham | Away | December 28, 1912 | League Championship |
| Oldham v Halifax | Home | January 4, 1913 | League Championship |
| Oldham v Widnes | Home | January 18, 1913 | League Championship |
| Huddersfield v Oldham | Away | January 25, 1913 | League Championship |
| Oldham v Rochdale Hornets | Home | February 1, 1913 | League Championship |
| Oldham v Leeds | Home | February 8, 1913 | League Championship |
| Widnes v Oldham | Away | February 15, 1913 | League Championship |
| Oldham v Oldham Present | Home | January 3, 1916 | Special Friendly |