Abe Johnson
Profile
Abe Johnson joined Oldham from Leigh in December, 1925. Most of his games for Oldham were on the wing, but he was equally at home in the centre and occasionally played at stand off.
It was while playing on the right wing that he set the club record for points scored in a match. This game was played at Watersheddings on Easter Monday (April 9th), 1928 and Widnes were on the end of a 60 – 5 thrashing. Abe chipped in with two tries and twelve goals. He would finish the season at the top of the Oldham list for tries and goals, with 19 & 70 respectively and is one of only three players ever to achieve this feat. The others were Reg Farrar in 1921-22 and Tommy Martyn, seventy years later.
Abe played in the 1927 Challenge Cup Final against Swinton at Wigan kicking two goals in the 26 – 7 victory. He was transferred to Halifax just before the Cup deadline in 1930.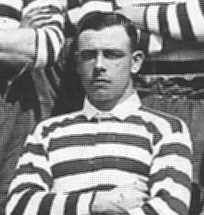 Career Games
| | | | |
| --- | --- | --- | --- |
| Warrington v Oldham | Away | December 12, 1925 | League Championship |
| Oldham v Leigh | Home | December 19, 1925 | League Championship |
| Oldham v Swinton | Home | December 25, 1925 | League Championship |
| Barrow v Oldham | Away | December 26, 1925 | League Championship |
| Oldham v Hull FC | Home | January 1, 1926 | League Championship |
| Oldham v St Helens | Home | January 2, 1926 | League Championship |
| Widnes v Oldham | Away | January 9, 1926 | League Championship |
| Oldham v Broughton Rangers | Home | January 23, 1926 | League Championship |
| Rochdale Hornets v Oldham | Away | January 30, 1926 | League Championship |
| Leigh v Oldham | Away | February 13, 1926 | Rugby League Challenge Cup |
| Huddersfield v Oldham | Away | February 20, 1926 | League Championship |
| Oldham v Rochdale Hornets | Home | February 27, 1926 | Rugby League Challenge Cup |
| Hunslet v Oldham | Away | March 6, 1926 | League Championship |
| Oldham v Halifax | Home | March 13, 1926 | Rugby League Challenge Cup |
| Wigan Highfield v Oldham | Away | March 17, 1926 | League Championship |
| Wigan v Oldham | Away | March 20, 1926 | League Championship |
| Wigan Highfield v Oldham | Neutral | March 27, 1926 | Rugby League Challenge Cup |
| Oldham v Barrow | Home | April 3, 1926 | League Championship |
| Oldham v Huddersfield | Home | April 5, 1926 | League Championship |
| Oldham v Rochdale Hornets | Home | August 21, 1926 | Infirmary Cup |
| Oldham v Leeds | Home | August 28, 1926 | League Championship |
| Pontypridd v Oldham | Away | September 4, 1926 | League Championship |
| Oldham v Wakefield Trinity | Home | September 6, 1926 | League Championship |
| Oldham v Widnes | Home | September 18, 1926 | League Championship |
| Oldham v Huddersfield | Home | September 20, 1926 | League Championship |
| St Helens Recs v Oldham | Away | September 25, 1926 | League Championship |
| Oldham v Barrow | Home | October 2, 1926 | League Championship |
| Oldham v Salford | Home | October 9, 1926 | Lancashire Cup |
| Warrington v Oldham | Away | October 30, 1926 | League Championship |
| Oldham v York | Home | November 6, 1926 | League Championship |
| Barrow v Oldham | Away | November 13, 1926 | League Championship |
| Oldham v St Helens | Home | December 4, 1926 | League Championship |
| Wakefield Trinity v Oldham | Away | December 11, 1926 | League Championship |
| Oldham v Batley | Home | December 18, 1926 | League Championship |
| Oldham v Swinton | Home | December 25, 1926 | League Championship |
| Hull FC v Oldham | Away | December 27, 1926 | League Championship |
| Oldham v Wigan Highfield | Home | January 1, 1927 | League Championship |
| Oldham v Hull FC | Home | January 3, 1927 | League Championship |
| Leigh v Oldham | Away | January 8, 1927 | League Championship |
| Salford v Oldham | Away | January 15, 1927 | League Championship |
| Wigan Highfield v Oldham | Away | January 29, 1927 | League Championship |
| Leeds v Oldham | Away | February 5, 1927 | League Championship |
| Oldham v Salford | Home | February 12, 1927 | Rugby League Challenge Cup |
| York v Oldham | Away | February 19, 1927 | League Championship |
| Hunslet v Oldham | Away | February 26, 1927 | Rugby League Challenge Cup |
| Oldham v Broughton Rangers | Home | March 5, 1927 | League Championship |
| Leeds v Oldham | Away | March 12, 1927 | Rugby League Challenge Cup |
| St Helens v Oldham | Away | March 16, 1927 | League Championship |
| Oldham v Wigan | Home | March 19, 1927 | League Championship |
| Oldham v Salford | Home | March 21, 1927 | League Championship |
| Batley v Oldham | Away | March 26, 1927 | League Championship |
| Wakefield Trinity v Oldham | Neutral | April 2, 1927 | Rugby League Challenge Cup |
| Wigan v Oldham | Away | April 9, 1927 | League Championship |
| Oldham v St Helens Recs | Home | April 11, 1927 | League Championship |
| Swinton v Oldham | Away | April 15, 1927 | League Championship |
| Oldham v Rochdale Hornets | Home | April 16, 1927 | League Championship |
| Huddersfield v Oldham | Away | April 18, 1927 | League Championship |
| Oldham v Leigh | Home | April 19, 1927 | League Championship |
| Widnes v Oldham | Away | April 23, 1927 | League Championship |
| Oldham v Warrington | Home | April 30, 1927 | League Championship |
| Swinton v Oldham | Neutral | May 7, 1927 | Rugby League Challenge Cup |
| Salford v Oldham | Away | August 27, 1927 | League Championship |
| Huddersfield v Oldham | Away | August 31, 1927 | League Championship |
| Oldham v Wakefield Trinity | Home | September 3, 1927 | League Championship |
| Rochdale Hornets v Oldham | Away | September 6, 1927 | Infirmary Cup |
| York v Oldham | Away | September 10, 1927 | League Championship |
| Oldham v Huddersfield | Home | September 12, 1927 | League Championship |
| Oldham v Leigh | Home | September 17, 1927 | League Championship |
| Leeds v Oldham | Away | September 24, 1927 | League Championship |
| Wigan Highfield v Oldham | Away | September 28, 1927 | League Championship |
| Oldham v York | Home | October 1, 1927 | League Championship |
| Oldham v Wigan Highfield | Home | October 8, 1927 | Lancashire Cup |
| Wigan v Oldham | Away | October 15, 1927 | League Championship |
| Swinton v Oldham | Away | October 19, 1927 | Lancashire Cup |
| Pontypridd v Oldham | Away | October 22, 1927 | League Championship |
| Oldham v Salford | Home | October 29, 1927 | League Championship |
| St Helens Recs v Oldham | Away | November 5, 1927 | League Championship |
| Oldham v Halifax | Home | November 12, 1927 | League Championship |
| Warrington v Oldham | Away | November 19, 1927 | League Championship |
| Oldham v St Helens | Home | November 26, 1927 | League Championship |
| Wakefield Trinity v Oldham | Away | December 3, 1927 | League Championship |
| Barrow v Oldham | Away | December 24, 1927 | League Championship |
| Leigh v Oldham | Away | December 27, 1927 | League Championship |
| Oldham v Barrow | Home | December 31, 1927 | League Championship |
| Halifax v Oldham | Away | January 7, 1928 | League Championship |
| Oldham v Warrington | Home | January 14, 1928 | League Championship |
| Hull FC v Oldham | Away | January 28, 1928 | League Championship |
| Oldham v St Helens Recs | Home | February 4, 1928 | League Championship |
| Oldham v St Helens | Home | February 11, 1928 | Rugby League Challenge Cup |
| St Helens v Oldham | Away | February 18, 1928 | League Championship |
| Oldham v Broughton Rangers | Home | February 21, 1928 | League Championship |
| Barrow v Oldham | Away | February 25, 1928 | Rugby League Challenge Cup |
| Oldham v Rochdale Hornets | Home | March 3, 1928 | League Championship |
| Leeds v Oldham | Away | March 10, 1928 | Rugby League Challenge Cup |
| Widnes v Oldham | Away | March 17, 1928 | League Championship |
| Oldham v Leeds | Home | March 24, 1928 | League Championship |
| Oldham v Wigan Highfield | Home | March 31, 1928 | League Championship |
| Swinton v Oldham | Away | April 6, 1928 | League Championship |
| Broughton Rangers v Oldham | Away | April 7, 1928 | League Championship |
| Oldham v Widnes | Home | April 9, 1928 | League Championship |
| Hull FC v Oldham | Away | April 14, 1928 | League Championship |
| Rochdale Hornets v Oldham | Away | April 16, 1928 | League Championship |
| Oldham v Wigan | Home | April 23, 1928 | League Championship |
| Oldham v Salford | Home | August 25, 1928 | League Championship |
| Wigan Highfield v Oldham | Away | September 1, 1928 | League Championship |
| Halifax v Oldham | Away | September 3, 1928 | League Championship |
| Oldham v Halifax | Home | September 8, 1928 | League Championship |
| Hull FC v Oldham | Away | September 15, 1928 | League Championship |
| Oldham v Warrington | Home | September 22, 1928 | League Championship |
| Oldham v Featherstone Rovers | Home | September 29, 1928 | League Championship |
| Hunslet v Oldham | Away | October 6, 1928 | League Championship |
| Oldham v Rochdale Hornets | Home | October 13, 1928 | Infirmary Cup |
| Huddersfield v Oldham | Away | October 20, 1928 | League Championship |
| Oldham v Salford | Home | October 24, 1928 | Lancashire Cup |
| Oldham v Leigh | Home | October 27, 1928 | League Championship |
| Barrow v Oldham | Away | November 3, 1928 | League Championship |
| Oldham v Wigan | Home | November 5, 1928 | Lancashire Cup |
| Wigan v Oldham | Away | November 7, 1928 | Lancashire Cup |
| Oldham v Wigan | Home | November 10, 1928 | League Championship |
| Salford v Oldham | Away | November 17, 1928 | League Championship |
| Oldham v Hunslet | Home | November 24, 1928 | League Championship |
| St Helens v Oldham | Away | December 1, 1928 | League Championship |
| Oldham v St Helens | Home | December 8, 1928 | League Championship |
| Wigan v Oldham | Away | December 15, 1928 | League Championship |
| Broughton Rangers v Oldham | Away | December 22, 1928 | League Championship |
| Oldham v Swinton | Home | December 25, 1928 | League Championship |
| Oldham v Widnes | Home | December 29, 1928 | League Championship |
| Leigh v Oldham | Away | January 1, 1929 | League Championship |
| Oldham v Leeds | Home | January 6, 1929 | League Championship |
| Widnes v Oldham | Away | January 19, 1929 | League Championship |
| Oldham v Wigan Highfield | Home | January 26, 1929 | League Championship |
| Rochdale Hornets v Oldham | Away | February 2, 1929 | League Championship |
| Bramley v Oldham | Away | February 9, 1929 | Rugby League Challenge Cup |
| Warrington v Oldham | Away | February 23, 1929 | Rugby League Challenge Cup |
| Oldham v Huddersfield | Home | March 2, 1929 | League Championship |
| Oldham v Hull FC | Home | October 5, 1929 | League Championship |
| Wigan v Oldham | Away | October 12, 1929 | Lancashire Cup |
| Oldham v Wigan | Home | October 19, 1929 | League Championship |
| Oldham v St Helens Recs | Home | October 21, 1929 | Lancashire Cup |
| Hunslet v Oldham | Away | October 26, 1929 | League Championship |
| Oldham v Australia | Home | November 2, 1929 | Tour Match |
| Leigh v Oldham | Away | November 9, 1929 | League Championship |
| Oldham v Warrington | Home | November 11, 1929 | Lancashire Cup |
| Oldham v Wigan Highfield | Home | November 16, 1929 | League Championship |
| Rochdale Hornets v Oldham | Away | November 23, 1929 | Infirmary Cup |
| Oldham v Halifax | Home | November 30, 1929 | League Championship |
| Hull FC v Oldham | Away | December 7, 1929 | League Championship |
| Barrow v Oldham | Away | January 1, 1930 | League Championship |
| Oldham v St Helens | Home | January 4, 1930 | League Championship |
| Warrington v Oldham | Away | January 11, 1930 | League Championship |
| Oldham v Barrow | Home | January 25, 1930 | League Championship |