Jack Read
Profile
Jack Read had represented Gloucestershire at union before signing for Oldham.
He made his debut against Hull on New Years Day 1926, the first of 463 first team matches that include the 1926 and 1927 Challenge Cup finals.
A prop forward with a tireless work rate, Read was selected to play for the British RL X111 in 1936 and is second only to the great Joe Ferguson on Oldham's all-time appearance list.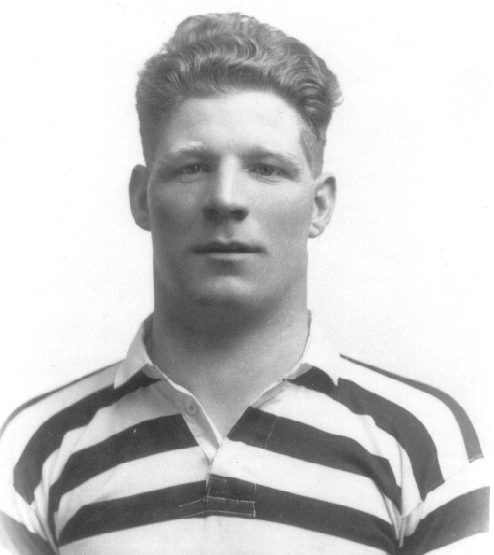 Career Games
| | | | |
| --- | --- | --- | --- |
| Oldham v Hull FC | Home | January 1, 1926 | League Championship |
| Oldham v St Helens | Home | January 2, 1926 | League Championship |
| Widnes v Oldham | Away | January 9, 1926 | League Championship |
| Oldham v Broughton Rangers | Home | January 23, 1926 | League Championship |
| Rochdale Hornets v Oldham | Away | January 30, 1926 | League Championship |
| Oldham v Batley | Home | February 6, 1926 | League Championship |
| Leigh v Oldham | Away | February 13, 1926 | Rugby League Challenge Cup |
| Huddersfield v Oldham | Away | February 20, 1926 | League Championship |
| Oldham v Rochdale Hornets | Home | February 27, 1926 | Rugby League Challenge Cup |
| Hunslet v Oldham | Away | March 6, 1926 | League Championship |
| Oldham v Halifax | Home | March 13, 1926 | Rugby League Challenge Cup |
| Wigan Highfield v Oldham | Away | March 17, 1926 | League Championship |
| Wigan v Oldham | Away | March 20, 1926 | League Championship |
| Wigan Highfield v Oldham | Neutral | March 27, 1926 | Rugby League Challenge Cup |
| Swinton v Oldham | Away | April 2, 1926 | League Championship |
| Oldham v Barrow | Home | April 3, 1926 | League Championship |
| Oldham v Huddersfield | Home | April 5, 1926 | League Championship |
| Oldham v Wigan | Home | April 10, 1926 | League Championship |
| Oldham v St Helens Recs | Home | April 17, 1926 | League Championship |
| Salford v Oldham | Away | April 21, 1926 | League Championship |
| Oldham v Rochdale Hornets | Home | April 24, 1926 | League Championship |
| Swinton v Oldham | Neutral | May 1, 1926 | Rugby League Challenge Cup |
| Oldham v Rochdale Hornets | Home | August 21, 1926 | Infirmary Cup |
| Oldham v Leeds | Home | August 28, 1926 | League Championship |
| Pontypridd v Oldham | Away | September 4, 1926 | League Championship |
| Oldham v Wakefield Trinity | Home | September 6, 1926 | League Championship |
| Broughton Rangers v Oldham | Away | September 11, 1926 | League Championship |
| Oldham v Widnes | Home | September 18, 1926 | League Championship |
| Oldham v Huddersfield | Home | September 20, 1926 | League Championship |
| St Helens Recs v Oldham | Away | September 25, 1926 | League Championship |
| Oldham v Barrow | Home | October 2, 1926 | League Championship |
| Oldham v Salford | Home | October 9, 1926 | Lancashire Cup |
| Rochdale Hornets v Oldham | Away | October 16, 1926 | League Championship |
| Oldham v New Zealand | Home | October 23, 1926 | Tour Match |
| Warrington v Oldham | Away | October 30, 1926 | League Championship |
| Oldham v York | Home | November 6, 1926 | League Championship |
| Barrow v Oldham | Away | November 13, 1926 | League Championship |
| Oldham v St Helens | Home | December 4, 1926 | League Championship |
| Wakefield Trinity v Oldham | Away | December 11, 1926 | League Championship |
| Oldham v Batley | Home | December 18, 1926 | League Championship |
| Oldham v Swinton | Home | December 25, 1926 | League Championship |
| Hull FC v Oldham | Away | December 27, 1926 | League Championship |
| Oldham v Wigan Highfield | Home | January 1, 1927 | League Championship |
| Oldham v Hull FC | Home | January 3, 1927 | League Championship |
| Leigh v Oldham | Away | January 8, 1927 | League Championship |
| Salford v Oldham | Away | January 15, 1927 | League Championship |
| Wigan Highfield v Oldham | Away | January 29, 1927 | League Championship |
| Leeds v Oldham | Away | February 5, 1927 | League Championship |
| Oldham v Salford | Home | February 12, 1927 | Rugby League Challenge Cup |
| York v Oldham | Away | February 19, 1927 | League Championship |
| Hunslet v Oldham | Away | February 26, 1927 | Rugby League Challenge Cup |
| Oldham v Broughton Rangers | Home | March 5, 1927 | League Championship |
| Leeds v Oldham | Away | March 12, 1927 | Rugby League Challenge Cup |
| St Helens v Oldham | Away | March 16, 1927 | League Championship |
| Oldham v Wigan | Home | March 19, 1927 | League Championship |
| Oldham v Salford | Home | March 21, 1927 | League Championship |
| Batley v Oldham | Away | March 26, 1927 | League Championship |
| Wakefield Trinity v Oldham | Neutral | April 2, 1927 | Rugby League Challenge Cup |
| Wigan v Oldham | Away | April 9, 1927 | League Championship |
| Oldham v St Helens Recs | Home | April 11, 1927 | League Championship |
| Swinton v Oldham | Away | April 15, 1927 | League Championship |
| Oldham v Rochdale Hornets | Home | April 16, 1927 | League Championship |
| Huddersfield v Oldham | Away | April 18, 1927 | League Championship |
| Oldham v Leigh | Home | April 19, 1927 | League Championship |
| Widnes v Oldham | Away | April 23, 1927 | League Championship |
| Oldham v Pontypridd | Home | April 25, 1927 | League Championship |
| Oldham v Warrington | Home | April 30, 1927 | League Championship |
| Swinton v Oldham | Neutral | May 7, 1927 | Rugby League Challenge Cup |
| Salford v Oldham | Away | August 27, 1927 | League Championship |
| Huddersfield v Oldham | Away | August 31, 1927 | League Championship |
| Oldham v Wakefield Trinity | Home | September 3, 1927 | League Championship |
| Rochdale Hornets v Oldham | Away | September 6, 1927 | Infirmary Cup |
| York v Oldham | Away | September 10, 1927 | League Championship |
| Oldham v Huddersfield | Home | September 12, 1927 | League Championship |
| Oldham v Leigh | Home | September 17, 1927 | League Championship |
| Leeds v Oldham | Away | September 24, 1927 | League Championship |
| Wigan Highfield v Oldham | Away | September 28, 1927 | League Championship |
| Oldham v Halifax | Home | November 12, 1927 | League Championship |
| Warrington v Oldham | Away | November 19, 1927 | League Championship |
| Oldham v St Helens | Home | November 26, 1927 | League Championship |
| Wakefield Trinity v Oldham | Away | December 3, 1927 | League Championship |
| Oldham v Swinton | Home | December 10, 1927 | League Championship |
| Barrow v Oldham | Away | December 24, 1927 | League Championship |
| Leigh v Oldham | Away | December 27, 1927 | League Championship |
| Oldham v Barrow | Home | December 31, 1927 | League Championship |
| Oldham v Hull FC | Home | January 2, 1928 | League Championship |
| Halifax v Oldham | Away | January 7, 1928 | League Championship |
| Oldham v Warrington | Home | January 14, 1928 | League Championship |
| Hull FC v Oldham | Away | January 28, 1928 | League Championship |
| Oldham v St Helens | Home | February 11, 1928 | Rugby League Challenge Cup |
| St Helens v Oldham | Away | February 18, 1928 | League Championship |
| Oldham v Broughton Rangers | Home | February 21, 1928 | League Championship |
| Barrow v Oldham | Away | February 25, 1928 | Rugby League Challenge Cup |
| Oldham v Rochdale Hornets | Home | March 3, 1928 | League Championship |
| Leeds v Oldham | Away | March 10, 1928 | Rugby League Challenge Cup |
| Widnes v Oldham | Away | March 17, 1928 | League Championship |
| Oldham v Leeds | Home | March 24, 1928 | League Championship |
| Oldham v Wigan Highfield | Home | March 31, 1928 | League Championship |
| Oldham v Widnes | Home | April 9, 1928 | League Championship |
| Hull FC v Oldham | Away | April 14, 1928 | League Championship |
| Rochdale Hornets v Oldham | Away | April 16, 1928 | League Championship |
| Oldham v Wigan | Home | April 23, 1928 | League Championship |
| Oldham v Salford | Home | August 25, 1928 | League Championship |
| Wigan Highfield v Oldham | Away | September 1, 1928 | League Championship |
| Halifax v Oldham | Away | September 3, 1928 | League Championship |
| Oldham v Halifax | Home | September 8, 1928 | League Championship |
| Hull FC v Oldham | Away | September 15, 1928 | League Championship |
| Oldham v Warrington | Home | September 22, 1928 | League Championship |
| Oldham v Featherstone Rovers | Home | September 29, 1928 | League Championship |
| Hunslet v Oldham | Away | October 6, 1928 | League Championship |
| Oldham v Rochdale Hornets | Home | October 13, 1928 | Infirmary Cup |
| Huddersfield v Oldham | Away | October 20, 1928 | League Championship |
| Oldham v Leigh | Home | October 27, 1928 | League Championship |
| Barrow v Oldham | Away | November 3, 1928 | League Championship |
| Oldham v Wigan | Home | November 5, 1928 | Lancashire Cup |
| Wigan v Oldham | Away | November 7, 1928 | Lancashire Cup |
| Oldham v Wigan | Home | November 10, 1928 | League Championship |
| Salford v Oldham | Away | November 17, 1928 | League Championship |
| Oldham v Hunslet | Home | November 24, 1928 | League Championship |
| St Helens v Oldham | Away | December 1, 1928 | League Championship |
| Oldham v St Helens | Home | December 8, 1928 | League Championship |
| Wigan v Oldham | Away | December 15, 1928 | League Championship |
| Broughton Rangers v Oldham | Away | December 22, 1928 | League Championship |
| Oldham v Swinton | Home | December 25, 1928 | League Championship |
| Oldham v Widnes | Home | December 29, 1928 | League Championship |
| Leigh v Oldham | Away | January 1, 1929 | League Championship |
| Oldham v Leeds | Home | January 6, 1929 | League Championship |
| Warrington v Oldham | Away | January 12, 1929 | League Championship |
| Widnes v Oldham | Away | January 19, 1929 | League Championship |
| Oldham v Wigan Highfield | Home | January 26, 1929 | League Championship |
| Rochdale Hornets v Oldham | Away | February 2, 1929 | League Championship |
| Bramley v Oldham | Away | February 9, 1929 | Rugby League Challenge Cup |
| Warrington v Oldham | Away | February 23, 1929 | Rugby League Challenge Cup |
| Oldham v Huddersfield | Home | March 2, 1929 | League Championship |
| Oldham v Hull FC | Home | March 16, 1929 | League Championship |
| Oldham v St Helens Recs | Home | March 23, 1929 | League Championship |
| Swinton v Oldham | Away | March 29, 1929 | League Championship |
| Oldham v Rochdale Hornets | Home | March 30, 1929 | League Championship |
| Leeds v Oldham | Away | April 1, 1929 | League Championship |
| Oldham v Broughton Rangers | Home | April 6, 1929 | League Championship |
| Oldham v Barrow | Home | April 13, 1929 | League Championship |
| St Helens Recs v Oldham | Away | April 22, 1929 | League Championship |
| Oldham v Hunslet | Home | August 31, 1929 | League Championship |
| Huddersfield v Oldham | Away | September 4, 1929 | League Championship |
| Dewsbury v Oldham | Away | September 7, 1929 | League Championship |
| Oldham v Broughton Rangers | Home | September 9, 1929 | League Championship |
| Oldham v Huddersfield | Home | September 14, 1929 | League Championship |
| Widnes v Oldham | Away | September 21, 1929 | League Championship |
| St Helens v Oldham | Away | September 28, 1929 | League Championship |
| Oldham v Hull FC | Home | October 5, 1929 | League Championship |
| Wigan v Oldham | Away | October 12, 1929 | Lancashire Cup |
| Oldham v Wigan | Home | October 19, 1929 | League Championship |
| Oldham v St Helens Recs | Home | October 21, 1929 | Lancashire Cup |
| Hunslet v Oldham | Away | October 26, 1929 | League Championship |
| Oldham v Australia | Home | November 2, 1929 | Tour Match |
| Leigh v Oldham | Away | November 9, 1929 | League Championship |
| Oldham v Warrington | Home | November 11, 1929 | Lancashire Cup |
| Oldham v Wigan Highfield | Home | November 16, 1929 | League Championship |
| Rochdale Hornets v Oldham | Away | November 23, 1929 | Infirmary Cup |
| Oldham v Halifax | Home | November 30, 1929 | League Championship |
| Hull FC v Oldham | Away | December 7, 1929 | League Championship |
| Oldham v Salford | Home | December 14, 1929 | League Championship |
| Wakefield Trinity v Oldham | Away | December 21, 1929 | League Championship |
| Oldham v Swinton | Home | December 25, 1929 | League Championship |
| Rochdale Hornets v Oldham | Away | December 26, 1929 | League Championship |
| Oldham v Widnes | Home | December 28, 1929 | League Championship |
| Barrow v Oldham | Away | January 1, 1930 | League Championship |
| Warrington v Oldham | Away | January 11, 1930 | League Championship |
| Oldham v Leigh | Home | January 18, 1930 | League Championship |
| Oldham v Barrow | Home | January 25, 1930 | League Championship |
| Hunslet v Oldham | Away | February 8, 1930 | Rugby League Challenge Cup |
| Oldham v Rochdale Hornets | Home | February 15, 1930 | League Championship |
| Oldham v Dewsbury | Home | March 1, 1930 | League Championship |
| St Helens Recs v Oldham | Away | March 6, 1930 | League Championship |
| Oldham v Wakefield Trinity | Home | March 15, 1930 | League Championship |
| Halifax v Oldham | Away | March 22, 1930 | League Championship |
| Oldham v Warrington | Home | March 29, 1930 | League Championship |
| Oldham v Leeds | Home | April 12, 1930 | League Championship |
| Swinton v Oldham | Away | April 18, 1930 | League Championship |
| Oldham v St Helens Recs | Home | April 19, 1930 | League Championship |
| Leeds v Oldham | Away | April 21, 1930 | League Championship |
| Wigan v Oldham | Away | April 26, 1930 | League Championship |
| Oldham v Rochdale Hornets | Home | August 25, 1930 | Infirmary Cup |
| Wigan v Oldham | Away | August 30, 1930 | League Championship |
| Oldham v Leigh | Home | September 6, 1930 | League Championship |
| Huddersfield v Oldham | Away | September 10, 1930 | Friendly |
| St Helens Recs v Oldham | Away | September 13, 1930 | League Championship |
| Oldham v Huddersfield | Home | September 15, 1930 | Friendly |
| Oldham v Hull Kingston Rovers | Home | September 20, 1930 | League Championship |
| Oldham v Salford | Home | September 22, 1930 | League Championship |
| Oldham v Barrow | Home | September 27, 1930 | League Championship |
| Rochdale Hornets v Oldham | Away | October 4, 1930 | League Championship |
| Oldham v Salford | Home | October 11, 1930 | Lancashire Cup |
| Hunslet v Oldham | Away | October 18, 1930 | League Championship |
| Rochdale Hornets v Oldham | Away | October 21, 1930 | Lancashire Cup |
| Oldham v Warrington | Home | October 25, 1930 | League Championship |
| Hull Kingston Rovers v Oldham | Away | November 1, 1930 | League Championship |
| St Helens Recs v Oldham | Away | November 6, 1930 | Lancashire Cup |
| Oldham v Bradford Northern | Home | November 8, 1930 | League Championship |
| Halifax v Oldham | Away | November 15, 1930 | League Championship |
| Oldham v Broughton Rangers | Home | November 22, 1930 | League Championship |
| Keighley v Oldham | Away | November 29, 1930 | League Championship |
| Oldham v Wigan | Home | December 8, 1930 | League Championship |
| St Helens v Oldham | Away | December 13, 1930 | League Championship |
| Oldham v Widnes | Home | December 20, 1930 | League Championship |
| Oldham v Swinton | Home | December 25, 1930 | League Championship |
| Wigan Highfield v Oldham | Away | December 26, 1930 | League Championship |
| Oldham v York | Home | December 27, 1930 | League Championship |
| Leigh v Oldham | Away | January 3, 1931 | League Championship |
| Oldham v St Helens Recs | Home | January 17, 1931 | League Championship |
| Hull FC v Oldham | Away | January 24, 1931 | League Championship |
| Oldham v Widnes | Home | February 7, 1931 | Rugby League Challenge Cup |
| Broughton Rangers v Oldham | Away | February 14, 1931 | League Championship |
| Oldham v Hunslet | Home | February 16, 1931 | League Championship |
| Bramley v Oldham | Away | February 21, 1931 | Rugby League Challenge Cup |
| Halifax v Oldham | Away | March 7, 1931 | Rugby League Challenge Cup |
| Oldham v Halifax | Home | March 9, 1931 | Rugby League Challenge Cup |
| Widnes v Oldham | Away | March 14, 1931 | League Championship |
| Halifax v Oldham | Neutral | March 16, 1931 | Rugby League Challenge Cup |
| Oldham v Hull FC | Home | March 21, 1931 | League Championship |
| Bradford Northern v Oldham | Away | March 28, 1931 | League Championship |
| Swinton v Oldham | Away | April 3, 1931 | League Championship |
| Oldham v St Helens | Home | April 4, 1931 | League Championship |
| Oldham v Keighley | Home | April 6, 1931 | League Championship |
| Warrington v Oldham | Away | April 7, 1931 | League Championship |
| Oldham v Wigan Highfield | Home | April 11, 1931 | League Championship |
| Salford v Oldham | Away | April 13, 1931 | League Championship |
| Barrow v Oldham | Away | April 16, 1931 | League Championship |
| York v Oldham | Away | April 18, 1931 | League Championship |
| Oldham v Halifax | Home | April 20, 1931 | League Championship |
| Swinton v Oldham | Away | April 25, 1931 | League Championship |
| Rochdale Hornets v Oldham | Away | August 22, 1931 | Infirmary Cup |
| Salford v Oldham | Away | August 29, 1931 | League Championship |
| Oldham v Wigan Highfield | Home | September 5, 1931 | League Championship |
| Warrington v Oldham | Away | September 12, 1931 | League Championship |
| Hunslet v Oldham | Away | September 16, 1931 | League Championship |
| Oldham v Halifax | Home | September 19, 1931 | League Championship |
| Oldham v St Helens Recs | Home | September 21, 1931 | League Championship |
| St Helens v Oldham | Away | October 17, 1931 | League Championship |
| Oldham v Bramley | Home | October 24, 1931 | League Championship |
| Rochdale Hornets v Oldham | Away | October 31, 1931 | League Championship |
| Oldham v Hull FC | Home | November 7, 1931 | League Championship |
| Widnes v Oldham | Away | November 14, 1931 | League Championship |
| Oldham v Broughton Rangers | Home | November 21, 1931 | League Championship |
| York v Oldham | Away | November 28, 1931 | League Championship |
| Bramley v Oldham | Away | December 12, 1931 | League Championship |
| Oldham v Batley | Home | December 19, 1931 | League Championship |
| Oldham v Swinton | Home | December 25, 1931 | League Championship |
| Barrow v Oldham | Away | December 26, 1931 | League Championship |
| Oldham v Hunslet | Home | January 2, 1932 | League Championship |
| Hull FC v Oldham | Away | January 9, 1932 | League Championship |
| Wigan v Oldham | Away | January 16, 1932 | League Championship |
| Leigh v Oldham | Away | January 30, 1932 | League Championship |
| Oldham v Rochdale Hornets | Home | February 6, 1932 | Rugby League Challenge Cup |
| Oldham v Hunslet | Home | February 8, 1932 | League Championship |
| Halifax v Oldham | Away | February 13, 1932 | League Championship |
| Oldham v Widnes | Home | February 20, 1932 | League Championship |
| Oldham v Leeds | Home | February 27, 1932 | League Championship |
| Broughton Rangers v Oldham | Away | March 5, 1932 | League Championship |
| Oldham v York | Home | March 12, 1932 | League Championship |
| St Helens Recs v Oldham | Away | March 19, 1932 | League Championship |
| Swinton v Oldham | Away | March 25, 1932 | League Championship |
| Oldham v Rochdale Hornets | Home | March 26, 1932 | League Championship |
| Oldham v Barrow | Home | March 28, 1932 | League Championship |
| Leeds v Oldham | Away | April 2, 1932 | League Championship |
| Oldham v Wigan | Home | April 9, 1932 | League Championship |
| Wigan Highfield v Oldham | Away | April 16, 1932 | League Championship |
| Oldham v Warrington | Home | April 23, 1932 | League Championship |
| Hull FC v Oldham | Away | August 27, 1932 | League Championship |
| Oldham v St Helens Recs | Home | September 3, 1932 | League Championship |
| Featherstone Rovers v Oldham | Away | September 10, 1932 | League Championship |
| St Helens Recs v Oldham | Away | September 12, 1932 | League Championship |
| Oldham v Wakefield Trinity | Home | September 17, 1932 | League Championship |
| Wigan v Oldham | Away | September 24, 1932 | League Championship |
| Oldham v Rochdale Hornets | Home | September 27, 1932 | Infirmary Cup |
| Oldham v Widnes | Home | October 1, 1932 | League Championship |
| St Helens Recs v Oldham | Away | October 8, 1932 | Lancashire Cup |
| Oldham v St Helens Recs | Home | October 10, 1932 | Lancashire Cup |
| Oldham v St Helens Recs | Home | October 13, 1932 | Lancashire Cup |
| Oldham v Halifax | Home | October 15, 1932 | League Championship |
| St Helens Recs v Oldham | Neutral | October 17, 1932 | Lancashire Cup |
| Barrow v Oldham | Away | October 22, 1932 | League Championship |
| Castleford v Oldham | Away | November 5, 1932 | League Championship |
| Oldham v Warrington | Home | November 12, 1932 | League Championship |
| Wigan Highfield v Oldham | Away | November 19, 1932 | League Championship |
| Oldham v Hull FC | Home | November 26, 1932 | League Championship |
| Warrington v Oldham | Away | December 3, 1932 | League Championship |
| Oldham v Hull Kingston Rovers | Home | December 10, 1932 | League Championship |
| Widnes v Oldham | Away | December 17, 1932 | League Championship |
| Oldham v Castleford | Home | December 27, 1932 | League Championship |
| Oldham v Barrow | Home | January 21, 1933 | League Championship |
| Oldham v Broughton Rangers | Home | February 4, 1933 | League Championship |
| Wigan v Oldham | Away | March 1, 1933 | Rugby League Challenge Cup |
| Oldham v Salford | Home | March 4, 1933 | League Championship |
| Salford v Oldham | Away | March 11, 1933 | League Championship |
| Rochdale Hornets v Oldham | Away | April 1, 1933 | League Championship |
| Oldham v York | Home | April 8, 1933 | League Championship |
| Swinton v Oldham | Away | April 14, 1933 | League Championship |
| Oldham v Rochdale Hornets | Home | April 15, 1933 | League Championship |
| Halifax v Oldham | Away | April 17, 1933 | League Championship |
| Oldham v Broughton Rangers | Home | August 26, 1933 | League Championship |
| Rochdale Hornets v Oldham | Away | September 2, 1933 | League Championship |
| Oldham v Australia | Home | September 9, 1933 | Tour Match |
| St Helens v Oldham | Away | September 16, 1933 | League Championship |
| Oldham v St Helens | Home | September 18, 1933 | League Championship |
| Oldham v Leeds | Home | September 23, 1933 | League Championship |
| Oldham v Widnes | Home | September 30, 1933 | Lancashire Cup |
| Rochdale Hornets v Oldham | Away | October 3, 1933 | Infirmary Cup |
| Oldham v Hunslet | Home | October 7, 1933 | League Championship |
| Broughton Rangers v Oldham | Away | October 11, 1933 | Lancashire Cup |
| Salford v Oldham | Away | October 14, 1933 | League Championship |
| Oldham v Keighley | Home | October 21, 1933 | League Championship |
| Wigan v Oldham | Away | October 25, 1933 | Lancashire Cup |
| Warrington v Oldham | Away | October 28, 1933 | League Championship |
| Oldham v Widnes | Home | November 4, 1933 | League Championship |
| Barrow v Oldham | Away | November 11, 1933 | League Championship |
| St Helens Recs v Oldham | Neutral | November 18, 1933 | Lancashire Cup |
| Leigh v Oldham | Away | November 25, 1933 | League Championship |
| Oldham v Batley | Home | December 2, 1933 | League Championship |
| Wakefield Trinity v Oldham | Away | December 9, 1933 | League Championship |
| Oldham v Barrow | Home | December 16, 1933 | League Championship |
| London Highfield v Oldham | Away | December 20, 1933 | League Championship |
| Oldham v Swinton | Home | December 25, 1933 | League Championship |
| Hull Kingston Rovers v Oldham | Away | December 26, 1933 | League Championship |
| Wigan v Oldham | Away | December 30, 1933 | League Championship |
| Oldham v Hull Kingston Rovers | Home | January 1, 1934 | League Championship |
| Oldham v Warrington | Home | January 6, 1934 | League Championship |
| Oldham v Australia | Home | January 10, 1934 | Tour Match |
| Oldham v Leigh | Home | January 13, 1934 | League Championship |
| Batley v Oldham | Away | January 20, 1934 | League Championship |
| Oldham v London Highfield | Home | January 27, 1934 | League Championship |
| Hunslet v Oldham | Away | February 3, 1934 | League Championship |
| Oldham v Dewsbury | Home | February 10, 1934 | Rugby League Challenge Cup |
| Keighley v Oldham | Away | February 17, 1934 | League Championship |
| St Helens Recs v Oldham | Away | February 24, 1934 | Rugby League Challenge Cup |
| Oldham v St Helens Recs | Home | February 28, 1934 | Rugby League Challenge Cup |
| Widnes v Oldham | Away | March 3, 1934 | League Championship |
| Oldham v Wakefield Trinity | Home | March 5, 1934 | League Championship |
| Oldham v Bramley | Home | March 10, 1934 | Rugby League Challenge Cup |
| Oldham v Salford | Home | March 14, 1934 | League Championship |
| St Helens Recs v Oldham | Away | March 17, 1934 | League Championship |
| Widnes v Oldham | Neutral | March 24, 1934 | Rugby League Challenge Cup |
| Swinton v Oldham | Away | March 30, 1934 | League Championship |
| Oldham v St Helens Recs | Home | April 2, 1934 | League Championship |
| Oldham v Rochdale Hornets | Home | April 7, 1934 | League Championship |
| Oldham v Wigan | Home | April 10, 1934 | League Championship |
| Broughton Rangers v Oldham | Away | April 21, 1934 | League Championship |
| Halifax v Oldham | Neutral | May 12, 1934 | Lancaster Cup |
| Oldham v Rochdale Hornets | Home | August 18, 1934 | Infirmary Cup |
| Wigan v Oldham | Away | August 25, 1934 | League Championship |
| Oldham v Bramley | Home | September 1, 1934 | League Championship |
| Oldham v Widnes | Home | September 8, 1934 | Lancashire Cup |
| Oldham v Wigan | Home | September 25, 1934 | Lancashire Cup |
| Oldham v Rochdale Hornets | Home | September 29, 1934 | League Championship |
| Oldham v St Helens Recs | Home | October 20, 1934 | League Championship |
| Oldham v Barrow | Home | December 1, 1934 | League Championship |
| Halifax v Oldham | Away | December 8, 1934 | League Championship |
| Oldham v Keighley | Home | December 15, 1934 | League Championship |
| Rochdale Hornets v Oldham | Away | December 22, 1934 | League Championship |
| Oldham v Swinton | Home | December 25, 1934 | League Championship |
| Hull Kingston Rovers v Oldham | Away | December 26, 1934 | League Championship |
| Oldham v York | Home | December 29, 1934 | League Championship |
| Oldham v Widnes | Home | January 1, 1935 | League Championship |
| Huddersfield v Oldham | Away | January 5, 1935 | League Championship |
| Oldham v Liverpool Stanley | Home | January 12, 1935 | League Championship |
| Oldham v Batley | Home | January 19, 1935 | League Championship |
| St Helens Recs v Oldham | Away | January 26, 1935 | League Championship |
| Oldham v St Helens | Home | February 2, 1935 | League Championship |
| Oldham v St Helens | Home | February 9, 1935 | Rugby League Challenge Cup |
| Oldham v Hull Kingston Rovers | Home | February 16, 1935 | League Championship |
| Huddersfield v Oldham | Away | February 23, 1935 | Rugby League Challenge Cup |
| Batley v Oldham | Away | March 2, 1935 | League Championship |
| Warrington v Oldham | Away | March 6, 1935 | League Championship |
| Oldham v Leigh | Home | March 9, 1935 | League Championship |
| Liverpool Stanley v Oldham | Away | March 16, 1935 | League Championship |
| York v Oldham | Away | March 23, 1935 | League Championship |
| Leigh v Oldham | Away | April 6, 1935 | League Championship |
| Oldham v Huddersfield | Home | April 9, 1935 | League Championship |
| Bramley v Oldham | Away | April 13, 1935 | League Championship |
| Swinton v Oldham | Away | April 19, 1935 | League Championship |
| Oldham v Halifax | Home | April 20, 1935 | League Championship |
| St Helens v Oldham | Away | April 22, 1935 | League Championship |
| Rochdale Hornets v Oldham | Away | August 24, 1935 | Infirmary Cup |
| Oldham v Hull Kingston Rovers | Home | August 31, 1935 | League Championship |
| Streatham & Mitcham v Oldham | Away | September 7, 1935 | League Championship |
| Rochdale Hornets v Oldham | Away | September 14, 1935 | Lancashire Cup |
| Oldham v Broughton Rangers | Home | September 16, 1935 | League Championship |
| Warrington v Oldham | Away | September 21, 1935 | League Championship |
| St Helens Recs v Oldham | Away | September 28, 1935 | League Championship |
| Wigan v Oldham | Away | October 2, 1935 | Lancashire Cup |
| Oldham v Wigan | Home | October 5, 1935 | League Championship |
| Hull Kingston Rovers v Oldham | Away | October 12, 1935 | League Championship |
| Oldham v Leigh | Home | October 19, 1935 | League Championship |
| Rochdale Hornets v Oldham | Away | October 26, 1935 | League Championship |
| Oldham v Dewsbury | Home | November 2, 1935 | League Championship |
| Salford v Oldham | Away | November 9, 1935 | League Championship |
| Oldham v Barrow | Home | November 16, 1935 | League Championship |
| Wigan v Oldham | Away | November 23, 1935 | League Championship |
| Oldham v Widnes | Home | November 30, 1935 | League Championship |
| St Helens v Oldham | Away | December 7, 1935 | League Championship |
| Oldham v Rochdale Hornets | Home | December 14, 1935 | League Championship |
| Broughton Rangers v Oldham | Away | December 25, 1935 | League Championship |
| Oldham v Swinton | Home | December 26, 1935 | League Championship |
| Leigh v Oldham | Away | December 28, 1935 | League Championship |
| Oldham v Wakefield Trinity | Home | January 1, 1936 | League Championship |
| Oldham v St Helens | Home | January 4, 1936 | League Championship |
| Halifax v Oldham | Away | January 11, 1936 | League Championship |
| Oldham v Salford | Home | February 1, 1936 | League Championship |
| Oldham v Higginshaw | Home | February 8, 1936 | Rugby League Challenge Cup |
| Oldham v Wigan | Home | February 22, 1936 | Rugby League Challenge Cup |
| Liverpool Stanley v Oldham | Away | February 26, 1936 | League Championship |
| Oldham v Hunslet | Home | February 29, 1936 | League Championship |
| Dewsbury v Oldham | Away | March 7, 1936 | League Championship |
| Keighley v Oldham | Away | March 10, 1936 | League Championship |
| Barrow v Oldham | Away | March 14, 1936 | League Championship |
| Oldham v Keighley | Home | March 28, 1936 | League Championship |
| Hunslet v Oldham | Away | April 25, 1936 | League Championship |
| Barrow v Oldham | Away | September 17, 1936 | League Championship |
| Oldham v Widnes | Home | September 19, 1936 | League Championship |
| Warrington v Oldham | Away | September 26, 1936 | League Championship |
| Oldham v Liverpool Stanley | Home | September 28, 1936 | League Championship |
| Oldham v Dewsbury | Home | March 12, 1938 | League Championship |
| Oldham v Warrington | Home | March 26, 1938 | League Championship |
| Rochdale Hornets v Oldham | Away | April 5, 1938 | League Championship |
| Oldham v Gf Hutchins International Team | Home | April 30, 1938 | Benefit Match |
| Oldham v Rochdale Hornets | Home | August 20, 1938 | Infirmary Cup |
| Salford v Oldham | Away | August 27, 1938 | League Championship |
| Oldham v Liverpool Stanley | Home | September 3, 1938 | League Championship |
| Wakefield Trinity v Oldham | Away | September 10, 1938 | League Championship |
| St Helens Recs v Oldham | Away | September 17, 1938 | League Championship |
| Oldham v Wigan | Home | September 21, 1938 | Lancashire Cup |
| Oldham v Hunslet | Home | September 24, 1938 | League Championship |
| Liverpool Stanley v Oldham | Away | October 1, 1938 | League Championship |
| Oldham v Hull FC | Home | October 8, 1938 | League Championship |
| Rochdale Hornets v Oldham | Away | October 15, 1938 | League Championship |
| Oldham v St Helens Recs | Home | October 22, 1938 | League Championship |
| Wigan v Oldham | Away | October 29, 1938 | League Championship |
| Oldham v Widnes | Home | November 5, 1938 | League Championship |
| Bradford Northern v Oldham | Away | November 12, 1938 | League Championship |
| Oldham v Warrington | Home | November 14, 1938 | League Championship |
| Oldham v Broughton Rangers | Home | November 19, 1938 | League Championship |
| Hunslet v Oldham | Away | November 26, 1938 | League Championship |
| Oldham v Wigan | Home | December 3, 1938 | League Championship |
| Widnes v Oldham | Away | December 10, 1938 | League Championship |
| Oldham v Castleford | Home | December 17, 1938 | League Championship |
| Broughton Rangers v Oldham | Away | December 24, 1938 | League Championship |
| Oldham v Rochdale Hornets | Home | December 29, 1938 | League Championship |
| Batley v Oldham | Away | December 31, 1938 | League Championship |
| Oldham v Batley | Home | January 2, 1939 | League Championship |
| Castleford v Oldham | Away | January 7, 1939 | League Championship |
| Oldham v Keighley | Home | January 14, 1939 | League Championship |
| Oldham v Leigh | Home | January 21, 1939 | League Championship |
| Barrow v Oldham | Away | January 28, 1939 | League Championship |
| Oldham v Castleford | Home | February 4, 1939 | Rugby League Challenge Cup |
| Oldham v Salford | Home | February 11, 1939 | League Championship |
| Bradford Northern v Oldham | Away | February 18, 1939 | Rugby League Challenge Cup |
| Oldham v Swinton | Home | February 20, 1939 | League Championship |
| Leigh v Oldham | Away | February 25, 1939 | League Championship |
| Oldham v Bradford Northern | Home | March 4, 1939 | League Championship |
| Halifax v Oldham | Away | March 18, 1939 | League Championship |
| Oldham v St Helens | Home | March 25, 1939 | League Championship |
| Oldham v Wakefield Trinity | Home | April 1, 1939 | League Championship |
| Swinton v Oldham | Away | April 7, 1939 | League Championship |
| Oldham v Barrow | Home | April 8, 1939 | League Championship |
| Keighley v Oldham | Away | April 10, 1939 | League Championship |
| St Helens v Oldham | Away | April 15, 1939 | League Championship |
| Oldham v Halifax | Home | April 18, 1939 | League Championship |
| Hull FC v Oldham | Away | April 22, 1939 | League Championship |
| Warrington v Oldham | Away | April 29, 1939 | League Championship |
| Oldham v Rochdale Hornets | Home | September 16, 1939 | Friendly |
| Rochdale Hornets v Oldham | Away | September 23, 1939 | Friendly |
| Oldham v Salford | Home | September 30, 1939 | Lancashire League |
| Barrow v Oldham | Away | October 7, 1939 | Lancashire League |
| Liverpool Stanley v Oldham | Away | October 21, 1939 | Lancashire League |
| Salford v Oldham | Away | November 4, 1939 | Lancashire League |
| Leigh v Oldham | Away | November 11, 1939 | Lancashire League |
| Oldham v St Helens | Home | November 18, 1939 | Lancashire League |
| Oldham v Leigh | Home | December 2, 1939 | Lancashire League |
| Wigan v Oldham | Away | February 24, 1940 | Lancashire League |
| Oldham v Rochdale Hornets | Home | March 2, 1940 | Lancashire Cup |
| Oldham v Salford | Home | April 27, 1940 | Friendly |