Joe Warham
Profile
Joe Warham signed for Oldham from Swinton just before the Challenge Cup transfer deadline of 1949. He had previously played for the Royal Navy.
He made his debut at Liverpool on January 29th, 1949 in the right wing position and although appearing occasionally on the left flank and at stand off half, it would be in the No 2 shirt that he would excel for Oldham finishing top try scorer in his first three full seasons with the club. His best total came in 1951-52, when Joe crossed the line for 25 touchdowns helping Oldham to finish fifth in the table, just one point behind Huddersfield and a place in the play offs. This was the best league placing the club had achieved for twenty years.
An accomplished "finisher", Joe was always quick to acknowledge the contribution of his team mates to his scoring achievements, especially centre, Billy Mitchell. A total gentleman on and off the field, he played his last game for the club at Fartown against Huddersfield, scoring a try in the 20 – 27 defeat on August 22nd, 1953.
He left Oldham to become manager at Rochdale Hornets and later began a long association with the Leeds club for whom he became a director.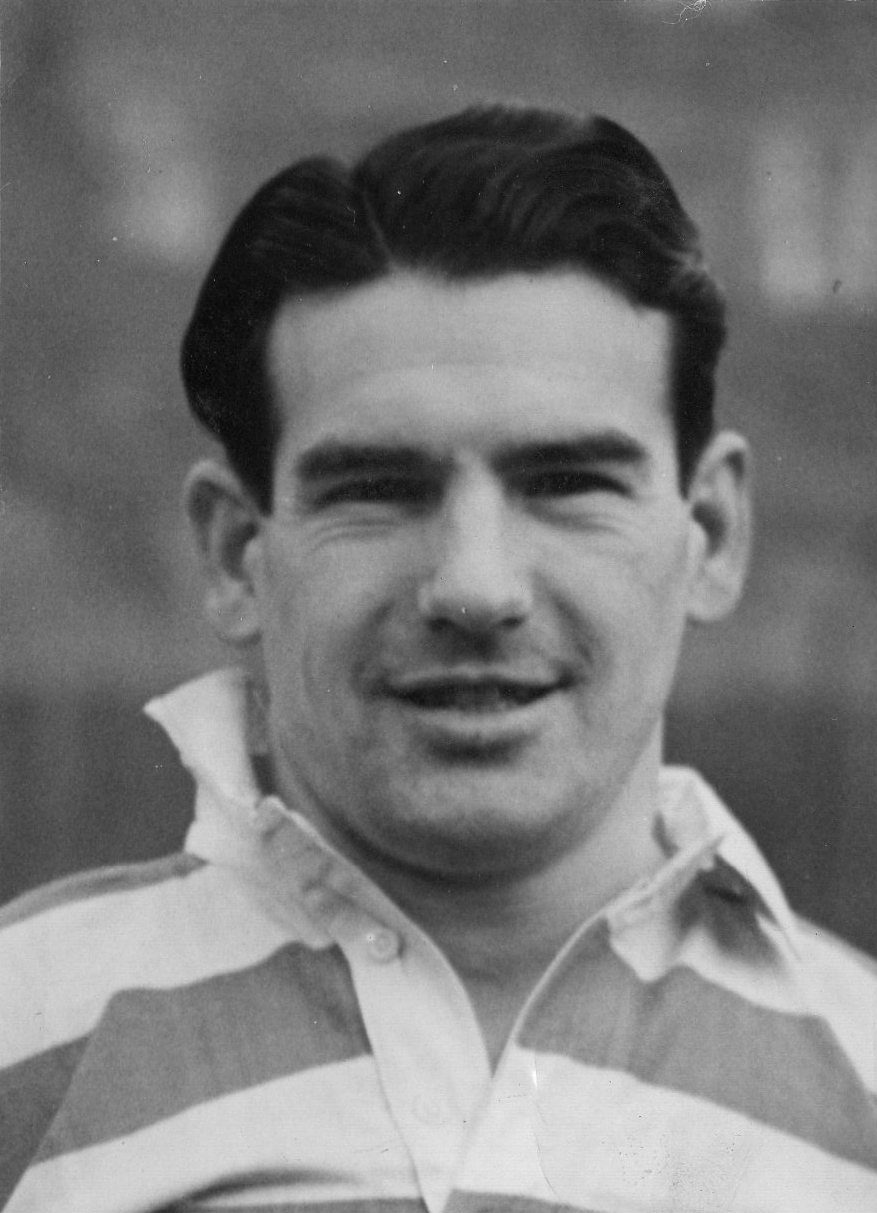 Career Games
| | | | |
| --- | --- | --- | --- |
| Liverpool Stanley v Oldham | Away | January 29, 1949 | League Championship |
| Wigan v Oldham | Away | February 5, 1949 | League Championship |
| York v Oldham | Away | March 5, 1949 | Rugby League Challenge Cup |
| Oldham v Halifax | Home | March 19, 1949 | Rugby League Challenge Cup |
| Wigan v Oldham | Away | August 27, 1949 | Lancashire Cup |
| Oldham v Featherstone Rovers | Home | October 8, 1949 | League Championship |
| Oldham v Warrington | Home | December 3, 1949 | League Championship |
| Oldham v Barrow | Home | December 10, 1949 | League Championship |
| Workington Town v Oldham | Away | December 17, 1949 | League Championship |
| Oldham v Liverpool Stanley | Home | December 24, 1949 | League Championship |
| Hunslet v Oldham | Away | December 26, 1949 | League Championship |
| Salford v Oldham | Away | December 27, 1949 | League Championship |
| Belle Vue Rangers v Oldham | Away | December 31, 1949 | League Championship |
| Oldham v Rochdale Hornets | Home | January 2, 1950 | League Championship |
| Oldham v Wigan | Home | January 7, 1950 | League Championship |
| Oldham v Swinton | Home | January 14, 1950 | League Championship |
| Barrow v Oldham | Away | January 21, 1950 | League Championship |
| Oldham v Bradford Northern | Home | February 4, 1950 | Rugby League Challenge Cup |
| Bradford Northern v Oldham | Away | February 11, 1950 | Rugby League Challenge Cup |
| Oldham v Whitehaven | Home | February 18, 1950 | League Championship |
| Oldham v Belle Vue Rangers | Home | March 4, 1950 | League Championship |
| Swinton v Oldham | Away | March 11, 1950 | League Championship |
| Oldham v Widnes | Home | March 18, 1950 | League Championship |
| Oldham v Castleford | Home | March 25, 1950 | League Championship |
| Oldham v Bramley | Home | April 1, 1950 | League Championship |
| Oldham v Salford | Home | April 7, 1950 | League Championship |
| Rochdale Hornets v Oldham | Away | April 8, 1950 | League Championship |
| Oldham v Bordeaux & Villeneuve | Home | April 10, 1950 | Friendly |
| Warrington v Oldham | Away | April 11, 1950 | League Championship |
| Oldham v Workington Town | Home | April 15, 1950 | League Championship |
| Castleford v Oldham | Away | April 19, 1950 | League Championship |
| Featherstone Rovers v Oldham | Away | April 22, 1950 | League Championship |
| Whitehaven v Oldham | Away | April 29, 1950 | League Championship |
| Oldham v Rochdale Hornets | Home | August 12, 1950 | Law Cup |
| Whitehaven v Oldham | Away | August 19, 1950 | League Championship |
| Oldham v Warrington | Home | August 21, 1950 | League Championship |
| Oldham v York | Home | August 26, 1950 | League Championship |
| Belle Vue Rangers v Oldham | Away | August 30, 1950 | League Championship |
| Oldham v Rochdale Hornets | Home | September 2, 1950 | Lancashire Cup |
| Oldham v Wakefield Trinity | Home | September 9, 1950 | League Championship |
| Rochdale Hornets v Oldham | Away | September 12, 1950 | Lancashire Cup |
| Batley v Oldham | Away | September 16, 1950 | League Championship |
| Oldham v Barrow | Home | September 23, 1950 | League Championship |
| Bramley v Oldham | Away | September 30, 1950 | League Championship |
| Oldham v Salford | Home | October 7, 1950 | League Championship |
| Oldham v Warrington | Home | October 10, 1950 | Lancashire Cup |
| Keighley v Oldham | Away | October 14, 1950 | League Championship |
| Oldham v Leigh | Home | October 21, 1950 | League Championship |
| Wakefield Trinity v Oldham | Away | October 28, 1950 | League Championship |
| Oldham v Batley | Home | November 4, 1950 | League Championship |
| Oldham v Widnes | Home | November 18, 1950 | League Championship |
| York v Oldham | Away | December 26, 1950 | League Championship |
| Warrington v Oldham | Away | January 6, 1951 | League Championship |
| Wigan v Oldham | Away | January 27, 1951 | League Championship |
| Workington Town v Oldham | Away | February 3, 1951 | League Championship |
| Swinton v Oldham | Away | March 23, 1951 | League Championship |
| Oldham v Whitehaven | Home | March 24, 1951 | League Championship |
| Oldham v St Helens | Home | March 26, 1951 | League Championship |
| Oldham v St Helens | Home | April 7, 1951 | League Championship |
| Barrow v Oldham | Away | April 14, 1951 | League Championship |
| Leigh v Oldham | Away | April 16, 1951 | League Championship |
| Oldham v Bramley | Home | April 21, 1951 | League Championship |
| Oldham v Wigan | Home | April 23, 1951 | League Championship |
| Oldham v Rochdale Hornets | Home | April 30, 1951 | League Championship |
| Oldham v Halifax | Home | May 8, 1951 | Benefit Match |
| Rochdale Hornets v Oldham | Away | August 11, 1951 | Law Cup |
| Oldham v Bradford Northern | Home | August 18, 1951 | League Championship |
| Belle Vue Rangers v Oldham | Away | August 22, 1951 | League Championship |
| Keighley v Oldham | Away | August 25, 1951 | League Championship |
| Oldham v Liverpool City | Home | August 28, 1951 | League Championship |
| Rochdale Hornets v Oldham | Away | September 1, 1951 | Lancashire Cup |
| Oldham v Rochdale Hornets | Home | September 4, 1951 | Lancashire Cup |
| Wigan v Oldham | Away | September 8, 1951 | League Championship |
| Oldham v Whitehaven | Home | September 10, 1951 | League Championship |
| Widnes v Oldham | Away | September 22, 1951 | League Championship |
| Oldham v Widnes | Home | September 24, 1951 | Lancashire Cup |
| Oldham v New Zealand | Home | September 29, 1951 | Tour Match |
| Oldham v Warrington | Home | October 6, 1951 | League Championship |
| Liverpool City v Oldham | Away | October 13, 1951 | League Championship |
| Oldham v Leigh | Home | October 16, 1951 | Lancashire Cup |
| Oldham v Leigh | Home | October 20, 1951 | League Championship |
| Oldham v Bramley | Home | November 3, 1951 | League Championship |
| Workington Town v Oldham | Away | November 10, 1951 | League Championship |
| Oldham v Wigan | Home | November 17, 1951 | League Championship |
| Barrow v Oldham | Away | November 24, 1951 | League Championship |
| Oldham v Barrow | Home | December 1, 1951 | League Championship |
| Halifax v Oldham | Away | December 8, 1951 | League Championship |
| Oldham v Keighley | Home | December 22, 1951 | League Championship |
| Oldham v Swinton | Home | December 25, 1951 | League Championship |
| Oldham v Workington Town | Home | December 26, 1951 | League Championship |
| Bradford Northern v Oldham | Away | December 29, 1951 | League Championship |
| Oldham v Barrow | Home | January 3, 1952 | League Championship |
| Oldham v Widnes | Home | January 5, 1952 | League Championship |
| Oldham v Salford | Home | January 12, 1952 | League Championship |
| Warrington v Oldham | Away | February 2, 1952 | League Championship |
| Hull FC v Oldham | Away | February 9, 1952 | Rugby League Challenge Cup |
| Oldham v Hull FC | Home | February 16, 1952 | Rugby League Challenge Cup |
| Oldham v Hull Kingston Rovers | Home | February 23, 1952 | League Championship |
| Leeds v Oldham | Away | March 1, 1952 | Rugby League Challenge Cup |
| Bramley v Oldham | Away | March 8, 1952 | League Championship |
| Leigh v Oldham | Away | March 22, 1952 | League Championship |
| St Helens v Oldham | Away | March 29, 1952 | League Championship |
| Rochdale Hornets v Oldham | Away | April 1, 1952 | League Championship |
| Oldham v Belle Vue Rangers | Home | April 5, 1952 | League Championship |
| Swinton v Oldham | Away | April 11, 1952 | League Championship |
| Oldham v Rochdale Hornets | Home | April 12, 1952 | League Championship |
| Oldham v Halifax | Home | April 14, 1952 | League Championship |
| Hull Kingston Rovers v Oldham | Away | April 26, 1952 | League Championship |
| Swinton v Oldham | Away | September 3, 1952 | Lancashire Cup |
| Oldham v Leeds | Home | September 6, 1952 | League Championship |
| St Helens v Oldham | Away | September 10, 1952 | League Championship |
| Barrow v Oldham | Away | September 13, 1952 | League Championship |
| Oldham v Australia | Home | September 15, 1952 | Tour Match |
| Workington Town v Oldham | Away | September 24, 1952 | Lancashire Cup |
| Leeds v Oldham | Away | September 27, 1952 | League Championship |
| Oldham v Widnes | Home | October 11, 1952 | League Championship |
| Wakefield Trinity v Oldham | Away | November 15, 1952 | League Championship |
| Oldham v Salford | Home | November 22, 1952 | League Championship |
| Oldham v Belle Vue Rangers | Home | December 6, 1952 | League Championship |
| Bradford Northern v Oldham | Away | December 20, 1952 | League Championship |
| Oldham v Swinton | Home | December 25, 1952 | League Championship |
| Oldham v Wigan | Home | December 27, 1952 | League Championship |
| Salford v Oldham | Away | January 17, 1953 | League Championship |
| Oldham v Rochdale Hornets | Home | January 24, 1953 | League Championship |
| Oldham v Bramley | Home | January 31, 1953 | League Championship |
| Oldham v St Helens | Home | April 18, 1953 | League Championship |
| Leigh v Oldham | Away | April 22, 1953 | League Championship |
| Oldham v Huddersfield | Home | May 16, 1953 | Benefit Match |
| Rochdale Hornets v Oldham | Away | August 8, 1953 | Law Cup |
| Oldham v Wigan | Home | August 15, 1953 | League Championship |
| Huddersfield v Oldham | Away | August 22, 1953 | League Championship |