John Noon
Profile
It so happened that when the club were about to lose the services of one local, long serving, centre threequarter, they were fortunate enough to have another waiting in the wings. I refer to the retirement of Billy Mitchell and the emergence of Johnny Noon.
John came to Oldham from the Lowermoor club having previously played with St Patricks. He soon established himself in the first team and in 1955-56 he was top appearance maker with 36 out of a possible 40. The following season an injury kept him out of the side with his place going to another local lad, Dennis Ayres. Undeterred he would force his way back into the first team and played left centre to John Etty in the 1958 Lancashire Cup Final triumph over St Helens and went on to play for Lancashire.
A versatile player who played every back position except scrum half for the club, he is best remembered as a centre, forceful on attack and uncompromising on defence. In three consecutive seasons; 1959-60/60-61/61-62, he topped the 20 try mark and was the leading goal kicker in 1962-63. John went on to captain the club and on September 4th, 1961, he thumped over five goals as a combined Oldham / Rochdale Xlll triumphed over New Zealand 10 – 8, this being the last occasion either club was successful over a touring team. His last game was in the Law Cup match of 1964, after which he became the captain at Rochdale Hornets.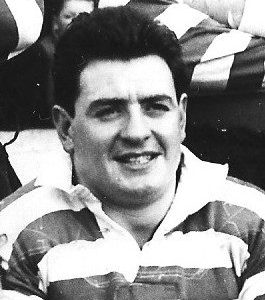 Career Games
| | | | |
| --- | --- | --- | --- |
| Leigh v Oldham | Neutral | April 3, 1954 | Exhibition Match |
| Barrow v Oldham | Away | September 4, 1954 | League Championship |
| Oldham v Lancs County Amateurs | Home | September 11, 1954 | Lancashire Cup |
| Batley v Oldham | Away | September 18, 1954 | League Championship |
| Oldham v St Helens | Home | September 20, 1954 | Lancashire Cup |
| Blackpool Borough v Oldham | Away | October 2, 1954 | League Championship |
| Oldham v Blackpool Borough | Home | November 6, 1954 | League Championship |
| Widnes v Oldham | Away | November 13, 1954 | League Championship |
| Oldham v Whitehaven | Home | November 20, 1954 | League Championship |
| Workington Town v Oldham | Away | January 22, 1955 | League Championship |
| Rochdale Hornets v Oldham | Away | August 30, 1955 | League Championship |
| Oldham v Hunslet | Home | September 3, 1955 | League Championship |
| Oldham v Leigh | Home | September 7, 1955 | Lancashire Cup |
| Leeds v Oldham | Away | September 10, 1955 | League Championship |
| Oldham v Warrington | Home | September 17, 1955 | League Championship |
| York v Oldham | Away | September 24, 1955 | League Championship |
| Oldham v Featherstone Rovers | Home | October 1, 1955 | League Championship |
| Hunslet v Oldham | Away | October 8, 1955 | League Championship |
| Oldham v Barrow | Home | October 15, 1955 | League Championship |
| Warrington v Oldham | Away | October 22, 1955 | League Championship |
| Oldham v New Zealand | Home | October 29, 1955 | Tour Match |
| Featherstone Rovers v Oldham | Neutral | November 2, 1955 | Independent Television Floodlit Trophy |
| Leigh v Oldham | Away | November 5, 1955 | League Championship |
| Oldham v Liverpool City | Home | November 12, 1955 | League Championship |
| Wigan v Oldham | Away | November 19, 1955 | League Championship |
| Oldham v Widnes | Home | November 26, 1955 | League Championship |
| Liverpool City v Oldham | Away | December 3, 1955 | League Championship |
| Salford v Oldham | Away | December 10, 1955 | League Championship |
| Oldham v Salford | Home | December 17, 1955 | League Championship |
| St Helens v Oldham | Away | December 24, 1955 | League Championship |
| Oldham v Swinton | Home | December 26, 1955 | League Championship |
| Blackpool Borough v Oldham | Away | December 27, 1955 | League Championship |
| Oldham v Whitehaven | Home | December 31, 1955 | League Championship |
| Workington Town v Oldham | Away | January 2, 1956 | League Championship |
| Whitehaven v Oldham | Away | January 7, 1956 | League Championship |
| Widnes v Oldham | Away | January 21, 1956 | League Championship |
| Oldham v Rochdale Hornets | Home | January 28, 1956 | League Championship |
| Oldham v Dewsbury | Home | February 11, 1956 | Rugby League Challenge Cup |
| Oldham v Wigan | Home | February 18, 1956 | League Championship |
| Featherstone Rovers v Oldham | Away | February 25, 1956 | League Championship |
| Leeds v Oldham | Away | March 3, 1956 | Rugby League Challenge Cup |
| Oldham v York | Home | March 10, 1956 | League Championship |
| Swinton v Oldham | Away | March 30, 1956 | League Championship |
| Barrow v Oldham | Away | April 2, 1956 | League Championship |
| Oldham v St Helens | Home | April 14, 1956 | League Championship |
| Oldham v Workington Town | Home | April 21, 1956 | League Championship |
| Workington Town v Oldham | Away | November 3, 1956 | League Championship |
| Wakefield Trinity v Oldham | Away | August 24, 1957 | League Championship |
| Oldham v St Helens | Home | August 26, 1957 | League Championship |
| Oldham v Barrow | Home | August 31, 1957 | Lancashire Cup |
| Huddersfield v Oldham | Away | September 2, 1957 | League Championship |
| Halifax v Oldham | Away | September 7, 1957 | League Championship |
| Oldham v Warrington | Home | September 10, 1957 | Lancashire Cup |
| Oldham v Warrington | Home | September 14, 1957 | League Championship |
| Rochdale Hornets v Oldham | Away | October 12, 1957 | League Championship |
| Oldham v Wakefield Trinity | Home | November 2, 1957 | League Championship |
| Salford v Oldham | Away | November 9, 1957 | League Championship |
| Oldham v Liverpool City | Home | November 16, 1957 | League Championship |
| Leigh v Oldham | Away | November 23, 1957 | League Championship |
| Oldham v Salford | Home | November 30, 1957 | League Championship |
| Hunslet v Oldham | Away | December 7, 1957 | League Championship |
| Liverpool City v Oldham | Away | December 14, 1957 | League Championship |
| Warrington v Oldham | Away | December 28, 1957 | League Championship |
| Oldham v Blackpool Borough | Home | March 1, 1958 | League Championship |
| Whitehaven v Oldham | Away | March 15, 1958 | League Championship |
| Oldham v Widnes | Home | March 25, 1958 | League Championship |
| Oldham v Halifax | Home | August 16, 1958 | League Championship |
| Blackpool Borough v Oldham | Away | August 19, 1958 | League Championship |
| Oldham v Wakefield Trinity | Home | September 13, 1958 | League Championship |
| Oldham v Wigan | Home | September 16, 1958 | Lancashire Cup |
| Rochdale Hornets v Oldham | Away | September 20, 1958 | League Championship |
| Oldham v Blackpool Borough | Home | September 27, 1958 | League Championship |
| Oldham v Widnes | Home | September 30, 1958 | Lancashire Cup |
| Warrington v Oldham | Away | October 4, 1958 | League Championship |
| Oldham v Rochdale Hornets | Home | October 11, 1958 | League Championship |
| Liverpool City v Oldham | Away | October 18, 1958 | League Championship |
| St Helens v Oldham | Neutral | October 25, 1958 | Lancashire Cup |
| Featherstone Rovers v Oldham | Away | November 1, 1958 | League Championship |
| Oldham v Featherstone Rovers | Home | November 8, 1958 | League Championship |
| Salford v Oldham | Away | November 15, 1958 | League Championship |
| Oldham v Leeds | Home | November 22, 1958 | League Championship |
| Wigan v Oldham | Away | November 29, 1958 | League Championship |
| Workington Town v Oldham | Away | December 13, 1958 | League Championship |
| Leeds v Oldham | Away | January 31, 1959 | League Championship |
| Oldham v Warrington | Home | February 7, 1959 | League Championship |
| Leigh v Oldham | Away | February 14, 1959 | League Championship |
| Whitehaven v Oldham | Away | February 28, 1959 | League Championship |
| Hull FC v Oldham | Away | March 14, 1959 | League Championship |
| Swinton v Oldham | Away | March 27, 1959 | League Championship |
| Oldham v Hull FC | Home | March 30, 1959 | League Championship |
| Oldham v Liverpool City | Home | April 4, 1959 | League Championship |
| Widnes v Oldham | Away | April 11, 1959 | League Championship |
| Oldham v Hunslet | Home | April 14, 1959 | League Championship |
| Oldham v Whitehaven | Home | April 18, 1959 | League Championship |
| Barrow v Oldham | Away | April 20, 1959 | League Championship |
| Oldham v Rochdale Hornets | Home | August 8, 1959 | Law Cup |
| Oldham v Leeds | Home | August 15, 1959 | League Championship |
| Dewsbury v Oldham | Away | August 18, 1959 | League Championship |
| Salford v Oldham | Away | August 22, 1959 | League Championship |
| Oldham v Warrington | Home | August 25, 1959 | League Championship |
| Whitehaven v Oldham | Away | August 29, 1959 | Lancashire Cup |
| Halifax v Oldham | Away | September 5, 1959 | League Championship |
| Oldham v Halifax | Home | September 8, 1959 | League Championship |
| Oldham v Hunslet | Home | September 12, 1959 | League Championship |
| Oldham v Widnes | Home | September 19, 1959 | League Championship |
| Blackpool Borough v Oldham | Away | September 26, 1959 | League Championship |
| Oldham v Australia | Home | October 3, 1959 | Tour Match |
| Barrow v Oldham | Away | October 10, 1959 | League Championship |
| Oldham v Workington Town | Home | October 17, 1959 | League Championship |
| Warrington v Oldham | Away | October 24, 1959 | League Championship |
| Oldham v Barrow | Home | October 31, 1959 | League Championship |
| Rochdale Hornets v Oldham | Away | November 7, 1959 | League Championship |
| Oldham v Blackpool Borough | Home | November 14, 1959 | League Championship |
| Whitehaven v Oldham | Away | November 21, 1959 | League Championship |
| Oldham v Rochdale Hornets | Home | November 28, 1959 | League Championship |
| Wigan v Oldham | Away | December 5, 1959 | League Championship |
| Oldham v Dewsbury | Home | December 19, 1959 | League Championship |
| Oldham v Swinton | Home | December 25, 1959 | League Championship |
| Oldham v Hull FC | Home | December 28, 1959 | League Championship |
| Liverpool City v Oldham | Away | January 2, 1960 | League Championship |
| Oldham v Wakefield Trinity | Home | January 9, 1960 | League Championship |
| Oldham v Leigh | Home | January 16, 1960 | League Championship |
| St Helens v Oldham | Away | January 23, 1960 | League Championship |
| Widnes v Oldham | Away | January 30, 1960 | League Championship |
| Oldham v Salford | Home | February 6, 1960 | League Championship |
| Oldham v Huddersfield | Home | February 13, 1960 | Rugby League Challenge Cup |
| Wakefield Trinity v Oldham | Away | February 20, 1960 | League Championship |
| Oldham v Walney Central | Home | February 27, 1960 | Rugby League Challenge Cup |
| Leeds v Oldham | Away | March 5, 1960 | League Championship |
| Oldham v Bramley | Home | March 19, 1960 | Rugby League Challenge Cup |
| Hunslet v Oldham | Away | March 26, 1960 | League Championship |
| Oldham v Liverpool City | Home | April 2, 1960 | League Championship |
| Hull FC v Oldham | Neutral | April 9, 1960 | Rugby League Challenge Cup |
| Swinton v Oldham | Away | April 15, 1960 | League Championship |
| Workington Town v Oldham | Away | April 16, 1960 | League Championship |
| Oldham v Whitehaven | Home | April 18, 1960 | League Championship |
| Hull FC v Oldham | Away | April 23, 1960 | League Championship |
| Oldham v St Helens | Home | April 26, 1960 | League Championship |
| Leigh v Oldham | Away | April 30, 1960 | League Championship |
| Rochdale Hornets v Oldham | Away | August 6, 1960 | Law Cup |
| Oldham v St Helens | Home | August 13, 1960 | League Championship |
| Warrington v Oldham | Away | August 17, 1960 | League Championship |
| Leeds v Oldham | Away | August 20, 1960 | League Championship |
| Wigan v Oldham | Away | August 27, 1960 | Lancashire Cup |
| Oldham v Leigh | Home | August 30, 1960 | League Championship |
| Featherstone Rovers v Oldham | Away | September 3, 1960 | League Championship |
| Oldham v Halifax | Home | September 10, 1960 | League Championship |
| St Helens v Oldham | Away | September 17, 1960 | League Championship |
| Hull Kingston Rovers v Oldham | Away | October 15, 1960 | League Championship |
| Oldham v Widnes | Home | October 22, 1960 | League Championship |
| Rochdale Hornets v Oldham | Away | October 29, 1960 | League Championship |
| Oldham v Liverpool City | Home | November 5, 1960 | League Championship |
| Keighley v Oldham | Away | November 12, 1960 | League Championship |
| Oldham v Salford | Home | November 19, 1960 | League Championship |
| Whitehaven v Oldham | Away | November 26, 1960 | League Championship |
| Oldham v Leeds | Home | December 3, 1960 | League Championship |
| Leigh v Oldham | Away | December 24, 1960 | League Championship |
| Oldham v Swinton | Home | December 26, 1960 | League Championship |
| Barrow v Oldham | Away | December 31, 1960 | League Championship |
| Workington Town v Oldham | Away | January 2, 1961 | League Championship |
| Liverpool City v Oldham | Away | January 21, 1961 | League Championship |
| Oldham v Wigan | Home | January 28, 1961 | League Championship |
| Oldham v Barrow | Home | February 4, 1961 | League Championship |
| Hull FC v Oldham | Away | February 11, 1961 | Rugby League Challenge Cup |
| Oldham v Hull Kingston Rovers | Home | February 18, 1961 | League Championship |
| Salford v Oldham | Away | March 4, 1961 | League Championship |
| Widnes v Oldham | Away | March 11, 1961 | League Championship |
| Oldham v Workington Town | Home | March 18, 1961 | League Championship |
| Wigan v Oldham | Away | March 25, 1961 | League Championship |
| Swinton v Oldham | Away | March 31, 1961 | League Championship |
| Oldham v Whitehaven | Home | April 1, 1961 | League Championship |
| Oldham v Rochdale Hornets | Home | April 3, 1961 | League Championship |
| Oldham v Blackpool Borough | Home | April 11, 1961 | League Championship |
| Oldham v Warrington | Home | April 15, 1961 | League Championship |
| Oldham v Rochdale Hornets | Home | August 12, 1961 | Law Cup |
| Blackpool Borough v Oldham | Away | August 26, 1961 | League Championship |
| Oldham v York | Home | August 28, 1961 | League Championship |
| Barrow v Oldham | Away | September 2, 1961 | Lancashire Cup |
| Oldham & Rochdale v New Zealand | Home | September 4, 1961 | Tour Match |
| Halifax v Oldham | Away | September 9, 1961 | League Championship |
| Oldham v Rochdale Hornets | Home | September 16, 1961 | League Championship |
| Hunslet v Oldham | Away | September 23, 1961 | League Championship |
| Oldham v Barrow | Home | September 30, 1961 | League Championship |
| St Helens v Oldham | Away | October 2, 1961 | Lancashire Cup |
| Oldham v Workington Town | Home | October 7, 1961 | League Championship |
| York v Oldham | Away | October 14, 1961 | League Championship |
| Oldham v Warrington | Home | October 21, 1961 | League Championship |
| Huddersfield v Oldham | Away | October 28, 1961 | League Championship |
| Whitehaven v Oldham | Away | November 4, 1961 | League Championship |
| Oldham v Hull FC | Home | November 18, 1961 | League Championship |
| Salford v Oldham | Away | November 25, 1961 | League Championship |
| Oldham v Whitehaven | Home | December 2, 1961 | League Championship |
| Workington Town v Oldham | Away | December 9, 1961 | League Championship |
| St Helens v Oldham | Away | December 16, 1961 | League Championship |
| Warrington v Oldham | Away | January 6, 1962 | League Championship |
| Wigan v Oldham | Away | January 13, 1962 | League Championship |
| Oldham v Wigan | Home | January 20, 1962 | League Championship |
| Rochdale Hornets v Oldham | Away | January 27, 1962 | League Championship |
| Liverpool City v Oldham | Away | February 3, 1962 | League Championship |
| Leigh v Oldham | Away | March 10, 1962 | League Championship |
| Oldham v St Helens | Home | March 17, 1962 | League Championship |
| Hull FC v Oldham | Away | March 24, 1962 | League Championship |
| Oldham v Liverpool City | Home | March 31, 1962 | League Championship |
| Oldham v Salford | Home | April 5, 1962 | League Championship |
| Oldham v Hunslet | Home | April 7, 1962 | League Championship |
| Oldham v Widnes | Home | April 14, 1962 | League Championship |
| Swinton v Oldham | Away | April 20, 1962 | League Championship |
| Oldham v Blackpool Borough | Home | April 21, 1962 | League Championship |
| Oldham v Huddersfield | Home | April 23, 1962 | League Championship |
| Oldham v Swinton | Home | April 28, 1962 | League Championship |
| Rochdale Hornets v Oldham | Away | August 11, 1962 | Law Cup |
| Whitehaven v Oldham | Away | August 18, 1962 | Western Division |
| Oldham v Barrow | Home | August 21, 1962 | Western Division |
| Oldham v Leigh | Home | August 25, 1962 | Western Division |
| Rochdale Hornets v Oldham | Away | August 28, 1962 | Western Division |
| Oldham v Whitehaven | Home | August 31, 1962 | Western Division |
| Whitehaven v Oldham | Away | September 7, 1962 | Lancashire Cup |
| Barrow v Oldham | Away | September 15, 1962 | Western Division |
| Oldham v Rochdale Hornets | Home | September 18, 1962 | Lancashire Cup |
| Oldham v Rochdale Hornets | Home | September 22, 1962 | Western Division |
| Leeds v Oldham | Away | October 20, 1962 | Division 1 |
| Oldham v Wakefield Trinity | Home | October 27, 1962 | Division 1 |
| Oldham v Leeds | Home | November 24, 1962 | Division 1 |
| Oldham v Castleford | Home | December 15, 1962 | Division 1 |
| Widnes v Oldham | Away | February 2, 1963 | Division 1 |
| Leigh v Oldham | Away | March 2, 1963 | Rugby League Challenge Cup |
| Oldham v Featherstone Rovers | Home | March 9, 1963 | Division 1 |
| Workington Town v Oldham | Away | March 16, 1963 | Rugby League Challenge Cup |
| Hull Kingston Rovers v Oldham | Away | March 23, 1963 | Division 1 |
| Oldham v Widnes | Home | March 30, 1963 | Division 1 |
| Oldham v Wigan | Home | April 6, 1963 | Rugby League Challenge Cup |
| Oldham v Workington Town | Home | April 9, 1963 | Division 1 |
| Swinton v Oldham | Away | April 12, 1963 | Division 1 |
| Oldham v Hull FC | Home | April 15, 1963 | Division 1 |
| Bramley v Oldham | Away | April 19, 1963 | Division 1 |
| Oldham v Swinton | Home | April 23, 1963 | Division 1 |
| Castleford v Oldham | Away | April 27, 1963 | Division 1 |
| Oldham v Warrington | Home | May 4, 1963 | Division 1 |
| St Helens v Oldham | Away | May 6, 1963 | Division 1 |
| Warrington v Oldham | Away | May 9, 1963 | Division 1 |
| Featherstone Rovers v Oldham | Away | May 15, 1963 | Division 1 |
| Oldham v Halifax | Home | May 18, 1963 | Division 1 |
| Oldham v Hull Kingston Rovers | Home | May 21, 1963 | Division 1 |
| Hull FC v Oldham | Away | May 27, 1963 | Division 1 |
| Oldham v St Helens | Home | May 30, 1963 | Division 1 |
| Oldham v Bramley | Home | June 1, 1963 | Division 1 |
| Oldham v Rochdale Hornets | Home | August 17, 1963 | Law Cup |
| Rochdale Hornets v Oldham | Away | August 24, 1963 | Division 2 |
| Oldham v Leigh | Home | August 27, 1963 | Division 2 |
| Oldham v Batley | Home | August 31, 1963 | Division 2 |
| Liverpool City v Oldham | Away | September 2, 1963 | Division 2 |
| Oldham v Widnes | Home | September 7, 1963 | Lancashire Cup |
| Blackpool Borough v Oldham | Away | September 28, 1963 | Division 2 |
| Leigh v Oldham | Away | September 30, 1963 | Lancashire Cup |
| Oldham v Australia | Home | October 5, 1963 | Tour Match |
| Barrow v Oldham | Away | October 19, 1963 | Division 2 |
| Barrow v Oldham | Away | November 30, 1963 | Western Division |
| Dewsbury v Oldham | Away | February 1, 1964 | Division 2 |
| Keighley v Oldham | Away | February 8, 1964 | Rugby League Challenge Cup |
| Hunslet v Oldham | Away | March 14, 1964 | Rugby League Challenge Cup |
| Oldham v Liverpool City | Home | March 27, 1964 | Division 2 |
| Salford v Oldham | Away | March 30, 1964 | Division 2 |
| Rochdale Hornets v Oldham | Away | August 15, 1964 | Law Cup |