Peter Smethurst
Profile
The word "character" was never more aptly applied to a Rugby League player than when associated with Peter Smethurst, a man who was always quite prepared to speak his mind on the subject of the game he loved and always guaranteed to give maximum effort on the field of play.
One of the most popular players ever to pull on an Oldham shirt, Peter arrived from Swinton in September 1961. Originally a centre, most of his games with the "Roughyeds" were in the second row, although he did strike up an excellent three-quarter partnership with Trevor Simms in the 1963-64 season, which realised 41 tries between them.
Peter played the game hard and fair, with no quarter asked or given. His trademark being to emerge from under two or three defenders after the most crunching tackle, only to be seen supporting a wide and cheeky grin. Always leading by example, he captained the side in the 1966 Lancashire Cup Final against Wigan, when only a desperate last ditch tackle on Oldham full back Stan McLeod in the final seconds right under the posts prevented the cup from coming to Watersheddings.
Leaving to join Salford in 1967, he went on to play in the Leigh side that won the Challenge Cup in 1971. He then returned to Oldham as assistant coach to Frank Myler in the early 1983 and eventually took charge of the team himself for a brief period in the 1983-84 season.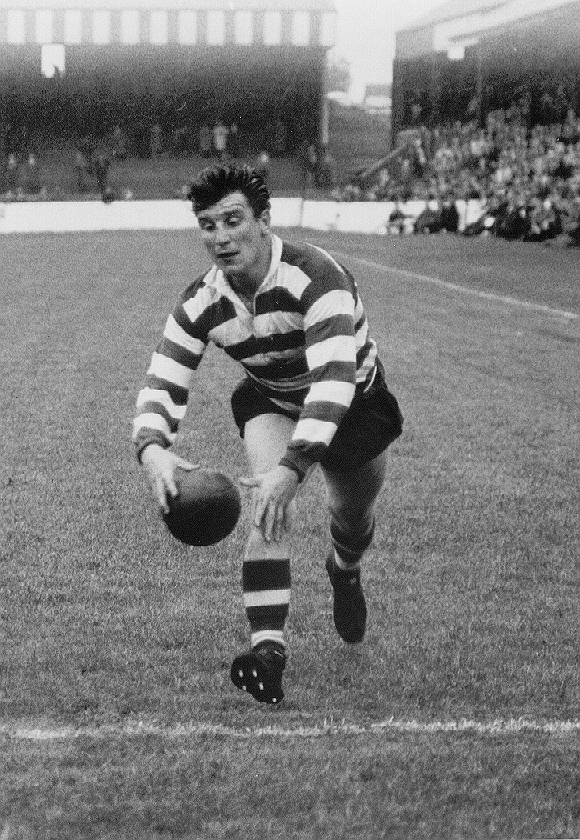 Career Games
| | | | |
| --- | --- | --- | --- |
| Oldham v Barrow | Home | September 30, 1961 | League Championship |
| Oldham v Workington Town | Home | October 7, 1961 | League Championship |
| Oldham v Warrington | Home | October 21, 1961 | League Championship |
| Huddersfield v Oldham | Away | October 28, 1961 | League Championship |
| Whitehaven v Oldham | Away | November 4, 1961 | League Championship |
| Oldham v Hull FC | Home | November 18, 1961 | League Championship |
| Salford v Oldham | Away | November 25, 1961 | League Championship |
| Oldham v Whitehaven | Home | December 2, 1961 | League Championship |
| Workington Town v Oldham | Away | December 9, 1961 | League Championship |
| St Helens v Oldham | Away | December 16, 1961 | League Championship |
| Warrington v Oldham | Away | January 6, 1962 | League Championship |
| Oldham v Wigan | Home | January 20, 1962 | League Championship |
| Rochdale Hornets v Oldham | Away | January 27, 1962 | League Championship |
| Liverpool City v Oldham | Away | February 3, 1962 | League Championship |
| Oldham v Hull FC | Home | February 10, 1962 | Rugby League Challenge Cup |
| Oldham v Leigh | Home | February 17, 1962 | League Championship |
| Widnes v Oldham | Away | February 24, 1962 | League Championship |
| Oldham v Workington Town | Home | March 3, 1962 | Rugby League Challenge Cup |
| Leigh v Oldham | Away | March 10, 1962 | League Championship |
| Oldham v St Helens | Home | March 17, 1962 | League Championship |
| Hull FC v Oldham | Away | March 24, 1962 | League Championship |
| Oldham v Liverpool City | Home | March 31, 1962 | League Championship |
| Oldham v Salford | Home | April 5, 1962 | League Championship |
| Oldham v Hunslet | Home | April 7, 1962 | League Championship |
| Oldham v Widnes | Home | April 14, 1962 | League Championship |
| Swinton v Oldham | Away | April 20, 1962 | League Championship |
| Oldham v Blackpool Borough | Home | April 21, 1962 | League Championship |
| Rochdale Hornets v Oldham | Away | August 11, 1962 | Law Cup |
| Whitehaven v Oldham | Away | August 18, 1962 | Western Division |
| Oldham v Barrow | Home | August 21, 1962 | Western Division |
| Whitehaven v Oldham | Away | September 7, 1962 | Lancashire Cup |
| Barrow v Oldham | Away | September 15, 1962 | Western Division |
| Oldham v Rochdale Hornets | Home | September 18, 1962 | Lancashire Cup |
| Oldham v Rochdale Hornets | Home | September 22, 1962 | Western Division |
| Leigh v Oldham | Away | September 29, 1962 | Western Division |
| Oldham v Huddersfield | Home | October 13, 1962 | Division 1 |
| Leeds v Oldham | Away | October 20, 1962 | Division 1 |
| Wigan v Oldham | Away | November 3, 1962 | Division 1 |
| Huddersfield v Oldham | Away | November 17, 1962 | Division 1 |
| Oldham v Leeds | Home | November 24, 1962 | Division 1 |
| Wakefield Trinity v Oldham | Away | December 1, 1962 | Division 1 |
| Oldham v Castleford | Home | December 15, 1962 | Division 1 |
| Leigh v Oldham | Away | March 2, 1963 | Rugby League Challenge Cup |
| Oldham v Featherstone Rovers | Home | March 9, 1963 | Division 1 |
| Workington Town v Oldham | Away | March 16, 1963 | Rugby League Challenge Cup |
| Hull Kingston Rovers v Oldham | Away | March 23, 1963 | Division 1 |
| Oldham v Wigan | Home | April 6, 1963 | Rugby League Challenge Cup |
| Oldham v Workington Town | Home | April 9, 1963 | Division 1 |
| Swinton v Oldham | Away | April 12, 1963 | Division 1 |
| Oldham v Hull FC | Home | April 15, 1963 | Division 1 |
| Bramley v Oldham | Away | April 19, 1963 | Division 1 |
| Rochdale Hornets v Oldham | Away | August 24, 1963 | Division 2 |
| Oldham v Leigh | Home | August 27, 1963 | Division 2 |
| Liverpool City v Oldham | Away | September 2, 1963 | Division 2 |
| York v Oldham | Away | September 14, 1963 | Division 2 |
| Blackpool Borough v Oldham | Away | September 16, 1963 | Western Division |
| Oldham v Whitehaven | Home | September 18, 1963 | Lancashire Cup |
| Oldham v Barrow | Home | September 21, 1963 | Division 2 |
| Blackpool Borough v Oldham | Away | September 28, 1963 | Division 2 |
| Leigh v Oldham | Away | September 30, 1963 | Lancashire Cup |
| Oldham v Australia | Home | October 5, 1963 | Tour Match |
| Oldham v Doncaster | Home | October 12, 1963 | Division 2 |
| Barrow v Oldham | Away | October 19, 1963 | Division 2 |
| Oldham v Rochdale Hornets | Home | October 26, 1963 | Western Division |
| Doncaster v Oldham | Away | November 2, 1963 | Division 2 |
| Oldham v York | Home | November 9, 1963 | Division 2 |
| Whitehaven v Oldham | Away | November 16, 1963 | Division 2 |
| Oldham v Rochdale Hornets | Home | November 23, 1963 | Division 2 |
| Barrow v Oldham | Away | November 30, 1963 | Western Division |
| Bramley v Oldham | Away | December 7, 1963 | Division 2 |
| Oldham v Dewsbury | Home | December 28, 1963 | Division 2 |
| Oldham v Blackpool Borough | Home | January 4, 1964 | Western Division |
| Oldham v Salford | Home | January 25, 1964 | Division 2 |
| Dewsbury v Oldham | Away | February 1, 1964 | Division 2 |
| Keighley v Oldham | Away | February 8, 1964 | Rugby League Challenge Cup |
| Leigh v Oldham | Away | February 15, 1964 | Western Division |
| Oldham v Blackpool Borough | Home | February 22, 1964 | Division 2 |
| Oldham v Featherstone Rovers | Home | February 29, 1964 | Rugby League Challenge Cup |
| Batley v Oldham | Away | March 7, 1964 | Division 2 |
| Hunslet v Oldham | Away | March 14, 1964 | Rugby League Challenge Cup |
| Oldham v Barrow | Home | March 21, 1964 | Western Division |
| Oldham v Leigh | Home | March 28, 1964 | Western Division |
| Salford v Oldham | Away | March 30, 1964 | Division 2 |
| Hull Kingston Rovers v Oldham | Neutral | April 11, 1964 | Rugby League Challenge Cup |
| Hull Kingston Rovers v Oldham | Neutral | April 15, 1964 | Rugby League Challenge Cup |
| Hull Kingston Rovers v Oldham | Neutral | April 20, 1964 | Rugby League Challenge Cup |
| Rochdale Hornets v Oldham | Away | April 24, 1964 | Western Division |
| Leigh v Oldham | Away | April 27, 1964 | Division 2 |
| St Helens v Oldham | Away | May 1, 1964 | Western Division |
| Oldham v Whitehaven | Home | May 2, 1964 | Division 2 |
| Oldham v Bramley | Home | May 6, 1964 | Division 2 |
| Oldham v Swinton | Home | August 29, 1964 | League Championship |
| Whitehaven v Oldham | Away | September 4, 1964 | Lancashire Cup |
| Oldham v Liverpool City | Home | September 12, 1964 | League Championship |
| Blackpool Borough v Oldham | Away | September 14, 1964 | League Championship |
| Widnes v Oldham | Away | September 19, 1964 | League Championship |
| Warrington v Oldham | Away | September 21, 1964 | Lancashire Cup |
| Oldham v Whitehaven | Home | September 26, 1964 | League Championship |
| Leigh v Oldham | Away | October 3, 1964 | League Championship |
| Oldham v Rochdale Hornets | Home | October 10, 1964 | League Championship |
| Workington Town v Oldham | Away | October 17, 1964 | League Championship |
| Oldham v Warrington | Home | October 24, 1964 | League Championship |
| St Helens v Oldham | Away | October 31, 1964 | League Championship |
| Oldham v Barrow | Home | November 7, 1964 | League Championship |
| Huddersfield v Oldham | Away | November 14, 1964 | League Championship |
| Oldham v Wigan | Home | November 21, 1964 | League Championship |
| Salford v Oldham | Away | November 28, 1964 | League Championship |
| Hunslet v Oldham | Away | December 5, 1964 | League Championship |
| Oldham v Hunslet | Home | January 2, 1965 | League Championship |
| Barrow v Oldham | Away | January 9, 1965 | League Championship |
| Warrington v Oldham | Away | January 30, 1965 | League Championship |
| Hunslet v Oldham | Away | February 6, 1965 | Rugby League Challenge Cup |
| Wigan v Oldham | Away | February 20, 1965 | League Championship |
| Liverpool City v Oldham | Away | February 27, 1965 | League Championship |
| Oldham v Blackpool Borough | Home | April 3, 1965 | League Championship |
| Oldham v Workington Town | Home | April 5, 1965 | League Championship |
| Rochdale Hornets v Oldham | Away | April 9, 1965 | League Championship |
| Oldham v Salford | Home | April 13, 1965 | League Championship |
| Swinton v Oldham | Away | April 16, 1965 | League Championship |
| Whitehaven v Oldham | Away | April 17, 1965 | League Championship |
| Oldham v Dewsbury | Home | April 19, 1965 | League Championship |
| Oldham v Oldham Past | Home | May 29, 1965 | Benefit Match |
| Oldham v Rochdale Hornets | Home | August 14, 1965 | Law Cup |
| Oldham v Warrington | Home | August 21, 1965 | League Championship |
| Whitehaven v Oldham | Away | August 25, 1965 | League Championship |
| Wigan v Oldham | Away | August 28, 1965 | League Championship |
| Oldham v New Zealand | Home | August 31, 1965 | Tour Match |
| Oldham v Blackpool Borough | Home | September 4, 1965 | League Championship |
| Oldham v Rochdale Hornets | Home | September 6, 1965 | League Championship |
| Oldham v Wigan | Home | September 16, 1965 | Lancashire Cup |
| Oldham v Salford | Home | September 25, 1965 | League Championship |
| Leeds v Oldham | Away | December 11, 1965 | League Championship |
| Oldham v Widnes | Home | December 18, 1965 | League Championship |
| Hunslet v Oldham | Away | January 1, 1966 | League Championship |
| Oldham v St Helens | Home | January 8, 1966 | League Championship |
| Oldham v Hunslet | Home | February 1, 1966 | League Championship |
| Oldham v Halifax | Home | February 5, 1966 | League Championship |
| Warrington v Oldham | Away | February 9, 1966 | League Championship |
| Halifax v Oldham | Away | February 19, 1966 | League Championship |
| Swinton v Oldham | Away | February 26, 1966 | Rugby League Challenge Cup |
| Oldham v Leigh | Home | March 4, 1966 | League Championship |
| Liverpool City v Oldham | Away | March 12, 1966 | League Championship |
| Oldham v Swinton | Home | March 22, 1966 | League Championship |
| Oldham v Whitehaven | Home | March 26, 1966 | League Championship |
| Barrow v Oldham | Away | March 31, 1966 | League Championship |
| Swinton v Oldham | Away | April 8, 1966 | League Championship |
| Rochdale Hornets v Oldham | Away | April 11, 1966 | League Championship |
| Oldham v Barrow | Home | April 16, 1966 | League Championship |
| Leigh v Oldham | Away | April 22, 1966 | League Championship |
| Oldham v Workington Town | Home | April 23, 1966 | League Championship |
| Workington Town v Oldham | Away | April 30, 1966 | Top 16 |
| St Helens v Oldham | Away | May 7, 1966 | Top 16 |
| Rochdale Hornets v Oldham | Away | August 13, 1966 | Law Cup |
| Hull FC v Oldham | Away | August 20, 1966 | League Championship |
| Oldham v Blackpool Borough | Home | August 23, 1966 | League Championship |
| Oldham v Swinton | Home | September 2, 1966 | Lancashire Cup |
| Salford v Oldham | Away | September 9, 1966 | League Championship |
| Blackpool Borough v Oldham | Away | September 12, 1966 | League Championship |
| Salford v Oldham | Away | September 15, 1966 | Lancashire Cup |
| Oldham v Whitehaven | Home | September 17, 1966 | League Championship |
| Halifax v Oldham | Away | September 24, 1966 | League Championship |
| Blackpool Borough v Oldham | Away | September 27, 1966 | Lancashire Cup |
| Oldham v Wigan | Home | September 30, 1966 | League Championship |
| Oldham v Barrow | Home | October 4, 1966 | BBC |
| Liverpool City v Oldham | Away | October 8, 1966 | League Championship |
| Oldham v Rochdale Hornets | Home | October 14, 1966 | League Championship |
| Whitehaven v Oldham | Away | October 22, 1966 | League Championship |
| Wigan v Oldham | Neutral | October 29, 1966 | Lancashire Cup |
| Leeds v Oldham | Away | November 5, 1966 | League Championship |
| Oldham v Liverpool City | Home | November 11, 1966 | League Championship |
| Oldham v Leeds | Home | November 25, 1966 | League Championship |
| Workington Town v Oldham | Away | December 3, 1966 | League Championship |
| Oldham v Barrow | Home | December 10, 1966 | League Championship |
| Leigh v Oldham | Away | December 14, 1966 | League Championship |
| Oldham v Leigh | Home | December 17, 1966 | League Championship |
| Huddersfield v Oldham | Away | December 24, 1966 | League Championship |
| Rochdale Hornets v Oldham | Away | December 27, 1966 | League Championship |
| Oldham v Warrington | Home | December 31, 1966 | League Championship |
| Barrow v Oldham | Away | January 14, 1967 | League Championship |
| Oldham v Salford | Home | January 21, 1967 | League Championship |
| St Helens v Oldham | Away | January 27, 1967 | League Championship |
| Huddersfield v Oldham | Away | February 4, 1967 | Rugby League Challenge Cup |
| Oldham v Workington Town | Home | February 11, 1967 | League Championship |
| Oldham v St Helens | Home | February 17, 1967 | League Championship |
| Oldham v Leeds | Home | February 25, 1967 | Rugby League Challenge Cup |
| Widnes v Oldham | Away | March 3, 1967 | League Championship |
| Oldham v Huddersfield | Home | March 11, 1967 | League Championship |
| Wigan v Oldham | Away | March 18, 1967 | League Championship |
| Swinton v Oldham | Away | March 24, 1967 | League Championship |
| Oldham v Widnes | Home | March 25, 1967 | League Championship |
| Rochdale Hornets v Oldham | Away | March 31, 1967 | League Championship |
| Oldham v Swinton | Home | April 7, 1967 | League Championship |
| Swinton v Oldham | Away | April 15, 1967 | Top 16 |
| Oldham v Swinton | Home | April 18, 1967 | Top 16 |
| Blackpool Borough v Oldham | Away | August 12, 1967 | Friendly |
| Oldham v Liverpool City | Home | August 15, 1967 | League Championship |
| Oldham v Leigh | Home | August 19, 1967 | Lancashire Cup |
| Bradford Northern v Oldham | Away | August 23, 1967 | League Championship |
| Oldham v Whitehaven | Home | September 2, 1967 | League Championship |