Geoff Fletcher
Profile
One of the real "characters" of Rugby League, Geoff Fletcher signed for Oldham from Leigh in August 1965. He had won county and international honours as an amateur and in the early days played as a second row or loose forward.
However, it would be as a ball playing prop forward that he will be best remembered by the Oldham fans. A distributor par excellence, he brought the best out of his colleagues, both in the pack and the backs. Whether it was a "runner" in the forwards like Bob Irving, or a speedy half back such as Tommy Warburton, Geoff could be relied upon to deliver the ball right on cue to send his team mates through the gap.
Geoff played in the Lancashire Cup Finals of 1966 and 1968, picking up runners-up medals on both occasions. He was captain of the side in the '68 final against St Helens, having to retire with a broken arm at half time. He left to join Wigan in 1969 and later became involved with the Huyton / Runcorn / Highfield outfit, for whom he played for many years and eventually became club Chairman, managing against all the odds to keep the beleaguered Merseyside outfit in existence.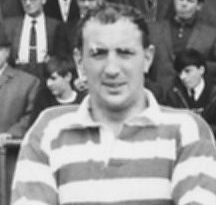 Career Games
| | | | |
| --- | --- | --- | --- |
| Oldham v Blackpool Borough | Home | September 4, 1965 | League Championship |
| Oldham v Rochdale Hornets | Home | September 6, 1965 | League Championship |
| Oldham v Barrow | Home | September 11, 1965 | Lancashire Cup |
| Blackpool Borough v Oldham | Away | September 13, 1965 | League Championship |
| Oldham v Wigan | Home | September 16, 1965 | Lancashire Cup |
| Workington Town v Oldham | Away | September 18, 1965 | League Championship |
| Oldham v Salford | Home | September 25, 1965 | League Championship |
| St Helens v Oldham | Away | October 1, 1965 | League Championship |
| Warrington v Oldham | Away | October 6, 1965 | Lancashire Cup |
| Oldham v Huddersfield | Home | October 9, 1965 | League Championship |
| Swinton v Oldham | Away | October 19, 1965 | BBC |
| Oldham v Wigan | Home | October 22, 1965 | League Championship |
| Oldham v Liverpool City | Home | November 6, 1965 | League Championship |
| Salford v Oldham | Away | November 13, 1965 | League Championship |
| Oldham v Leeds | Home | November 20, 1965 | League Championship |
| Oldham v Castleford | Home | November 23, 1965 | BBC |
| Huddersfield v Oldham | Away | November 27, 1965 | League Championship |
| Oldham v St Helens | Home | January 8, 1966 | League Championship |
| Leigh v Oldham | Away | April 22, 1966 | League Championship |
| Oldham v Workington Town | Home | April 23, 1966 | League Championship |
| Workington Town v Oldham | Away | April 30, 1966 | Top 16 |
| St Helens v Oldham | Away | May 7, 1966 | Top 16 |
| Rochdale Hornets v Oldham | Away | August 13, 1966 | Law Cup |
| Hull FC v Oldham | Away | August 20, 1966 | League Championship |
| Oldham v Blackpool Borough | Home | August 23, 1966 | League Championship |
| Oldham v Hull FC | Home | August 27, 1966 | League Championship |
| Oldham v Swinton | Home | September 2, 1966 | Lancashire Cup |
| Salford v Oldham | Away | September 9, 1966 | League Championship |
| Blackpool Borough v Oldham | Away | September 12, 1966 | League Championship |
| Salford v Oldham | Away | September 15, 1966 | Lancashire Cup |
| Oldham v Whitehaven | Home | September 17, 1966 | League Championship |
| Blackpool Borough v Oldham | Away | September 27, 1966 | Lancashire Cup |
| Oldham v Wigan | Home | September 30, 1966 | League Championship |
| Oldham v Barrow | Home | October 4, 1966 | BBC |
| Liverpool City v Oldham | Away | October 8, 1966 | League Championship |
| Oldham v Rochdale Hornets | Home | October 14, 1966 | League Championship |
| Whitehaven v Oldham | Away | October 22, 1966 | League Championship |
| Wigan v Oldham | Neutral | October 29, 1966 | Lancashire Cup |
| Leeds v Oldham | Away | November 5, 1966 | League Championship |
| Warrington v Oldham | Away | November 18, 1966 | League Championship |
| Widnes v Oldham | Away | November 22, 1966 | BBC |
| Workington Town v Oldham | Away | December 3, 1966 | League Championship |
| Oldham v Barrow | Home | December 10, 1966 | League Championship |
| Leigh v Oldham | Away | December 14, 1966 | League Championship |
| Oldham v Warrington | Home | December 31, 1966 | League Championship |
| Barrow v Oldham | Away | January 14, 1967 | League Championship |
| Oldham v Salford | Home | January 21, 1967 | League Championship |
| Widnes v Oldham | Away | March 3, 1967 | League Championship |
| Oldham v Huddersfield | Home | March 11, 1967 | League Championship |
| Wigan v Oldham | Away | March 18, 1967 | League Championship |
| Swinton v Oldham | Away | March 24, 1967 | League Championship |
| Oldham v Widnes | Home | March 25, 1967 | League Championship |
| Oldham v Halifax | Home | March 27, 1967 | League Championship |
| Rochdale Hornets v Oldham | Away | March 31, 1967 | League Championship |
| Oldham v Swinton | Home | April 7, 1967 | League Championship |
| Swinton v Oldham | Away | April 15, 1967 | Top 16 |
| Oldham v Swinton | Home | April 18, 1967 | Top 16 |
| Blackpool Borough v Oldham | Away | August 12, 1967 | Friendly |
| Oldham v Leigh | Home | August 19, 1967 | Lancashire Cup |
| Oldham v Whitehaven | Home | September 2, 1967 | League Championship |
| Oldham v Rochdale Hornets | Home | September 16, 1967 | League Championship |
| Oldham v Bradford Northern | Home | October 14, 1967 | League Championship |
| Salford v Oldham | Away | October 20, 1967 | League Championship |
| Oldham v Blackpool Borough | Home | October 28, 1967 | League Championship |
| Leigh v Oldham | Away | November 4, 1967 | League Championship |
| St Helens v Oldham | Away | November 7, 1967 | BBC |
| Oldham v Hull FC | Home | November 25, 1967 | League Championship |
| Liverpool City v Oldham | Away | December 2, 1967 | League Championship |
| St Helens v Oldham | Away | December 16, 1967 | League Championship |
| Swinton v Oldham | Away | December 26, 1967 | League Championship |
| Oldham v Barrow | Home | December 30, 1967 | League Championship |
| Workington Town v Oldham | Away | January 1, 1968 | League Championship |
| Batley v Oldham | Away | January 6, 1968 | League Championship |
| Oldham v St Helens | Home | January 20, 1968 | League Championship |
| Wigan v Oldham | Away | January 22, 1968 | League Championship |
| Hunslet v Oldham | Away | February 3, 1968 | Rugby League Challenge Cup |
| Oldham v Batley | Home | February 14, 1968 | League Championship |
| Oldham v Widnes | Home | February 17, 1968 | League Championship |
| Bradford Northern v Oldham | Away | February 24, 1968 | Rugby League Challenge Cup |
| Oldham v Bradford Northern | Home | February 29, 1968 | Rugby League Challenge Cup |
| Rochdale Hornets v Oldham | Away | March 3, 1968 | League Championship |
| Oldham v Workington Town | Home | March 9, 1968 | League Championship |
| Oldham v Leeds | Home | March 16, 1968 | Rugby League Challenge Cup |
| Oldham v Leigh | Home | March 29, 1968 | League Championship |
| Oldham v Blackpool Borough | Home | August 10, 1968 | Friendly |
| Huddersfield v Oldham | Away | August 17, 1968 | League Championship |
| Oldham v Blackpool Borough | Home | August 19, 1968 | League Championship |
| Oldham v Featherstone Rovers | Home | August 24, 1968 | League Championship |
| Rochdale Hornets v Oldham | Away | August 28, 1968 | League Championship |
| Workington Town v Oldham | Away | August 31, 1968 | League Championship |
| Rochdale Hornets v Oldham | Away | September 6, 1968 | Lancashire Cup |
| Blackpool Borough v Oldham | Away | September 9, 1968 | League Championship |
| Hunslet v Oldham | Away | September 14, 1968 | League Championship |
| Oldham v Workington Town | Home | September 16, 1968 | Lancashire Cup |
| Oldham v Wigan | Home | September 21, 1968 | League Championship |
| Doncaster v Oldham | Away | September 28, 1968 | League Championship |
| Oldham v Huddersfield | Home | October 5, 1968 | League Championship |
| Salford v Oldham | Away | October 9, 1968 | Lancashire Cup |
| Rochdale Hornets v Oldham | Away | October 15, 1968 | BBC |
| Oldham v Widnes | Home | October 19, 1968 | League Championship |
| St Helens v Oldham | Neutral | October 25, 1968 | Lancashire Cup |
| Whitehaven v Oldham | Away | December 1, 1968 | League Championship |
| Widnes v Oldham | Away | December 20, 1968 | League Championship |
| Oldham v Whitehaven | Home | December 22, 1968 | League Championship |
| Oldham v Huyton | Home | January 4, 1969 | League Championship |
| Warrington v Oldham | Away | January 8, 1969 | League Championship |
| Huyton v Oldham | Away | January 11, 1969 | League Championship |
| Oldham v Salford | Home | January 18, 1969 | League Championship |
| Oldham v Hull Kingston Rovers | Home | January 25, 1969 | Rugby League Challenge Cup |
| Leigh v Oldham | Away | February 1, 1969 | League Championship |
| Oldham v St Helens | Home | February 25, 1969 | Rugby League Challenge Cup |
| Oldham v Workington Town | Home | March 1, 1969 | League Championship |
| Leigh v Oldham | Away | March 18, 1969 | League Championship |
| St Helens v Oldham | Away | March 28, 1969 | League Championship |
| Swinton v Oldham | Away | April 4, 1969 | League Championship |
| Oldham v Rochdale Hornets | Home | April 7, 1969 | League Championship |
| Barrow v Oldham | Away | April 11, 1969 | League Championship |
| Oldham v St Helens | Home | April 15, 1969 | League Championship |