David Bradbury
Profile
David Bradbury was one of several signings made by Peter Tunks from the 1991 BARLA "young lions" team that toured Australia. Tunks went on to predict a big future in the game for the Leigh based second row or loose forward and five years on this came to pass with his inclusion in the 1996 team to tour Papua-New Guinea and New Zealand.
David made his Oldham debut when coming on as a substitute in the second round Lancashire Cup match, against St Helens on September 26th, 1991. The following season he made 25 appearances when the club clinched promotion to the first division.
After a lengthy lay off due to suspension David returned to the team in the centenary season, a much wiser and more mature player. His impressive displays of strong straight running in the first "Super League" campaign, earned him his deserved tour call up.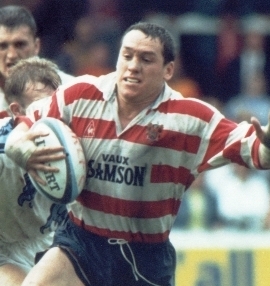 Career Games
| | | | |
| --- | --- | --- | --- |
| Dewsbury v Oldham | Away | August 11, 1991 | Friendly |
| Pia v Oldham | Away | August 18, 1991 | Friendly |
| Carcassonne v Oldham | Away | August 21, 1991 | Friendly |
| Villeneuve v Oldham | Away | August 23, 1991 | Friendly |
| St Helens v Oldham | Away | September 26, 1991 | Lancashire Cup |
| Oldham v Ryedale-York | Home | October 13, 1991 | Division 2 |
| Oldham v St Helens | Home | November 24, 1991 | Regal Trophy |
| Ryedale-York v Oldham | Away | December 15, 1991 | Division 2 |
| Leigh v Oldham | Away | January 1, 1992 | Division 2 |
| Oldham v Carlisle | Home | January 5, 1992 | Division 2 |
| Oldham v Sheffield Eagles | Home | January 12, 1992 | Division 2 |
| Widnes v Oldham | Away | August 23, 1992 | Friendly |
| Oldham v Warrington | Home | September 13, 1992 | Lancashire Cup |
| Huddersfield v Oldham | Away | September 20, 1992 | Division 2 |
| Leigh v Oldham | Away | September 23, 1992 | Lancashire Cup |
| Oldham v Swinton | Home | September 27, 1992 | Division 2 |
| Oldham v Featherstone Rovers | Home | October 2, 1992 | Division 2 |
| Wigan v Oldham | Away | October 6, 1992 | Lancashire Cup |
| Rochdale Hornets v Oldham | Away | October 11, 1992 | Division 2 |
| Bramley v Oldham | Away | October 18, 1992 | Division 2 |
| Oldham v Swinton | Home | November 1, 1992 | Division 2 |
| Oldham v Castleford | Home | November 8, 1992 | Regal Trophy |
| Carlisle v Oldham | Away | November 15, 1992 | Division 2 |
| Swinton v Oldham | Away | November 29, 1992 | Division 2 |
| Featherstone Rovers v Oldham | Away | December 13, 1992 | Division 2 |
| Oldham v Bramley | Home | January 6, 1993 | Division 2 |
| Featherstone Rovers v Oldham | Away | February 7, 1993 | Division 2 |
| Oldham v Huddersfield | Home | February 14, 1993 | Rugby League Challenge Cup |
| Oldham v Carlisle | Home | February 21, 1993 | Division 2 |
| Huddersfield v Oldham | Away | March 7, 1993 | Division 2 |
| Oldham v Featherstone Rovers | Home | March 14, 1993 | Division 2 |
| Oldham v London Crusaders | Home | March 21, 1993 | Division 2 |
| Rochdale Hornets v Oldham | Away | April 9, 1993 | Division 2 |
| Oldham v Huddersfield | Home | April 12, 1993 | Division 2 |
| London Crusaders v Oldham | Away | April 18, 1993 | Division 2 |
| Oldham v Dewsbury | Home | April 25, 1993 | Divisional Premiership |
| Dewsbury v Oldham | Away | April 28, 1993 | Divisional Premiership |
| Oldham v Dewsbury | Home | August 13, 1993 | Friendly |
| Halifax v Oldham | Away | August 29, 1993 | Division 1 |
| Oldham v Bradford Northern | Home | September 3, 1993 | Division 1 |
| Oldham v Warrington | Home | September 19, 1993 | Division 1 |
| Oldham v Sheffield Eagles | Home | September 26, 1993 | Division 1 |
| Highfield v Oldham | Away | November 14, 1993 | Regal Trophy |
| Oldham v Salford | Home | December 26, 1993 | Division 1 |
| Castleford v Oldham | Away | January 12, 1994 | Division 1 |
| Oldham v Hull Kingston Rovers | Home | January 16, 1994 | Division 1 |
| Warrington v Oldham | Away | January 23, 1994 | Division 1 |
| Hunslet v Oldham | Away | January 30, 1994 | Rugby League Challenge Cup |
| Sheffield Eagles v Oldham | Away | February 6, 1994 | Division 1 |
| Doncaster v Oldham | Away | February 13, 1994 | Rugby League Challenge Cup |
| Oldham v Bradford Northern | Home | November 22, 1994 | Division 1 |
| Wigan v Oldham | Away | November 27, 1994 | Division 1 |
| Oldham v Hull Kingston Rovers | Home | December 4, 1994 | Regal Trophy |
| Oldham v Sheffield Eagles | Home | January 22, 1995 | Division 1 |
| Wigan v Oldham | Neutral | March 25, 1995 | Rugby League Challenge Cup |
| Leeds v Oldham | Away | April 4, 1995 | Division 1 |
| Sheffield Eagles v Oldham | Away | April 9, 1995 | Division 1 |
| Oldham v Salford | Home | April 14, 1995 | Division 1 |
| Workington Town v Oldham | Away | April 17, 1995 | Division 1 |
| Oldham v Castleford | Home | April 20, 1995 | Division 1 |
| Featherstone Rovers v Oldham | Away | April 23, 1995 | Division 1 |
| St Helens v Oldham | Away | December 13, 1995 | Division 1 Centenary Championship |
| Oldham v Wigan | Home | December 17, 1995 | Division 1 Centenary Championship |
| Halifax v Oldham | Away | January 4, 1996 | Division 1 Centenary Championship |
| Leeds v Oldham | Away | January 10, 1996 | Division 1 Centenary Championship |
| Workington Town v Oldham | Away | January 14, 1996 | Division 1 Centenary Championship |
| Oldham v Warrington | Home | January 17, 1996 | Division 1 Centenary Championship |
| Oldham v Sheffield Eagles | Home | January 21, 1996 | Division 1 Centenary Championship |
| Oldham Bears v Warrington | Home | February 4, 1996 | Rugby League Challenge Cup |
| Oldham Bears v Wigan | Home | March 30, 1996 | Super League |
| Oldham Bears v Halifax | Home | April 5, 1996 | Super League |
| Paris St Germain v Oldham Bears | Away | April 8, 1996 | Super League |
| Oldham Bears v Leeds Rhinos | Home | April 13, 1996 | Super League |
| Castleford v Oldham Bears | Away | April 20, 1996 | Super League |
| Oldham Bears v Bradford Bulls | Home | May 10, 1996 | Super League |
| London Broncos v Oldham Bears | Away | June 2, 1996 | Super League |
| Oldham Bears v Warrington | Home | June 9, 1996 | Super League |
| Wigan v Oldham Bears | Away | June 16, 1996 | Super League |
| Halifax v Oldham Bears | Away | June 23, 1996 | Super League |
| Oldham Bears v Paris St Germain | Home | June 28, 1996 | Super League |
| Leeds Rhinos v Oldham Bears | Away | July 7, 1996 | Super League |
| Oldham Bears v Castleford | Home | July 14, 1996 | Super League |
| Oldham Bears v St Helens | Home | July 19, 1996 | Super League |
| Bradford Bulls v Oldham Bears | Away | July 28, 1996 | Super League |
| Workington Town v Oldham Bears | Away | August 4, 1996 | Super League |
| Oldham Bears v London Broncos | Home | August 11, 1996 | Super League |
| Warrington v Oldham Bears | Away | August 16, 1996 | Super League |
| Oldham Bears v Sheffield Eagles | Home | August 25, 1996 | Super League |
| Oldham Bears v Swinton | Home | January 19, 1997 | Friendly |
| Oldham Bears v Rochdale Hornets | Home | February 9, 1997 | Rugby League Challenge Cup |
| Wakefield Trinity v Oldham Bears | Away | February 23, 1997 | Rugby League Challenge Cup |
| Oldham Bears v Bradford Bulls | Home | March 9, 1997 | Rugby League Challenge Cup |
| Leeds Rhinos v Oldham Bears | Away | March 16, 1997 | Super League |
| Oldham Bears v Bradford Bulls | Home | March 21, 1997 | Super League |
| Salford Reds v Oldham Bears | Away | March 28, 1997 | Super League |
| Oldham Bears v London Broncos | Home | April 1, 1997 | Super League |
| Oldham Bears v Paris St Germain | Home | April 13, 1997 | Super League |
| Wigan Warriors v Oldham Bears | Away | April 20, 1997 | Super League |