Derek Turner
Profile
Derek "Rocky" Turner, came to Oldham from Hull K.R., playing his first match against Hunslet on September 3rd 1955. A loose forward of immense power and fearless determination, Derek was seen by many as the last piece required to complete the puzzle that became the great team of the 1950s.
A born leader, with never a backward step, he demonstrated a terrific work rate on both attack and defence, giving everything in the eighty minutes while inspiring others to do the same and was always a thorn in the side of the opposition. Although it is interesting to note that he was never captain while at Watersheddings.
An integral part of the mid to late 1950s success of the club, his big regret was that the club never reached Wembley. Still history remembers Derek as one of the great Wembley captains after he led Wakefield Trinity to success at the famous London stadium in 1960, 1962 and 1963, the Yorkshire team instantly recognising his leadership qualities.
Derek won eleven caps during his time with Oldham and was selected for the 1958 tour only to withdraw because of injury. He would realise this ambition after his move to Wakefield on the 1962 tour.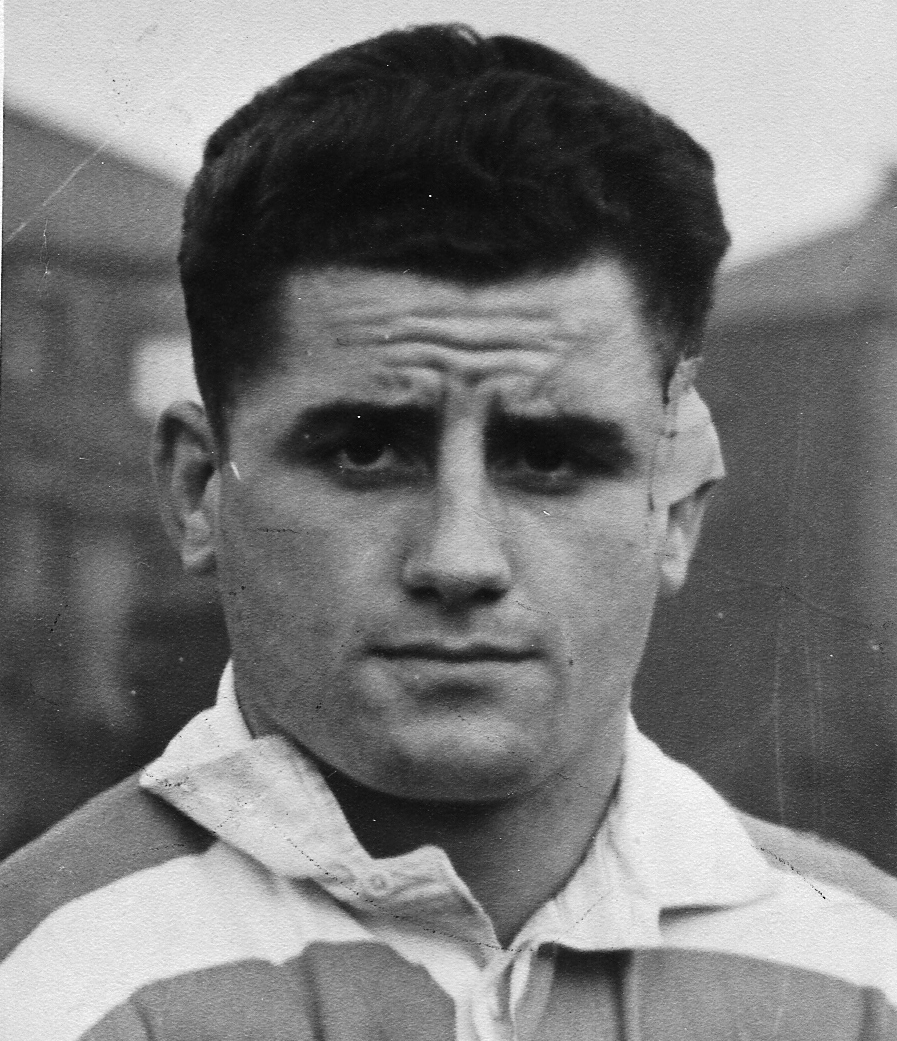 Career Games
| | | | |
| --- | --- | --- | --- |
| Oldham v Hunslet | Home | September 3, 1955 | League Championship |
| Oldham v Leigh | Home | September 7, 1955 | Lancashire Cup |
| Leeds v Oldham | Away | September 10, 1955 | League Championship |
| Oldham v Warrington | Home | September 17, 1955 | League Championship |
| York v Oldham | Away | September 24, 1955 | League Championship |
| Oldham v Featherstone Rovers | Home | October 1, 1955 | League Championship |
| Featherstone Rovers v Oldham | Neutral | November 2, 1955 | Independent Television Floodlit Trophy |
| Leigh v Oldham | Away | November 5, 1955 | League Championship |
| Oldham v Liverpool City | Home | November 12, 1955 | League Championship |
| Wigan v Oldham | Away | November 19, 1955 | League Championship |
| Oldham v Widnes | Home | November 26, 1955 | League Championship |
| Liverpool City v Oldham | Away | December 3, 1955 | League Championship |
| Salford v Oldham | Away | December 10, 1955 | League Championship |
| Oldham v Salford | Home | December 17, 1955 | League Championship |
| St Helens v Oldham | Away | December 24, 1955 | League Championship |
| Oldham v Swinton | Home | December 26, 1955 | League Championship |
| Oldham v Whitehaven | Home | December 31, 1955 | League Championship |
| Workington Town v Oldham | Away | January 2, 1956 | League Championship |
| Widnes v Oldham | Away | January 21, 1956 | League Championship |
| Oldham v Rochdale Hornets | Home | January 28, 1956 | League Championship |
| Oldham v Dewsbury | Home | February 11, 1956 | Rugby League Challenge Cup |
| Oldham v Wigan | Home | February 18, 1956 | League Championship |
| Leeds v Oldham | Away | March 3, 1956 | Rugby League Challenge Cup |
| Oldham v York | Home | March 10, 1956 | League Championship |
| Oldham v Blackpool Borough | Home | March 17, 1956 | League Championship |
| Oldham v Leigh | Home | March 24, 1956 | League Championship |
| Swinton v Oldham | Away | March 30, 1956 | League Championship |
| Oldham v Leeds | Home | March 31, 1956 | League Championship |
| Oldham v St Helens | Home | April 14, 1956 | League Championship |
| Oldham v Workington Town | Home | April 21, 1956 | League Championship |
| Oldham v Rochdale Hornets | Home | August 11, 1956 | Law Cup |
| Oldham v Bramley | Home | August 18, 1956 | League Championship |
| Halifax v Oldham | Away | August 20, 1956 | League Championship |
| Rochdale Hornets v Oldham | Away | August 25, 1956 | League Championship |
| Oldham v Leigh | Home | August 28, 1956 | League Championship |
| Wigan v Oldham | Away | September 1, 1956 | Lancashire Cup |
| St Helens v Oldham | Away | September 8, 1956 | League Championship |
| Salford v Oldham | Away | September 11, 1956 | Lancashire Cup |
| Oldham v Wakefield Trinity | Home | September 15, 1956 | League Championship |
| Leigh v Oldham | Away | September 19, 1956 | Lancashire Cup |
| Oldham v Barrow | Home | September 22, 1956 | League Championship |
| Liverpool City v Oldham | Away | September 29, 1956 | League Championship |
| Wigan v Oldham | Away | October 6, 1956 | League Championship |
| Leigh v Oldham | Neutral | October 8, 1956 | Rules trial game |
| Oldham v Halifax | Home | October 13, 1956 | League Championship |
| St Helens v Oldham | Neutral | October 20, 1956 | Lancashire Cup |
| Oldham v Keighley | Home | October 27, 1956 | League Championship |
| Workington Town v Oldham | Away | November 3, 1956 | League Championship |
| Oldham v Australia | Home | November 7, 1956 | Tour Match |
| Oldham v Workington Town | Home | November 10, 1956 | League Championship |
| Keighley v Oldham | Away | November 17, 1956 | League Championship |
| Barrow v Oldham | Away | November 21, 1956 | League Championship |
| Oldham v Blackpool Borough | Home | November 24, 1956 | League Championship |
| Oldham v St Helens | Home | December 8, 1956 | League Championship |
| Warrington v Oldham | Away | December 22, 1956 | League Championship |
| Widnes v Oldham | Away | December 29, 1956 | League Championship |
| Blackpool Borough v Oldham | Away | January 1, 1957 | League Championship |
| Oldham v Hunslet | Home | January 5, 1957 | League Championship |
| Whitehaven v Oldham | Away | January 19, 1957 | League Championship |
| Salford v Oldham | Away | February 2, 1957 | League Championship |
| Workington Town v Oldham | Away | February 9, 1957 | Rugby League Challenge Cup |
| Oldham v Widnes | Home | February 16, 1957 | League Championship |
| Leigh v Oldham | Away | February 23, 1957 | Rugby League Challenge Cup |
| York v Oldham | Away | March 9, 1957 | League Championship |
| Oldham v Whitehaven | Home | March 16, 1957 | League Championship |
| Bramley v Oldham | Away | March 23, 1957 | League Championship |
| Oldham v Wigan | Home | March 30, 1957 | League Championship |
| Leigh v Oldham | Away | April 4, 1957 | League Championship |
| Oldham v Swinton | Home | April 15, 1957 | League Championship |
| Swinton v Oldham | Away | April 19, 1957 | League Championship |
| Hunslet v Oldham | Away | April 20, 1957 | League Championship |
| Oldham v Rochdale Hornets | Home | April 22, 1957 | League Championship |
| Oldham v Leeds | Home | May 4, 1957 | League Championship |
| Hull FC v Oldham | Neutral | May 18, 1957 | League Championship |
| Rochdale Hornets v Oldham | Away | August 10, 1957 | Law Cup |
| Oldham v Halifax | Home | August 17, 1957 | League Championship |
| Barrow v Oldham | Away | August 22, 1957 | League Championship |
| Wakefield Trinity v Oldham | Away | August 24, 1957 | League Championship |
| Oldham v St Helens | Home | August 26, 1957 | League Championship |
| Oldham v Barrow | Home | August 31, 1957 | Lancashire Cup |
| Huddersfield v Oldham | Away | September 2, 1957 | League Championship |
| Halifax v Oldham | Away | September 7, 1957 | League Championship |
| Oldham v Warrington | Home | September 10, 1957 | Lancashire Cup |
| Oldham v Leigh | Home | September 21, 1957 | League Championship |
| Workington Town v Oldham | Away | September 28, 1957 | League Championship |
| St Helens v Oldham | Away | October 2, 1957 | Lancashire Cup |
| Rochdale Hornets v Oldham | Away | October 12, 1957 | League Championship |
| Wigan v Oldham | Neutral | October 19, 1957 | Lancashire Cup |
| Blackpool Borough v Oldham | Away | October 26, 1957 | League Championship |
| Salford v Oldham | Away | November 9, 1957 | League Championship |
| Oldham v Liverpool City | Home | November 16, 1957 | League Championship |
| Oldham v Salford | Home | November 30, 1957 | League Championship |
| Hunslet v Oldham | Away | December 7, 1957 | League Championship |
| Liverpool City v Oldham | Away | December 14, 1957 | League Championship |
| Oldham v Whitehaven | Home | December 21, 1957 | League Championship |
| Hull FC v Oldham | Away | December 26, 1957 | League Championship |
| Warrington v Oldham | Away | December 28, 1957 | League Championship |
| Oldham v Leeds | Home | January 4, 1958 | League Championship |
| Oldham v Barrow | Home | January 11, 1958 | League Championship |
| Widnes v Oldham | Away | January 18, 1958 | League Championship |
| Wigan v Oldham | Away | February 1, 1958 | League Championship |
| Oldham v Hull Kingston Rovers | Home | February 8, 1958 | Rugby League Challenge Cup |
| St Helens v Oldham | Away | February 15, 1958 | League Championship |
| Blackpool Borough v Oldham | Away | February 22, 1958 | Rugby League Challenge Cup |
| Oldham v Wigan | Home | March 8, 1958 | Rugby League Challenge Cup |
| Whitehaven v Oldham | Away | March 15, 1958 | League Championship |
| Oldham v Rochdale Hornets | Home | March 22, 1958 | League Championship |
| Oldham v Widnes | Home | March 25, 1958 | League Championship |
| Swinton v Oldham | Away | April 4, 1958 | League Championship |
| Oldham v Wigan | Home | April 5, 1958 | League Championship |
| Oldham v Huddersfield | Home | April 7, 1958 | League Championship |
| Oldham v Hunslet | Home | April 12, 1958 | League Championship |
| Oldham v Hull FC | Home | April 16, 1958 | League Championship |
| Leeds v Oldham | Away | April 19, 1958 | League Championship |
| Oldham v Workington Town | Home | April 26, 1958 | League Championship |
| Oldham v Hull FC | Home | May 3, 1958 | League Championship |
| Oldham v Halifax | Home | August 16, 1958 | League Championship |
| Blackpool Borough v Oldham | Away | August 19, 1958 | League Championship |
| Wakefield Trinity v Oldham | Away | August 23, 1958 | League Championship |
| Oldham v Whitehaven | Home | August 30, 1958 | Lancashire Cup |
| Oldham v Workington Town | Home | September 2, 1958 | League Championship |
| Halifax v Oldham | Away | September 6, 1958 | League Championship |
| Oldham v Wakefield Trinity | Home | September 13, 1958 | League Championship |
| Oldham v Wigan | Home | September 16, 1958 | Lancashire Cup |
| Rochdale Hornets v Oldham | Away | September 20, 1958 | League Championship |
| Oldham v Blackpool Borough | Home | September 27, 1958 | League Championship |
| Oldham v Widnes | Home | September 30, 1958 | Lancashire Cup |
| Warrington v Oldham | Away | October 4, 1958 | League Championship |
| Liverpool City v Oldham | Away | October 18, 1958 | League Championship |
| St Helens v Oldham | Neutral | October 25, 1958 | Lancashire Cup |
| Featherstone Rovers v Oldham | Away | November 1, 1958 | League Championship |
| Oldham v Featherstone Rovers | Home | November 8, 1958 | League Championship |
| Oldham v Widnes | Home | December 6, 1958 | League Championship |
| Workington Town v Oldham | Away | December 13, 1958 | League Championship |
| Oldham v Wigan | Home | December 20, 1958 | League Championship |
| Oldham v Swinton | Home | December 25, 1958 | League Championship |
| Hunslet v Oldham | Away | December 26, 1958 | League Championship |
| St Helens v Oldham | Away | December 27, 1958 | League Championship |