Vince Nestor
Profile
Vince Nestor was signed from the Tyldesley Rugby Union club during the 1954-55 season and with that acquisition the club gained not only a versatile back who was equally at home at stand-off, centre or on the wing but also a loyal clubman who gave ten years fine service to the Oldham club.
After making his senior debut at York on September 24th 1955,Vince was a consistent performer for the next decade in whatever position he was selected to play.
He played at right centre in the 1957 Lancashire Cup final victory over Wigan.
His last match in the first team was at Whitehaven on April 17th 1965 after which the club arranged a special benefit match of Oldham 'Present' v Oldham 'Past' on May 29th of that year.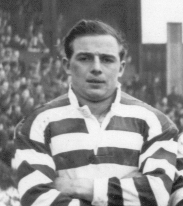 Career Games
| | | | |
| --- | --- | --- | --- |
| Rochdale Hornets v Oldham | Away | August 13, 1955 | Law Cup |
| York v Oldham | Away | September 24, 1955 | League Championship |
| Hunslet v Oldham | Away | October 8, 1955 | League Championship |
| Oldham v Barrow | Home | October 15, 1955 | League Championship |
| Warrington v Oldham | Away | October 22, 1955 | League Championship |
| Salford v Oldham | Away | December 10, 1955 | League Championship |
| Oldham v Salford | Home | December 17, 1955 | League Championship |
| Oldham v Whitehaven | Home | December 31, 1955 | League Championship |
| Workington Town v Oldham | Away | January 2, 1956 | League Championship |
| Oldham v Rochdale Hornets | Home | August 11, 1956 | Law Cup |
| Oldham v Bramley | Home | August 18, 1956 | League Championship |
| Halifax v Oldham | Away | August 20, 1956 | League Championship |
| Leigh v Oldham | Neutral | October 8, 1956 | Rules trial game |
| Keighley v Oldham | Away | November 17, 1956 | League Championship |
| Barrow v Oldham | Away | November 21, 1956 | League Championship |
| Oldham v York | Home | December 1, 1956 | League Championship |
| Wakefield Trinity v Oldham | Away | December 15, 1956 | League Championship |
| Warrington v Oldham | Away | December 22, 1956 | League Championship |
| Widnes v Oldham | Away | December 29, 1956 | League Championship |
| Oldham v Warrington | Home | January 26, 1957 | League Championship |
| Salford v Oldham | Away | February 2, 1957 | League Championship |
| Oldham v Liverpool City | Home | March 2, 1957 | League Championship |
| York v Oldham | Away | March 9, 1957 | League Championship |
| Oldham v Whitehaven | Home | March 16, 1957 | League Championship |
| Bramley v Oldham | Away | March 23, 1957 | League Championship |
| Oldham v Wigan | Home | March 30, 1957 | League Championship |
| Hunslet v Oldham | Away | April 20, 1957 | League Championship |
| Oldham v Rochdale Hornets | Home | April 22, 1957 | League Championship |
| Rochdale Hornets v Oldham | Away | August 10, 1957 | Law Cup |
| Oldham v Halifax | Home | August 17, 1957 | League Championship |
| Barrow v Oldham | Away | August 22, 1957 | League Championship |
| Wakefield Trinity v Oldham | Away | August 24, 1957 | League Championship |
| Oldham v St Helens | Home | August 26, 1957 | League Championship |
| Oldham v Barrow | Home | August 31, 1957 | Lancashire Cup |
| Huddersfield v Oldham | Away | September 2, 1957 | League Championship |
| Halifax v Oldham | Away | September 7, 1957 | League Championship |
| Oldham v Warrington | Home | September 10, 1957 | Lancashire Cup |
| Oldham v Leigh | Home | September 21, 1957 | League Championship |
| St Helens v Oldham | Away | October 2, 1957 | Lancashire Cup |
| Rochdale Hornets v Oldham | Away | October 12, 1957 | League Championship |
| Wigan v Oldham | Neutral | October 19, 1957 | Lancashire Cup |
| Blackpool Borough v Oldham | Away | October 26, 1957 | League Championship |
| Oldham v Wakefield Trinity | Home | November 2, 1957 | League Championship |
| Salford v Oldham | Away | November 9, 1957 | League Championship |
| Leigh v Oldham | Away | November 23, 1957 | League Championship |
| Oldham v Salford | Home | November 30, 1957 | League Championship |
| Hunslet v Oldham | Away | December 7, 1957 | League Championship |
| Liverpool City v Oldham | Away | December 14, 1957 | League Championship |
| Oldham v Whitehaven | Home | December 21, 1957 | League Championship |
| Oldham v Swinton | Home | December 25, 1957 | League Championship |
| Hull FC v Oldham | Away | December 26, 1957 | League Championship |
| Warrington v Oldham | Away | December 28, 1957 | League Championship |
| Oldham v Leeds | Home | January 4, 1958 | League Championship |
| Oldham v Hull Kingston Rovers | Home | February 8, 1958 | Rugby League Challenge Cup |
| Oldham v Blackpool Borough | Home | March 1, 1958 | League Championship |
| Oldham v Rochdale Hornets | Home | March 22, 1958 | League Championship |
| Swinton v Oldham | Away | April 4, 1958 | League Championship |
| Oldham v Wigan | Home | April 5, 1958 | League Championship |
| Oldham v Huddersfield | Home | April 7, 1958 | League Championship |
| Leeds v Oldham | Away | April 19, 1958 | League Championship |
| Rochdale Hornets v Oldham | Away | August 9, 1958 | Law Cup |
| Oldham v Halifax | Home | August 16, 1958 | League Championship |
| Blackpool Borough v Oldham | Away | August 19, 1958 | League Championship |
| Oldham v Wigan | Home | December 20, 1958 | League Championship |
| Hunslet v Oldham | Away | December 26, 1958 | League Championship |
| St Helens v Oldham | Away | December 27, 1958 | League Championship |
| Oldham v Leigh | Home | January 3, 1959 | League Championship |
| Leeds v Oldham | Away | January 31, 1959 | League Championship |
| Leigh v Oldham | Away | February 14, 1959 | League Championship |
| Oldham v St Helens | Home | February 21, 1959 | Rugby League Challenge Cup |
| Whitehaven v Oldham | Away | February 28, 1959 | League Championship |
| Hull FC v Oldham | Away | March 14, 1959 | League Championship |
| Oldham v Barrow | Home | March 21, 1959 | League Championship |
| Oldham v Hull FC | Home | March 30, 1959 | League Championship |
| Oldham v Liverpool City | Home | April 4, 1959 | League Championship |
| Oldham v Salford | Home | April 7, 1959 | League Championship |
| Widnes v Oldham | Away | April 11, 1959 | League Championship |
| Barrow v Oldham | Away | April 20, 1959 | League Championship |
| Oldham v St Helens | Home | April 27, 1959 | League Championship |
| St Helens v Oldham | Away | May 2, 1959 | League Championship |
| Salford v Oldham | Away | August 22, 1959 | League Championship |
| Oldham v Warrington | Home | August 25, 1959 | League Championship |
| Whitehaven v Oldham | Away | August 29, 1959 | Lancashire Cup |
| Halifax v Oldham | Away | September 5, 1959 | League Championship |
| Oldham v Halifax | Home | September 8, 1959 | League Championship |
| Oldham v Widnes | Home | September 19, 1959 | League Championship |
| Oldham v Australia | Home | October 3, 1959 | Tour Match |
| Oldham v Workington Town | Home | October 17, 1959 | League Championship |
| Warrington v Oldham | Away | October 24, 1959 | League Championship |
| Oldham v Barrow | Home | October 31, 1959 | League Championship |
| Whitehaven v Oldham | Away | November 21, 1959 | League Championship |
| Oldham v Rochdale Hornets | Home | November 28, 1959 | League Championship |
| Wigan v Oldham | Away | December 5, 1959 | League Championship |
| Oldham v Dewsbury | Home | December 19, 1959 | League Championship |
| Oldham v Hull FC | Home | December 28, 1959 | League Championship |
| Oldham v Huddersfield | Home | February 13, 1960 | Rugby League Challenge Cup |
| Wakefield Trinity v Oldham | Away | February 20, 1960 | League Championship |
| Oldham v Walney Central | Home | February 27, 1960 | Rugby League Challenge Cup |
| Leeds v Oldham | Away | March 5, 1960 | League Championship |
| Oldham v Wigan | Home | March 12, 1960 | League Championship |
| Oldham v Bramley | Home | March 19, 1960 | Rugby League Challenge Cup |
| Hunslet v Oldham | Away | March 26, 1960 | League Championship |
| Oldham v Liverpool City | Home | April 2, 1960 | League Championship |
| Hull FC v Oldham | Neutral | April 9, 1960 | Rugby League Challenge Cup |
| Swinton v Oldham | Away | April 15, 1960 | League Championship |
| Workington Town v Oldham | Away | April 16, 1960 | League Championship |
| Rochdale Hornets v Oldham | Away | August 6, 1960 | Law Cup |
| Oldham v St Helens | Home | August 13, 1960 | League Championship |
| Warrington v Oldham | Away | August 17, 1960 | League Championship |
| Featherstone Rovers v Oldham | Away | September 3, 1960 | League Championship |
| Oldham v Halifax | Home | September 10, 1960 | League Championship |
| St Helens v Oldham | Away | September 17, 1960 | League Championship |
| Oldham v Featherstone Rovers | Home | September 20, 1960 | League Championship |
| Blackpool Borough v Oldham | Away | September 27, 1960 | League Championship |
| Oldham v Workington Town | Home | March 18, 1961 | League Championship |
| Wigan v Oldham | Away | March 25, 1961 | League Championship |
| Swinton v Oldham | Away | March 31, 1961 | League Championship |
| Oldham v Whitehaven | Home | April 1, 1961 | League Championship |
| Oldham v Rochdale Hornets | Home | April 3, 1961 | League Championship |
| Oldham v Blackpool Borough | Home | April 11, 1961 | League Championship |
| Oldham v Warrington | Home | April 15, 1961 | League Championship |
| Halifax v Oldham | Away | April 26, 1961 | League Championship |
| Oldham v Keighley | Home | April 29, 1961 | League Championship |
| Blackpool Borough v Oldham | Away | August 26, 1961 | League Championship |
| Oldham v York | Home | August 28, 1961 | League Championship |
| Barrow v Oldham | Away | September 2, 1961 | Lancashire Cup |
| Halifax v Oldham | Away | September 9, 1961 | League Championship |
| Oldham v Rochdale Hornets | Home | September 16, 1961 | League Championship |
| Hunslet v Oldham | Away | September 23, 1961 | League Championship |
| St Helens v Oldham | Away | October 2, 1961 | Lancashire Cup |
| Salford v Oldham | Away | November 25, 1961 | League Championship |
| Workington Town v Oldham | Away | December 9, 1961 | League Championship |
| St Helens v Oldham | Away | December 16, 1961 | League Championship |
| Warrington v Oldham | Away | January 6, 1962 | League Championship |
| Wigan v Oldham | Away | January 13, 1962 | League Championship |
| Oldham v Wigan | Home | January 20, 1962 | League Championship |
| Rochdale Hornets v Oldham | Away | January 27, 1962 | League Championship |
| Liverpool City v Oldham | Away | February 3, 1962 | League Championship |
| Oldham v Hull FC | Home | February 10, 1962 | Rugby League Challenge Cup |
| Oldham v Leigh | Home | February 17, 1962 | League Championship |
| Widnes v Oldham | Away | February 24, 1962 | League Championship |
| Oldham v Workington Town | Home | March 3, 1962 | Rugby League Challenge Cup |
| Leigh v Oldham | Away | March 10, 1962 | League Championship |
| Oldham v St Helens | Home | March 17, 1962 | League Championship |
| Hull FC v Oldham | Away | March 24, 1962 | League Championship |
| Oldham v Liverpool City | Home | March 31, 1962 | League Championship |
| Oldham v Salford | Home | April 5, 1962 | League Championship |
| Oldham v Hunslet | Home | April 7, 1962 | League Championship |
| Oldham v Widnes | Home | April 14, 1962 | League Championship |
| Swinton v Oldham | Away | April 20, 1962 | League Championship |
| Oldham v Blackpool Borough | Home | April 21, 1962 | League Championship |
| Oldham v Huddersfield | Home | April 23, 1962 | League Championship |
| Oldham v Swinton | Home | April 28, 1962 | League Championship |
| Oldham v Barrow | Home | August 21, 1962 | Western Division |
| Oldham v Whitehaven | Home | August 31, 1962 | Western Division |
| Barrow v Oldham | Away | September 15, 1962 | Western Division |
| Oldham v Rochdale Hornets | Home | September 18, 1962 | Lancashire Cup |
| Oldham v Rochdale Hornets | Home | September 22, 1962 | Western Division |
| Leigh v Oldham | Away | September 29, 1962 | Western Division |
| Oldham v St Helens | Home | October 2, 1962 | Lancashire Cup |
| Workington Town v Oldham | Away | October 6, 1962 | Division 1 |
| Oldham v Huddersfield | Home | October 13, 1962 | Division 1 |
| Wakefield Trinity v Oldham | Away | December 1, 1962 | Division 1 |
| Oldham v Wigan | Home | December 8, 1962 | Division 1 |
| Oldham v Castleford | Home | December 15, 1962 | Division 1 |
| Halifax v Oldham | Away | December 22, 1962 | Division 1 |
| Hull Kingston Rovers v Oldham | Away | March 23, 1963 | Division 1 |
| Oldham v Widnes | Home | March 30, 1963 | Division 1 |
| Swinton v Oldham | Away | April 12, 1963 | Division 1 |
| Oldham v Hull FC | Home | April 15, 1963 | Division 1 |
| Oldham v Swinton | Home | April 23, 1963 | Division 1 |
| Castleford v Oldham | Away | April 27, 1963 | Division 1 |
| Oldham v Warrington | Home | May 4, 1963 | Division 1 |
| St Helens v Oldham | Away | May 6, 1963 | Division 1 |
| Oldham v Halifax | Home | May 18, 1963 | Division 1 |
| Oldham v Hull Kingston Rovers | Home | May 21, 1963 | Division 1 |
| Oldham v Rochdale Hornets | Home | August 17, 1963 | Law Cup |
| Rochdale Hornets v Oldham | Away | August 24, 1963 | Division 2 |
| Oldham v Leigh | Home | August 27, 1963 | Division 2 |
| Oldham v Batley | Home | August 31, 1963 | Division 2 |
| Liverpool City v Oldham | Away | September 2, 1963 | Division 2 |
| Oldham v Widnes | Home | September 7, 1963 | Lancashire Cup |
| York v Oldham | Away | September 14, 1963 | Division 2 |
| Blackpool Borough v Oldham | Away | September 16, 1963 | Western Division |
| Oldham v Whitehaven | Home | September 18, 1963 | Lancashire Cup |
| Oldham v Barrow | Home | September 21, 1963 | Division 2 |
| Blackpool Borough v Oldham | Away | September 28, 1963 | Division 2 |
| Leigh v Oldham | Away | September 30, 1963 | Lancashire Cup |
| Oldham v Australia | Home | October 5, 1963 | Tour Match |
| Oldham v Doncaster | Home | October 12, 1963 | Division 2 |
| Barrow v Oldham | Away | October 19, 1963 | Division 2 |
| Oldham v Rochdale Hornets | Home | October 26, 1963 | Western Division |
| Doncaster v Oldham | Away | November 2, 1963 | Division 2 |
| Whitehaven v Oldham | Away | November 16, 1963 | Division 2 |
| Oldham v Rochdale Hornets | Home | November 23, 1963 | Division 2 |
| Barrow v Oldham | Away | November 30, 1963 | Western Division |
| Bramley v Oldham | Away | December 7, 1963 | Division 2 |
| Dewsbury v Oldham | Away | February 1, 1964 | Division 2 |
| Keighley v Oldham | Away | February 8, 1964 | Rugby League Challenge Cup |
| Leigh v Oldham | Away | February 15, 1964 | Western Division |
| Oldham v Blackpool Borough | Home | February 22, 1964 | Division 2 |
| Oldham v Featherstone Rovers | Home | February 29, 1964 | Rugby League Challenge Cup |
| Hunslet v Oldham | Away | March 14, 1964 | Rugby League Challenge Cup |
| Oldham v Barrow | Home | March 21, 1964 | Western Division |
| Oldham v Liverpool City | Home | March 27, 1964 | Division 2 |
| Oldham v Leigh | Home | March 28, 1964 | Western Division |
| Hull Kingston Rovers v Oldham | Neutral | April 11, 1964 | Rugby League Challenge Cup |
| Hull Kingston Rovers v Oldham | Neutral | April 15, 1964 | Rugby League Challenge Cup |
| Hull Kingston Rovers v Oldham | Neutral | April 20, 1964 | Rugby League Challenge Cup |
| Rochdale Hornets v Oldham | Away | April 24, 1964 | Western Division |
| St Helens v Oldham | Away | May 1, 1964 | Western Division |
| Oldham v Whitehaven | Home | May 2, 1964 | Division 2 |
| Oldham v Bramley | Home | May 6, 1964 | Division 2 |
| Rochdale Hornets v Oldham | Away | August 15, 1964 | Law Cup |
| Dewsbury v Oldham | Away | August 22, 1964 | League Championship |
| Oldham v Widnes | Home | August 25, 1964 | League Championship |
| Oldham v Swinton | Home | August 29, 1964 | League Championship |
| Whitehaven v Oldham | Away | September 4, 1964 | Lancashire Cup |
| Oldham v Liverpool City | Home | September 12, 1964 | League Championship |
| Blackpool Borough v Oldham | Away | September 14, 1964 | League Championship |
| Workington Town v Oldham | Away | October 17, 1964 | League Championship |
| Oldham v Warrington | Home | October 24, 1964 | League Championship |
| St Helens v Oldham | Away | October 31, 1964 | League Championship |
| Oldham v Barrow | Home | November 7, 1964 | League Championship |
| Oldham v Wigan | Home | November 21, 1964 | League Championship |
| Salford v Oldham | Away | November 28, 1964 | League Championship |
| Hunslet v Oldham | Away | December 5, 1964 | League Championship |
| Oldham v Hunslet | Home | January 2, 1965 | League Championship |
| Barrow v Oldham | Away | January 9, 1965 | League Championship |
| Warrington v Oldham | Away | January 30, 1965 | League Championship |
| Oldham v Keighley | Home | February 13, 1965 | League Championship |
| Wigan v Oldham | Away | February 20, 1965 | League Championship |
| Liverpool City v Oldham | Away | February 27, 1965 | League Championship |
| Oldham v Leigh | Home | March 6, 1965 | League Championship |
| Oldham v St Helens | Home | March 13, 1965 | League Championship |
| Keighley v Oldham | Away | March 20, 1965 | League Championship |
| Oldham v Huddersfield | Home | March 27, 1965 | League Championship |
| Oldham v Blackpool Borough | Home | April 3, 1965 | League Championship |
| Rochdale Hornets v Oldham | Away | April 9, 1965 | League Championship |
| Oldham v Salford | Home | April 13, 1965 | League Championship |
| Swinton v Oldham | Away | April 16, 1965 | League Championship |
| Whitehaven v Oldham | Away | April 17, 1965 | League Championship |