George Hesketh
Profile
When George Hesketh signed for Oldham in November 1923, he had already given ten years service to the Wigan club, but would eclipse his Central Park reputation, as his career entered into an extended twilight playing with Oldham's Challenge Cup specialists of the mid 1920's.
George was a half back, commonly thought to be a stand off, but my research would suggest he was more often at scrum half despite being constantly listed at number six.
Whatever the position, he was a very lively customer, quick off the mark and able to deliver telling passes to unleash the threequarter pace of Rix, Corsi etc or the long striding forward breaks of Sloman, Ashworth and Brough. Also a useful goal kicker, George played in all four of the Challenge Cup Finals the club appeared in between 1924 – 1927, having a particularly fine match in the 1925 triumph over Hull K.R. at Headingley.
His last match was at Leigh on November 9th, 1929. After his career with Oldham was over he returned to serve as a director at Wigan. The Hesketh family have a long tradition at Central Park and George eventually became club chairman.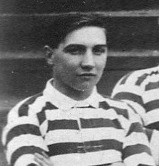 Career Games
| | | | |
| --- | --- | --- | --- |
| Oldham v Leigh | Home | November 17, 1923 | League Championship |
| Oldham v Warrington | Home | November 19, 1923 | League Championship |
| Widnes v Oldham | Away | November 24, 1923 | League Championship |
| Oldham v Wigan | Home | December 1, 1923 | League Championship |
| York v Oldham | Away | December 8, 1923 | League Championship |
| Oldham v St Helens Recs | Home | December 15, 1923 | League Championship |
| Halifax v Oldham | Away | December 22, 1923 | League Championship |
| Oldham v Swinton | Home | December 25, 1923 | League Championship |
| Oldham v Leeds | Home | January 1, 1924 | League Championship |
| Oldham v Barrow | Home | January 19, 1924 | League Championship |
| Wigan v Oldham | Away | January 26, 1924 | League Championship |
| Oldham v Hull FC | Home | February 2, 1924 | League Championship |
| Broughton Rangers v Oldham | Away | February 9, 1924 | League Championship |
| St Helens Recs v Oldham | Away | February 23, 1924 | League Championship |
| Oldham v Dewsbury | Home | March 1, 1924 | Rugby League Challenge Cup |
| Oldham v Rochdale Hornets | Home | March 4, 1924 | League Championship |
| Oldham v Halifax | Home | March 8, 1924 | League Championship |
| Oldham v Wakefield Trinity | Home | March 15, 1924 | Rugby League Challenge Cup |
| Oldham v St Helens | Home | March 22, 1924 | League Championship |
| Huddersfield v Oldham | Neutral | March 29, 1924 | Rugby League Challenge Cup |
| Featherstone Rovers v Oldham | Away | March 31, 1924 | League Championship |
| Salford v Oldham | Away | April 3, 1924 | League Championship |
| Oldham v Wigan Highfield | Home | April 5, 1924 | League Championship |
| Wigan v Oldham | Neutral | April 12, 1924 | Rugby League Challenge Cup |
| Oldham v York | Home | April 14, 1924 | League Championship |
| Swinton v Oldham | Away | April 18, 1924 | League Championship |
| Oldham v Featherstone Rovers | Home | April 19, 1924 | League Championship |
| Huddersfield v Oldham | Away | April 21, 1924 | League Championship |
| Batley v Oldham | Away | April 26, 1924 | League Championship |
| Oldham v Leigh | Home | August 30, 1924 | League Championship |
| Wigan Highfield v Oldham | Away | September 6, 1924 | League Championship |
| Oldham v Rochdale Hornets | Home | September 13, 1924 | Infirmary Cup |
| Salford v Oldham | Away | September 20, 1924 | League Championship |
| Oldham v Halifax | Home | September 27, 1924 | League Championship |
| Wigan v Oldham | Away | October 4, 1924 | League Championship |
| Oldham v Barrow | Home | October 11, 1924 | League Championship |
| Hull FC v Oldham | Away | October 18, 1924 | League Championship |
| Oldham v Rochdale Hornets | Home | October 25, 1924 | Lancashire Cup |
| Widnes v Oldham | Away | November 1, 1924 | League Championship |
| St Helens v Oldham | Away | November 8, 1924 | Lancashire Cup |
| Batley v Oldham | Away | November 15, 1924 | League Championship |
| St Helens Recs v Oldham | Neutral | November 22, 1924 | Lancashire Cup |
| St Helens Recs v Oldham | Away | November 29, 1924 | League Championship |
| Oldham v Wigan | Home | December 6, 1924 | League Championship |
| Warrington v Oldham | Away | December 13, 1924 | League Championship |
| Oldham v York | Home | December 15, 1924 | League Championship |
| Oldham v Warrington | Home | December 20, 1924 | League Championship |
| Oldham v Swinton | Home | December 25, 1924 | League Championship |
| Broughton Rangers v Oldham | Away | December 26, 1924 | League Championship |
| Oldham v Hull FC | Home | January 1, 1925 | League Championship |
| Oldham v Wigan Highfield | Home | January 3, 1925 | League Championship |
| Leigh v Oldham | Away | January 10, 1925 | League Championship |
| St Helens v Oldham | Away | January 17, 1925 | League Championship |
| Oldham v Rochdale Hornets | Home | January 24, 1925 | League Championship |
| Rochdale Hornets v Oldham | Away | January 31, 1925 | League Championship |
| Oldham v St Helens | Home | February 7, 1925 | League Championship |
| Leigh v Oldham | Away | February 14, 1925 | Rugby League Challenge Cup |
| Oldham v Widnes | Home | February 21, 1925 | League Championship |
| Oldham v Warrington | Home | February 28, 1925 | Rugby League Challenge Cup |
| Barrow v Oldham | Away | March 5, 1925 | League Championship |
| Oldham v Batley | Home | March 7, 1925 | League Championship |
| Oldham v Featherstone Rovers | Home | March 14, 1925 | Rugby League Challenge Cup |
| Oldham v Salford | Home | March 21, 1925 | League Championship |
| Oldham v Huddersfield | Home | March 23, 1925 | League Championship |
| York v Oldham | Away | March 28, 1925 | League Championship |
| Rochdale Hornets v Oldham | Neutral | April 4, 1925 | Rugby League Challenge Cup |
| Oldham v Broughton Rangers | Home | April 7, 1925 | League Championship |
| Swinton v Oldham | Away | April 10, 1925 | League Championship |
| Oldham v St Helens Recs | Home | April 11, 1925 | League Championship |
| Huddersfield v Oldham | Away | April 13, 1925 | League Championship |
| Hull Kingston Rovers v Oldham | Neutral | April 25, 1925 | Rugby League Challenge Cup |
| Dewsbury v Oldham | Away | August 29, 1925 | League Championship |
| Oldham v Salford | Home | September 5, 1925 | League Championship |
| Rochdale Hornets v Oldham | Away | September 12, 1925 | Infirmary Cup |
| Oldham v Warrington | Home | September 19, 1925 | League Championship |
| Rest Of Lancs v Oldham | Neutral | September 22, 1925 | Friendly |
| Leigh v Oldham | Away | September 26, 1925 | League Championship |
| Oldham v Hunslet | Home | October 3, 1925 | League Championship |
| Oldham v Rochdale Hornets | Home | October 10, 1925 | Lancashire Cup |
| Hull FC v Oldham | Away | October 12, 1925 | League Championship |
| St Helens v Oldham | Away | October 17, 1925 | League Championship |
| Oldham v Salford | Home | October 19, 1925 | Lancashire Cup |
| Broughton Rangers v Oldham | Away | October 31, 1925 | League Championship |
| Oldham v Wigan | Home | November 2, 1925 | Lancashire Cup |
| Oldham v Dewsbury | Home | November 7, 1925 | League Championship |
| Wigan v Oldham | Away | November 11, 1925 | Lancashire Cup |
| Batley v Oldham | Away | November 21, 1925 | League Championship |
| Oldham v Widnes | Home | November 28, 1925 | League Championship |
| Warrington v Oldham | Away | December 12, 1925 | League Championship |
| Oldham v Leigh | Home | December 19, 1925 | League Championship |
| Oldham v Swinton | Home | December 25, 1925 | League Championship |
| Barrow v Oldham | Away | December 26, 1925 | League Championship |
| Oldham v Hull FC | Home | January 1, 1926 | League Championship |
| Oldham v St Helens | Home | January 2, 1926 | League Championship |
| Widnes v Oldham | Away | January 9, 1926 | League Championship |
| Oldham v Broughton Rangers | Home | January 23, 1926 | League Championship |
| Rochdale Hornets v Oldham | Away | January 30, 1926 | League Championship |
| Oldham v Batley | Home | February 6, 1926 | League Championship |
| Leigh v Oldham | Away | February 13, 1926 | Rugby League Challenge Cup |
| Huddersfield v Oldham | Away | February 20, 1926 | League Championship |
| Oldham v Rochdale Hornets | Home | February 27, 1926 | Rugby League Challenge Cup |
| Hunslet v Oldham | Away | March 6, 1926 | League Championship |
| Oldham v Halifax | Home | March 13, 1926 | Rugby League Challenge Cup |
| Wigan v Oldham | Away | March 20, 1926 | League Championship |
| Wigan Highfield v Oldham | Neutral | March 27, 1926 | Rugby League Challenge Cup |
| Swinton v Oldham | Away | April 2, 1926 | League Championship |
| Oldham v Barrow | Home | April 3, 1926 | League Championship |
| Oldham v St Helens Recs | Home | April 17, 1926 | League Championship |
| Oldham v Rochdale Hornets | Home | April 24, 1926 | League Championship |
| Swinton v Oldham | Neutral | May 1, 1926 | Rugby League Challenge Cup |
| Oldham v Rochdale Hornets | Home | August 21, 1926 | Infirmary Cup |
| Oldham v Leeds | Home | August 28, 1926 | League Championship |
| Pontypridd v Oldham | Away | September 4, 1926 | League Championship |
| Oldham v Wakefield Trinity | Home | September 6, 1926 | League Championship |
| Broughton Rangers v Oldham | Away | September 11, 1926 | League Championship |
| Oldham v Widnes | Home | September 18, 1926 | League Championship |
| Oldham v Huddersfield | Home | September 20, 1926 | League Championship |
| St Helens Recs v Oldham | Away | September 25, 1926 | League Championship |
| Oldham v Barrow | Home | October 2, 1926 | League Championship |
| Oldham v Salford | Home | October 9, 1926 | Lancashire Cup |
| Rochdale Hornets v Oldham | Away | October 16, 1926 | League Championship |
| Oldham v New Zealand | Home | October 23, 1926 | Tour Match |
| Warrington v Oldham | Away | October 30, 1926 | League Championship |
| Oldham v York | Home | November 6, 1926 | League Championship |
| Barrow v Oldham | Away | November 13, 1926 | League Championship |
| Oldham v St Helens | Home | December 4, 1926 | League Championship |
| Wakefield Trinity v Oldham | Away | December 11, 1926 | League Championship |
| Oldham v Batley | Home | December 18, 1926 | League Championship |
| Oldham v Swinton | Home | December 25, 1926 | League Championship |
| Oldham v Hull FC | Home | January 3, 1927 | League Championship |
| Leigh v Oldham | Away | January 8, 1927 | League Championship |
| Salford v Oldham | Away | January 15, 1927 | League Championship |
| Wigan Highfield v Oldham | Away | January 29, 1927 | League Championship |
| Leeds v Oldham | Away | February 5, 1927 | League Championship |
| York v Oldham | Away | February 19, 1927 | League Championship |
| Hunslet v Oldham | Away | February 26, 1927 | Rugby League Challenge Cup |
| Oldham v Broughton Rangers | Home | March 5, 1927 | League Championship |
| Leeds v Oldham | Away | March 12, 1927 | Rugby League Challenge Cup |
| St Helens v Oldham | Away | March 16, 1927 | League Championship |
| Oldham v Wigan | Home | March 19, 1927 | League Championship |
| Wakefield Trinity v Oldham | Neutral | April 2, 1927 | Rugby League Challenge Cup |
| Wigan v Oldham | Away | April 9, 1927 | League Championship |
| Swinton v Oldham | Away | April 15, 1927 | League Championship |
| Oldham v Rochdale Hornets | Home | April 16, 1927 | League Championship |
| Oldham v Leigh | Home | April 19, 1927 | League Championship |
| Widnes v Oldham | Away | April 23, 1927 | League Championship |
| Oldham v Pontypridd | Home | April 25, 1927 | League Championship |
| Oldham v Warrington | Home | April 30, 1927 | League Championship |
| Swinton v Oldham | Neutral | May 7, 1927 | Rugby League Challenge Cup |
| Salford v Oldham | Away | August 27, 1927 | League Championship |
| Huddersfield v Oldham | Away | August 31, 1927 | League Championship |
| Oldham v Wakefield Trinity | Home | September 3, 1927 | League Championship |
| Rochdale Hornets v Oldham | Away | September 6, 1927 | Infirmary Cup |
| Leeds v Oldham | Away | September 24, 1927 | League Championship |
| Wigan Highfield v Oldham | Away | September 28, 1927 | League Championship |
| Oldham v York | Home | October 1, 1927 | League Championship |
| Oldham v Wigan Highfield | Home | October 8, 1927 | Lancashire Cup |
| Wigan v Oldham | Away | October 15, 1927 | League Championship |
| Swinton v Oldham | Away | October 19, 1927 | Lancashire Cup |
| Pontypridd v Oldham | Away | October 22, 1927 | League Championship |
| Oldham v Salford | Home | October 29, 1927 | League Championship |
| St Helens Recs v Oldham | Away | November 5, 1927 | League Championship |
| Warrington v Oldham | Away | November 19, 1927 | League Championship |
| Oldham v St Helens | Home | November 26, 1927 | League Championship |
| Wakefield Trinity v Oldham | Away | December 3, 1927 | League Championship |
| Oldham v Swinton | Home | December 10, 1927 | League Championship |
| Barrow v Oldham | Away | December 24, 1927 | League Championship |
| Leigh v Oldham | Away | December 27, 1927 | League Championship |
| Oldham v Barrow | Home | December 31, 1927 | League Championship |
| Oldham v Hull FC | Home | January 2, 1928 | League Championship |
| Halifax v Oldham | Away | January 7, 1928 | League Championship |
| Oldham v Warrington | Home | January 14, 1928 | League Championship |
| Hull FC v Oldham | Away | January 28, 1928 | League Championship |
| Oldham v St Helens Recs | Home | February 4, 1928 | League Championship |
| Oldham v St Helens | Home | February 11, 1928 | Rugby League Challenge Cup |
| St Helens v Oldham | Away | February 18, 1928 | League Championship |
| Oldham v Broughton Rangers | Home | February 21, 1928 | League Championship |
| Barrow v Oldham | Away | February 25, 1928 | Rugby League Challenge Cup |
| Oldham v Rochdale Hornets | Home | March 3, 1928 | League Championship |
| Leeds v Oldham | Away | March 10, 1928 | Rugby League Challenge Cup |
| Widnes v Oldham | Away | March 17, 1928 | League Championship |
| Oldham v Leeds | Home | March 24, 1928 | League Championship |
| Oldham v Wigan Highfield | Home | March 31, 1928 | League Championship |
| Swinton v Oldham | Away | April 6, 1928 | League Championship |
| Broughton Rangers v Oldham | Away | April 7, 1928 | League Championship |
| Oldham v Widnes | Home | April 9, 1928 | League Championship |
| Hull FC v Oldham | Away | April 14, 1928 | League Championship |
| Oldham v Wigan | Home | April 23, 1928 | League Championship |
| Oldham v Salford | Home | August 25, 1928 | League Championship |
| Oldham v Hunslet | Home | November 24, 1928 | League Championship |
| St Helens v Oldham | Away | December 1, 1928 | League Championship |
| Oldham v St Helens | Home | December 8, 1928 | League Championship |
| Wigan v Oldham | Away | December 15, 1928 | League Championship |
| Broughton Rangers v Oldham | Away | December 22, 1928 | League Championship |
| Oldham v Swinton | Home | December 25, 1928 | League Championship |
| Bramley v Oldham | Away | February 9, 1929 | Rugby League Challenge Cup |
| Warrington v Oldham | Away | February 23, 1929 | Rugby League Challenge Cup |
| Oldham v Huddersfield | Home | March 2, 1929 | League Championship |
| Leigh v Oldham | Away | November 9, 1929 | League Championship |