Terry O'Grady
Profile
Signed from the local St Mary's team, Terry O'Grady had a sensational start to his rugby career, being capped for Lancashire against the 1951 Kiwis, while still only 17 years old. He would prove to be a major asset to the red rose county playing a total of fourteen times and scoring 16 tries.
He was leading try scorer for the club in 1952-3 and also in 1953-4, at the conclusion of which he was selected for the 1954 tour to Australia and New Zealand. Still only nineteen, Terry was a fantastic success on the tour, scoring 28 tries, including five in the match against Wide Bay. The five Great Britain caps he won as an Oldham player were all earned on the tour, playing in two tests against the Aussies and all three in New Zealand.
Terry returned from the tour in good form and the following season the Davies / O'Grady threequarter pairing rattled up 51 tries between them, as the club finished runners-up to Warrington in the 1955 Championship Final. Thereafter his career was disrupted by injury and he had to contend with competition from Etty and Cracknell for the wing positions. In 1957 he was transferred to Wigan, a move which brought him a trip to Wembley and a winners medal in the 1958 final against Workington Town.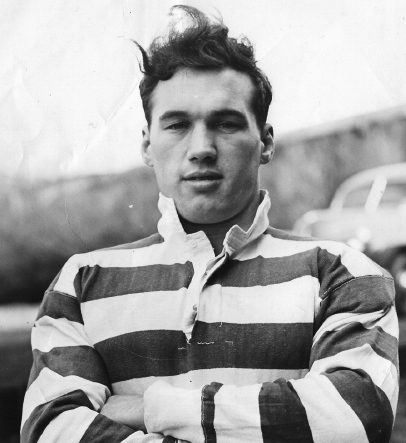 Career Games
| | | | |
| --- | --- | --- | --- |
| Oldham v St Helens | Home | March 26, 1951 | League Championship |
| Oldham v St Helens | Home | April 7, 1951 | League Championship |
| Barrow v Oldham | Away | April 14, 1951 | League Championship |
| Oldham v Wigan | Home | April 23, 1951 | League Championship |
| Oldham v Halifax | Home | May 8, 1951 | Benefit Match |
| Oldham v Rochdale Hornets | Home | September 4, 1951 | Lancashire Cup |
| Wigan v Oldham | Away | September 8, 1951 | League Championship |
| Oldham v Whitehaven | Home | September 10, 1951 | League Championship |
| Oldham v New Zealand | Home | September 29, 1951 | Tour Match |
| Oldham v Warrington | Home | October 6, 1951 | League Championship |
| Liverpool City v Oldham | Away | October 13, 1951 | League Championship |
| Oldham v Leigh | Home | October 16, 1951 | Lancashire Cup |
| Oldham v Leigh | Home | October 20, 1951 | League Championship |
| Salford v Oldham | Away | October 27, 1951 | League Championship |
| Oldham v Bramley | Home | November 3, 1951 | League Championship |
| Barrow v Oldham | Away | November 24, 1951 | League Championship |
| Oldham v Barrow | Home | December 1, 1951 | League Championship |
| Halifax v Oldham | Away | December 8, 1951 | League Championship |
| Whitehaven v Oldham | Away | December 15, 1951 | League Championship |
| Oldham v Keighley | Home | December 22, 1951 | League Championship |
| Oldham v Widnes | Home | January 5, 1952 | League Championship |
| Oldham v Salford | Home | January 12, 1952 | League Championship |
| Warrington v Oldham | Away | February 2, 1952 | League Championship |
| Hull FC v Oldham | Away | February 9, 1952 | Rugby League Challenge Cup |
| Oldham v Hull FC | Home | February 16, 1952 | Rugby League Challenge Cup |
| Oldham v Hull Kingston Rovers | Home | February 23, 1952 | League Championship |
| Leeds v Oldham | Away | March 1, 1952 | Rugby League Challenge Cup |
| St Helens v Oldham | Away | March 29, 1952 | League Championship |
| Rochdale Hornets v Oldham | Away | April 1, 1952 | League Championship |
| Oldham v Rochdale Hornets | Home | April 12, 1952 | League Championship |
| Oldham v RL XIII | Home | May 6, 1952 | Benefit Match |
| Oldham v Rochdale Hornets | Home | August 16, 1952 | Law Cup |
| Oldham v Featherstone Rovers | Home | August 23, 1952 | League Championship |
| Oldham v Swinton | Home | August 30, 1952 | Lancashire Cup |
| Swinton v Oldham | Away | September 3, 1952 | Lancashire Cup |
| Oldham v Wakefield Trinity | Home | September 20, 1952 | League Championship |
| Leeds v Oldham | Away | September 27, 1952 | League Championship |
| Workington Town v Oldham | Away | October 4, 1952 | League Championship |
| Oldham v Widnes | Home | October 11, 1952 | League Championship |
| Warrington v Oldham | Away | October 18, 1952 | League Championship |
| Oldham v Warrington | Home | October 25, 1952 | League Championship |
| Bramley v Oldham | Away | November 1, 1952 | League Championship |
| Oldham v Leigh | Home | November 8, 1952 | League Championship |
| Oldham v Rochdale Hornets | Home | January 24, 1953 | League Championship |
| Oldham v Bramley | Home | January 31, 1953 | League Championship |
| Oldham v St Helens | Home | February 14, 1953 | Rugby League Challenge Cup |
| Rochdale Hornets v Oldham | Away | February 21, 1953 | League Championship |
| Whitehaven v Oldham | Away | February 28, 1953 | League Championship |
| Oldham v Bradford Northern | Home | March 7, 1953 | League Championship |
| Widnes v Oldham | Away | March 14, 1953 | League Championship |
| Oldham v Workington Town | Home | March 21, 1953 | League Championship |
| Featherstone Rovers v Oldham | Away | March 28, 1953 | League Championship |
| Swinton v Oldham | Away | April 3, 1953 | League Championship |
| Belle Vue Rangers v Oldham | Away | April 4, 1953 | League Championship |
| Oldham v Whitehaven | Home | April 6, 1953 | League Championship |
| Oldham v Liverpool City | Home | April 11, 1953 | League Championship |
| Leigh v Oldham | Away | April 22, 1953 | League Championship |
| Oldham v Huddersfield | Home | May 16, 1953 | Benefit Match |
| Rochdale Hornets v Oldham | Away | August 8, 1953 | Law Cup |
| Oldham v Wigan | Home | August 15, 1953 | League Championship |
| Huddersfield v Oldham | Away | August 22, 1953 | League Championship |
| Bramley v Oldham | Away | August 26, 1953 | League Championship |
| Oldham v Leeds | Home | August 29, 1953 | League Championship |
| Widnes v Oldham | Away | September 2, 1953 | League Championship |
| Oldham v Whitehaven | Home | September 7, 1953 | Lancashire Cup |
| Leigh v Oldham | Away | September 12, 1953 | League Championship |
| Oldham v Liverpool City | Home | September 19, 1953 | League Championship |
| Warrington v Oldham | Away | September 24, 1953 | Lancashire Cup |
| Dewsbury v Oldham | Away | October 31, 1953 | League Championship |
| Oldham v St Helens | Home | November 7, 1953 | League Championship |
| Whitehaven v Oldham | Away | November 14, 1953 | League Championship |
| Oldham v Bramley | Home | November 21, 1953 | League Championship |
| Belle Vue Rangers v Oldham | Away | November 28, 1953 | League Championship |
| Oldham v Barrow | Home | December 5, 1953 | League Championship |
| Oldham v Swinton | Home | December 25, 1953 | League Championship |
| Workington Town v Oldham | Away | December 26, 1953 | League Championship |
| Hull FC v Oldham | Away | January 2, 1954 | League Championship |
| Oldham v Salford | Home | January 9, 1954 | League Championship |
| Oldham v Huddersfield | Home | January 16, 1954 | League Championship |
| Liverpool City v Oldham | Away | January 23, 1954 | League Championship |
| Liverpool City v Oldham | Away | February 6, 1954 | Rugby League Challenge Cup |
| Oldham v Liverpool City | Home | February 13, 1954 | Rugby League Challenge Cup |
| Warrington v Oldham | Away | February 20, 1954 | League Championship |
| Oldham v Leigh | Home | February 27, 1954 | League Championship |
| Oldham v Warrington | Home | March 6, 1954 | Rugby League Challenge Cup |
| Barrow v Oldham | Away | March 13, 1954 | League Championship |
| Oldham v Hull FC | Home | March 20, 1954 | League Championship |
| Leigh v Oldham | Neutral | April 3, 1954 | Exhibition Match |
| Oldham v Warrington | Home | April 8, 1954 | League Championship |
| Wigan v Oldham | Away | April 10, 1954 | League Championship |
| Oldham v Whitehaven | Home | April 12, 1954 | League Championship |
| Swinton v Oldham | Away | April 16, 1954 | League Championship |
| Oldham v Belle Vue Rangers | Home | April 17, 1954 | League Championship |
| Rochdale Hornets v Oldham | Away | April 19, 1954 | League Championship |
| Oldham v Liverpool City | Home | September 14, 1954 | League Championship |
| Oldham v St Helens | Home | September 20, 1954 | Lancashire Cup |
| Oldham v Wakefield Trinity | Home | September 25, 1954 | League Championship |
| Workington Town v Oldham | Away | September 30, 1954 | Lancashire Cup |
| Blackpool Borough v Oldham | Away | October 2, 1954 | League Championship |
| Oldham v Workington Town | Home | October 9, 1954 | League Championship |
| Rochdale Hornets v Oldham | Away | October 16, 1954 | League Championship |
| Barrow v Oldham | Neutral | October 23, 1954 | Lancashire Cup |
| Liverpool City v Oldham | Away | October 30, 1954 | League Championship |
| Oldham v Blackpool Borough | Home | November 6, 1954 | League Championship |
| Oldham v Whitehaven | Home | November 20, 1954 | League Championship |
| Wigan v Oldham | Away | November 27, 1954 | League Championship |
| Whitehaven v Oldham | Away | December 11, 1954 | League Championship |
| Keighley v Oldham | Away | December 18, 1954 | League Championship |
| Oldham v Swinton | Home | December 25, 1954 | League Championship |
| Oldham v Salford | Home | December 28, 1954 | League Championship |
| Oldham v Belle Vue Rangers | Home | January 1, 1955 | League Championship |
| Leigh v Oldham | Away | January 8, 1955 | League Championship |
| Oldham v Warrington | Home | January 15, 1955 | League Championship |
| Workington Town v Oldham | Away | January 22, 1955 | League Championship |
| Oldham v Rochdale Hornets | Home | January 29, 1955 | League Championship |
| Oldham v Barrow | Home | February 5, 1955 | League Championship |
| Oldham v Wigan | Home | February 12, 1955 | Rugby League Challenge Cup |
| Oldham v St Helens | Home | February 19, 1955 | League Championship |
| Leigh v Oldham | Away | March 5, 1955 | Rugby League Challenge Cup |
| Warrington v Oldham | Away | March 26, 1955 | League Championship |
| Oldham v Wigan | Home | April 2, 1955 | League Championship |
| Swinton v Oldham | Away | April 8, 1955 | League Championship |
| Hull FC v Oldham | Away | April 9, 1955 | League Championship |
| Oldham v Keighley | Home | April 11, 1955 | League Championship |
| Oldham v Leigh | Home | April 16, 1955 | League Championship |
| Oldham v Hull FC | Home | April 18, 1955 | League Championship |
| Oldham v Leeds | Home | April 23, 1955 | League Championship |
| Warrington v Oldham | Neutral | May 14, 1955 | League Championship |
| Rochdale Hornets v Oldham | Away | August 13, 1955 | Law Cup |
| Oldham v Keighley | Home | August 20, 1955 | Friendly |
| Blackpool Borough v Oldham | Away | August 27, 1955 | Lancashire Cup |
| Oldham v Hunslet | Home | September 3, 1955 | League Championship |
| Oldham v Leigh | Home | September 7, 1955 | Lancashire Cup |
| Leeds v Oldham | Away | September 10, 1955 | League Championship |
| Oldham v Warrington | Home | September 17, 1955 | League Championship |
| York v Oldham | Away | September 24, 1955 | League Championship |
| Oldham v Featherstone Rovers | Home | October 1, 1955 | League Championship |
| Hunslet v Oldham | Away | October 8, 1955 | League Championship |
| Oldham v Barrow | Home | October 15, 1955 | League Championship |
| Warrington v Oldham | Away | October 22, 1955 | League Championship |
| Oldham v New Zealand | Home | October 29, 1955 | Tour Match |
| Featherstone Rovers v Oldham | Neutral | November 2, 1955 | Independent Television Floodlit Trophy |
| Featherstone Rovers v Oldham | Away | February 25, 1956 | League Championship |
| Oldham v York | Home | March 10, 1956 | League Championship |
| Leigh v Oldham | Neutral | October 8, 1956 | Rules trial game |
| Oldham v Keighley | Home | October 27, 1956 | League Championship |
| Oldham v Australia | Home | November 7, 1956 | Tour Match |
| Oldham v Salford | Home | January 12, 1957 | League Championship |
| Whitehaven v Oldham | Away | January 19, 1957 | League Championship |